Key Points:
Origin: Maltese is a purebred dog breed that has been known for over 2,800 years, while Maltipoo is a crossbreed between a Maltese and a Poodle.
Size: Maltese are typically small dogs weighing between 4-7 pounds and standing 7-9 inches tall, while Maltipoos can vary in size depending on their Poodle parent but are usually small to medium-sized dogs weighing anywhere between 6-20 pounds.
Coat: Maltese has a long, silky white coat that does not shed, while Maltipoos can have a variety of coat colors and textures but are often curly or wavy and low-shedding.
While you may not be able to tell the difference at first glance, there are a number of things separating a Maltese vs Maltipoo.
But what might some of these traits be, and how can you learn how to tell these two distinct dog breeds apart? 
In this article, we will compare and contrast everything you need to know about Maltese and Maltipoos. We will discuss their appearances in detail as well as their behavioral differences.
Additionally, we will also go over their lifespans and size differences so that you can truly have a full understanding of both of these dog breeds.
Comparing Maltese vs Maltipoo
| | Maltese | Maltipoo |
| --- | --- | --- |
| Size | 7-9 inches tall; 5-7 pounds | 8-14 inches tall; 5-20 pounds |
| Appearance | Small and covered in beautiful fur in white shades; the fur is straight and silky. Hard to find their ears, as it looks like hair and stubby snout | Comes in a variety of colors including white, gray, brown, red, and black; fur is curly and often coarse. Floppy ears that rest at the chin line, and the snout is more elongated than Maltese |
| Originally Bred For | Companionship and rodent hunting; an ancient breed | Small companion animal for households with allergies |
| Behavior | Very friendly and compassionate with humans that they know; needs more exercise than you may think | Intelligent and social, so long as they are trained properly; prone to separation anxiety and destructive behaviors when left alone, so be sure to exercise frequently |
| Lifespan | 12-17 years | 10-15 years |
Maltese vs Maltipoo: Evolution and Origins
The Maltese are a purebred dog that is believed to have originated on the island of Malta over 2,800 years ago. They were prized by ancient civilizations such as the Greeks and Romans for their beautiful white coats and affectionate personalities.
Over the centuries, the breed has been further refined and became a popular lap dog among the European nobility.
Maltipoos, on the other hand, is a relatively recent crossbreed, created by breeding a Maltese with a Poodle. Poodles were initially bred as water dogs in Germany and have since been popularized for their hypoallergenic coats and high intelligence.
The Maltipoo breed was likely developed in an attempt to combine the best traits of both breeds, creating a small, hypoallergenic dog with a friendly personality.
It's important to note that while the Maltese are recognized as purebred dogs by major kennel clubs, Maltipoos are considered to be a "designer breed" and are not recognized as a separate breed by these organizations.
Key Differences Between Maltese vs Maltipoo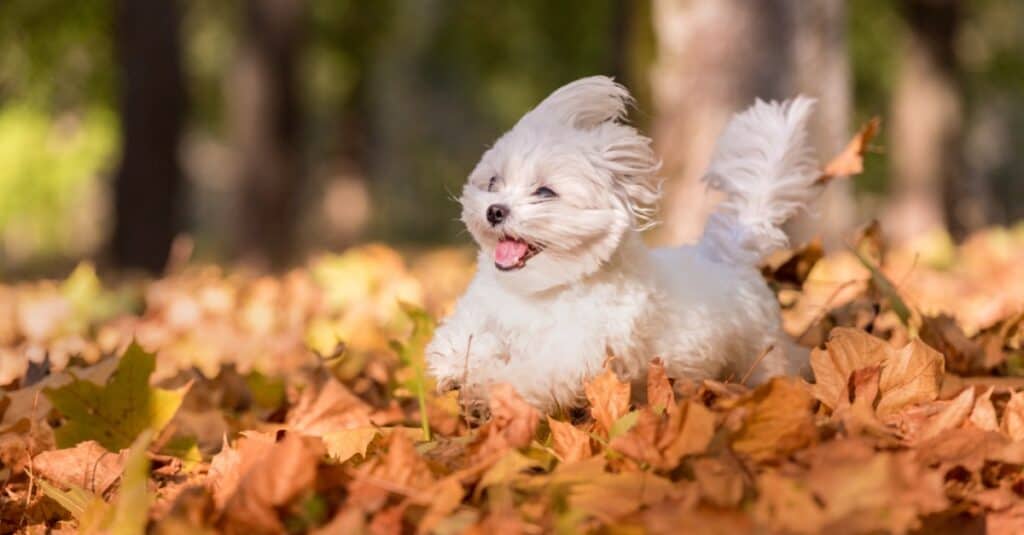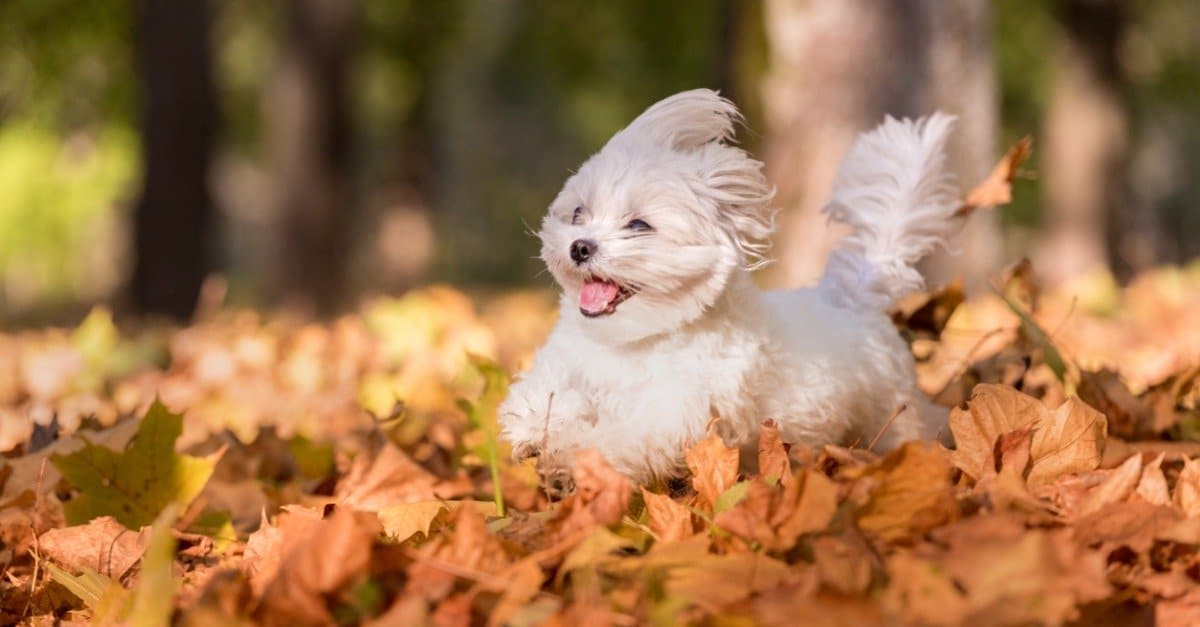 There are many key differences separating Maltese and Maltipoos. For example, Maltipoos are larger than Maltese dogs in both size and weight. Maltese dogs only come in shades of white, while Maltipoos are found in a variety of colors and patterns.
The Maltipoo is a relatively new hybrid dog, while the Maltese are considered an ancient breed of dog. Finally, Maltese dogs live longer than Maltipoos on average. 
Let's discuss all of these differences in more detail now.
Maltese vs Maltipoo: Size
While they are both small dogs at first glance, the Maltipoo grows larger than the Maltese in both size and weight. For example, Maltese dogs are a toy breed, while Maltipoos are a small size breed of dog. Let's go over their weights and measurements in more detail now.
The average Maltese reaches anywhere from 7 to 9 inches tall, while Maltipoos reach 8 to 14 inches tall. In addition, Maltipoos weigh anywhere from five to 20 pounds, while Maltese dogs weigh an average of five to seven pounds only. In fact, some Maltese dogs weigh less than 5 pounds and stay at this weight for their entire life.
Maltese vs Maltipoo: Appearance
You can easily tell the difference between a Maltese and a Maltipoo just by looking at them, and it isn't their size difference alone that separates them. One of the main things that separate these two breeds is that Maltese dogs are only found in shades of white, while Maltipoos are found in a variety of colors and markings. 
Given that Maltipoos are a hybrid breed between Maltese dogs and poodles, you may expect their coats to be of a similar fashion. However, Maltipoos often have curly and textured hair that is more similar to a poodle, while Maltese dogs have straight and silky white fur. You often cannot find a Maltese dog's ears right off the bat, as they look like straight hair hanging off their head.
The ears of a Maltipoo are similar to the ears of a poodle, making them more recognizable than the ears of a Maltese. 
Maltese vs Maltipoo: Original Reason for Breeding
While the history of Maltese dogs is somewhat unclear, the original reason they were bred is different from the original reason that Maltipoos were bred. Maltipoos are bred to this day for their companionship and hypoallergenic qualities for households suffering from allergies, while Maltese dogs are companion animals with rodent-hunting capabilities. 
Maltese vs Maltipoo: Behavior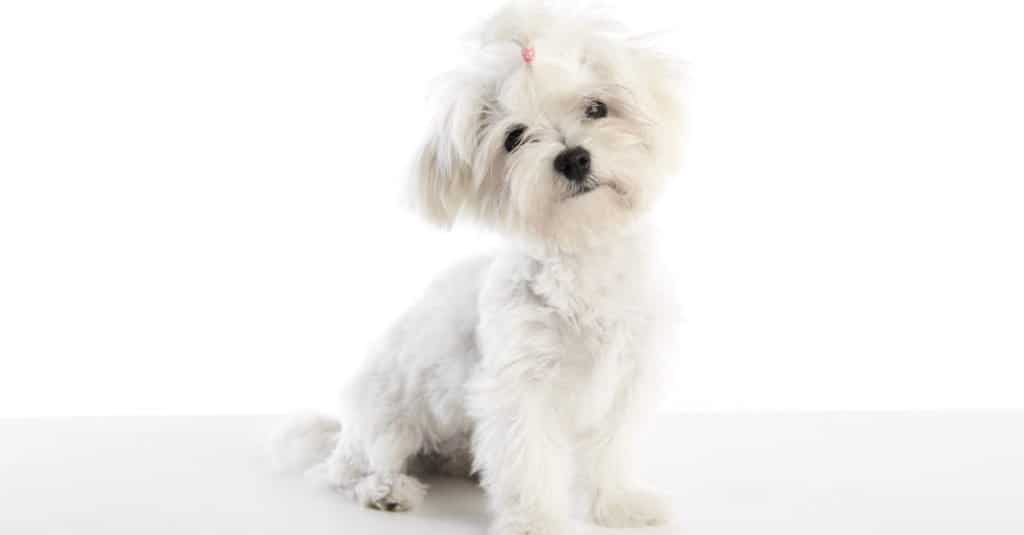 There are a few differences in the behaviors of Maltese dogs versus the behaviors of multipool. Maltipoos are regarded as more friendly compared to the more reserved style of the Maltese. However, Maltese dogs are more independent than Maltipoos and are less prone to separation anxiety.
Maltipoos often grow anxious when left alone for long periods of time, but both of these dog breeds need to be exercised equally.
Speaking of exercise, Maltese dogs need more of it than you might think, and the same can be said of multipoles as well. Both of these small dogs are very affectionate with their families and are regarded as lap dogs, but they still need to be exercised frequently and efficiently. 
Maltese vs Maltipoo: Lifespan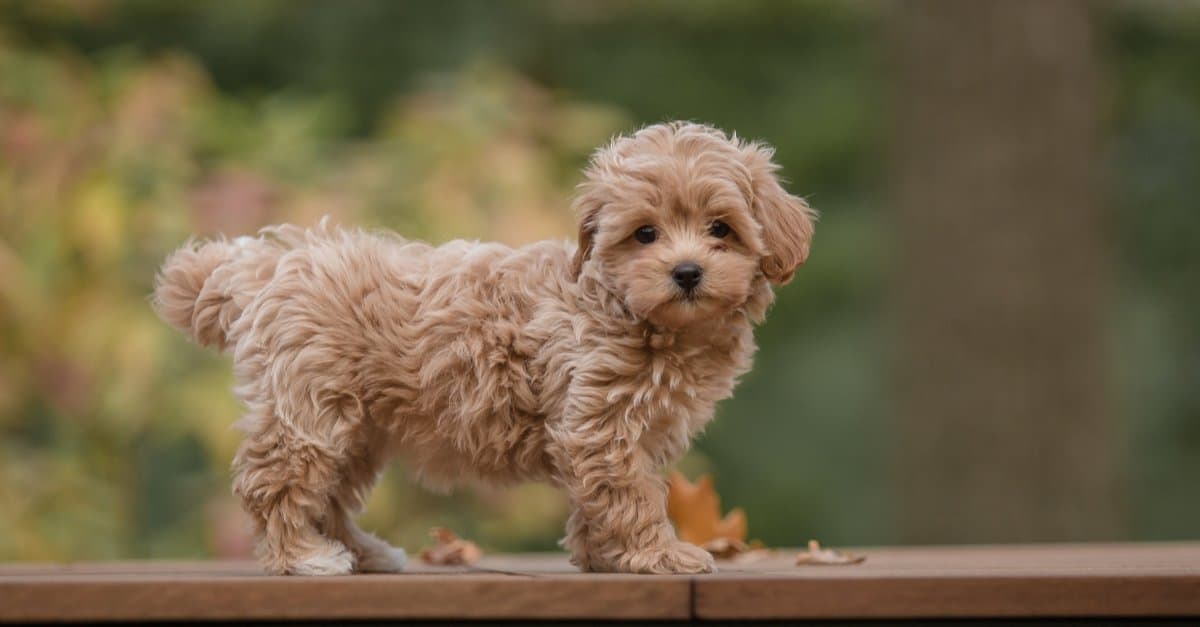 The final difference between Maltese dogs and Maltipoos is their lifespan. Maltese dogs live longer than Maltipoos on average, and they are a more ancient breed compared to the newcomer Maltipoo dog hybrid.
For example, Maltipoos live anywhere from ten to fifteen years on average, while Maltese dogs live 12 to 17 years, depending on their level of care.
Given that both of these dogs are relatively small, their lifespan reflects this. Smaller dogs live longer than larger dogs on average, which is why the diminutive Maltese lives longer than the relatively larger Maltipoo!
Next Up…
The photo featured at the top of this post is © Francisco Gomez Perpinan/Shutterstock.com
Ready to discover the top 10 cutest dog breeds in the entire world?
How about the fastest dogs, the largest dogs and those that are -- quite frankly -- just the kindest dogs on the planet? Each day, AZ Animals sends out lists just like this to our thousands of email subscribers. And the best part? It's FREE. Join today by entering your email below.
---