National Black Cat Day is almost here! Out of all the holidays that take place in October, this one may just be the newest of all. Although founded as recently as 2011, it has captured the attention of the masses, with thousands more participating each year. National Black Cat Day is celebrated on October 27th, and it gives us an opportunity to honor black cats of all kinds. Whether you're the proud owner of a black cat or just an animal lover, there are many ways to join in on the festivities. Let's explore three fun and creative ways to celebrate National Black Cat Day 2023.
Origins of National Black Cat Day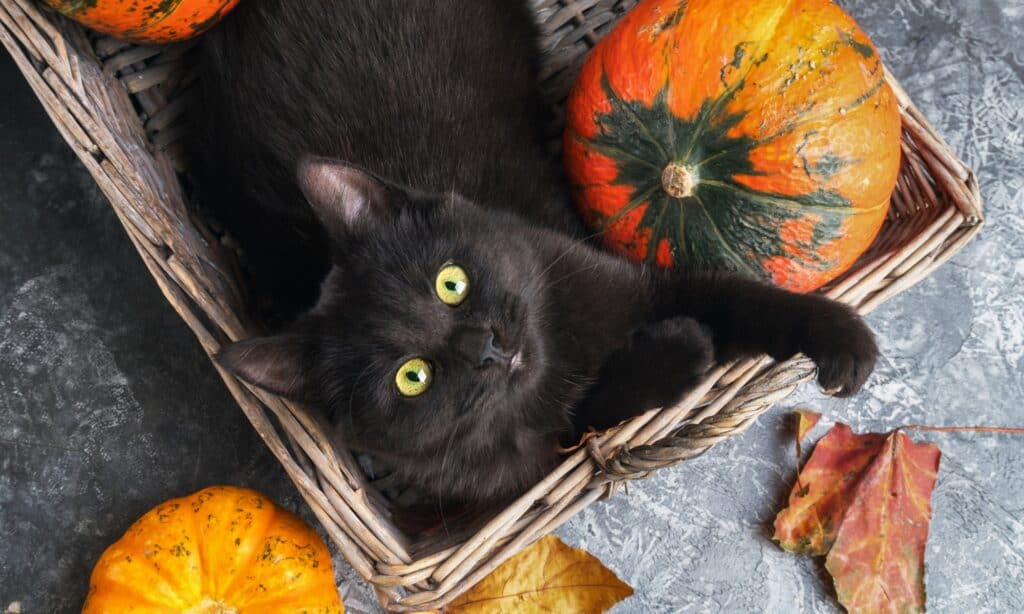 Before we dive into all the different ways to celebrate this holiday, let's discuss its history and origins. Black cats have been associated with superstition for many years. In particular, it's been said that they're bringers of bad luck. This rumor was popular in ancient times when there was a common belief that witches could shapeshift into black cats. Although it may seem silly, this negative association persisted into the present day.
For many years, it took black cats a week longer to find a home than cats of other colors. Because of this, Cats Protection founded this holiday and launched a social media campaign in order to raise awareness of this phenomenon. Since then, National Black Cat Day has been a great success in combating negative stereotypes. Each year, people share photos and stories of their black cats, or dress up like one themselves! The community of participants grows every year, and because of that, their message is able to reach larger audiences. Cats Protection reports that on average, "black cats now spend ten days less in our care before being rehomed than they did 10 years ago." By 2019, it only took black cats two more days to find a home compared to their colorful counterparts.
1. Adopt a Black Cat
One wonderful way to celebrate National Black Cat Day is to adopt a black cat! Why not give a home to one of the many animals stuck in shelters this time of year? Black cats often get a bad rap, but the truth is that they are equally as loving as cats of any other color. Simply put, there is absolutely no evidence to suggest that black cats are bad luck.
Adopting a black cat isn't a feasible option for everyone, so if this isn't something you're able to do, you can try to raise awareness instead. If you're unable to add one to your family, head to social media to tell your friends about the holiday! You could also spend some time volunteering at a shelter or rescue to help other black cats get adopted. Regardless of whether you decide to adopt or just spend some time posting online, it still helps black cats everywhere.
2. Watch Movies and TV Shows That Feature Black Cats
There are a variety of movies and TV shows that have black cats as a part of their cast. Sabrina the Teenage Witch features the iconic black cat Salem. Salem is a 500-year-old witch who was punished for trying to take over the world and, as a result, he now has to spend 100 years as a cat. Despite his fate, he remains quick-witted and hilarious, constantly spicing up the lives of Sabrina and Hilda Spellman. It's no surprise that he was able to capture the hearts of audiences everywhere!
There are many black cats who can call themselves movie stars as well. Thackery Binx from Hocus Pocus is a young boy who is transformed into a black cat after insulting Winifred, one of the three main antagonists. Cursed with immortality, he roams the Earth until he crosses paths with the main cast members with whom he sets out on an adventure. There's no shortage of animated black cats either. Kiki's Delivery Service, Coraline, and Sailor Moon all feature black cats as well.
3. Pamper Your Black Cat
If you're already the proud parent of a black cat, make sure to pamper them extra on October 27th! Some ways you can make your black cat feel extra appreciated are buying them new toys, giving them some catnip, or brushing and grooming them. If you'd like to participate on social media, try snapping some photos of your furry friend and sharing them with the hashtag #BlackCatDay. Who knows, if you're lucky enough, your cat might just be the next new face of National Black Cat Day!
With so many fun and exciting ways to celebrate this holiday, there are no limits to what you can do. Some other fun activities you can do this October 27th are create crafts or artwork of black cats, carve a cat-shaped pumpkin, or visit a cat cafe. Grab your friends and your pets this National Black Cat Day and get ready to celebrate.
The photo featured at the top of this post is © Helenelcg/Shutterstock.com
---