Utah, also known as the Beehive State, is located in the western part of the United States – specifically in the Mountain West. Historically, the state has been home to many indigenous groups – the Navajo, the Ute, and the Puebloans.
Given its diversity in terms of geography and climate, a myriad of plants have also decided, so to speak, to make Utah their native ground.
As a result, several thousand plants are native to this state – out of roughly 4,000 species present here, about 3,200 are native to the Beehive State.
Utah exhibits a variety of regions and ecosystems – the Arches National Park is mostly a desert, the Pariette Wetlands feature lush green and watery views, while Little Cottonwood Canyon has dense forests. At the same time, Deer Creek Reservoir often gets covered in snow, thus providing spectacular views over the Provo River.
If you want to find out more about the flora of Utah, stick around – we're about to talk about some native Beehive State plants.
What Is a Native Plant?
A plant is called native when it can be proved that it lived and grew naturally in a certain area or region for thousands of years. Just as with indigenous people, native plants prospered in an area for a long time before they were discovered and named officially.
Native plants are not only adapted to certain environments. They are instead part of the ecosystem they're found in.
8 Native Plants in Utah
1. Utah Holly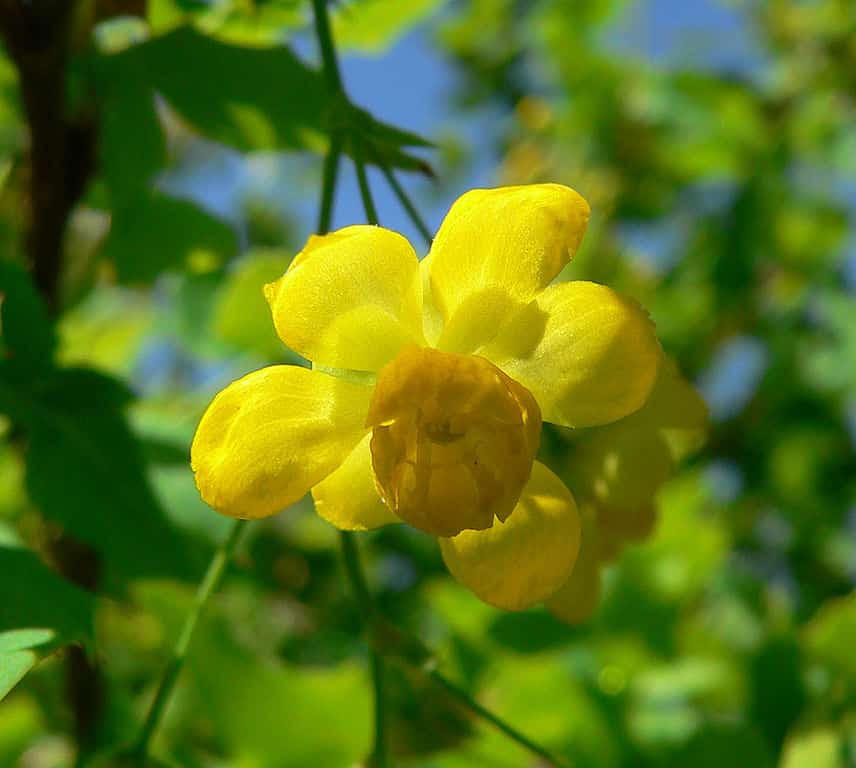 | Utah Holly | |
| --- | --- |
| Scientific name | Mahonia fremontii |
| Type of plant | Evergreen |
| Distribution | Mountainous regions of Arizona, California, Nevada, New Mexico, Colorado, Utah |
Even though we refer to it as the Utah holly, this plant is better known under the name of Fremont's mahonia. At the same time, even if it's called a holly, it is more specifically a type of barberry shrub!
Mahonia fremontii is common in mountainous regions and can be found throughout several states within the US, including Utah. You can easily find it if you trek through pinyon-juniper woodlands and desert grasslands and look out for its bright yellow flowers. On top of that, the shrub can grow quite tall, up to 14.7 feet (4.5 m).
The shrub is known as a holly, most likely because it is equipped with leaflets that look like holly leaves, thus resembling this particular type of tree or shrub.
2. Mountain Lover
| Mountain Lover | |
| --- | --- |
| Scientific name | Paxistima myrsinites |
| Type of plant | Evergreen |
| Distribution | Western North America |
The mountain lover is often called the Oregon boxwood, hedge, false box, or myrtle box leaf. It is a shrub in the Celastraceae family, which includes a wide variety of small trees, vines, shrubs, and herbs. Paxistima myrsinites are usually found in the understory (throughout western North America).
Its maximum height is 3.2 feet (1 m), so it can't be easily missed, especially if you're looking for the shrub's flowers or fruits. The flowers are small and flat and feature four dark red petals. The fruit, on the other hand, has the shape of an oblong capsule of about 0.4 inches (1 cm) in length.
Paxistima myrsinites is important to the ecosystem – moose, elk, and other wild animals tend to munch on its evergreen leaves throughout the winter.
3. Pinyon Pine
| Pinyon Pine | |
| --- | --- |
| Scientific name | Pinus edulis |
| Type of plant | Evergreen |
| Distribution | Colorado, southern Wyoming, northern Arizona, western Oklahoma, New Mexico, the Guadalupe Mountains, southeastern California, eastern and central Utah |
Pinus edulis can be characterized by its rather restrictive natural range – even though it is found in about eight states, its presence is scarce. You could spot one if you do some trekking while visiting Utah.
The pinyon pine is also called two-needle pinyon, Colorado pinyon, or just pinyon. As you might've guessed, it is indeed a pine! The tree is known for being drought resistant, thus being able to grow undisturbed in many areas – at altitudes of up to 5,200-7,900 feet (1,600-2,400 m) and even as high as 9,800 feet (3,000 m). While it might be rare in other states, the pinyon pine makes up roughly 22% of Colorado's forests.
The tree can grow up to 10-20 feet (3-6.1 m) but does so incredibly slowly – reportedly, Pinus edulis adds about 6 feet (1.8 m) to its height every 100 years!
4. Silver Buffaloberry
| Silver Buffaloberry | |
| --- | --- |
| Scientific name | Shepherdia argentea |
| Type of plant | Deciduous |
| Distribution | Central and western North America |
Often called bull berry or thorny buffaloberry, silver buffaloberry is a shrub native to various parts of central and western North America, being more common in the central part. The shrub can attain heights of about 6.6-19.7 feet (2-6 m) and can be recognized by its vivid red berries. They are scientifically called drupes and are often characterized as bright and fleshy – they are quite small, however (about 0.2 inches (5 mm) wide). You can try these fruits, but beware, as they're slightly bitter!
Silver buffaloberry has been historically used as a dye, medicine, and food source. The most known use for these fleshy berries is in flavoring sauces for bison meat, but they were also added to jellies and puddings and eaten in a dried form.
5. Creeping Barberry
| Creeping Barberry | |
| --- | --- |
| Scientific name | Mahonia repens |
| Type of plant | Evergreen |
| Distribution | Rocky Mountains, western North America, California, Nevada |
Mahonia repens is often referred to as the creeping barberry, prostrate barberry, creeping mahonia, or creeping Oregon grape – it does indeed produce fruits that resemble grapes. It is commonly found throughout the Rocky Mountains and western North American regions.
Scientifically, the species is typical to the Mahonia genus due to its matte blue berries – in short, they're unmistakable. The plant is characterized as a subshrub (it can be found under other shrubs and close to ground level). The creeping barberry can be found only at altitudes above 980 feet (300 m) and up to 8,990 feet (2,740 m).
If you come across Mahonia repens and identify it successfully, remember that its fruits are edible. They can be quite bitter, but if you come across a rich crop, you can take them back home and make a delicious jelly.
6. Desert Marigold
| Desert Marigold | |
| --- | --- |
| Scientific name | Baileya multiradiata |
| Type of plant | Perennial to annual |
| Distribution | Northern Mexico, Southwestern United States |
As its name implies, the desert marigold is a species growing in deserts that loves sunlight – it can be found even in southern Nevada deserts. It is characterized by its silvery-green foliage that grows in a patch and clumps together from the base. You can't miss this plant – a faded green clump adorned by bright yellow flowers.
The desert marigold usually grows up to 20 inches (50 cm) tall and features short leaves measuring 1.5-3.3 inches (4-8 cm) long. Each stem has a bright yellow flower head about 1.5-2 inches (4-5 cm) wide. The flower heads have roughly about 25 to 50 ray florets each. You can see them in full bloom if you visit Utah in late spring – early autumn, from April to October.
The desert marigold is part of the Asteraceae family, often called the daisy, aster, or sunflower family. Fun fact – the plant is not an actual marigold. It is, however, a distant relative of the marigolds that are part of the Tagetes genus.
7. Fragrant Sand Verbena
| Fragrant Sand Verbena | |
| --- | --- |
| Scientific name | Abronia fragrans |
| Type of plant | Perennial |
| Distribution | Northern Arizona to western Texas and Oklahoma, north through the Rocky Mountains, western plains regions of the United States, and south to Chihuahua (Mexico) |
The fragrant sand verbena is often called just fragrant verbena or prairie snowball, sweet sand verbena, and snowball sand verbena. The last name is a reference to the plant's flower head that resembles a pristine snowball.
Abronia fragrans can grow up to 8-40 inches (20-102 cm) tall and does so from a taproot that features hairy and sticky stems. Its most impressive characteristic is, obviously, its flower head. Fragrant sand verbena flowers feature 4-5 petaloid sepals and sepaloid bracts. The flowers are gathered in clusters with as few as 25 and as many as 80 prairie snowball flowers.
White is the most common fragrant sand verbena color. Still, you can come across slightly shaded specimens with green, pink, or lavender flowers.
8. Pearly Everlasting
| Pearly Everlasting | |
| --- | --- |
| Scientific name | Anaphalis margaritacea |
| Type of plant | Perennial, dioecious |
| Distribution | Asia, North America |
Known as the pearly everlasting or as the western pearly everlasting, Anaphalis margaritacea is part of the sunflower, aster, and daisy family called Asteraceae. The plant grows erect and can reach heights of up to 3 feet (90 cm), and its leaves are about 5 inches (12.5 cm) long.
The plant is characterized by its whitish (to yellowish) small flowers that grow in clusters. They measure about 0.25 inch (6 mm) wide and form something called a corymb inflorescence. If you visit Utah between June and September, you have the chance to see Anaphalis margaritacea in bloom.
Up Next:
The photo featured at the top of this post is © Barbara Ash/Shutterstock.com
---
Sources

Gardenia, Available here: https://www.gardenia.net/native-plants/utah?page=2
Utah State University Extension, Available here: https://extension.usu.edu/cwel/native-other
Utah State University Extension, Available here: https://extension.usu.edu/cwel/native-plants
Backyard Garden Lover, Available here: https://www.backyardgardenlover.com/utah-native-plants-list/