California is famous for its remarkable natural scenery and varied terrain, offering tourists and residents many outdoor activities. Among the many appealing features of this state are its pristine lakes, situated amid awe-inspiring environments, creating an ideal backdrop for a refreshing dip.
Ranging from undiscovered treasures to popular vacation spots, the Golden State is home to an assortment of top-notch swimming lakes that will undoubtedly leave a memorable impact. So, load up on sun protection, pack your swimwear, and prepare to plunge into the finest lakes in California for swimming.
Bass Lake has a lower elevation which leads its water to have a warmer temperature.
Lake Tahoe
Lake Tahoe, a well-known freshwater lake, is located in the Sierra Nevada mountains in California. This captivating destination entices travelers and locals with its awe-inspiring views and array of activities. At 6,225 feet above sea level, the lake stretches across the California-Nevada border and lies to the west of Carson City.
Owing to its impressive 1,645-foot depth, Lake Tahoe's waters stay pleasantly cool all year round. This makes it a fantastic spot for a revitalizing swim after an adventurous hike on a balmy summer day. The lake's striking environment, with snow-dusted peaks, adds to its appeal, making it a top contender for California's most picturesque lakes.
Summer presents the perfect opportunity to explore Lake Tahoe and experience its refreshing water. With water temperatures rising to 70°F and above, it's the prime season for swimming and water-based activities. Accommodation options are abundant in North Lake Tahoe and Tahoe South, including campgrounds, quaint cabins, and upscale resorts, all conveniently situated near the water's edge.
For those who love hiking, the Tahoe Rim Trail is a popular choice. This 165-mile path encircles the lake and offers stunning views. Numerous outfitters and marinas provide boat rentals and scenic lake cruises for visitors.
Big Bear Lake
Big Bear Lake, situated within the San Bernardino National Forest, offers a change from the typical Southern Californian terrain. The lake is surrounded by pine trees and snow-fed waters at an altitude of 6,700 feet.
During the summer months, swimming at Big Bear Lake provides an enjoyable and refreshing experience. For a family-friendly swimming area, consider Meadow Park. For those who prefer a more expansive beach, Boulder Bay Park on the southwest shore is a great option.
The best time to swim in the lake is during summer when water temperatures range between 68°F to 72°F. However, be prepared for a much colder experience in the winter, as temperatures can drop between 35°F and 54°F.
Unfortunately, Big Bear Lake has seen instances of drowning each year, highlighting the importance of understanding potential risks. Cold water temperatures can be deceptive, so it is essential to exercise caution and take appropriate safety measures.
Boat lovers will be thrilled to visit Big Bear Lake, as it is considered one of Southern California's premier boating destinations. The seven-mile-long lake features numerous marinas, such as Pleasure Point Marina, where visitors can rent pontoon boats and stand-up paddleboards.
Folsom Lake
The Folsom Lake State Recreation Area is home to a massive reservoir in the Sierra Nevada Mountains' foothills. Situated approximately 25 miles northeast of Sacramento, this picturesque location offers plenty of activities for nature lovers, including hiking trails, campsites, and multiple access points to the shoreline.
For an ideal family outing, consider visiting Granite Bay. This area features a sandy beach, a designated swimming zone marked by buoys, and the presence of lifeguards during the summer months, ensuring a safe and enjoyable experience. Folsom Lake's water is pristine, oxygen-rich, and cool for most of the year, making it perfect for a refreshing dip.
Water temperatures are ideal for swimmers, ranging from chilly 48°F in winter to a pleasant 77°F in summer.
Folsom Lake is also a haven for boating overs, as it offers a variety of boating rentals. Visitors can rent motorboats and jet skis to skim across the lake's tranquil surface. Folsom Lake aims to accommodate all types of outdoor adventurers, providing a memorable experience with numerous activities.
Shasta Lake
Shasta Lake is an expansive reservoir situated in Northern California that spans over 30,000 acres. The intricate network of river channels and branches is formed behind the immense Shasta Dam, resulting in the state's largest reservoir. Although there are no designated swimming areas in its core, Shasta Lake provides countless swimming possibilities, as nearly any location can be turned into an ideal swimming spot.
The Sacramento River arm is among the most popular and developed parts of Shasta Lake, where the historic resort site of Riverview is located, as well as one of the lake's few sandy beaches—perfect for swimming and sunbathing.
During the summer, you can expect water temperatures to reach a pleasant 76°F, making it a great location for swimmers. Local marinas and resorts offer boat rentals and boat ramps, allowing for easy exploration of the lake. With an abundance of secluded inlets and bays, there are numerous prime locations to drop anchor and enjoy a swim in Shasta Lake's crystal-clear waters.
For a distinctive experience, consider taking a boat ride to the Lake Shasta Caverns, which can be accessed exclusively through guided tours.
Mono Lake
Situated in Mono County, California, Mono Lake is a remarkable natural attraction about 13 miles east of Yosemite National Park and close to the quaint town of Lee Vining. This ancient saline lake, with a history stretching over 760,000 years, lacks an outlet, causing its water to be unusually dense due to the high salt concentration.
One of the most captivating aspects of Mono Lake is the stunning tufa towers that rise from its surface. These structures are a result of freshwater springs mixing with sediment in the saline lake, creating a mesmerizing geological spectacle.
For those seeking a distinctive and memorable swimming experience, Mono Lake is the perfect spot. The saline water is denser than ocean water, offering a unique, floaty sensation. Local lore claims that swimming in Mono Lake has healing properties, but it's essential to avoid getting the water in your eyes or open wounds, as it can cause discomfort.
The perfect time for swimming in Mono Lake is from July to August when the water temperature does not fall below 68°F. This period also coincides with an influx of migratory birds drawn to the lake by the abundance of brine shrimp that feed on native green algae.
Mammoth Lakes Basin
Only a short five-minute drive from the enchanting Sierra Nevada Mountain town of Mammoth Lakes, you'll find a remarkable natural haven known as Mammoth Lakes Basin. This area is famous for its stunning collection of alpine lakes, such as Lake Mary and Horseshoe Lake, which are easily accessible by vehicle, while others can be discovered through scenic hiking trails. The Mammoth Lakes Basin is home to over a dozen captivating lakes, each offering its unique appeal.
A refreshing swim in the crisp waters of any Mammoth Lakes Basin lake is a highly recommended experience. Horseshoe Lake, for instance, is perfect for a convenient drive-up swim. With an expansive sandy beach offering kayaks and paddleboards, this location is great for families seeking to unwind during a warm summer day. Furthermore, the absence of motorized boats ensures a safer environment for swimmers.
Visiting Mammoth Lakes Basin between June and August provides a pleasant climate, as average temperatures range from 75°F to 80°F. During this period, guests can enjoy hiking, fishing, and a revitalizing swim in crystal-clear waters.
Besides swimming, Mammoth Lakes Basin presents a variety of exhilarating activities for visitors to engage in. Numerous hiking trails meander through the pristine wilderness, and the tranquil lakes offer fantastic fishing opportunities. Camping is another favored activity, with basic and developed campsites available across the region.
Lake Berryessa
Just a short drive of under two hours from San Francisco, you will find the majestic Lake Berryessa, Napa County's largest freshwater reservoir. This picturesque location is full of rolling golden hills dotted with oak and manzanita trees, making it a worthy destination for any nature lover.
A particularly intriguing feature of Lake Berryessa is the Morning Glory Spillway. This innovative water management system forms an impressive vortex in the center of the lake when water levels rise above a certain point.
On hot summer days, the inviting waters of the lake attract visitors for a revitalizing swim. With temperatures rising above 80°F during the summer months, Lake Berryessa offers an optimal environment for casual waders and experienced swimmers alike. The lake's classification as a warm, monomictic body of water ensures that temperatures never fall below 39°F.
Lake Berryessa is popular for people who love water-based activities such as boating, fishing, jet skiing, and kayaking. In addition, it's hidden coves and sandy shores make it an excellent location for non-motorized boating and angling.
Silverwood Lake
Silverwood Lake is just a short distance away from Los Angeles. Families seeking an ideal beach experience should look no further than Silverwood Lake Swim Beach. This sandy haven is located at the reservoir's southern edge and offers exceptional swimming conditions.
The warm waters provide a welcome escape from the intense heat of the sun.
For those who enjoy camping, Mesa Campground on the southern shore of Silverwood Lake is an excellent choice. With over 130 spacious campsites, it accommodates both RV and tent camping, all within proximity to the water. Additionally, two day-use areas at the lake's southern end provide public swimming beaches. There are watchful lifeguards ensuring the safety of swimmers.
Silverwood Lake's appeal extends beyond sun-soaked summer days. Visitors can observe the magnificent bald eagle in its natural habitat during winter, attracting a smaller but equally enthusiastic audience. As water temperatures drop to around 60°F, the winter season unveils a distinct charm and peacefulness that is as captivating as the summer months.
Lake Almanor
In the picturesque Shasta Cascade region of northeastern California, Lake Almanor is a hidden gem known for its water sports and recreational activities. The man-made lake boasts an impressive 52 miles of shoreline. It has a stunning volcano serving as a backdrop for capturing unforgettable moments.
Whether you're planning a day trip or an extended stay, Lake Almanor offers endless possibilities for outdoor adventure. During the summer, the water temperatures typically range from 68°F to 70°F. This makes swimming a great and refreshing way to cool down.
The Lake Almanor Basin is a nature lover's paradise, offering hiking, camping, and fishing opportunities. For those seeking thrills on the water, kayaking, and boating are increasingly popular, especially in the calm mornings when the lake's surface is still as glass.
Bass Lake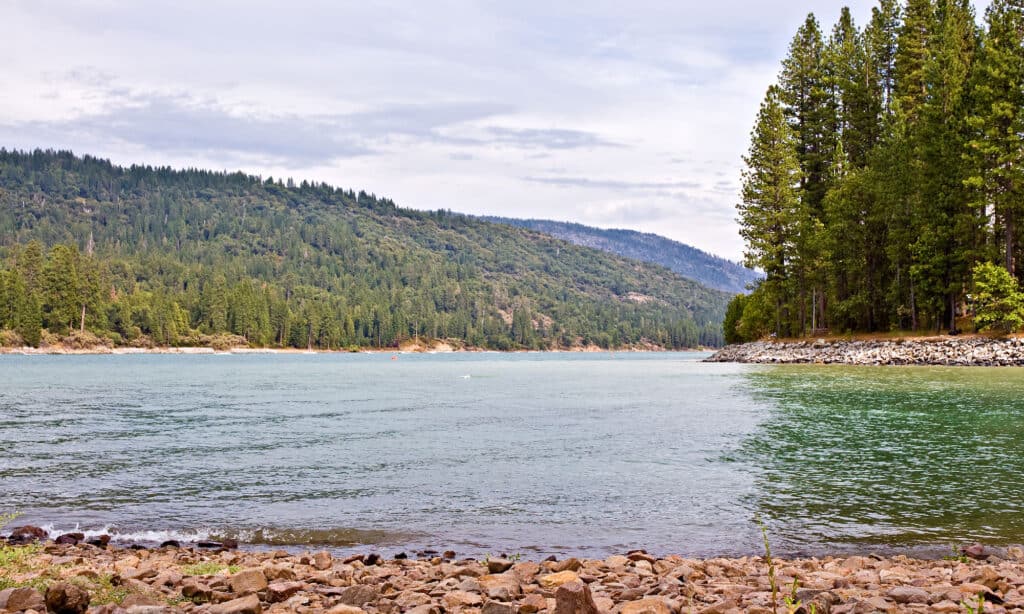 Nestled among the scenic Sierra National Forest, just a stone's throw away from Fresno lies the idyllic Bass Lake. As one of California's premier destinations for swimming, boating, and sailing, Bass Lake lures water enthusiasts of all kinds. Boasting an impressive length of five miles, the lake is a haven for motorized boaters. Its serene coves provide perfect spots for swimming, fishing, and kayaking. You can also enjoy comfortable accommodations and boat rentals at quaint lakeside establishments such as the Forks Resort and Millers Landing.
For swimming, designated areas like Falls Beach and Recreation Point are a must-visit. The lake's water temperature usually hovers around a pleasant 80°F throughout summer. This makes it an ideal spot to take a relaxing dip. Families with little ones will love Bass Lake Outlet Beach, which offers a shallow swimming area and a beach with waves. Visitors can access the Outlet by boat and stay at one of the several resorts near the beach.
Bass Lake's lower elevation compared to other Sierra Nevada bodies of water means it is warmer and more comfortable throughout the season. Hiking enthusiasts can enjoy hundreds of miles of hiking trails that crisscross the forest. The U.S. Forest Service also operates five campgrounds located close to the shore. They provide tent and RV campers with an unforgettable overnight experience.
Summary Of The 10 Best California Lakes For Swimming
| # | Lake | Location |
| --- | --- | --- |
| 1 | Lake Tahoe | Sierra Nevada mountains |
| 2 | Big Bear Lake | San Bernadino National Forest |
| 3 | Folsom Lake | Sierra Nevada Mountains |
| 4 | Shasta Lake | Northern California |
| 5 | Mono Lake | Mono County |
| 6 | Mammoth Lakes Basin | Sierra Nevada Mountains |
| 7 | Lake Berryessa | Napa County |
| 8 | Silverwood Lake | San Bernadino County |
| 9 | Lake Almanor | Shasta Cascade region, Northeastern California |
| 10 | Bass Lake | Sierra National Forest |
Honorable Mention: Other California Lakes for Swimming
The state of California has more than 3,000 named lakes, reservoirs, and dry lakes, and while some may have their favorites, and prefer them over others, there is still quite a vast selection to choose from. These lakes may not have made the top 10 list, but they are still beautiful and worthy of going for a swim. If you need more variety, you should visit the following lakes:
Lake Del Valle – this is a storage reservoir found in Alameda County that is just ten miles southeast of Livermore in Del Valle Regional Park, which is thought of as a lakeside resort. Located in the Arroyo Valle, it was formed by Del Valle Dam and swimming is allowed year-round. The park offers two swimming beaches and although swimming is permitted year-round north of the boat ramp, lifeguards are on duty only during posted periods.
Castaic Lake – this is a reservoir that was formed by the Castaic Dam and is located on Castaic Creek, which is in the Sierra Pelona Mountains of northwestern Los Angeles County. Castaic Lake has more than 11,200 acres of recreational space that is divided into two sections – one for swimming, and one for boating. The lower lake is the designated swim area but swimming is only permitted when the lifeguard is on duty.
Clear Lake – this is a natural freshwater lake located in Lake County, found north of Napa County and San Francisco, in California. With 68 square miles of surface area, it is the largest natural freshwater lake entirely within the state and is also the oldest lake in North America. The swimming beach is located slightly north of the Lower Bayview Campground.
The photo featured at the top of this post is © inkknife_2000 (7.5 million views +), CC BY-SA 2.0, via Wikimedia Commons – License / Original
---