Key Points:
The construction of the Cowans Ford Dam on the Catawba River created the massive Lake Norman.
Lake Mattamuskeet and Kerr Lake are the only two larger bodies of water in North Carolina.
There is a great abundance of diverse wildlife surrounding Lake Norman.
North Carolina is a beautiful state full of lush greenery and multiple waterways. There is no end to the outdoor adventure possibilities. A favorite pastime in the state is to spend time on the water. And it is no wonder! North Carolina has many beautiful lakes that are ideally suited for recreation. However, they are not all natural lakes. The state has several stunning man-made lakes as well. 
So, if you want to hit the water and have the best chance of avoiding crowds, you should choose a larger lake. But what is the largest artificial lake in North Carolina? Keep reading to discover the answer and learn more about the wildlife you may encounter while you are there.
What is the Largest Artificial Lake in North Carolina?
Lake Norman is the largest artificial lake in North Carolina, by far. It is also relatively new. Its creation dates back to 1963 when Duke Energy constructed the Cowans Ford Dam on the Catawba River. And its name was even derived from the president of Duke Energy at the time. Colloquially, Lake Norman is often called the "inland sea" due to its size. It has a surface area of 32,475 acres and a whopping 520 miles of shore.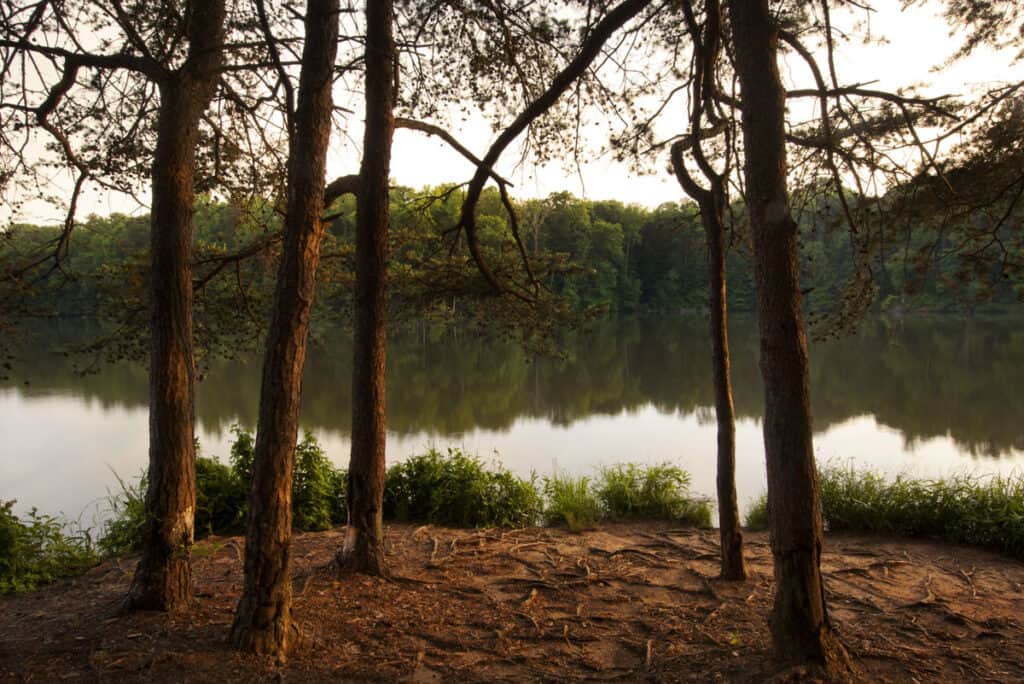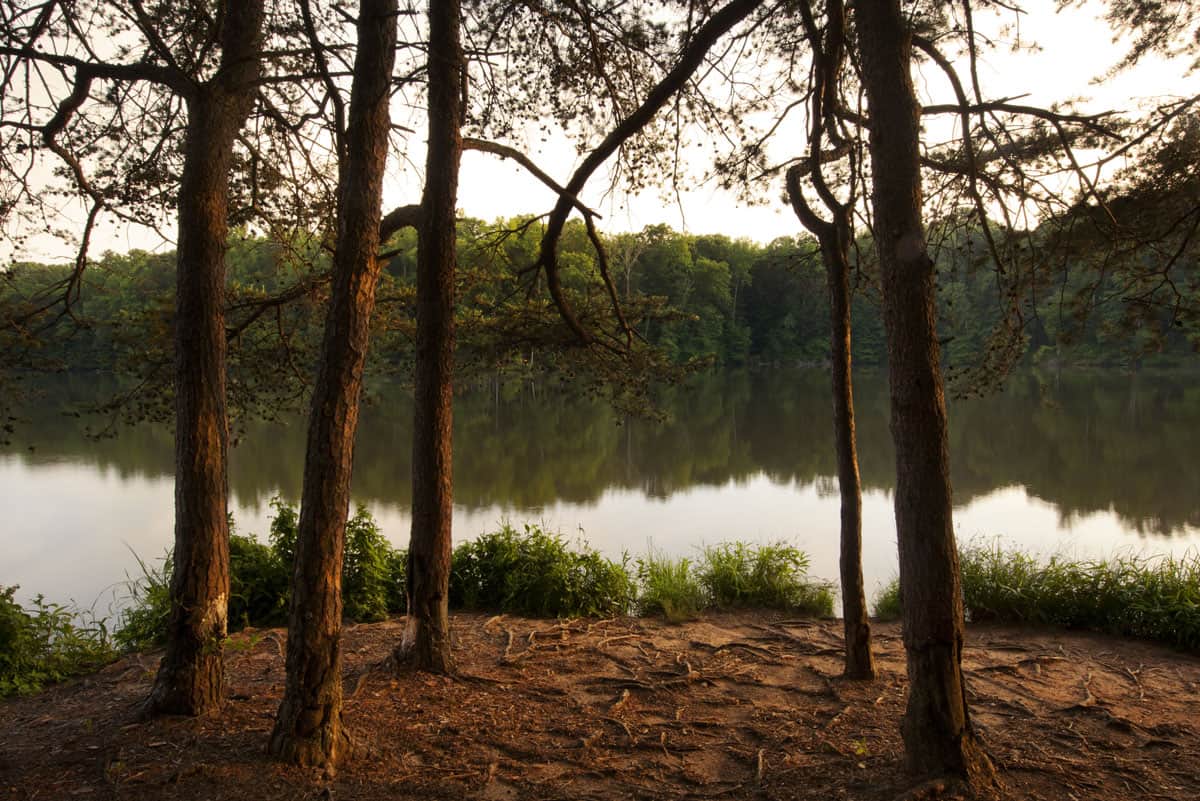 Where Is Lake Norman Located on a Map?
Lake Norman is located 39.5 miles north of the city of Charlotte. It can be reached from that point following a 44-minute drive.
Is Lake Norman the Largest Lake in North Carolina?
While Lake Norman is impressive, it is only the third-largest lake in North Carolina. Two others, both naturally occurring lakes, beat it for size. The largest is Lake Mattamuskeet, followed closely by Kerr Lake.
Kerr Lake (or Bugg's Island Lake) is also an artificial lake and a favorite destination for recreation seekers. However, it does not lie completely within North Carolina. The massive 50,000-acre lake boasts 850 miles of shoreline – in six different North Carolina and Virginia counties.
So, if you are not within a decent drive of Lake Norman, there is still a chance to find peace and quiet at one of the other large lakes. 
What Can You Do at Lake Norman?
The better question is, "what can't you do?" Lake Norman is known throughout the state for its wide variety of fun activities. If you prefer water sports, you have come to the right place. At Lake Norman, you can waterski, paddleboard, kayak, head out on jetskis, go boating, or take a chartered cruise.
Or, for a quieter experience, pick up your fishing gear to try and catch one of the over a dozen fish species. You can grab a secluded spot along the shore to fish. Alternatively, with such a large lake, there is plenty of room to take your boat out. You just want to look for a quiet area away from the larger boats and waterskiers.
The numerous hiking trails will get you out in the fresh air and offer a chance to appreciate local wildlife. And the area has plenty of parks so your kids can run off their energy. 
What Wildlife Lives Near Lake Norman?
The diversity of wildlife around Lake Norman is astounding. When you spend time on or near the water, you may get treated to spectacular animal watching. 
Fish and Shellfish
Lake Norman has an abundance of fish and shellfish in the water. Anglers love spending the day trying to catch black bullheads, blue catfish, bluegills, channel catfish, crappie, flathead catfish, largemouth bass, sauger, smallmouth bass, spotted bass, and striped bass. There are also walleye, white bass, yellow perch, and yellowfin bream. 
However, don't forget the shellfish! The lake has plenty of crayfish and heelsplitter mussels.
Mammals
There is also a diverse ecosystem on land. When out hiking, you may come across beavers, coyotes, raccoons, muskrats, eastern moles, eastern cottontails, eastern gray squirrels, Virginia opossums, or white-tailed deer.
Make sure to keep your distance, though. The wildlife does not like it when we get too close.
Others
But those are not the only amazing wildlife examples you might see at Lake Norman. There are also healthy populations of frogs, turtles, alligators, and watersnakes.
However, if you are outside looking for animals, you may want to take your earbuds out. The area is home to nearly 40 species of birds! Take some time to listen and delight in their songs. It is guaranteed to put a smile on your face.
Up Next:
More from A-Z Animals
---
The Featured Image
---
FAQs (Frequently Asked Questions) 
What is the largest natural lake in North Carolina?
The largest natural lake in North Carolina is Lake Mattamuskeet. It is seven miles wide and 18 miles long.
Are there alligators in North Carolina lakes?
Yes, the American alligator inhabits the waterways of North Carolina, including lakes.
How many lakes are in North Carolina?
The state has 59 lakes, including natural and man-made.
Sources

Wikipedia, Available here: https://en.wikipedia.org/wiki/Lake_Norman
Visit Lake Norman, Available here: https://www.visitlakenorman.org/