Key Points About the Oldenburg Horse:
Oldenburgs developed from the Friesian
This breed excels as a sport horse because of its athletic build and bold nature
Oldenburgs are willing, kind, and easy-to-handle horses
The Oldenburg is a well-built horse with expressive gaits suited for dressage. They also have the boldness required to navigate a show jumping course, which is why you commonly see the Oldenburg horse in upper-level competitions. They were originally bred to pull carriages, just like their Friesian ancestors. But soon they developed into sport horses that excelled in a variety of equestrian disciplines. Their athletic nature, willing temperament, and tall stature make the Oldenburg horse a great mount for competing at the highest levels.
The Origin of the Oldenburg Horse
The Oldenburg originates from a region near Lower Saxony in northwestern Germany. This warmblood type developed around 300 years ago from the Friesian. This is why you might see Oldenburgs pulling carriages! Their Friesian ancestors, known for being harness horses, passed down this trait. They also come from Barb, Thoroughbred, and Hanoverian breeding, which only embedded them more deeply into the equestrian world as practical, desirable mounts.
However, Oldenburgs are known for something much different nowadays. Because as automobiles became the more popular mode of transportation, breeders decided to transform the lowly carriage horse into a first-class sport horse.
Bred with near-perfect conformation and an innate athletic ability, the Oldenburg horse has taken the upper-level show rings by storm ever since. This breed excels in the dressage and show jumping ring, but also makes a reliable eventing mount as well. Overall, it is a popular breed for showing at nearly any level.
As of 2023, the Oldenburg is one of the largest studbooks in Germany. The Oldenburg Association has over 220 approved stallions and 7,000 mares. This doesn't include the 96 stallions and 1,300 mares in the Oldenburg International show jumping breeding program!
Oldenburg Characteristics and Temperament
The Oldenburg is well-known for its expressive gaits and powerful build. Let's learn more about the physical characteristics of the Oldenburg horse breed.
How Tall is the Oldenburg Horse?
The Oldenburg is a tall horse, standing anywhere from 16 to 18 hands high and weighing about 1,300 lbs. This breed has a large frame and long, muscular legs.
Common Oldenburg Horse Colors
As a warmblood, the breed standard colors of an Oldenburg are fairly basic — gray, black, brown, chestnut, or bay. The tobiano coat pattern also exists within the breed. Additionally, Oldenburgs with white markings on their face or legs are quite common.
Oldenburg Characteristics
Speaking of, Oldenburgs have an expressive face and powerful legs. Their muscular bodies exhibit excellent conformation — they have a deep chest, a good topline, and prominent withers. Their large, noble head bears kind eyes for such a bold and independent breed.
Oldenburg Horse Temperament and Personality
The Oldenburg has presence, poise, and prominence as a high-level competitor. You might expect this kind of sport horse to be high-strung and hard to handle. The opposite is true!
Docile, smart, and easy to train, these traits allow the Oldenburg horse to excel in a variety of equestrian sports. This also makes them a popular breed for riders around the horse who want a horse they can do it all with!
Because while Oldenburgs are powerful and strong, they are also easy to handle and highly trainable. This makes them well-suited for even the most challenging disciplines such as dressage, eventing, and show jumping. You can even use them to drive carriages, so the possibilities truly are endless with this adaptable breed.
Oldenburgs for Sale: Average Purchase Price
The price of an Oldenburg can range from $5,000 to over $100,000. If you're looking for a good-natured lesson horse, you can find a reasonably-priced horse at an auction or through a private owner. Just be aware that it might be an Oldenburg cross, not a purebred.
However, if you want a top-tier sport horse with a winning pedigree, expect to pay six figures. Purebred Oldenburgs are bred for performance, so a champion will cost you.
Owning an Oldenburg
The Oldenburg is just like any other breed of horse. They require a herd to socialize with, vet and hoof care, shelter, feed, and exercise. The only difference is their size — they are a few hundred pounds heavier than the average horse — so you need to take that into account when it's time for them to eat.
The Oldenburg Horse's Diet
Oldenburgs require 1 to 2% of their body weight in feed per day. Even more so if they're actively training or competing. This can come from grass, hay, or grain like oats. All horses require forage, but performance feed — the type designed for sport horses — can provide an extra boost of energy needed to get an Oldenburg through long training sessions or to win at shows.
That's because grain provides horses with energy. Performance horses don't require a special diet, but choosing high-quality feed and supplements can give them a much-needed edge in competition.
Oldenburg Horse Health Issues
The Oldenburg doesn't have any breed-specific health concerns. They are a hardy horse that just needs consistent grooming, regular check-ups, and routine farrier care to stay healthy. As long as they don't contract any diseases or illnesses, Oldenburg horses can live well into their 30s.
However, watch out for ringworm, thrush, and rain rot. These are common (treatable) issues for horses of any breed because these animals live outside.
Training a Warmblood Breed
As a warmblood breed, Oldenburg horses require consistent exercise to stay fit and happy. Even though they have a docile temperament, they were bred for the show ring and have a strong desire to perform. If you own an Oldenburg, you should have a plan to ride, show, or give the horse a job around the farm to keep their competitive spirit alive.
Riding an Oldenburg
As a big, athletic breed seen commonly in the upper levels of competition, the Oldenburg horse isn't necessarily recommended for beginners. It has the right temperament to be suitable for riders of most ages and levels, but it was bred for performance. If you want to win, you ride an Oldenburg.
Are Oldenburgs Good Horses for Beginners?
While Oldenburgs are bred to be upper-level sport horses, their docile temperament makes them accessible for anyone to ride. Just be prepared if you've never ridden a tall horse before. At 16.2 hands high on average, when you're sitting on their back, you're farther from the ground than you think!
Can Oldenburg Horses Do Dressage?
Not only can the Oldenburg horse do dressage, but this breed is one of the most famous in the sport! Upper-level dressage champion Donnerhall cemented the Oldenburg as a formidable competitor in the ring back in the 80s and 90s. Bonfire is a more modern example of what the breed is capable of today.
This breed has an expressive gait, supple movements, and the right amount of sensitivity to be engaged with its rider and in tune with itself.
Are Oldenburg Horses Good for Jumping?
In show jumping, warmblood breeds like the Oldenburg horse excel. That's because they are light enough to be blazing fast but powerful enough to navigate the complex, purposefully tiring courses.
They're also one of the best breeds for this sport because, while they're tall, Oldenburgs are notoriously easy to handle. This is key when you're jumping massive obstacles in a tight arena. You need your horse to come back to you after each jump and the Oldenburg does. Plus, they have the agility and drive needed to not only get you to the upper levels but also to win them.
4 Most Similar Breeds to the Oldenburg Horse
As a warmblood, the Oldenburg shares similarities with other breeds of this bloodline. Let's discover four of the most similar breeds to the Oldenburg horse.
1. Hanoverian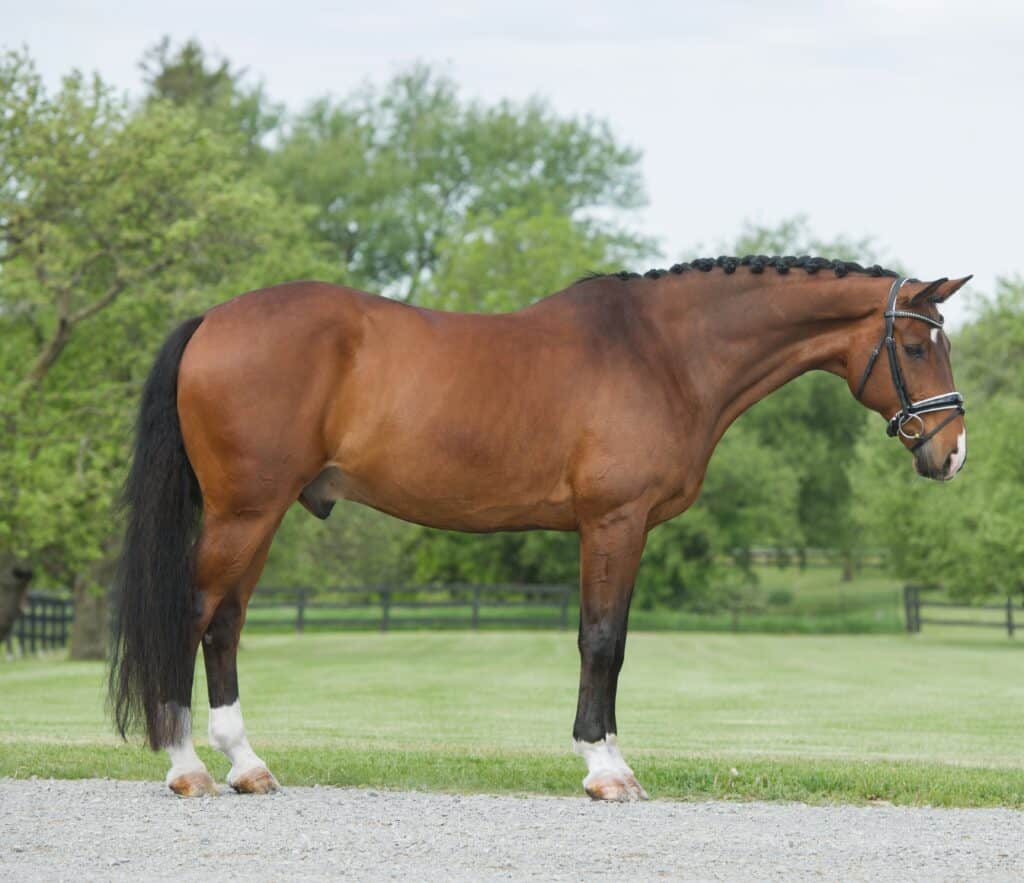 It makes sense that the Hanoverian is similar to the Oldenburg. Why? Because Oldenburgs come from Hanoverian bloodlines! They are both warmblood types with powerful hindquarters and an innate jumping ability.
2. Thoroughbred
Oldenburgs are fast, intelligent horses just like Thoroughbreds. They also share the same drive to perform, no matter what event. This makes them both great sport horses to compete in a variety of disciplines.
3. Irish Sport Horse
The Irish Sport Horse is most similar to the Oldenburg Horse because of its stature. They are both stockier warmblood types that excel at the more dangerous equestrian sports like eventing and show jumping because of it.
4. Dutch Warmblood
A fellow warmblood type, the Dutch Warmblood is an extremely similar breed to the Oldenburg. The only difference is in their pedigree. Oldenburgs are German-bred while Dutch Warmbloods are, well, Dutch.
All About the Oldenburg Horse
The Oldenburg is a beloved breed known around the world for their athleticism and adaptable nature. They are dependable, which makes them fun to ride over fences. They are also beautiful movers that do well in dressage.
Above all, Oldenburgs are incredible horses that can bring you to the top levels of almost any equestrian sport. Whether you decide to ride for fun or compete for real on an Oldenburg, you're bound to have a great experience!
The photo featured at the top of this post is © Oliver Abels (SBT) / CC BY-SA 3.0 – License / Original
---