Brilliant blue and bright to rusty orange dapple summer woodlands and pastures. Maybe it's a songbird perched on an old fence post in an agricultural field, whistling a sweet tune. Or maybe it's a long-beaked aquatic bird with a shaggy crest and a piercing rattle. If you need help identifying types of blue and orange birds, check out this list of seven that inhabit various habitats across North America.
Belted Kingfisher
Did you see a blue and orange bird with a long beak? It was most likely a belted kingfisher, especially if it was near water. These birds have thick, long, pointed beaks and shaggy crests. Their plumage is bluish-gray and white, and females have rusty orange bands on their bellies and flanks. This species is closely associated with water, and you can find them near ponds, rivers, streams, estuaries, lakes, swamps, shores, and lagoons. These birds live year-round throughout most of the United States. Populations that breed in Canada migrate to the Southwest during winter.
Red-Breasted Nuthatch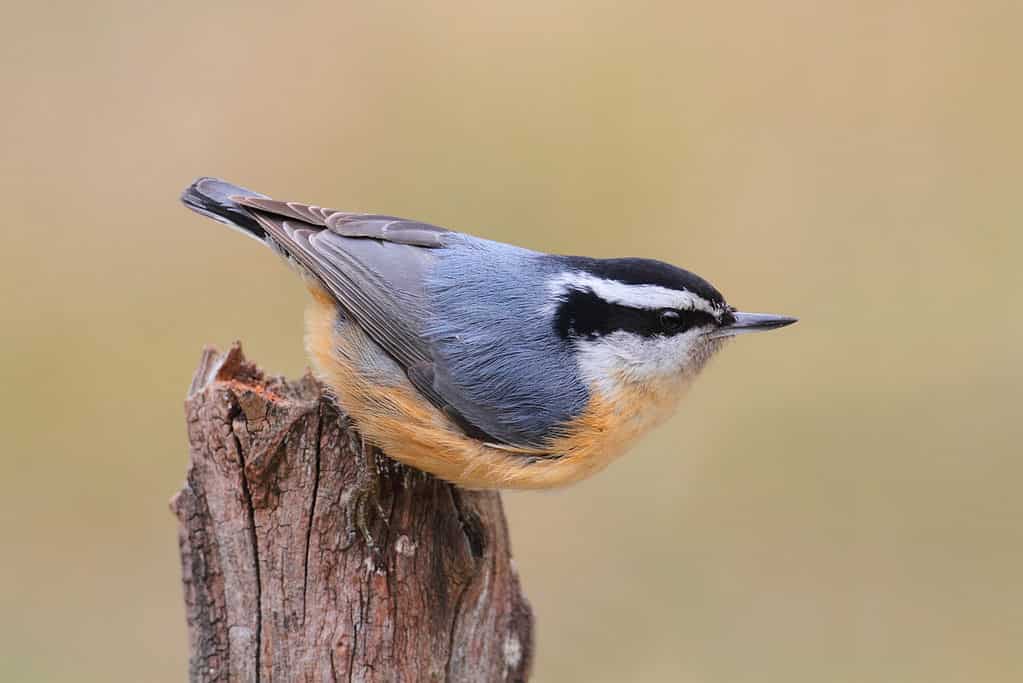 The red-breasted nuthatch is a plump, energetic bird that frequents bird feeders throughout the US during winter. There are also many resident populations in the West and across Canada. They live primarily in coniferous forests, especially out west. But you can find them in deciduous woods in the East. They are compact birds with short tails and long, pointed bills. They are bluish-gray birds with black and white striped heads and rusty orange breasts. You will find them moving excitedly over trunks and branches, searching for food under small pieces of bark.
Eastern Bluebird
The eastern bluebird gives old fields and golf courses a touch of elegance as they sit perched on telephone poles, singing their low-pitched warbles. This species is a small thrush with a plump belly and a round head. Their coloring is vibrant blue above and white below with reddish-orange breasts. They frequent open country near small patches of trees, such as pastures, fields, parks, and backyards. And may even visit a backyard nest box if you live in the Eastern United States. They breed in the northeast and live permanently in the southeast.
Western Bluebird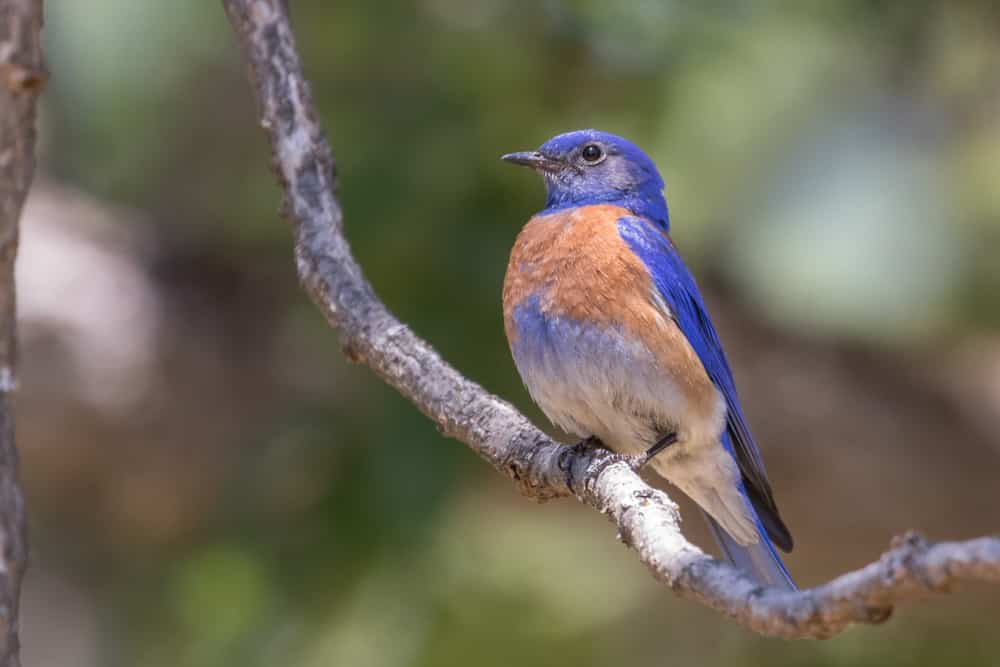 Western bluebirds live in open country in the West. And other than their locations, the western species is darker and more vibrant blue than the eastern bluebird. The western bluebird has shiny, bright blue plumage above with a reddish-orange vest and white bellies. They live in open evergreen and deciduous woodlands and thrive in disturbed areas, like burned forests. Most live permanently in their range, but those that breed in the Northwest winter in the Southwest. They also visit nest boxes in parks and backyards and gather in small flocks outside of the breeding season. 
Barn Swallow
Cobalt blue, cinnamon-orange, and dark gray sweep across fields and barnyards during summer in the United States. The barn swallow is a prolific breeder across most of the US, Canada, and Mexico, and wintering in Central America. This species inhabits various environments, like fields, parks, beaches, lakes, ponds, and coastal waters. Besides their rich coloring, you can identify them by the white spots on their forked tails during flight.
Lazuli Bunting
The lazuli bunting looks like a gemstone flying through gardens and hillsides. Named after the lapis gemstone, these buntings are brilliant blue, deep orange, and white. Their wings are also heavily streaked in white and black. They live in brushy hillsides, thickets, valleys, fields, and gardens. They are breeding birds of the Western United States, migrating through the Southwest before reaching their wintering grounds along the Mexican coast. 
Varied Thrush
From a distance, the varied thrush appears black and orange, but up close you can see their plumage is actually dark bluish-gray and burnt orange. They look heavily streaked with large, round heads and straight bills. They live in dark, wet mature forests of the Pacific Northwest, with many populations staying year-round. Those that breed in Canada migrates as far as Southern California during winter. You can also spot them in parks, gardens, and lakeshores.
Up Next:
More from A-Z Animals
---
The Featured Image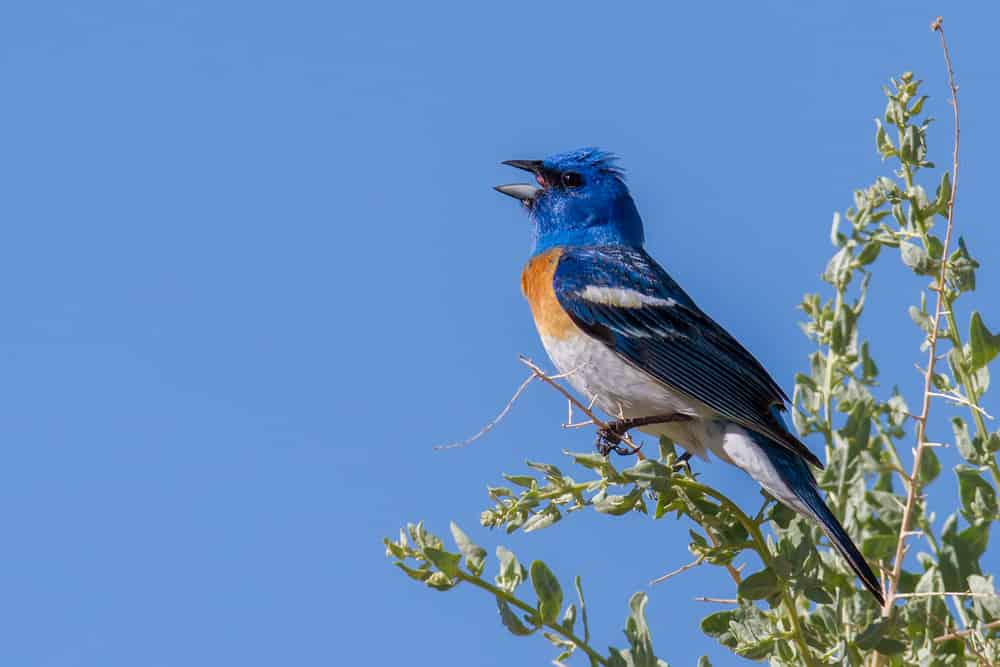 ---