Key Points:
Daffodils, foxglove, and poppies are all toxic to deer and they top the list of flowers that deer do not eat.
Deer do not eat strongly scented herbs like sage, lavender, and salvia.
Deer do not eat stinky bulbs like peonies and bearded irises.
Oh, dear! Or actually, deer! Deer are beautiful animals that often remind us of our childhood favorite, the movie Bambi. So, when you grow a beautiful garden and deer are gobbling it up, you might not feel too optimistic about Bambi. And if you share living space with these animals and want your garden to thrive, browse the list of plants and flowers deer do not eat.
There Is a Wide Range of Flowers That Deer Do Not Eat
You are in luck if you love daffodils, foxgloves, and poppies. These flowers are poisonous to deer, which means they will strongly avoid them. And besides poisonous flowers, deer also tend to avoid blossoms with a strong scent.
Examples o flowers that deer do not eat are lavender, peonies, and bearded irises. So, although deer sidestep flowers with strong odors, they will likely still eat them if they are hungry and desperate.
Deer, like most mammals, don't like eating something with a rough texture. This dislike is why prickly plants are perfect for growing in your garden. An example of a prickly flowered plant is a lamb's ear. If you have a shady garden, we suggest planting bleeding hearts and astilbe.
Different types of astilbe that deer won't eat are the bridal veil, visions, and fanal. If you have a sunny garden, we suggest planting Zagreb. This flowering plant is known to attract bees and not deer, which is very useful for your garden. Other sun-favoring flowering plants which are deer-resistant are blazing stars, Echinacea purpurea, wood sage, and the shasta daisy.
Which Other Plants Do Deer Not Eat?
Besides the flowering plants we mentioned, other plants repel the deer, from shrubs to grasses. In addition, deer tend to avoid plants that have thick and dense leaves. Examples of these are yucca and thorn-filled plants. And even though rose bushes have thorns, deer see these as a tasty snack.
Deer do not eat ornamental grasses, a bonus as this has become a new trend in garden landscaping. If you want to use ornamental grass, we suggest using the Japanese Blood Grass as it is deer-resistant.
Deer also don't like eating shrubs like lilacs, butterfly bushes, boxwood, forsythia, and Rose of Sharon. But go ahead and plant them because these shrubs add beautiful bursts of color to your garden. Luckily, they will continue to do so even if you have unwanted deer visitors.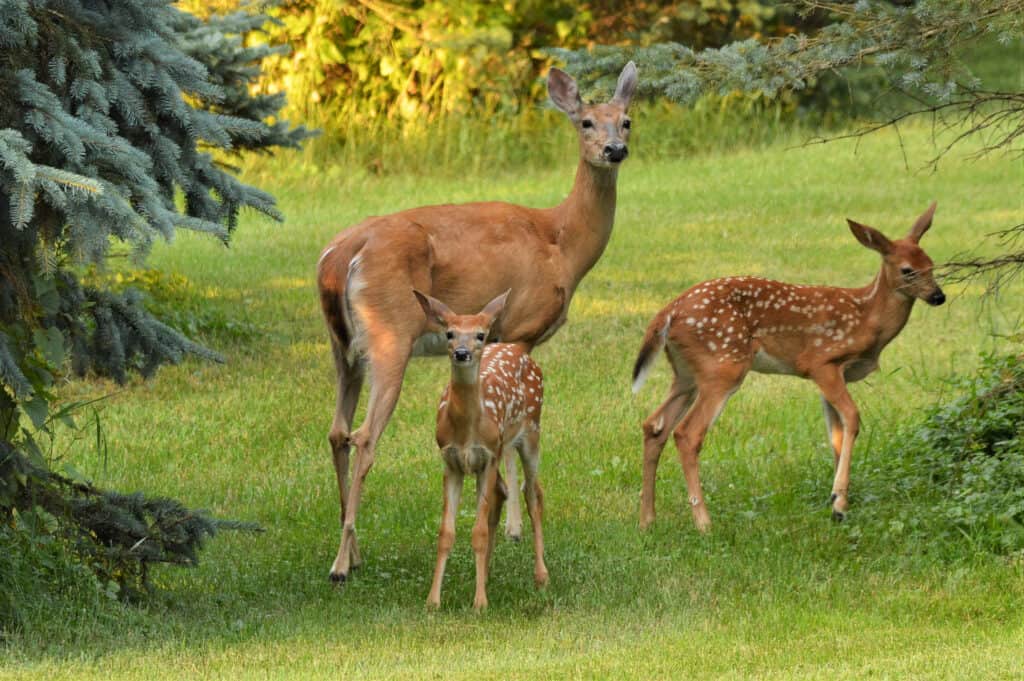 Besides this, here are a few more plants that deer are sure to steer clear of unless they are desperate:
Yarrow
Monkshood
Ageratum
Onion
Allegheny Serviceberry
Common Tansy
Snapdragon
Horseradish
Catmint
Mint
Tarragon
Silver Mound
Cinquefoil
Jack-in-the-pulpit
Wild Ginger
Asparagus
Pine
Aster
Barberry
Borage
Buttercup
Pot Marigold
What Do Deer Eat?
Deer are foragers and herbivores. These animals spend most of their time looking for food, which is why they have a vast diet. Additionally, they consume large amounts of food as they must ingest 6% to 8% of their body weight daily from spring till fall.
This consumption rate ensures they stay healthy and prepare themselves physically well for the winter months. If deer can eat nutrient-rich plants and flowers with more protein, energy, and minerals, they will prefer these kinds of food. Conversely, they will likely eat deer-resistant flowers and plants if they cannot find their favorite nutrient-rich foods.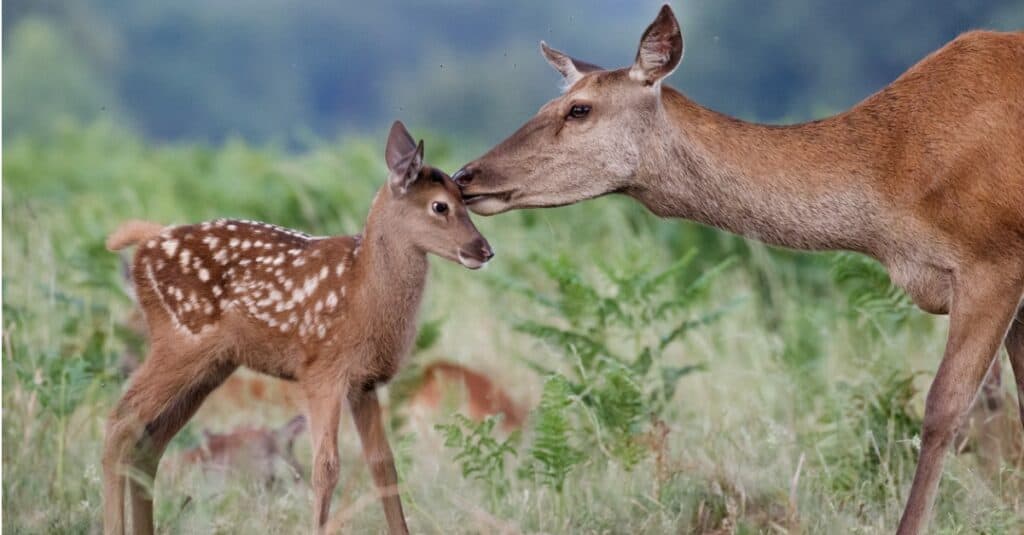 The diet of deer can be classified into five groups, ranking in dominance. These categories are browse, forbs, mast, crops, and lichen.
They browse the leaves of plants, as well as the ends of twigs. Also, the plants they often enjoy in this category include trees, different shrubs, and vines. And even though deer do not favor foods with rough textures, like twigs, this is often one of the only food sources during the winter that leaves them with no other option. Twigs are an excellent food source, though, as they have high fiber content and assist digestion.
Forbs are the leaves and stems of herbaceous plants. Herbaceous plants are not woody and are known to have broad leaves. Examples of these plants are weeds and some types of crops. Deer eat forbs during the late spring and summer, which they mostly find in suburban areas. You should avoid cultivating this plant if you don't want to attract unwanted visitors. Deers love forbs as they are high in nutrients, can be easily digested, and taste good.
The mast is a hard or soft fruiting plant. Examples of these plants are acorns, nuts, berries, and apples, to name a few. These foods provide a source of high energy and nutrients while tasting good. And when it comes to soft mast, like berries and apples, deer will often eat these during the warmer months because of their high sugar levels and vitamin content. This food type gives deer energy and prepares them for winter. On the other hand, they eat hard mast like acorns and nuts during the colder months because of the high levels of fats and carbohydrates. This hard mast effectively sustains them during the colder months when other foods are scarce or non-existent.
Deer also eat the leaves and stems of grass. Examples of these plants are warm and cool-season grasses, sedges, and corn. Although deer do eat grass, it is not their favorite food. Deer don' find grasses easily digestible and they are low in nutrients, so they mostly avoid this food. Also, deer only eat grass during late winter and early spring as it is often the first new plant and is widespread.
Lichen and fungus are plants that grow on trees, rocks, and some soils. Examples of lichen and fungus that deer eat are old man's beard, moss, and mushrooms. Although these plants have nutritious value, they are often found in small quantities and used as an emergency source of food rather than a primary source of food.
The photo featured at the top of this post is © Ginger Livingston Sanders/Shutterstock.com
---