The Whippet, often known as the English Whippet, is a medium-sized dog breed- but is there a difference between a Whippet vs Greyhound? They are a sighthound breed descended from the original English Greyhound that originated in England. Whippets are still a lot like miniature Greyhounds nowadays.
Are you curious if they share a similar personality? Do Whippets run as quickly as Greyhounds? There are a lot of questions concerning such a fascinating pair of dog breeds. Let's look at the eight main differences between the Greyhound and the Whippet in more detail.
Whippet vs. Greyhound: A Comparison
| | | |
| --- | --- | --- |
| Key Differences | Whippet | Greyhound |
| Height | 19 – 22 inches | 27 – 30 inches |
| Weight | 25 to 40 lbs. | 60 to 100 lbs. |
| Coat type | Short, Fine, Closer to Skin | Short, Silky |
| Colors | Fawn, Blue, Cream, Red, White, Black | Fawn, Blue, Gray, Red, White, Black |
| Temperament | Highly Active, Prone to Separation Anxiety | Social, Non-Aggressive, Wary of Strangers |
| Trainability | Fairly Easy to Train | Gentle Training / Reward-Based |
| Life Expectancy | 12 to 15 Years | 12 to 14 Years |
| Health Problems | Bacterial and Viral Illnesses | Bloating, Cancer, Heart Issues |
Whippet vs. Greyhound: A Comparison
Key Differences between Whippet vs Greyhound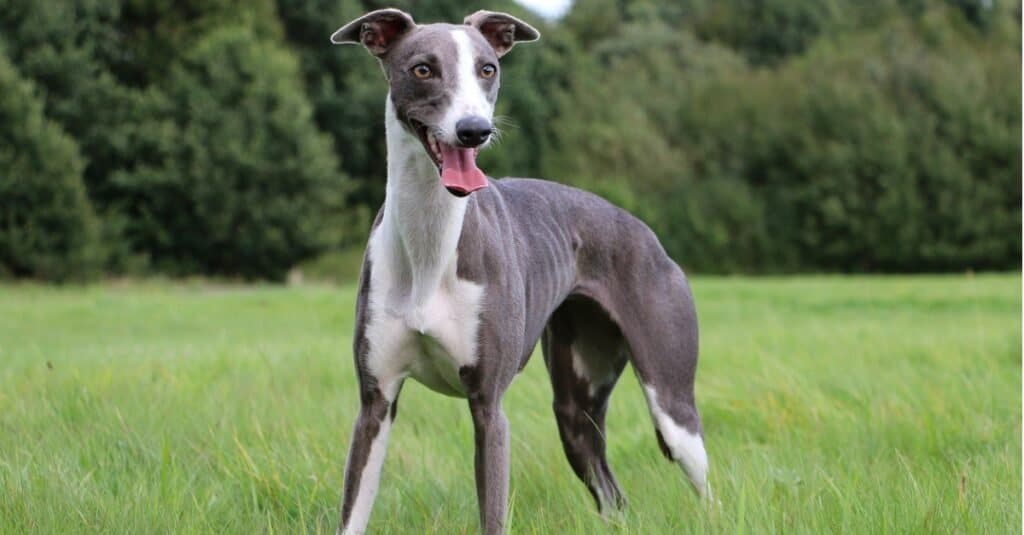 There are many key differences between a Whippet vs Greyhound. Whippets are just smaller versions of Greyhounds in many ways. They also resemble Greyhounds in appearance and behavior. On both Greyhounds and Whippets, their heads are long and narrow, with a bigger space between their ears. Greyhound muzzles are lengthy, and their eyes are huge, round, or oval-shaped. The most significant distinction between Whippets and Greyhounds is their wide size variation, however, there are other differences worth addressing. Continue reading to learn more!
Appearance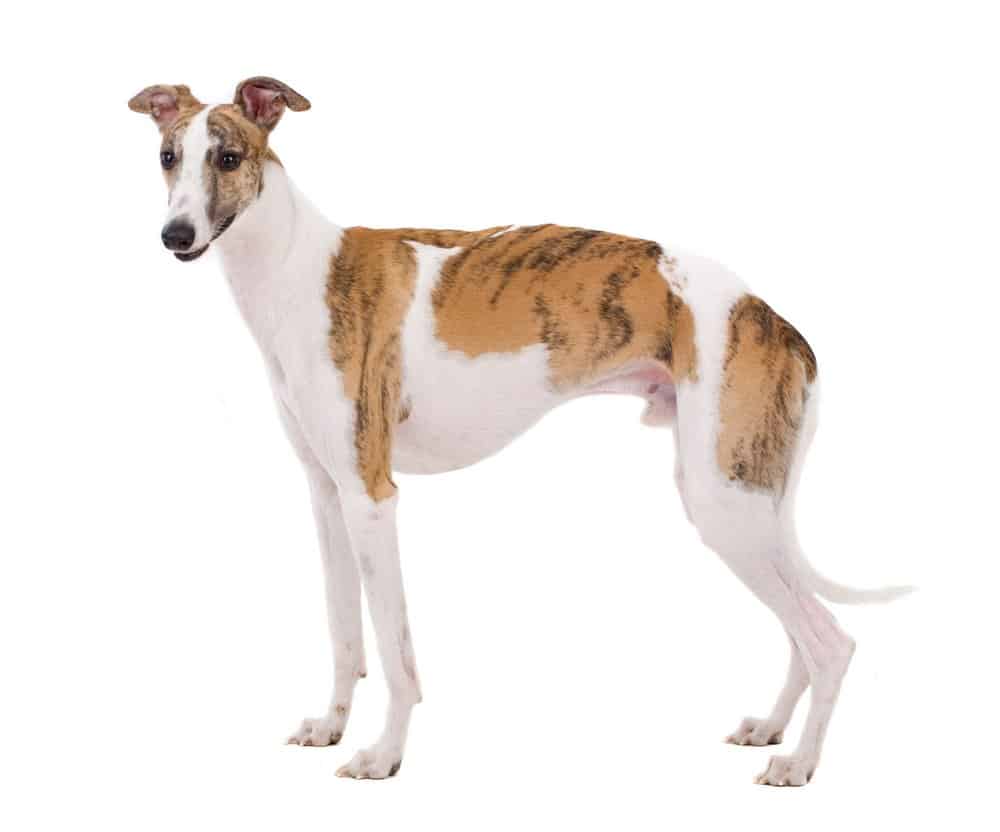 Whippet vs. Greyhound: Height
Though they may not seem so from a distance, the Greyhound is an exceptionally large dog, while the Whippet is a small to medium size dog. They are considered large to giant dogs with a height of 28 to 30 inches. The Whippet is a medium-sized dog, reaching between 19 and 22 inches in height.
Whippet vs. Greyhound: Weight
The Greyhound is more muscular than the Whippet, presumably because of its long history of hunting and racing. A full-grown Greyhound weighs 60-100 pounds, while a Whippet weighs less than half that. Whippets can reach a full weight of 25 to 40 pounds when they are fully grown.
Whippet vs. Greyhound: Coat Type
The Whippet and the Greyhound have a striking resemblance in their coats. Both have fine coats, but the Whippet's hair is shorter and finer on closer inspection when compared to the coat of a Greyhound.
Whippet vs. Greyhound: Colors
Gray, White, Blue, Red, and Black are some of the hues of the Greyhound. These colors are simple and common in most breeds. The Whippet comes in a couple of other hues that are more popular when compared to the colors of a Greyhound. They are available in Fawn, White, Cream, Black, Red, and Blue.
Characteristics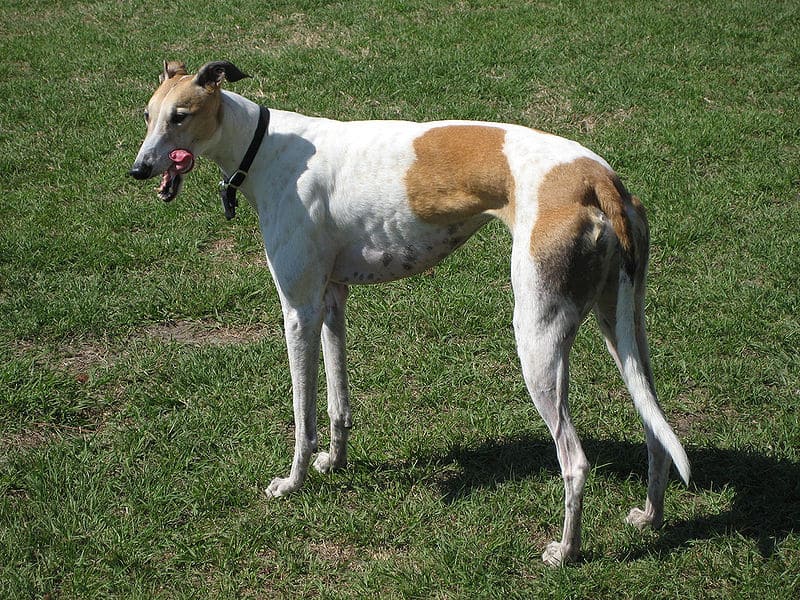 Whippet vs. Greyhound: Temperament
Without daily exercise, a Whippet can become anxious and destructive. However, when their exercise needs are met, Whippets are quiet and calm dogs. Whippets are not outdoor dogs and should live in the house with their people. However, whippets can suffer from separation anxiety and can become destructive when they are apart from their owner.
Greyhounds are very social and are also non-aggressive and smart. With the right amount of exercise, they are quiet and calm dogs that make loving, and affectionate companions in the home. The same can be said for a Whippet vs Greyhound, as just about any dog breed is happier with ample exercise.
Whippet vs. Greyhound: Trainability
Once they have wasted considerable energy outdoors, both Greyhounds and Whippets can become docile and calm. Interestingly, both species are so sedentary that they frequently appear on lists of the most sedentary dog breeds, even though they are fast when running. The Greyhound can run up to 45 miles per hour in short bursts, with the whippet running 35 to 40.
Although both are trainable, some trainers may consider greyhounds to be more trainable. Greyhounds are also the most trained and raced dogs for gambling purposes. Whippets do best when trained as early as possible to obey basic commands.
Health Factors
Whippet vs. Greyhound: Life Expectancy
Another difference between a Whippet vs Greyhound is their life expectancy. Greyhounds are healthy and as a rule, are not predisposed to some of the problems such as hip dysplasia than other large-breed dogs are known for. The life expectancy of the average healthy greyhound is 12-14 years, although many do live even longer. The Whippet tends to live a bit longer than the Greyhound, with an average lifespan being a bit longer at about 12-15 years.
Whippet vs. Greyhound: Health Problems
The Whippet and the Greyhound are both healthy dogs with minimal health issues. Whippets are susceptible to bacterial and viral illnesses like parvo, rabies, and distemper, which afflict all dogs. Bloat, bone cancer, heart difficulties, allergies, eye problems, and deafness are all more common in greyhounds than in other dog breeds.
Wrapping Up Whippet vs. Greyhound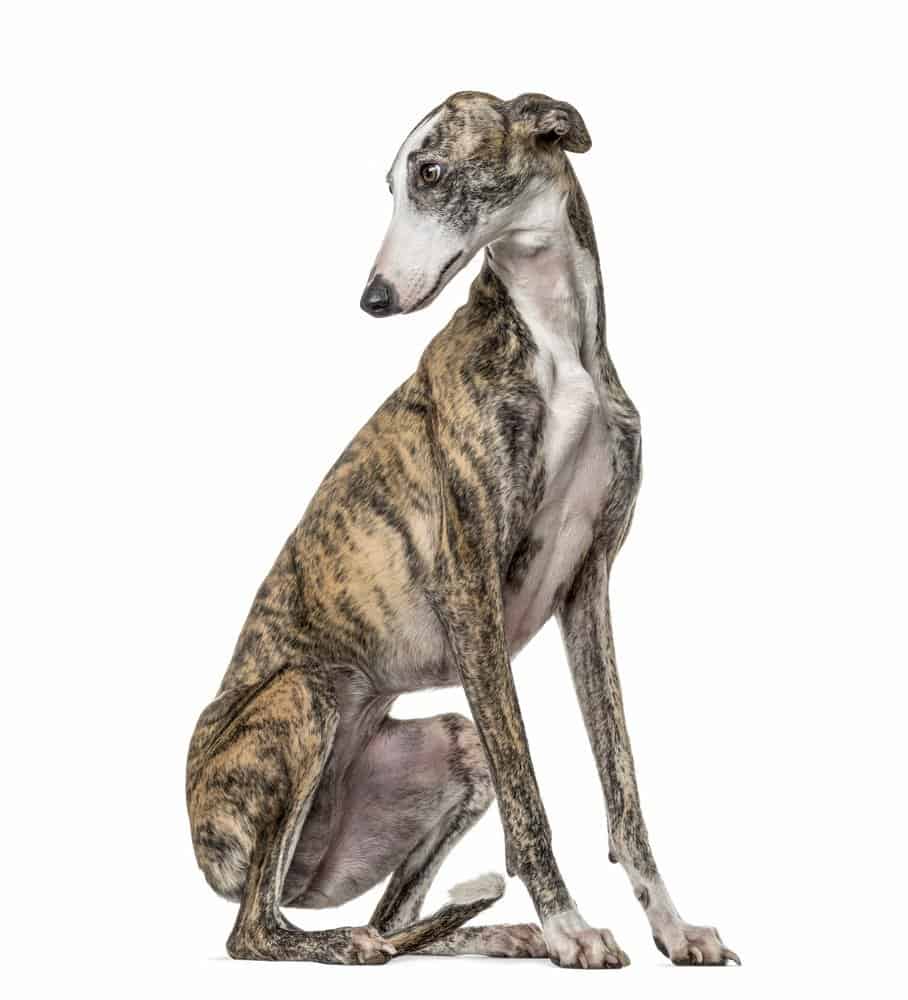 When it comes to a Whippet vs Greyhound, Whippets are little more than miniature versions of their Greyhound relative. They are both sighthounds that originated in England. The Whippet is a medium-sized dog that is a direct descendent of the Greyhound, which means they are not only related but also very similar. The Whippet is unique for several reasons, the most notable of which is that it is a very new breed, having only existed for a few centuries.
Why Are Whippets Cuddly and Lazy?
In general, whippets love a cuddle. They are quite affectionate dogs who form a solid bond with their owners. If they came from a litter of many puppies, they most likely snuggled with their brothers and sisters, and that desire to cuddle doesn't fade away, lasting into adulthood. As for laziness, whippets aren't what we would call "lazy," but they do enjoy napping and resting. Their energy comes in short bursts. One moment, a whippet will be running as fast as lightning across a yard; the next moment, she will be a couch potato, perfectly happy to chill in front of the TV with her owner on movie night. For this reason, whippets make great dogs for apartment living.
The photo featured at the top of this post is © Neurodoc / Creative Commons / Original
Ready to discover the top 10 cutest dog breeds in the entire world?
How about the fastest dogs, the largest dogs and those that are -- quite frankly -- just the kindest dogs on the planet? Each day, AZ Animals sends out lists just like this to our thousands of email subscribers. And the best part? It's FREE. Join today by entering your email below.
---