The most common reason animals migrate is to find food. But more importantly, it's to survive.
Migration Meaning
Migration is the movement of individuals or groups of animals, typically long-distance and usually seasonally. True migration happens annually, seasonally, or spurred by a habitat change. And it is a behavior found in all animal groups, including birds, mammals, fish, reptiles, insects, crustaceans, and amphibians. Migration is the process of animals moving from one habitat to another. And their reasons vary from finding food to searching for better conditions or reproducing. Migration is a patterned behavior that involves the animals returning to their starting point. But first, they often gather in large groups and travel long distances, either by land, air, or sea. The most common reason animals migrate is to find food. But more importantly, it's to survive. 
There is still much we don't know about migration, especially how animals know when to leave and where to go. Scientists theorize they use a combination of the magnetic field, chemical cues, and external stimuli.
Animal Migration Examples
Animals migrate for many different reasons and in many different ways. The most common example of migration is northern birds moving south for the winter. They do this to find food and move to warmer grounds.
African terrestrial animals, like wildebeests and gazelles, migrate in enormous herds during the dry season to find fresh patches of grass and water. And humpback whales travel to the polar ice during summer to eat large amounts of krill before returning to warmer waters to raise their young.
The monarch butterfly is a great example of migration. These beautiful insects can survive in cold climates, so they journey from Canada to Mexico, where they spend the winter in the warm sun. Monarchs only live for two to six weeks, and they make the return trip over several generations. They lay eggs on milkweed plants, and the caterpillars finish the journey as butterflies.
Types of Migration
Migration is not a straightforward animal behavior; there are many variations. Some migration is obligate, meaning all animals within a group or species must migrate. But in facultative migration, individuals or groups can choose if they want to migrate on a per-case basis. Complete migration is when every individual migrates within a species. Whereas, partial migration is when some groups or individuals do not. Check out this reference to learn more about partial migration and why some birds choose to remain sedentary.
Seasonal migration is one of the most common forms. Habitats change throughout the seasons and animals leave when resources dwindle. They move from one place to another in search of abundant food supplies and warmer weather.
Birds use circannual and circadian rhythms to regulate their migration during fall and spring. Circadian migration is when species use their internal clocks to determine their orientation as they move from one place to the next. Birds remember optimal migration spots and feature timing mechanisms that give them an approximate distance to their location.
Tidal migration is when organisms use tides to move habitats, either in search of food or mates. This type of migration is facilitated by ocean currents, where animals can move horizontally or vertically.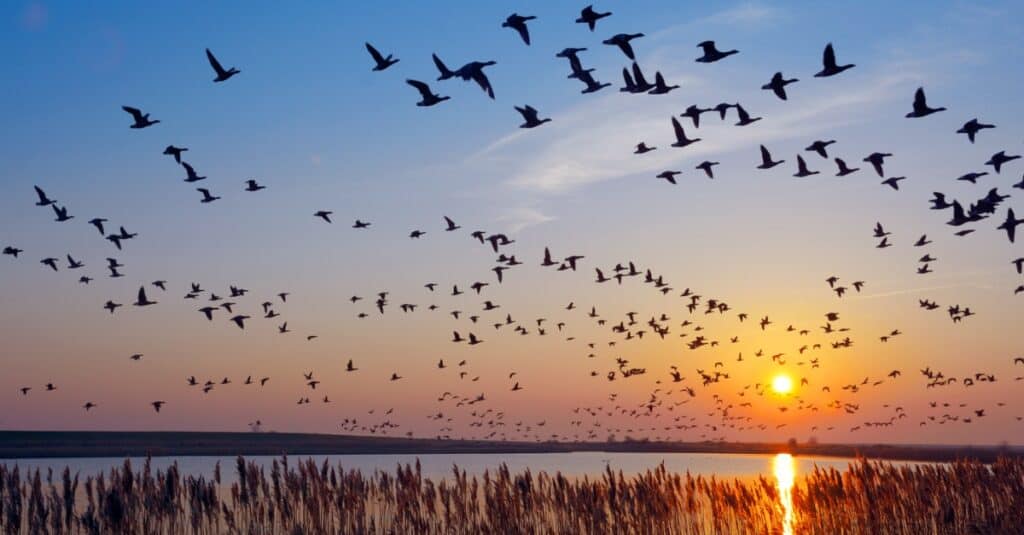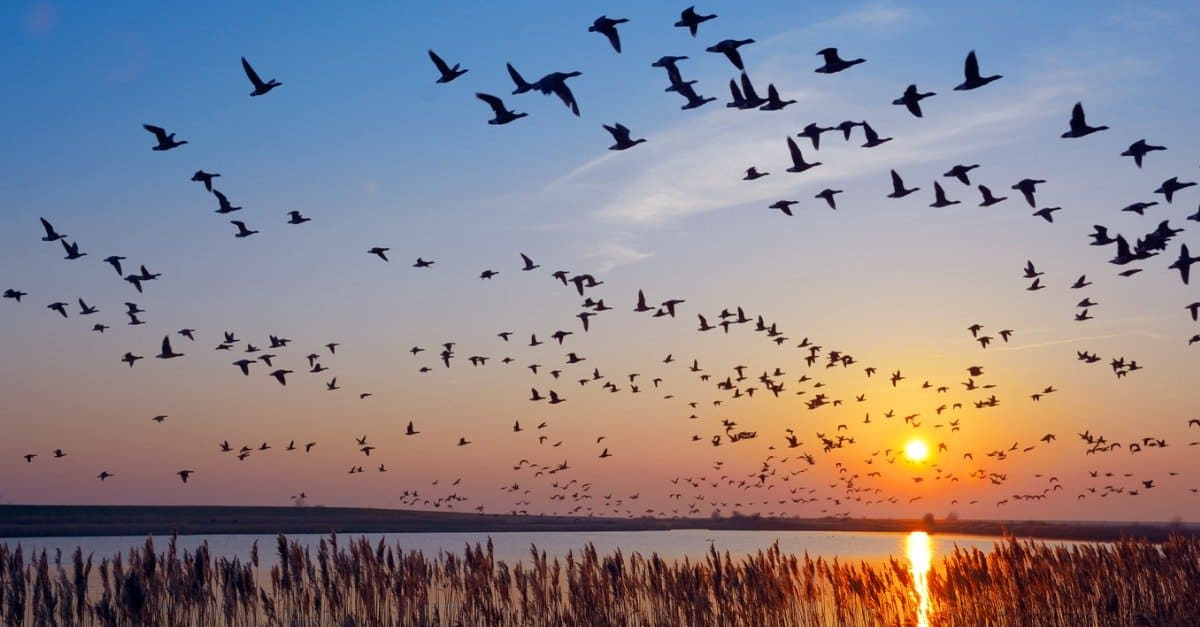 Why Do Animals Migrate?
Animals migrate to survive and continue their species. The main reasons for migration include finding food, finding a mate, better reproductive grounds, and a warmer environment. Many species will do whatever it takes to ensure their young thrive. For instance, the Atlantic salmon spends its life in the sea but travels thousands of miles to return to the river they were born and reproduce. Christmas Island crabs are another example of finding the perfect reproduction spot. They spend their lives in the forest but migrate to the ocean when it's time to reproduce.
Scientists develop different ways of tracking animals to better understand their patterns of behavior during migration. Researchers use several methods to track migrating animals' movements, such as bird rings, radio-tracking collars, GPS animal tracking, and Doppler shift. However, tracking systems are being further developed to better understand smaller creatures.
---