Key Points:
Dogs that need wheelchairs to be mobile can include those who are recovering from a surgery or accident, dogs that are handicapped, or senior dogs that need the device to help them walk.
Dog wheelchairs provide support and stability to your dog so it can move around and explore, helping it to maintain a cheerful disposition in the face of adversity.
Some factors to consider when determining how to choose the right dog wheelchair would be the strength of your dog's front limbs, the type of support your dog needs, the adjustability of the device, and size of your dog.
Dog wheelchairs are an essential aid for dog mobility. These ingenious devices can transform the life of your dog after an accident or surgery. Senior dogs or those who have a chronic disease can get a new lease of life thanks to the best dog wheelchairs that are now available for hind limb, front limb, and full-body mobility.  
You'll already know that our best furry friends like nothing more than running around next to their human families. Getting out and about is vital for a dog's well-being – even if this is just a little trot (and sniff) around the block. This is why it is such a devasting blow when a dog loses mobility. Dog wheelchairs provide support and stability so that your dog can move and explore once more. Without a dog wheelchair, your dog gets little mental or physical stimulation which is bad for both their physical health and well-being. Also, dog wheelchairs play an essential role in post-surgery rehabilitation for many dogs. 
A-Z-Animals Top Picks for Dog Wheelchairs
How to choose the right dog wheelchair
To make sure that you select the correct wheelchair for your dog, you need to consider:
Strength of your dog's front limbs (towel test)
Type of support your dog needs
Adjustability and materials
Size suitability
Ease of assembly
Let's consider each of these in more detail:
Strength of your dog's front limbs
Your dog is only suitable for a hind support wheelchair if they have strong front limbs that can support the weight of a large proportion of the body and propel them forwards at the same time. It is best to get your dog assessed by a vet for this but you can also try a 'towel test' yourself at home. You simply use a large towel to support your pet's pelvis (hips) and abdomen (tummy area) and lift slightly so that their rear legs do not touch the ground. Encourage them to walk forward and if they do so with ease, they will probably cope with a hind limb support wheelchair. If they stumble or if their front limbs give way, you will need a wheelchair that supports all the limbs.
Type of support your dog needs
Dog wheelchairs can be grouped by the level of support that they offer a dog. This is dictated by their condition or disability. Here are the three main types of dog wheelchairs that you will be able to choose from and how you will know which one is right for your dog.
Rear limb support. These are the most widely available types of dog wheelchairs and need to achieve a balance between support and maneuverability. Only the hind legs are supported but some designs allow them to touch the ground to help with rehabilitation and building up strength. This type of wheelchair is generally used for dogs that have had surgery or are suffering from conditions such as intervertebral disc disease (IVDD), degenerative myelopathy and hip dysplasia.
Front limb support. For dogs that have a weakness or dysfunction of their forelimbs, these wheelchairs have head supports and take most of the weight that would have been on the front limbs. They are used for dogs with conditions such as spinal trauma, arthritis and amputation but are also useful for generalized weakness. 
Full body support. Your dog may need their whole body to be supported if they have had spinal surgery or trauma or if they have generalized weakness or a systemic disease such as cerebellar hypoplasia. The wheelchair supports both the front and rear limbs and will have multiple settings so that the level of support can be specifically tailored to your dog's needs.
Adjustability and materials
Dogs are of different shapes and sizes and different conditions require an individual fit. This is why adjustability is so important. Look out for adjustment of the height, length, and width and check that it is easy to adjust to your dog's needs. Dogs get frustrated if you have to spend ages fiddling around to get the fit right. 
The materials used in the wheelchair need to be both lightweight and durable. Aluminum alloys are a good choice for the frame because they are strong, weigh very little, and are resistant to rust. The fabric used in the harness needs to be comfortable, durable, and breathable to make sure that your pet has an enjoyable time in their wheelchair. 
Size suitability
Many models of wheelchairs are available in different sizes. You will need to be able to measure your dog accurately in order to choose the best model for them. Some are specifically designed for larger or smaller dogs. Read the manufacturer's information carefully so that you select the right one. 
Ease of assembly
If you don't have a toolbox full of tools and the ability to assemble complicated mechanisms you will need to choose a wheelchair that is easy to assemble. If tools are needed to put the chair together, these should be provided. Check out the reviews to see if other owners found them quick to assemble. 
Reasons your dog may need a wheelchair 
There are plenty of canine medical conditions that result in a dog needing a wheelchair. Here are some of the main examples:
Rear limb support wheelchairs
This type of wheelchair can decompress the spine and relieve the strain on painful muscles as well as improve mobility. Your dog may need one of these if they have any of the following conditions: 
Rear limb amputation or trauma
Rear limb, spine or hip surgery
Intervertebral disc disease or rupture
Degenerative myelopathy
Hip dysplasia
Arthritis
General weakness
Front limb support wheelchairs
These wheelchairs can take about 70% of body weight which reduces the load on the rest of the body. They are considered useful for some dogs with:
Front limb amputation or trauma
Front limb or spinal surgery
Intervertebral disc disease or rupture
Cerebellar hypoplasia
Arthritis
General weakness
Full body support wheelchairs
These will be used where a dog needs a lot of support and is very weak or stumbles when they walk. They are used for similar conditions to the other types of wheelchairs but they usually have multiple settings. Dogs that have had major surgery or spinal trauma are often recommended to use this type of wheelchair. 
How dog wheelchairs work
Dog wheelchairs are cleverly designed walking aid for dogs. They consist of a harness or sling which supports your dog's trunk and a set of (usually two) wheels. They work by supporting a lot of your dog's weight so that they can remain mobile and enjoy a good quality of life. Your dog is fixed securely into the wheelchair and uses its fully functioning limbs to pull itself along. Wheelchairs can be used on a range of terrains and most dogs adapt to using them quite quickly. 
How to help your dog get used to a wheelchair
The secret to getting your dog used to their wheelchair is putting them in it for short periods of time. You also need to be patient but persistent.
Start by letting them sniff and explore the wheelchair at their own pace. Leave it in the room where your dog usually hangs out. Then entice them into the harness using a treat and reward them constantly when they are in it. The first session in the chair should only last for a minute or so. 
Gradually build up the time that they spend in the chair until it gets to around 15 minutes and they have started trying to move around. Eventually, you can phase out the treats. 
Never punish your dog for not getting into the wheelchair or force them to move around in it. This will build up a fear of the chair which is exactly what you don't want!
Our final tip is to start sooner rather than later. If your dog's condition is deteriorating, you will have more success if you introduce them to a wheelchair before their mobility issues are too advanced.
Our Criteria and Experience: How We Chose the Best
We researched the top dog wheelchairs on the market and compiled a list of those that came with high recommendations from veterinarians. We also took into consideration the reviews and opinions of pet owners who had pets that needed a wheelchair, whether for surgery recovery, because of a physical handicap, or those pets that just have trouble getting around. Some features we paid close attention to:
Weight of the wheelchair: The wheelchair should be lightweight and easy for your pet to maneuver in.
Comfort: The straps should be adjustable, and fabrics used should be durable but comfortable at the same time. The length, width, and height should ideally be adjustable.
Washable: Some wheelchairs that include fabrics should be fairly easy to wash, as contact with your dog's body will soil them.
Product reviews
#1 Best Overall: Heobam Dog Wheelchair
Our overall pick of the best dog wheelchairs is the Heobam wheelchair featuring adjustable length, width, and height. It is very well put together and we love that it's made from an aluminum alloy that is both strong and lightweight. This also means that you will not have to worry about rust. It's very easy to put together using just the tools that are supplied with the kit.
You will be amazed by what a dog can do in this wheelchair – they can poop and pee, play with toys, and go on walks. Most dogs love it but even reluctant dogs can be persuaded to step into the harness with practice. Because the wheels are quite large, they also act as bumpers and prevent your pooch from hitting obstacles and traveling too fast. 
Best Overall
#2 Best for Medium Dogs: Best Friend Mobility Elite Scooter
Best Friend Mobility has been making dog wheelchairs since 2005, they have built up plenty of expertise and are constantly innovating their designs. We've chosen the Elite Wheelchair as it fits dogs between 16 inches and 20 inches in height which covers most medium breeds.
The rear harness is made from comfortable neoprene and our testers loved the padded rear seat which scores highly for comfort. The Swiss bearings in the wheels give a smooth and quiet ride that suits the doggy and their owners. 
Best for medium dogs
#3 Best for Compact Size: derYEP Pet Scooter Wheelchair
Smaller dogs and dogs that like to rest a lot when they are on walks will appreciate the comfort that the derYEP scooter wheelchair offers. The discrete design means that it is not quite as in-your-face as some other dog wheelchairs. It also takes up less room and has no sharp corners (the maple board has smooth edges) making it kinder to both furniture and human ankles.
Our testers loved the soft and silky fabric that was also breathable and super comfortable for dogs. It's fully adjustable and machine washable which is always popular with dog parents. Some users were able to use just the bag without the wheels for smaller dogs inside the house and only used the scooter when they went outside. Additional bags are available to purchase if needed. 
Best for compact size
#4 Best Lightweight Choice: WWahuayuan Dog Wheelchair
The Wwahuayuan dog wheelchair is super lightweight weighing less than three pounds yet it offers excellent strength and durability. In terms of cost, this comes in as mid-range but it offers plenty of additional features that make it excellent value for money. 
The harness is breathable and fully adjustable as are the height, width, and length of the alloy frame. It comes with everything that you need to assemble it and is very easy to put together. The large wheels give a smooth ride over all kinds of surfaces giving the dog plenty of freedom to enjoy being outdoors.
Best lightweight choice
Summary of the Best Dog Wheelchairs
| Rank | Best For | Product |
| --- | --- | --- |
| 1 | Overall | Heobam Dog wheelchair |
| 2 | Medium Dogs | Best Friend Mobility Elite Scooter |
| 3 | Compact | derYEP Pet Scooter Wheelchair |
| 4 | Lightweight | WWahuayuan Dog Wheelchair |
Related Images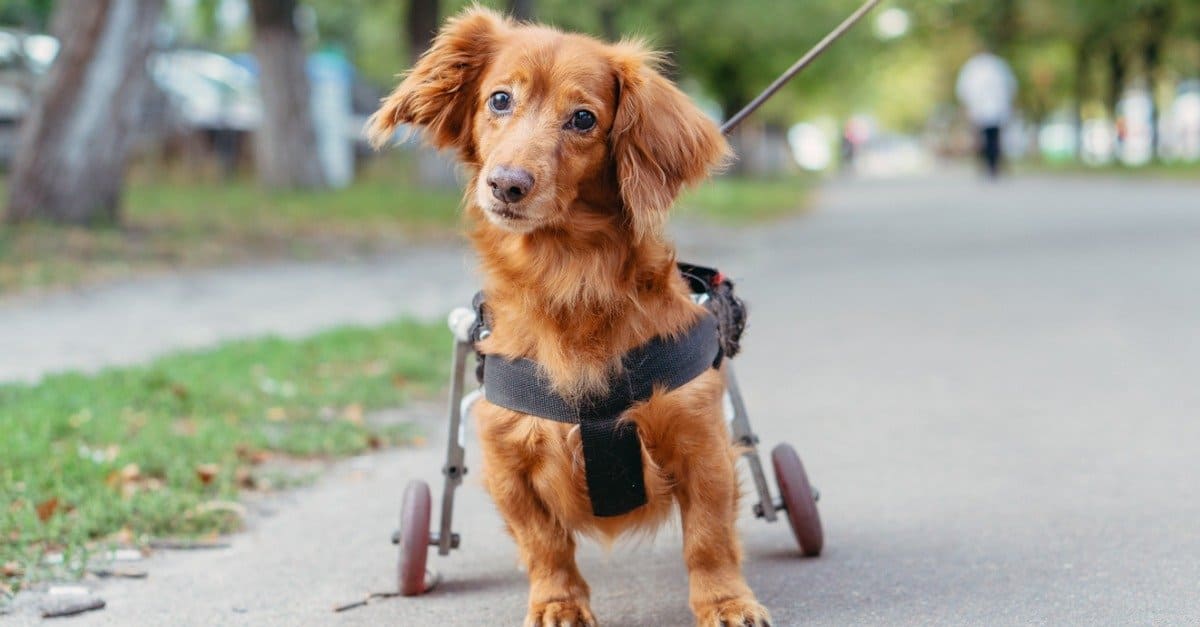 Up Next…
Best Dog Wheelchairs for 2022: Reviewed and Ranked FAQs (Frequently Asked Questions) 
How do you know if your dog needs a wheelchair?
The obvious sign is that your dog is struggling to move around or cannot move at all. This will severely affect their quality of life and it is your responsibility to intervene. They may appear reluctant to go for walks or may refuse to move at all. If they have had an accident or surgery, your vet may recommend that they need a mobility aid for their recovery.
Do vets recommend wheelchairs for dogs? 
You should always get the approval of your vet before purchasing a wheelchair for your dog. They will be able to advise you on the type of wheelchair to get. Many models are designed by vets and they have been tried and tested for many different conditions.
However, vets often work closely with other professionals who have more expertise in dog mobility aids. Your vet may recommend that you consult a canine rehabilitation specialist or an animal physiotherapist for more advice.
Can a dog go to the bathroom in a wheelchair?
Absolutely! Most of these devices are designed so that both boy and girl dogs can poop and pee whenever they need to but always check with the manufacturer if this is an important feature for your dog's circumstances.
How long can a dog stay in a wheelchair?
This depends on why your dog needs a wheelchair. Pooches that have generalized weakness or senior dogs with extensive arthritis will only be able to cope with around 15 minutes because of the strain exerted on the front legs.
However, younger dogs who have localized trauma to the rear limbs can build up to spending around an hour in their wheelchair. It is important to note that you need to constantly monitor your dog for signs of fatigue and distress and you should never leave them unsupervised in their chair.
Can you make your own dog wheelchair?
No this is not recommended. A dog wheelchair may look like just a bit of metal and fabric with two wheels but a lot of effort has gone into its design and construction. Most dog wheelchair manufacturers have been in the business for decades and know what does and does not work. They also work alongside vets to make sure that the wheelchair is not doing more harm than good.
Sadly, if you make your own wheelchair, it is unlikely to fit correctly and could put additional strain on your dog's body. This could slow down their rehabilitation or even trigger a new health issue and that's the last thing that you would want for your furry friend.