Key Points
The #1 Best Overall outdoor dog bed is the Coolaroo The Original Elevated Pet Bed.
An outdoor bed provides your dog with a cool place to rest and cool off while on the porch or backyard. However, you should not just purchase any dog bed. It's important to purchase a dog bed that is durable, easy to clean, and resistant to dirt and water. 
Dog beds come in a variety of sizes and styles to meet the needs of you and your pooch. To help you choose the best outdoor dog bed, we have included information on the many different types of dog beds available including those designed for wintertime usage, backyards, and more!
During the summertime, we all enjoy spending more time outside in the great outdoors. Our dogs also enjoy spending time outdoors, especially when the weather begins to warm up. It's not hard to realize that outdoor dog beds help make lounge time more enjoyable for your furry friend. Your pup will be more comfortable and safe during the warm months of the year if it has a durable outdoor dog bed. Whether your dog is on the patio, in your yard, or wherever else their mood takes them, an outdoor dog bed provides them with a comfortable place to lay their heads.
However, just any dog bed will not do. Due to the numerous uses of outdoor dog beds, they are available in many styles and designs. When you're shopping for gear for yourself or your dog, it is important to think about its intended purpose before buying. Outdoor dog beds should be durable, water-resistant, and easy to clean. With that in mind, here are the best durable and waterproof outdoor dog beds for a relaxing afternoon dog nap.
Top Picks: The Best Outdoor Dog Beds Today
#1. Best Overall: Coolaroo The Original Elevated Pet Bed
As the best outdoor dog bed overall, Coolaroo The Original Elevated Pet Bed stands out.
In addition to being affordable, durable, and comfortable, the Coolaroo Elevated Pet Bed is ideal for both indoors and outdoors. This dog bed is made of breathable fabric to keep your dog cool all summer long. Elevated cots can provide a useful alternative to cooling beds and pads filled with gel or memory foam, which may be costly and bulky. A GREENGUARD-certified, breathable high-density polyethylene material helps your dog stay cool by allowing more airflow under the bed. This also means that the fabric is 100% recyclable and free from lead and phthalates and is also very easy to clean. 
As a result of its steel frame, it's also very light and portable, so it's easy to move around. In addition to being resistant to fleas, mites, and mildew, it is also waterproof. Despite not being padded, the mesh fabric relieves pressure from joints. It is always possible to add a pad on top to make it more comfortable for your pup. Several breeds and sizes of dogs can fit in these beds, which come in four different sizes. Unfortunately, when it comes to the largest size, it can only accommodate up to 100 pounds of weight, which means it is not suitable for much larger breed dogs.
Pros and Cons of the Coolaroo The Original Elevated Pet Bed
| Pros | Cons |
| --- | --- |
| The material of the bed is made of an incredibly breathable fabric to keep your dog cool. | This outdoor bed cannot be used by dogs that weigh over 100 pounds. |
| With its lightweight steel frame, the bed can be moved around as needed. | |
| This bed is resistant to fleas, mites, mold, and mildew. | |
Best Overall
Coolaroo The Original Cooling Elevated Pet Bed
Elevated cots are an alternative to cooling beds and pads filled with gel and/or memory foam
The Coolaroo features Greenguard-certified breathable high-density polyethylene
It's made of 100% recyclable fabric
It works by allowing air to circulate through the bed and dissipate any heat radiating from your dog
Flea, mite, mold, and mildew resistant
Check Amazon
2. Best Bolster Bed: K&H Original Bolster Pet Cot
If you're looking for a stylish and comfortable outdoor dog bed, look no further than the K&H Original Bolster Pet Cot. Whether you're looking for indoor comfort or outdoor comfort, this durable, cushiony waterproof dog bed is a great choice. 
Neither water nor UV rays can penetrate the removable and washable polyester cover. With its waterproof, heavy-duty fabric and breathable mesh center, this dog bed will keep your dog cool even on the hottest days. In addition, the fabric resists moisture, mold, mildew, and bacteria. This bed has a soft and comfortable bolster around three sides, making it perfect for dogs that like to sleep with a pillow. Dogs with acid reflux or neck pain will benefit from this sofa-style design. Additionally, anxious dogs will feel more secure as a result of the plush comfort of the bed. Replaceable covers are another great feature. For the winter, you can get a self-warming canopy, and if you want a shaded canopy (like a tent), you can buy a waterproof canopy.
However, it is important to note that this is not the best outdoor dog bed if you're going to be in extreme temperatures. Your pet will not be safe in a non-heated dog house or garage, but they can enhance your dog's warmth in an already heated home. 
Pros and Cons of the K&H Original Bolster Pet Cot
| Pros | Cons |
| --- | --- |
| This outdoor dog bed is incredibly fashionable and comfortable at the same time. | During extreme temperatures, your dog will not stay warm or cool enough on this bed. |
| With its washable cover, the bed is easy to maintain. | |
| The bed is designed to withstand water and UV rays. | |
Best Bolster Bed
3. Best Heated Bed: K&H Pet Products Lectro-Soft Outdoor Heated Pet Bed
With the K&H Pet Products Lectro-Soft Outdoor Heated Pet Bed, you can rest assured your pet is warm during the cold months. Soft orthopedic foam is used in its construction, and a fleece cover is provided for extra comfort. PVC-coated orthopedic foam is water-resistant and made for outdoor use. It also keeps your pet warm while letting him enjoy some fresh air on chilly days as it maintains a steady 102 degrees Fahrenheit temperature. 
In addition to being extremely soft, the fleece cover holds in heat well. The manufacturer incorporated an additional safety feature by wrapping the power cord in steel. However, even though the pad is durable, it is still not chew-proof. Nevertheless, it is sturdy enough to last for a long time. As a matter of fact, Met Labs has tested and certified the pad as exceeding the electrical safety standards in the USA and California. When the fleece cover is removed, the bed is water-resistant and easy to clean. If you already have so many household chores to do, it's a huge help. 
It is however a little disappointing that the cover doesn't actually stay on the bed and doesn't cling to it. In addition, it is not possible to turn the bed on and off. Overall, however, the bed is a great investment if you're looking for a heated dog bed that is both cozy and available in three different sizes. 
Pros and Cons of the K&H Pet Products Lectro-Soft Outdoor Heated Pet Bed
| Pros | Cons |
| --- | --- |
| The orthopedic foam mat is temperature-controlled to suit your pet's needs. | There is no chew-proof feature on the dog pad. |
| It comes with a machine-washable fleece cover that is easy to remove. | Temperature settings on the bed do not have an on/off button. |
| A steel-wrapped cord ensures that your dog is safe from electric shocks. | |
| The dog bed comes in three different sizes. | |
Best Outdoor
K&H Pet Products Lectro-Soft Outdoor Heated Pet Bed
Designed to maintain a steady 102 degrees F
Features soft orthopedic foam covered with fleece for extra comfort and support
Must be inflated prior to use
Tested and certified to exceed USA/CA electrical safety standards
The power cord is steel-wrapped to protect it from chewer and the elements
Check Amazon
4. Best Portable Bed: Cheerhunting Portable Outdoor Camping Dog Bed
You'll find the Cheerhunting Portable Outdoor Camping Dog Bed the best option if you're looking for an outdoor bed to take along on your travels. It is made of Oxford cloth so that it can withstand all kinds of weather. With a breathable outdoor bed like this, your dog will stay comfortable and cool whether you're on the road or camping in the backyard. 
In addition to being durable, this material is also easy to clean. You can easily remove dirt and stains from the bed by wiping it with a damp cloth. Additionally, it can be machine-washed. It was also noteworthy that dirt and other debris don't easily stick to it. There are a variety of colors and sizes to choose from as well. For easy transportation and storage, it comes with its own carry bag. If your dog is an aggressive chewer, however, this bed won't be suitable for him. Furthermore, the x-large size is a bit pricey compared to our top pick. Although not so expensive as to blow a hole in your budget, you'll still feel the pinch.
Pros and Cons of the Cheerhunting Portable Outdoor Camping Dog Bed
| Pros | Cons |
| --- | --- |
| The Oxford cloth material makes this outdoor bed suitable for all weather conditions. | This bed is not chew-proof, so if your dog is a big chewer, you shouldn't consider it. |
| The bed is available in a wide variety of colors and sizes. | There is a bit of a price premium for the x-large bed option. |
| You can machine wash the bed, which makes cleaning a breeze. | |
Best Portable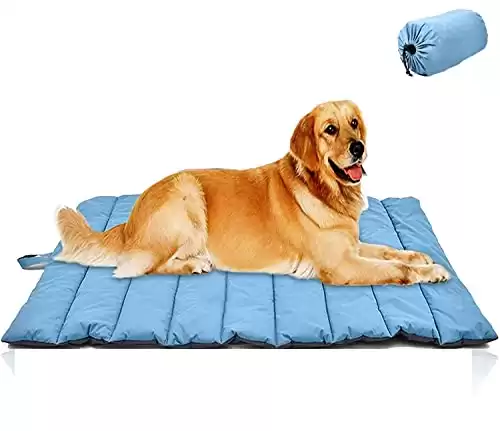 5. Best Canopy Bed: Best Choice Products Outdoor Canopy Pet Bed
The Best Choice Products Elevated Cooling Dog Outdoor Canopy Bed is the perfect choice if you want your dog to feel like they're on a beach vacation! It has four rubber foot caps that protect the floors while a durable nylon fabric withstands adverse weather conditions. Designed with four legs and two central supports, it allows air to pass under your pet's feet, keeping them cool and allowing easy cleanup. It has a breathable nylon mesh bed under a removable canopy that disperses heat and a beautiful umbrella that blocks the sun.
A tempered steel frame provides weather resistance. In addition, you can pack and go with this bed since it disassembles quickly and easily and comes up with a travel bag. The only downside is that the bed is only designed to support dogs with a maximum weight of 66 pounds. In other words, if you have a small dog, then this is a great option for you. Owners of large dogs, however, should look elsewhere. 
Pros and Cons of the Best Choice Products Outdoor Canopy Pet Bed
| Pros | Cons |
| --- | --- |
| A durable nylon fabric makes the bed weather-resistant. | The bed can only support dogs that weigh up to 66 pounds. |
| During particularly hot days, the canopy keeps your dog out of the sun. | |
| It has a travel bag and is easy to disassemble. | |
How to Choose the Best Outdoor Dog Bed
It is important to keep a few factors in mind when choosing the best outdoor dog bed. After all, a dog bed for the outdoors ensures your pet's comfort, as well as eliminating the risk of insect bites and infections generated by them. With a dog bed, your dog will not feel achy joints, have irritated skin from hot spots or be exposed to bacteria or parasites for an extended period of time. The right dog bed can make a big difference in your dog's health and well-being outside. After all, who wouldn't want their furry companion to be able to accompany them outside?
There are four main factors to consider when deciding on the best outdoor dog bed for your pup:
Design 
Comfort 
Durability 
Usefulness
We will examine all of these factors in more detail below:
Design
In the world of dog beds, there are several different types of designs, but there are only two main categories: on-the-ground beds and off-the-ground beds. Traditional dog beds are cushioned or padded mats that sit directly on the ground or on the floor. Off-the-ground dog beds have a platform that elevates the bed off the ground or floor in some way. Different styles of beds will be available within these designs. While elevated dog beds are generally more suitable for outdoor use, on-the-ground dog beds can also be used outside in some circumstances.
Comfort 
As every dog is different, so should their dog beds be as well. Despite the fact that elevated beds are popular among dogs, that doesn't mean yours will love them. Depending on the dog, you might have to condition him to be more comfortable around them. In general, older dogs do well with dog beds that are placed on the ground, because they do not have to step as high or as low to use them. It is also important to consider the firmness of the bed. A bed should be soft enough to support your pet's joints while not too hard to feel like the ground. The sinking effect of soft beds will also make them challenging to use, and plush, soft beds will be less supportive than firmer foam beds. 
Durability
Since these dog beds will be used outdoors, they need to be durable, easy to clean, and preferably waterproof. As well as surviving the natural elements, the bed's durability also reflects how well the dog tolerates it. The majority of dogs do not chew their beds, but some may be more susceptible. You can prevent your dog from chewing and shredding your bed if you invest in a platform or rip-proof bed. 
It is much easier to keep platform beds clean, which is why most dog owners use them for outdoor use. The cot-style beds come in different materials, and metal frames last longer than wooden frames. The plastic platform bed is still a great option, and it tends to be more affordable. When left outside full-time, however, plastic is prone to cracking and deteriorating more rapidly than metal. In metal cots, the bed portion is padded with fabric, which can be easily replaced if necessary. 
Usefulness 
Dog beds intended for use outdoors must be durable and easy to maintain. Even so, it's important to narrow down when and how you'll be using the bed. The uses help you determine which materials are appropriate, what type of portable bed you need, and how easy it should be to clean. A dog's breed may also affect which bed is best for them. A dog in training or a dog who gets hot easily may benefit from elevated beds, such as cots. Finding the best outdoor dog bed will depend on knowing your dog and its needs.
Up Next…
Best Heated Dog Houses — Why don't you give your pet a place of his own if he doesn't like an outdoor dog bed? These are the best heated dog houses.
The Best Dog Crates — The crate should be another place for your dog to feel cozy and safe so check out the best ones available for purchase.
Best Dog Sleeping Bags — Make sure to pack the right gear for your buddy if he's joining you on your camping trip!
Compare the Best Outdoor Dog Beds: Reviewed FAQs (Frequently Asked Questions) 
What is the best outdoor bedding for a dog?
A dog's outdoor bedding should be comfortable and breathable. When summer days are hot, he'll want something he enjoys lounging on. This can be achieved with an elevated dog bed made of breathable material. In addition, it will make it easier for dogs with aching joints to get on and off of the bed. In addition to being waterproof and portable, your pooch's outdoor bed should also be suitable for camping trips. An outdoor bed with a canopy would be the best choice for beach trips to give your dog a place to cool off after some sunbathing. Dog beds with heating pads are the best choice for winter dog beds. There is no one-size-fits-all when it comes to dogs and pet parents. One's best interests aren't necessarily those of another. We described features that can help you find the most suitable choice, but you must also understand your lifestyle, environment, and pet's needs.
What is the best waterproof dog bed?
As far as waterproof dog beds go, the K&H Original Bolster Pet Cot is our recommendation. The fabric on this bed is waterproof, heavy denier, and features a breathable mesh center. Additionally, it repels mildew, mold, and bacteria.
What is the most durable dog bed?
In terms of durability, Coolaroo's Original Elevated Dog Bed is the best. High-density polyethylene is used in this cot-style bed, making it not only comfortable but also very durable. In comparison to other plastics, it has been shown to be more durable. Additionally, it is resistant to fleas, mites, mold, and mildew. Besides the durable fabric, this outdoor bed has a powder-coated steel frame that keeps it weatherproof. 
Do dogs prefer round or square beds?
For dogs who sleep curled up, a soft, round bed is ideal, while those who stretch out need a longer, rectangular bed. However, you shouldn't always rely on your dog's size to determine the right size bed for them. It's important to remember that different dogs enjoy sleeping in different ways. Some large dogs prefer to snuggle up and sleep with their tails covering their nose. In contrast, some smaller dogs love to stretch out when sleeping.