Key Points
The best overall dog grooming tub for professionals is the Booster Bath Elevated Dog Bathing & Grooming Center.
Explore dog grooming tub options for dogs of different sizes, including portable options and those with extra features.
Before your purchase, consider the weight limit, how easy it is to transport, and what your purchase includes (restraint leashes, drain hoses, caddies/pockets, etc.)
Although many pet parents take on the task of grooming their own pups, it's sometimes better left to a pro. If you're looking for the best dog grooming tubs for professionals, check out the four options we found below. These dog grooming tubs come in different colors, have special features, and are portable. You can set them up indoors or outdoors, and groom dogs of different sizes. The one you select should be specific to your needs, and we've set up a good variety for you to select from!
Top Picks: The Best Dog Grooming Tubs for Professionals Today
Provides elevation while bathing dogs.
Drainage is easy.
Has a patented, rubberized, non-slip mat to keep dogs from slipping.
Three-point safety harness and collar keep dogs secure.

Check Chewy Check Amazon

Foldable, lightweight design keeps it easy to store, transport, and set up.
The height of 36 inches helps prevent back strain.
Includes a removable stopper and drainage hose.
Good for small and medium-sized dogs, as well as cats.

Check Chewy Check Amazon

Made of PVC polymer.
Scratch-resistant and waterproof.
Supports up to 150 pounds.
Includes a grooming arm, drainage hose, leashes, and haunch holder.

Check Chewy Check Amazon
#1 Best Overall: Booster Bath Elevated Dog Bathing & Grooming Center
Best Overall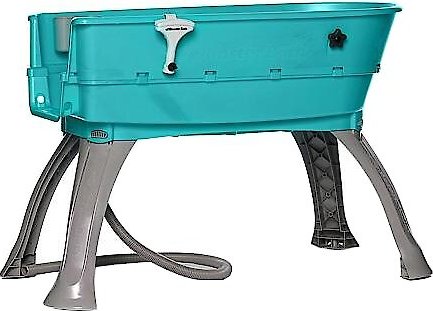 The best overall dog grooming tub for professionals is the Booster Bath Elevated Dog Bathing & Grooming Center. This dog grooming tub makes bathing pets easy by providing 360-degree access. The drainage is simple, and the elevation allows you to comfortably bathe dogs weighing up to 175 pounds. There's a 3-point safety harness and collar that helps keep dogs secure while you bathe them. You can control water pressure with the spray nozzle and trust the rubberized and textured mat to prevent any slips or sliding during their baths.
When not in use, this dog grooming tub can be taken apart. Just remove the legs, place them inside the tub, and store them as needed. This is a lightweight design that you can take with you, especially if you're a mobile pet groomer. It's elegant yet both functional and convenient. It eliminates the stress on your back and keeps pets secure while you get them perfectly groomed before they go back to their homes.
On average, customers rate this dog grooming tub 4.4 out of five stars. They appreciate that it's lightweight, compact when stored, and can handle the weight of large breed dogs. Customers encourage you to read through all of the steps for assembly to ensure that you get it put together securely. You have to wait until the tub parts snap together completely before it can hold the weight of a pet. They're already noticing a difference in both their knees and their lower backs when using this tub, which makes their work that much easier. Customers are even using the space to blow dry their dogs and because of its size and sturdiness, it works very well. If you need a dog grooming tub that's easy to move around, this is a great buy.
| PROS | CONS |
| --- | --- |
| Available in multiple sizes and colors | Assembly is a little tricky at first |
| Shampoo and conditioner caddy included |   |
| 3-point restraint system with collar |   |
2. Best for Outdoor Use: Flying Pig Grooming Dog Bathtub
With this design, you have a hassle-free way to wash dogs. It offers multi-angle washing action in a UV-protected plastic basin. This is what makes it so durable and able to stand up for regular outdoor, heavy-duty use. The stainless steel legs have built-in levelers that allow you to keep the tub steady, no matter what type of surface you're on. Whereas other designs require that you place the bathtub on even ground for security, with the built-in levelers, you can place this bathtub nearly anywhere. The other convenient aspect of this bathtub is that it arrives in one piece so you can use it straight out of the box.
Customers rate this bathtub 4.8 out of five stars. It's a back saver, it's portable, and it's sturdy. They love that the size is perfect for small to medium-sized dogs and it's at a height that allows them to work comfortably. They love that it holds water, which allows them to administer treatment soaks as needed. Overall, they appreciate the value for the price. It delivers everything they needed and more. 97% of people who have purchased this dog grooming tub would recommend it to a friend.
| PROS | CONS |
| --- | --- |
| UV-protected plastic basin | The legs of the grooming tub sit directly underneath instead of spreading out like other designs |
| 360-degree access to pups |   |
| Stable, stainless steel legs |   |
3. Best Foldable Design: Furesh Elevated Folding Pet Bathtub & Wash Station
Best Foldable Design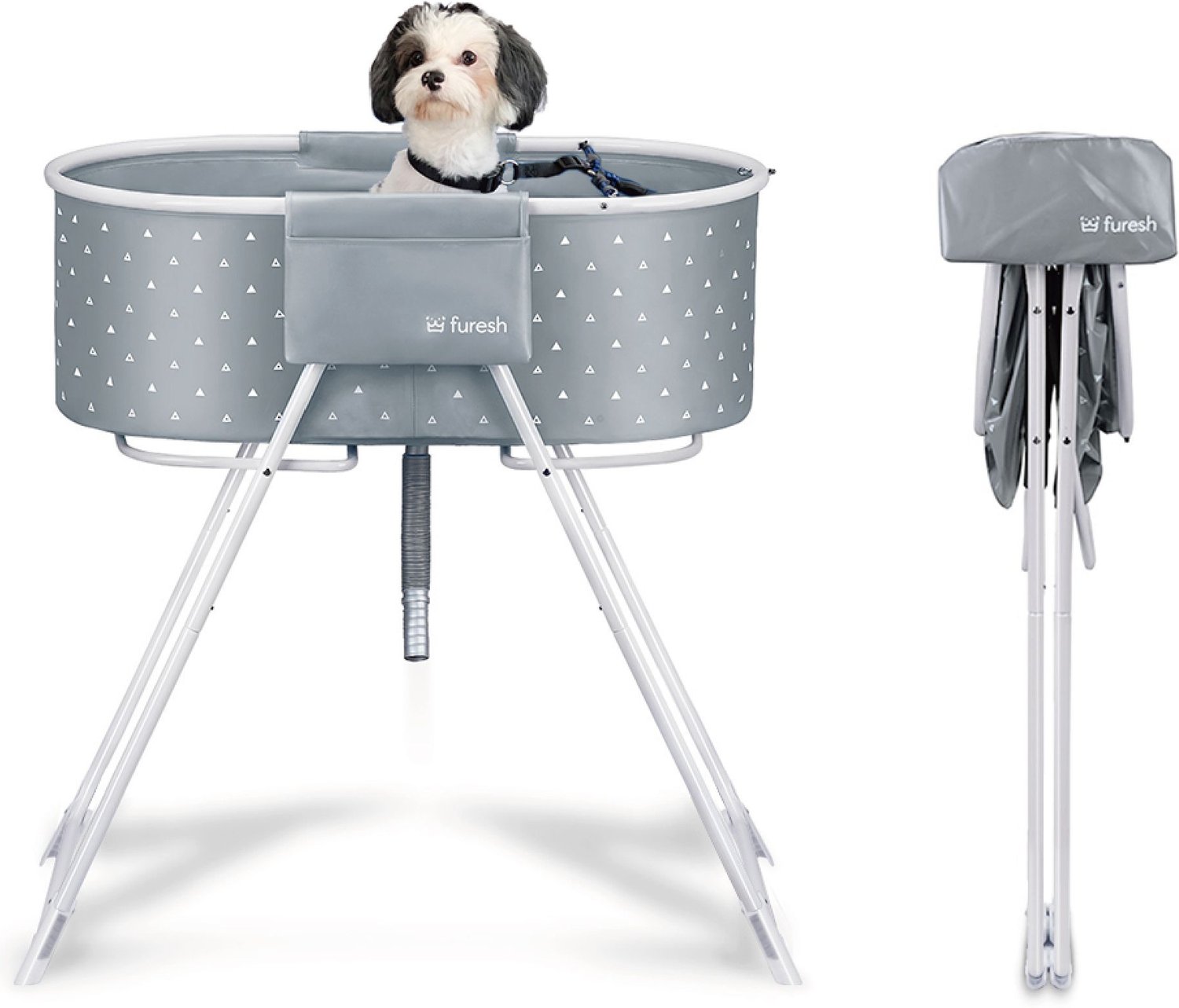 This elevated dog bathtub serves as a washing station for pets. This is a design meant for small and medium-sized dogs, however. It's not for large or extra-large breed dogs. You can use it indoors as needed but it makes a great outdoor wash station as well. The basin portion of this bathtub is made from marine-grade PVC. It's easy to clean and long-lasting, whether you keep it stationed or travel with it. The frame is made from stainless aluminum tubing and offers stability when in use.
With the elevated design, you don't experience uncomfortable backaches from constantly bending over. You get 360-degree access to dogs while they're in the station. The design also includes a stretchable drain hose that you use to drain all the water when you're finished bathing each dog. Additionally, the wash station includes a 3-point leash restraint with an adjustable collar. There are two side pockets that help you store all your grooming essentials in one spot. It's available in either blue or gray.
Customers rate this bathtub 4.8 out of five stars. They rave about how easy it is to set up and appreciate that it folds up and is easy to carry with them as needed. The drain hole catches all of the loose hair, which is another aspect of this design that they really appreciate. They had previously worked with other models that didn't catch any of that loose hair, which made cleanup a nightmare after draining. It's spacious and comfortable enough to give dogs haircuts and blow dry them as well. If you generally wash small to medium-sized dogs, this is a very convenient option that you can set up virtually anywhere.
| PROS | CONS |
| --- | --- |
| Lightweight and foldable design | Supports up to 130 pounds but that includes the weight of water |
| Built-in drainage hose |   |
| Ergonomic height (36 inches) |   |
4. Best With Grooming Arm: SHELANDY Dog & Cat Bathtub
Best With Grooming Arm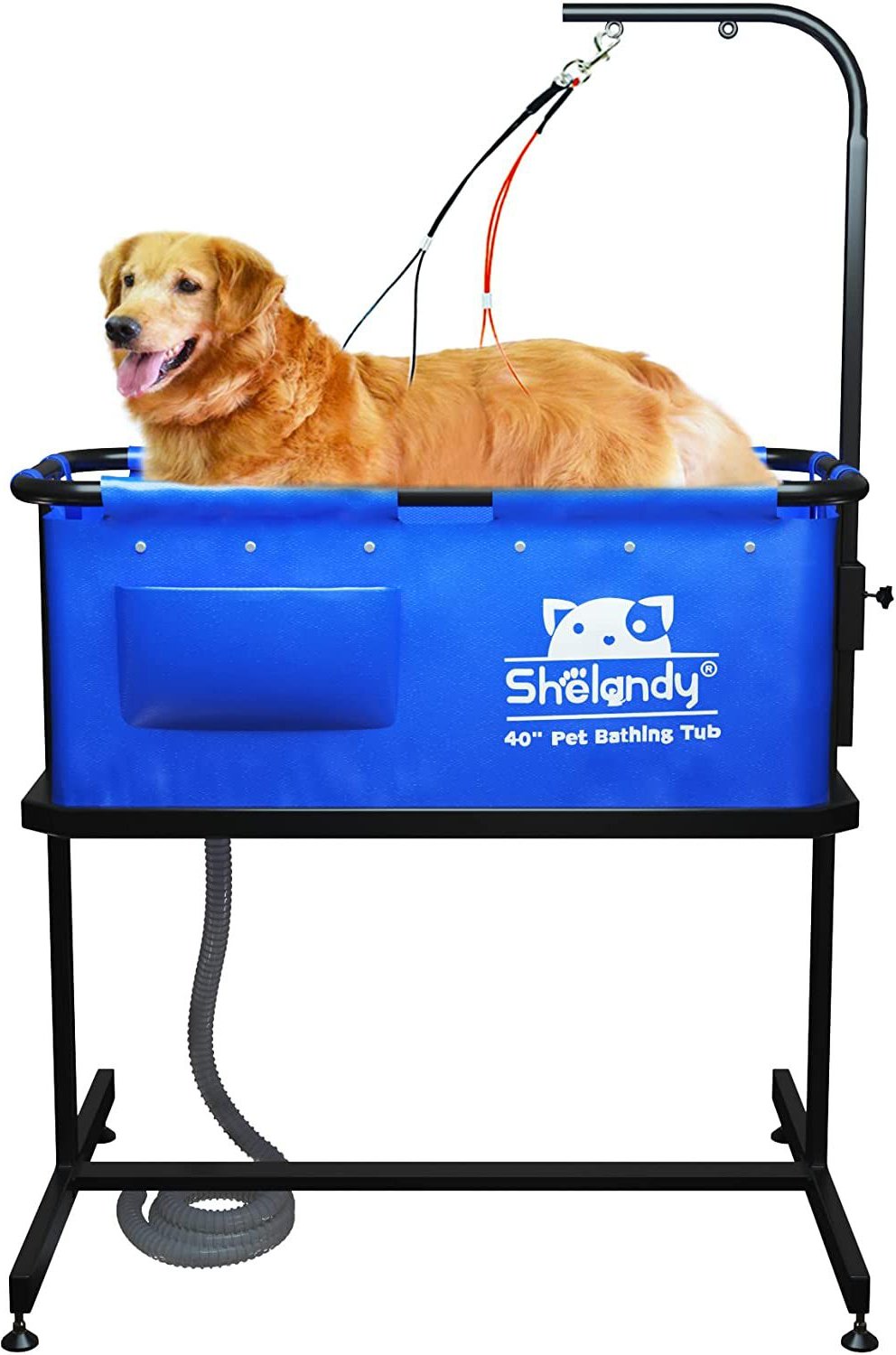 Washing dogs can get tricky, especially if you generally travel for grooming appointments. With this portable grooming bath, you can do everything you need on any surface. The grooming arm, grooming leash, and haunch holder all help to keep the dog secure while you have two free hands to get them clean and smelling amazing. It takes about 10 minutes to set up and it folds neatly to fit into most vehicle trunks. The bottom of this tub is completely solid so that your doggy clients have a flat base to support their weight. The wall of the tub is made from durable PVC polymer, making it slip-resistant and scratch-proof. The drain hose is six feet long, which makes for easy cleanup, no matter where you set it up.
Customers rate this dog grooming tub 4.3 out of five stars. It's sturdy, it holds water well, and drainage is easy. They love the grooming arm and that it's easy to put together solo. This is a large design that comfortably fits a variety of different dog breeds. One customer even uses this for her Saint Bernard. Although some of the customers received damaged boxes, once they opened them to review what was inside, they realized that none of the parts were damaged and everything was there. Assembly is easy and it feels sturdy. The only bummer is that to fold it up, you have to disassemble the legs. This does tack on extra time to set up and clean up but based on how easy it is to use, they don't view that as a con.
| PROS | CONS |
| --- | --- |
| Made from PVC polymer material | To fold, you must first disassemble the legs |
| Anti-skid, waterproof, and scratch-resistant |   |
| Comes with a grooming arm and restraint leash |   |
Criteria: What to Look for in the Best Dog Grooming Tubs for Professionals
Although dog grooming tubs serve a single purpose, each design has its perks and downfalls. Depending on your specific needs, you need a design that covers all bases. Consider the following:
Weight Capacity
Although a dog grooming tub may appear large enough to hold a large dog, it ultimately depends on the weight capacity. Make sure to read any fine print because although the weight capacity is usually a part of the product description, it may also include the weight of water, which greatly diminishes the weight limit of the pup itself. If you specialize in small to medium-sized dogs, it won't be much of an issue but if you do have clientele that includes large and extra-large breed dogs, it's worth considering an extra-large design that has the highest weight capacity possible.
Portability
Portability is important for mobile dog groomers. If you just plan to set up a station either in your home or at your place of business, portability probably isn't a big concern for you. However, if you do offer house calls, you may need to thoroughly consider the design to determine if it works for you. Some designs are easily foldable and lightweight while others are portable but require a bit more time to set up and take down.
Extras
Make sure to read through the specifics of the dog grooming tub you are considering. Some designs have pockets on the sides or even little caddies to hold shampoo and conditioner. Others might have a grooming arm while others just have a 3-point leash system. Find out if the drain hose is included and how long it is. Some designs offer a replacement drain hose as part of the initial purchase. If you need the dog grooming tub to hold water, make sure that it includes a stopper. These extras and features are important to consider depending on the type of work you do and the types of dogs you work with.
Up Next, a Few More Dog Grooming Products for Pros to Consider:
The 4 Best Dog Grooming Tubs for Professionals FAQs (Frequently Asked Questions) 
How profitable is a dog grooming business?
A dog grooming business is as profitable as you make it. There are several start-up costs to consider and you should also have a solid business plan in place. Overall, these businesses do very well, especially when you market your services well.
Is being a dog groomer stressful?
Being a dog groomer is a physically tasking job that can be stressful when dealing with anxious pups. However, if you have the patience and love for dogs to see them through each appointment with care, it's a very rewarding profession.
More from A-Z Animals