It's no secret that hydrothermal activity is constant in Yellowstone, but do you know what some of the best geysers in Yellowstone National Park might be? Whether it's a hot spring, fumarole, or powerful geyser, there is no shortage of things to see in Yellowstone, particularly if you are interested in hydrothermal features. 
In this article, we will go over some of the best geysers and hydrothermal features for you to see, should you be planning a trip to Yellowstone National Park. We will go over why these geysers are so special, and how you can best access them. Let's get started and learn all about some of the best geysers in Yellowstone National Park now! 
| Yellowstone National Park | Geyser Facts and Figures |
| --- | --- |
| Number of Geysers | 10,000 hydrothermal features; more than 500 geysers specifically! |
| Most Popular Geysers | Old Faithful, Grand Prismatic Spring, Steamboat Geyser, Mammoth Hot Springs  |
| Geyser Hiking Opportunities | Upper Geyser Basin, Lower Geyser Basin, West Thumb Geyser Basin, Norris Geyser Basin |
| Types of Geysers Found in Yellowstone | Mudpots, fumaroles, geysers, hot springs, travertine terraces |
| Most Underrated Geysers | Imperial Geyser, Spray Geyser, Artist Paintpots, Lone Star Geyser |
Geysers in Yellowstone National Park
Whether you want to view multiple geysers in one day or plan on hiking to one special hydrothermal feature in particular, there are plenty of options for you in Yellowstone National Park. In fact, there are over 500 geysers in Yellowstone, the highest concentration of anywhere else in the world. 
With help from Yellowstone Park Rangers, you'll have no trouble anticipating the eruption times of certain geysers. However, keep in mind that not all geysers are predictable or on a particular schedule, so don't expect to see an eruption whenever you happen to arrive at the geyser you are interested in! With all of this in mind, let's take a look at some of our favorite geysers found in Yellowstone National Park.
Mammoth Hot Springs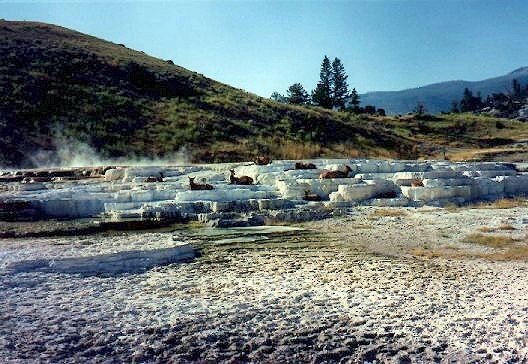 One of the most accessible and fascinating hydrothermal features in Yellowstone National Park has to be the Mammoth Hot Springs. Formed from hydrothermal activity, Mammoth Hot Springs is a combination of multiple travertine terraces, hot springs, and geysers, depending on the area that you choose to explore. This particular area of Yellowstone National Park is accessible from the northernmost entrance, and you can easily park and explore the area at your own pace. 
Grand Prismatic Spring
Beautiful and unlike anywhere else in the world, the Grand Prismatic Spring is one of the most photographed locations in all of Yellowstone National Park. This hot spring is accessible through a number of different hikes and parking locations, but the Grand Prismatic Spring Overlook Hike is highly recommended for the best view of this hydrothermal feature. In addition, if you continue taking this particular trail, you'll find waterfalls and much more beyond the spring itself! 
Old Faithful
There's no way to talk about Yellowstone National Park geysers without mentioning Old Faithful. Arguably the most famous geyser in the entire world, Old Faithful erupts on a fairly predictable schedule, often only 60-100 minutes between eruptions. You can see this infamous geyser at work by hiking the Upper Geyser Basin Trail, which also includes a number of other fantastic hydrothermal features to look at.
Find out what lives at the bottom of Old Faithful.
Artist Paintpots
Often less crowded compared to other geyser basin hikes, the Artist Paintpots location of Yellowstone National Park is beautiful and serene. Plus, this boardwalk hike is only a mile in length after you reach the trail from the parking lot, making it ideal for the entire family. The paintpots or mudpots themselves are beautiful in color, and offer visitors a unique glimpse into the hydrothermal bacteria behind all of the geysers in Yellowstone. 
Lone Star Geyser
Sharing the same basin trail as Old Faithful, the Lone Star Geyser is another fantastic geyser to view in Yellowstone National Park. It erupts on a predictable schedule, much like Old Faithful, and you can see this geyser toward the end of a paved hike. However, keep in mind that this round-trip hike is nearly five miles, so make sure you pack the right shoes! 
Steamboat Geyser
From a scientific perspective and a tourist one, the Steamboat Geyser is fascinating. This particular hydrothermal feature is unpredictable, though it appears to be erupting more regularly ever since 2018. You can see it by traversing along the Norris Geyser Basin, and you may get lucky when it comes to an eruption. This is arguably the largest geyser eruption in Yellowstone National Park, if not the world, should you be able to see it! 
Excelsior Geyser
If you don't want to worry about the unpredictability of geysers, check out the Excelsior Geyser on your visit to Yellowstone National Park. Found in a crater along the Firehole River, the Excelsior Geyser is constantly erupting, producing more than 4,000 gallons of water a minute. The water falls gracefully into the river, and you can see this geyser by hiking the Midway Geyser Basin.
Imperial Geyser
Impressive and one of Yellowstone's most underrated geysers, the Imperial Geyser is found by completing the Fairy Falls Trail. Most tourists stop once they reach this beautiful and easily accessible waterfall, but continuing down the trail gives you access to geysers and other features. The Imperial Geyser reaches up to 150 feet in the air, though it's sporadic in its schedule, at best!
Summary of The 8 Best Geysers in Yellowstone National Park
| Rank | Best Geysers |
| --- | --- |
| 1 | Mammoth Hot Springs |
| 2 | Grand Prismatic Spring |
| 3 | Old Faithful |
| 4 | Artist Paintpots |
| 5 | Lone Star Geyser |
| 6 | Steamboat Geyser |
| 7 | Excelsior Geyser |
| 8 | Imperial Geyser |
Summary Table of The 8 Best Geysers in Yellowstone National Park
---