The Bloodhound can be traced back to medieval France, initially bred for trailing boar or deer. But today, their exceptional sense of smell makes them perfect for service jobs like search and rescue and law enforcement. Because bloodhounds are so intelligent and active, they are not ideal for first-time owners. However, they have many good traits; for example, they are gentle and very affectionate. Who couldn't look at that droopy face and not fall in love? They have a goofy charm about them. Bloodhounds come in three official colors, some more common than others. Here is a list of bloodhound colors from rarest to most common.
Bloodhound Colors from Rarest to Most Common
Organizations like the American Bloodhound Club and American Kennel Club recognize three bloodhound colors: black and tan, liver and tan, and red. The colors listed below are in order from rarest to most common.
1. Red
The rarest bloodhound color is red. However, they look very similar to the liver and tan-colored bloodhound, except they don't have liver or black hues on their backs. The red color varies from light (basically tan) to a darker red shade (almost brown). But, while they appear similar, there is something that separates red bloodhounds from other colors. For example, there are three variations of red coats.
The first is the black and red muzzle. This is when the bloodhound has a solid red coat, but their muzzle is black. The second is the liver and red muzzle, where the bloodhound has a red coat and their muzzle is liver-colored. Lastly is the solid red without any spots or markings.
2. Liver and Tan
Liver and tan bloodhounds are common, but not as common as the black and tan bloodhounds. They also have different variations, which have been ranked as L1 to L4, depending on the brightness of the shade that covers the tan base color.
Liver And Tan Variations
L1: The L1 shade appears as a light hue on the bloodhound's back and is often confused with brown.
L2: The L2 is often referred to as the saddle coat color because the liver color forms the saddle shape on the bloodhound's back.
L3 & L4: These two variations are very similar. However, L4 is richer, and the liver color spreads over most of the body, with small sections of tan, primarily on the legs and muzzle.
3. Black and Tan
The black and tan bloodhound is the most common color. But, just like the other two colors, there are different variations ranked from B1 to B4. However, all variations have a tanned undercoat and black overcoat, but the amount of black varies depending on the coat type.
Black and Tan Variations
B1: The B1 coat typically has a tan undercoat, covering the majority of the bloodhound's body. The black coloring is quite light and only appears on small patches.
B2: The B2 coat has a darker black hue, and the pattern almost resembles a saddle., which is why B2 is known as the black and tan saddle type. Furthermore, it is very similar to the German shepherd coat color combination.
B3 and B4: These two variations belong to the same group of black and tan colors because there is minimal difference between them. B3 and B4's black color covers almost all of the bloodhound's back and extends over its hindquarters. However, B4s are extremely rare as their shading is the result of a recessive gene.
Do You Get Black Bloodhounds?
While solid black bloodhounds are extremely rare, they are not unheard of. As with many rare colors, solid black is inherited through a recessive gene. However, black can be the primary color in black and tan bloodhounds, with small shades of tan on the legs, chest, muzzle, and eyes. As a result, they look very similar to the color combinations of Dobermans, Rottweilers, and Dachshunds.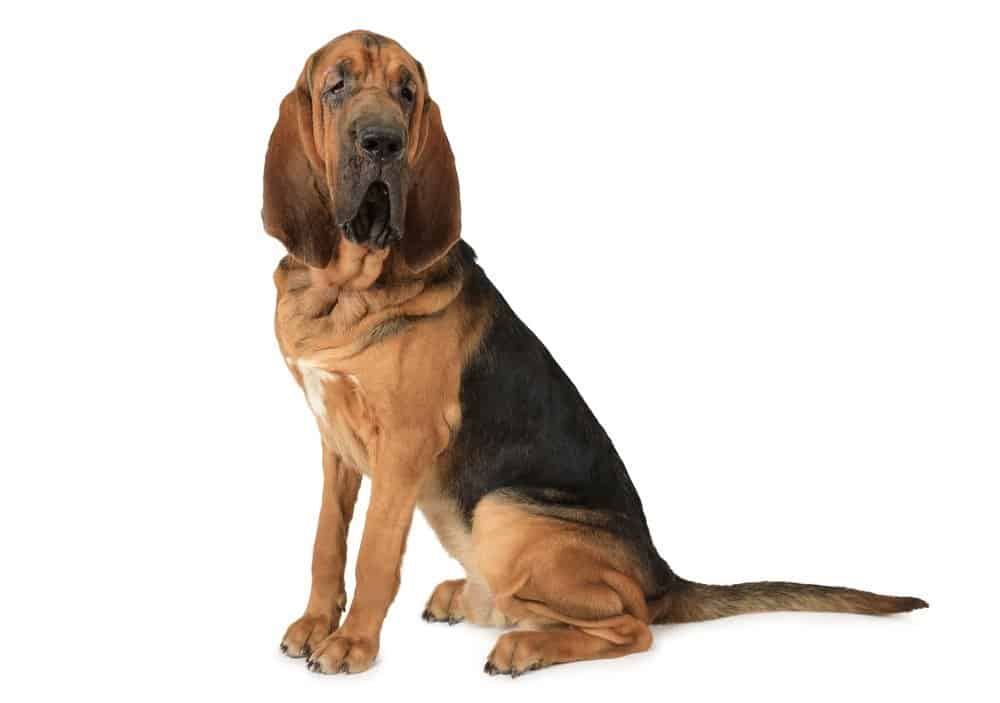 Bloodhound Size
Classified as a large breed, female bloodhounds usually weigh between 80 to 100 pounds and grow 23 to 25 inches tall, while males weigh 90 to 110 pounds and measure around 25 to 27 inches tall.
Bloodhound Personality
These large dogs are perfect for families or companions because they are so affectionate and gentle. They are notorious for their patient and calm nature and show outstanding devotion and loyalty to their owners. But they are not only companions. They are also remarkable trackers thanks to their incredible sense of smell, making them ideal for search and rescue work. While bloodhounds are usually good-natured and friendly, they can also be independent, so training them can be challenging.
Because of their strong tracking instincts, bloodhounds can get distracted on walks, so training them from a young age is essential. Due to their incredible sense of smell, these dogs are natural roamers. Therefore, owners need to keep them on a leash when out.
The bloodhound's temperament depends on several factors, including training, genetics, and socialization. Puppies with good temperaments usually display a playful, curious, and social nature. When choosing a puppy, select the one with the right balance. For example, if you are looking for a well-balanced bloodhound, choose a pup that is not too dominant or too submissive. Furthermore, ask to meet the parents, as the pups usually take after their mother regarding temperament. Older siblings are also a good indicator of the type of temperament you can expect.
These puppies need early socialization if you want a well-rounded bloodhound. Therefore, exposing them to different people, experiences, and environments while they are still young helps with their behavior. The best way to stimulate your bloodhound is by enrolling them in a doggy daycare, exposing them to new people at your home, or taking them to a dog park or to the neighbors. They need to experience various stimuli on a regular basis to become well-adjusted and well-behaved dogs.
Bloodhound Health
Unfortunately, bloodhounds are susceptible to several health conditions. However, this does not mean that every individual will contract these diseases. But, if you are considering getting a bloodhound, you should know of any potential issues. Going through a reputable breeder usually helps, as they screen their dogs for medical conditions and ensure healthy pairings. Here are some of the health conditions that affect bloodhounds:
Hip Dysplasia: When the thighbone doesn't fit into the hip joint, causing pain and lameness
Elbow Dysplasia: Results from irregular growth rates of elbow joint bones, causing pain and lameness.
Hypothyroidism: Deficiency of the thyroid hormone, causing symptoms like obesity, skin or coat changes, infertility, and mental dullness.
Ectropion: The outward sagging or rolling of the eyelid, causing infections or irritations.
Entropion: The inward rolling of the eyelid, causing irritation or damage to the eyeball.
Epilepsy: Seizures that are managed with medication. Unfortunately, the cause is unknown.
Bloat: Mainly affects deep-chested dogs and requires veterinary assistance.
Fold Dermatitis: Infection caused by trapped moisture or friction between skin folds.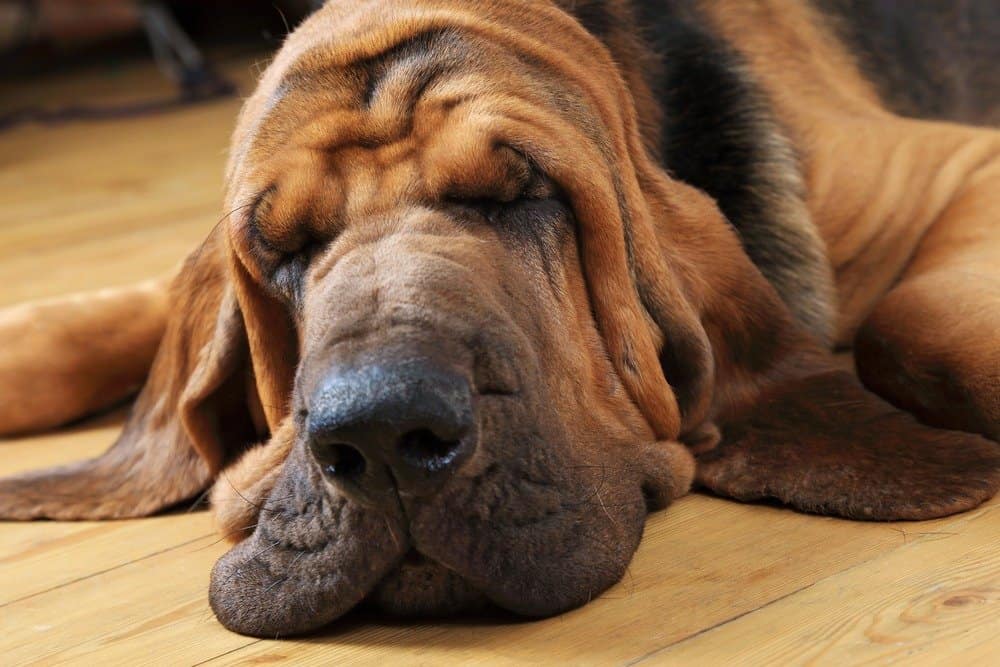 The photo featured at the top of this post is © Edoma/Shutterstock.com
Ready to discover the top 10 cutest dog breeds in the entire world?
How about the fastest dogs, the largest dogs and those that are -- quite frankly -- just the kindest dogs on the planet? Each day, AZ Animals sends out lists just like this to our thousands of email subscribers. And the best part? It's FREE. Join today by entering your email below.
---