Illinois, often recognized for its manufacturing background, coal mining heritage, and cultural dominance, stands as a testament to America's diverse socio-economic landscape. As the home of Route 66, and home to the iconic Chicago skyline, the state's cities have left permanent marks on the United States as a whole.
Today, take a journey through the five largest cities of Illinois, offering insights into their unique blend of cultural, historical, and natural wonders. Whether you're an avid traveler, history enthusiast, or someone seeking the pulse of Midwest America, these cities present a narrative that's as enlightening as it is captivating. Dive in and discover the spirit of Illinois!
The Largest Cities in Illinois by Population
| City | Rank | 2023 Population | 2020 Census | Annual Change | Population Density (mi²) |
| --- | --- | --- | --- | --- | --- |
| Chicago | 1 | 2,608,425 | 2,741,730 | -1.65% | 11,472 |
| Aurora | 2 | 177,108 | 180,355 | -0.6% | 3,935 |
| Joliet | 3 | 150,718 | 150,199 | 0.11% | 2,349 |
| Naperville | 4 | 148,754 | 149,279 | -0.12% | 3,833 |
| Rockford | 5 | 145,716 | 148,719 | -0.68% | 2,263 |
Chicago
Chicago, commonly known as the "Windy City," is about so much more than just wind and skyscrapers. It's Illinois' bustling hub, packed with a blend of cultures, historical spots, and new attractions. Overlooking Lake Michigan, its skyline is a testament to innovative architects. If you look deeper, you'll find a city with a deep love for jazz, blues, and top-tier museums, and a food scene that's out of this world. Whether you're shopping on the Magnificent Mile or taking a peaceful walk by the lake, Chicago welcomes you with both energy and warmth.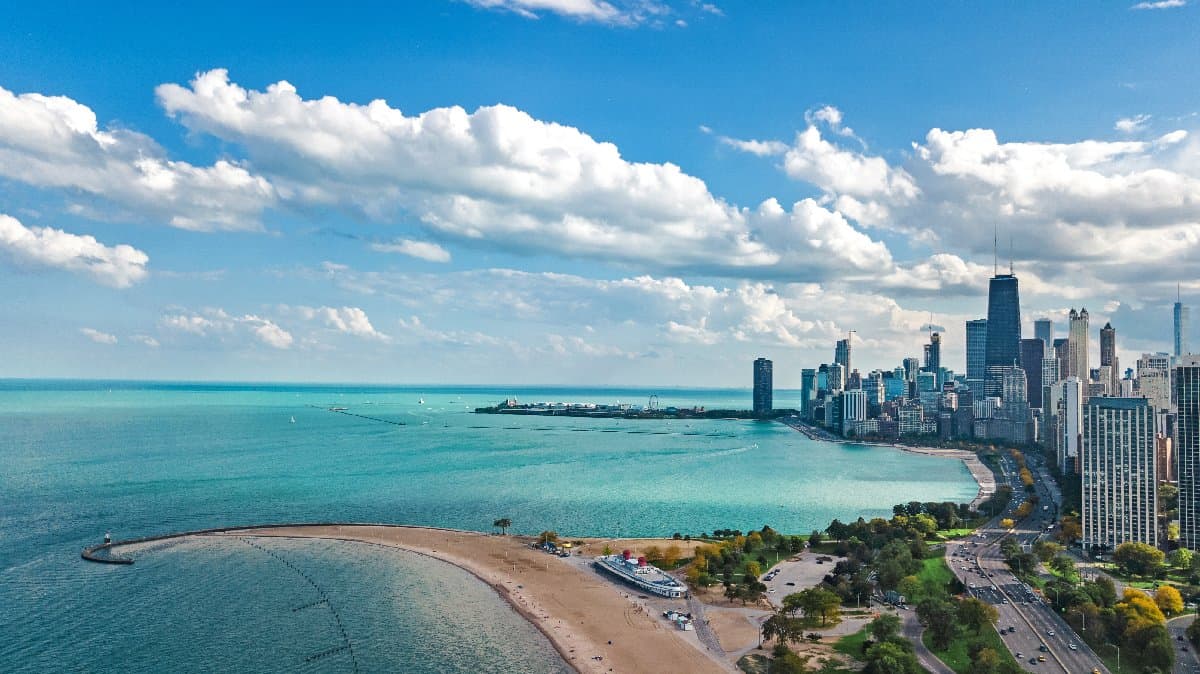 Aurora
Aurora, referred to as the "City of Lights," was one of the first U.S. cities to fully embrace electric street lighting. It's not just Illinois' second-largest city; it's a place where you can unwind by the Fox River or catch a show at the renowned Paramount Theatre. Downtown, there's a mix of unique shops and local dining spots that give it a distinct charm. In Aurora, the past and present coexist, offering the familiarity of a small town with the vibe of a growing city.
Joliet
Joliet, Illinois' third-largest city, is a place where attractions meet history. The Rialto Square Theatre isn't just a venue; it's a slice of the city's cultural heart. With its important waterways and railways, Joliet has long been significant for trade and transportation. For those with a need for speed, the Route 66 Raceway is a modern nod to Joliet's energetic spirit. Between the calming Des Plaines River and the active downtown, Joliet blends the calm with the lively, making it a city worth exploring.
Naperville
Just a hop away from Chicago, Naperville stands distinct with its own flavor and flair. Known for its rich history, this city seamlessly bridges its 19th-century roots with today's vibrant energy. The Riverwalk, tracing the DuPage River, offers both residents and tourists a peaceful retreat. It's not all quiet walks; downtown Naperville bustles with an array of shops and diverse dining spots. From the nostalgic lanes of the Naper Settlement to the lively events at the Wentz Concert Hall, there's something for everyone in Naperville.
Rockford
Rockford, referred to as "The Forest City", is a blend of natural beauty and urban sophistication. Situated along the Rock River, it offers a mix of cultural and recreational activities. From the Anderson Japanese Gardens, a place of serene beauty, to the Burpee Museum of Natural History, there are opportunities for learning and leisure around every corner. Rockford's downtown is a mix of historic architecture, vibrant arts venues like the Coronado Performing Arts Center, and a growing number of trendy restaurants and bars. In Rockford, you get the feel of a big city while never being too far from nature's embrace.
The Largest Cities in Illinois by Land Area
| Rank | City | Land Area (mi²) |
| --- | --- | --- |
| 1 | Chicago, IL | 227.63 |
| 2 | Joliet, IL | 62.11 |
| 3 | Rockford, IL | 61.08 |
| 4 | Springfield, IL | 59.48 |
| 5 | Peoria, IL | 48.01 |
Largest Counties in Illinois: Economic Impact
While detailed, current GDP rankings by city are a bit scarce, diving into the data at a county level provides a clearer picture. Here is the 2021 data from the BEA (Bureau of Economic Analysis) to dissect the economic stature of some of Illinois' most influential counties.
| Rank | County | 2021 GDP |
| --- | --- | --- |
| 1 | Cook | $367,715,512 |
| 2 | DuPage | $87,957,178 |
| 3 | Lake | $57,204,678 |
| 4 | Kane | $25,589,099 |
| 5 | McLean | $12,925,097 |
Cook County
Cook County dominates the economic landscape of Illinois with a 2021 GDP of $367 billion. Chicago, the county seat and the state's largest city, is not just an economic hub for Illinois but for the whole Midwest region. Apart from Chicago, other significant cities in Cook County include Cicero, Evanston, Schaumburg, and Palatine.
Top employers contributing to Cook County's robust economy include:
Boeing, a major aerospace and defense company.
Walgreens Boots Alliance, an international pharmacy-led health and beauty group.
Allstate, a large insurance provider.
Key industries driving Cook County's GDP include finance, manufacturing, retail, and hospitality.
DuPage County
DuPage County follows with a GDP of $87 billion in 2021. Wheaton stands as its county seat, renowned for its serene parks and historical architecture. Other notable cities within DuPage County are Naperville, Elmhurst, Downers Grove, and Lombard.
Major contributors to DuPage County's economic fabric include:
Advocate Aurora Health, a prominent healthcare system that provides comprehensive healthcare services to residents.
Navistar International, a leading manufacturer of trucks and diesel engines.
Dover Corporation, a diversified global manufacturer.
Industries that notably propel DuPage County include logistics, manufacturing, health services, and corporate headquarters.
Lake County
Lake County, with a GDP of $57 billion in 2021, is another economic pillar in Illinois. The county seat is Waukegan, known for its harbor and arts scene. Lake County also encompasses cities like Highland Park, Lake Forest, Mundelein, and Vernon Hills.
Leading the employment brigade in Lake County are:
AbbVie, a global biopharmaceutical company.
Mondelez International, a multinational confectionery and snack conglomerate.
Grainger, a broadline supplier of maintenance, repair, and operating products.
Pharmaceuticals, manufacturing, technology, and research and development are sectors that majorly influence Lake County's economic growth.
Kane County
Kane County, with its 2021 GDP standing at $25 billion, makes a significant contribution to Illinois' economy. The county seat is Geneva, celebrated for its scenic location along the Fox River and its vibrant downtown. St. Charles, Batavia, Elgin, and Aurora are other notable cities within Kane County.
Key employers and industries that bolster Kane County's economic portfolio include:
Fermilab, a national particle physics and accelerator laboratory.
Kane County Cougars, a minor league baseball team with a strong presence.
Rich Harvest Farms, an ultra-private, members-only golf club.
The county's economic strengths lie in sectors such as manufacturing, agriculture, entertainment, and research.
McLean County
McLean County, with a GDP of $12 billion in 2021, is a significant economic driver for the state. Bloomington serves as the county seat and, alongside Normal, forms a vibrant urban center known for education and business. Other cities and towns within McLean County include Le Roy, Heyworth, and Gridley.
Central to McLean County's economy are:
State Farm Insurance, the largest auto insurer in the U.S.
Illinois State University, providing education and employment.
Country Financial, a multi-line insurance and financial services company.
Agriculture, education, insurance, and transportation are pivotal sectors underpinning McLean County's economic contribution.
Conclusion
Illinois' largest cities, Chicago, Aurora, Joliet, Naperville, and Rockford, each offer unique insights into the state's rich culture, history, and growth. These cities, beyond their size, highlight the significance of urban centers in shaping societal narratives and economic progression. Exploring them gives us a lens into the essence of Illinois and the dynamic interplay of past and present. Understanding these cities is essential to grasp the state's broader story and its place in the American landscape.
Summary of the 5 Largest Cities in Illinois
| Rank | City | Population | Population Density |
| --- | --- | --- | --- |
| 1 | Chicago | 2,608,425 | 11,472 |
| 2 | Aurora | 177,108 | 3,935 |
| 3 | Joliet | 150,718 | 2,349 |
| 4 | Naperville | 148,754 | 3,833 |
| 5 | Rockford | 145,716 | 2,263 |
Summary Table of the 5 Largest Cities in Illinois
The photo featured at the top of this post is © Mio Buono/Shutterstock.com
---