Florida is a hot spot, and not just because of the weather! Approximately 1,218 people move to Florida each day. These numbers are significant, considering the state already has a population of 22.25 million people. The Sunshine State's largest city is Jacksonville, with a population of almost one million! Read on to find out more about the northern Florida city and what it might be like by the year 2050.
What Is the Largest City in Florida?
Jacksonville holds the crown for the largest city in Florida. According to the U.S. Census Bureau, as of July 2022, the city's population is 971,319. This made it the most populous city in the Southeastern United States as well as the largest in the south outside Texas. The Jacksonville metropolitan area ranks as the state's fourth-largest metropolitan region with a population of 1,733,937.
Why is Jacksonville the Largest City in Florida?
The northeast coastal city is the largest in Florida by population and area. As a significant metropolitan area, Jacksonville covers 874.496 square miles, making it the second-largest city area in the contiguous United States after Anchorage, Alaska. With its assortment of local beaches combined with an urban setting, people continue to flock to this premier spot.
Jacksonville also attracts residents because its cost of living is 7% below the national average. Even though the city's average annual salary of $50,000 is lower than the national average, the cost of living and job market make up for it. Some major employees, like Deutsche Bank and JPMorgan Chase, work out of the city. The growing hospitality industry and the Naval Air Station also provide a ton of jobs and increase diversity.
Cost of Living
According to Zillow, an average home in Jacksonville is $312,639, compared to a home in Miami for $562,992. The average monthly rent is around $1,530 for a home of about 969 square feet. According to RentCafe, a home that size in Miami rents for up to $2,356. This is why moving to Jacksonville is so appealing. The cost of housing is a solid 20% below the national average. This helps residents own homes and get more bang for their buck. And even though it's a bustling metropolitan area, you can score a suburban home within shouting distance of a beach.
Beaches In a City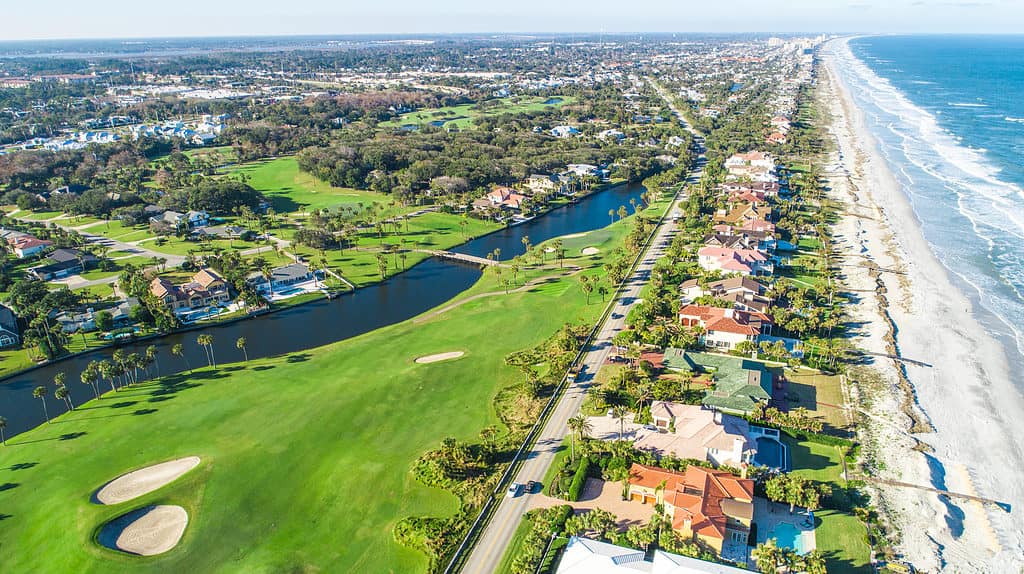 Jacksonville may be northeast of a lot of larger cities like Tampa and Miami, but it doesn't feel like it is on the North Atlantic Coast. In fact, it feels more southern due to local accents and attitudes. Floridians even state that it feels like a part of Georgia since it is only 25 miles from the state line.
It also has the most shoreline of any other city in the United States. It also boasts 80,000 acres of green space in the largest urban park system in the country. Here are five of the best beaches in the city:
Jacksonville Beach
Neptune Beach
Ponte Vedra
Atlantic Beach
Little Talbot Island State Park
Jacksonville Was Named Best City to Live In
In 2022, Forbes ranked Jacksonville as one of the best cities to live in Florida. It even beat out Miami, Orlando, and Tallahassee. The study measured home affordability, employment opportunities, and population growth. It considered city size, crime rate, diversity, cost of living, and community amenities like outdoor activities, public transit, and health care.
According to Forbes' findings, Jacksonville offers big city conveniences and beach life all in one stop. And even while doing this, the cost of living remains affordable, and there are employment opportunities in large fields such as banking, health care, and transportation.
Tampa beat out Jacksonville for the number one spot, as it has more opportunities and activities. Though the cost of living was higher, as were monthly expenses, the median income was only $100 more than Jacksonville.
What Will the Largest City in Florida Be in 2050?
With Florida's increase in population, it is very likely that the as the largest city in the state, Jacksonville will remain the largest by 2050. However, there are other cities, like Miami and St. Petersburg, that are growing at high rates. We don't know for certain how each city's population will grow but several population growth studies and the current population levels do give us a good idea of what the future holds.
A study conducted by the University of Florida's Bureau of Economic and Business Research (BEBR) created county population projections for the state of Florida. They started with the population estimate constructed by BEBR for April 1, 2022. Some of the largest projections included the counties where Jacksonville and Miami sit. Here are some of the data:
| County | Low Population 2050 | Medium Population 2050 | High Population 2050 |
| --- | --- | --- | --- |
| Duval (Jacksonville) | 983,000 | 1,285,000 | 1,587,000 |
| Hillsborough (Tampa) | 1,516,200 | 1,981,900 | 2,447,700 |
| Pinellas (St. Petersburg) | 878,100 | 1,051,600 | 1,225,100 |
| Miami-Dade (Miami) | 2,549,500 | 3,186,900 | 3,824,300 |
| Lee (Fort Myers) | 854,400 | 1,116,800 | 1,379,300 |
| Orange (Orlando) | 1,520,400 | 1,987,400 | 2,454,400 |
However, the entire region of Jacksonville encompasses seven distinctive counties: Baker, Clay, Duval, Flagler, Nassau, Putnam, and St. Johns. So, to get an accurate reading, all of the county predictions should be added together.
Jacksonville County Prediction Total
| County | Low Population 2050 | High Population 2050 |
| --- | --- | --- |
| Duval | 983,000 | 1,587,000 |
| Baker | 25,000 | 43,500 |
| Clay | 217,800 | 351,600 |
| Flagler | 134,100 | 233,300 |
| Nassau | 99,900 | 173,900 |
| Putnam | 61,600 | 92,400 |
| St. Johns | 356,700 | 620,500 |
| Total: | 1,878,100 | 3,102,200 |
Even though other cities are growing at high rights, it is unlikely any will pass Jacksonville due to its size, desirable living costs, and rapid population increase.
What Does the Future Hold for Jacksonville?
Considering the city is so easy to move to, the future looks bright! There is plenty of inventory to choose from when it comes to looking for apartments. Prices vary from neighborhood to neighborhood, but you won't be hard-pressed to find something in your price range.
Also, the city is committing to a revitalization plan. It includes increasing job numbers and income values, doubling the population in just the next 10 years, relocating large companies, and rising housing values. City officials are also working on paying down debts and increasing reserves. This positions the city to be able to weather an economic downturn.
Jacksonville is investing in infrastructure improvements including new roads, bridges, sidewalks, bike lanes, and public transportation systems throughout the city. These types of investments make Jacksonville more attractive to businesses looking to relocate or expand.
Lastly, one of the biggest and possibly most important projects the city is taking on is the revitalization of downtown. Money, time, and attention are being put into making "The District," the Shipyards, Riverfront Plaza, and other downtown sites an urban paradise.
Top 5 Largest Cities in Florida: A Comparison
| Ranking | City | Population | Annual Population Growth Rate (2022) | Total Area | Median Household Income |
| --- | --- | --- | --- | --- | --- |
| #1 | Jacksonville | 971,319 | 1.31% | 875 mi2 | $58,263 |
| #2 | Miami | 441,713 | 0.78% | 55.25 mi2 | $47,860 |
| #3 | Tampa | 387,450 | 1.09% | 175.8 mi2 | $59,893 |
| #4 | Orlando | 310,875 | 1.62% | 119.1 mi2 | $55,183 |
| #5 | St. Petersburg | 258,210 | 1.21% | 137.6 mi2 | $64,375 |
Conclusion
Jacksonville's future looks sunny! The city is considered one of Florida's hottest real estate markets, and city officials are actively trying to keep it on top! As it emerges as one of the state's top new tourist destinations, Jacksonville continues to grow into a business-friendly city with strong healthcare and thriving bioscience sectors. It is positioned for continued increases in demand and seems like it will continue to meet its quota.
---
The Featured Image
---