Below you can find a complete list of Georgian animals. We currently track 219 animals in Georgia and are adding more every day!
Straddling the line between Eastern Europe and Western Asia, Georgia is a small country located in the mountainous Caucasus region. It is bounded by Russia to the north, Azerbaijan to the east, Turkey and Armenia to the south, and the Black Sea to the west.
Within such small territory, there is a remarkable amount of geographic variety and biodiversity, from the subtropical coastline to the fertile plains of the Kolkhida Lowland, where the legendary Argonauts supposedly sought the Golden Fleece. Much of the country is dominated by the Greater and Lesser Caucasus mountains, which run in parallel between the Black and Caspian Seas. Forests and brushlands also coat most of the land. Throughout these unique territories, many types of animals make their homes. Native species of Georgia include tur, chamois, deer, lynx, harriers, and wild goats.
The Official National (State) Animal of Georgia
While the country does not necessarily have an official animal, Georgia's coat of arms is adorned by two golden lions flanking a man on a silver domesticated horse. The unofficial national animal of Georgia is the wolf.
The wolf is an important symbol to the people of Georgia, as it has been associated with courage and strength for centuries. It represents the spirit of resilience and determination that Georgians have had throughout their history, even during times of struggle. The wolf also symbolizes protection and loyalty, which many citizens feel towards their country and its culture. Additionally, wolves are a significant part of Georgian folklore. They are often depicted in stories as wise animals who protect those who respect them. To the people of Georgia, the wolf is more than just an animal—it's a source of national pride.
Where to Find the Top Wild Animals in Georgia
Georgia is home to a variety of incredible wildlife, and there are plenty of great spots for nature lovers to enjoy! In the mountainous regions, visitors can observe wolves, bears, lynxes, and even leopards.
For those looking for something more exotic, head south into Georgia's subtropical climate. Here you will find gazelles, jackals, and wild boars roaming around marshlands. The Black Sea Coast is an excellent spot for birdwatchers. On any given day, you may be able to spot pelicans, flamingos, or even rare species like the red-footed falcon.
Finally, don't forget about the rich aquatic life in Georgia's rivers and lakes — otters, beavers, and sturgeons all call this region home! No matter where your travels take you in Georgia, one thing is certain. You'll never run out of places to see amazing wildlife!
The government of Georgia has set aside dozens of distinctive national parks, nature reserves, and protected landscapes, representing around 7% of the entire landmass, where visitors can catch glimpses of iconic national wildlife.
The Most Dangerous Animals in Georgia
The Caucasus Mountains in Georgia are home to some of the world's most dangerous animals. The brown bear is one of the most feared predators and can weigh up to 600 pounds. They will attack if they feel threatened, so it is important to be aware when traveling in their habitats. Wolves can also pose a threat, as they hunt in packs and are known to attack livestock or pets that venture too close.
Georgia has many venomous snakes, including vipers and cobras. Vipers tend to live near streams or wetlands and hide under rocks during the day before hunting at night for prey such as small mammals or birds. Cobras prefer dry habitats such as steppes, deserts, open plains, and forests where there is plenty of covered areas for them to hide from potential predators. Both types of snakes have an aggressive defensive posture, so it's best not to come too close!
Within the many types of animals in Georgia, several species of deadly snakes and dangerous carnivores are located in the more remote parts of Georgia.
Caucasus Viper – Also known as Kaznakov's viper in honor of Russian naturalist Aleksandr Nikolaevich Kaznakov, this black-colored species is found in ravines and the forested slopes of the Caucasus. When it strikes, this snake delivers a potent and deadly venom. Bite victims should always seek immediate medical attention.
Caucasian Meadow Viper – This dangerous snake is identified by its grayish-brown body and black patterns on the back. Usually found at higher elevations, this snake delivers a potent venom that travelers should best avoid.
Eurasian Brown Bear – Despite its fearsome reputation, the brown bear does not usually attack people unless it feels personally threatened or provoked. Hikers should always be on the lookout, however, in order to avoid surprising it.
Wolves – Georgia is home to the steppe wolf and possibly the Eurasian wolf subspecies. Wolves very rarely attack people because they either fear humans or feel uninterested in them, but deadly encounters have been known to occur. One curious fact is that the name of the country itself derives from an old Persian term that means land of the wolves.
3 Largest Animals in Georgia
The three largest animals in Georgia, located in Eastern Europe, are the brown bear, European bison, and wolf. The average size of a brown bear is 5-7 feet tall, and it can weigh up to 350 pounds. They inhabit deciduous forests across much of the country. Brown bears have large heads with small eyes and round ears. Their fur ranges from light tan to dark chocolate colors depending on their environment and location within Georgia.
European Bison are also found throughout the region but prefer colder climates like mountain regions or northern areas near Russia's border. On average, these bovine creatures reach 6 feet tall when standing upright at their full height, and they can weigh up to 2200 pounds! As strong as they appear, these gentle giants have shaggy coats that range from deep black to reddish-brown colors depending on age and season.
Finally, we have wolves which are natively found in woodlands or meadows with thick vegetation providing cover for them near rivers or streams where food is abundant such as fish, deer, or other smaller mammals. Adult wolves typically stand around 3 feet tall, weighing between 45 – 175 lbs. However, some larger specimens may be seen reaching nearly 200 lbs! These predators usually travel alone though packs of 4–6 individuals may form during mating seasons when looking for partners or expanding territories among rival species like coyotes and foxes who share similar habitats across Georgia's varied landscape.
3 Rarest Animals in Georgia
The country of Georgia in Eastern Europe is home to many rare species of animals, some of which are found nowhere else in the world. These animals have become rare due to a number of factors, including habitat loss and overhunting. Let's take a look at three distinct species that exist only within the borders of this unique nation.
The first animal we will discuss is the Caucasian Wisent, also known as the European bison. This large mammal can be found in the Caucasus Mountains and can reach heights up to 6 feet tall and weights up to 2200 pounds! The Caucasian wisent is critically endangered due to hunting and loss of suitable habitats caused by urbanization. They prefer mountainous regions with meadows or forests where they graze on grasses and shrubs for sustenance.
The next animal we will talk about is the Persian Leopard, an incredibly majestic creature endemic only to Iran and Georgia's Lesser Caucasus Mountains range. Currently listed as Endangered by IUCN Red List, their numbers have been reduced drastically due to illegal hunting for fur trade purposes. Other factors, such as poaching for traditional medicine ingredients or mistaken identity cases, are causing their numbers to decline. It prefers residing in forested areas with plenty of prey available, like deer or wild boar but has been spotted living close to human settlements too.
©Ondrej Chvatal/Shutterstock.com
The Eurasian Lynx is a wild cat species native to Georgia and most of Europe, as well as parts of Central Asia and Siberia. It is the largest of all lynxes, with males reaching weights up to 66 lb. The Eurasian Lynx has a thick coat that varies in color from yellowish-brown to grey, depending on its habitat. Its fur also stands out due to the black tufts on the tips of its ears and the two parallel stripes that run along its back. This elusive creature mainly stays in dense forests where it can hunt for birds, small mammals such as hares or rodents, and fish, among others. Despite being listed as Least Concern by the IUCN Red List since 2008 due to populations increasing across some European countries, this species faces threats from human activities such as poaching and deforestation.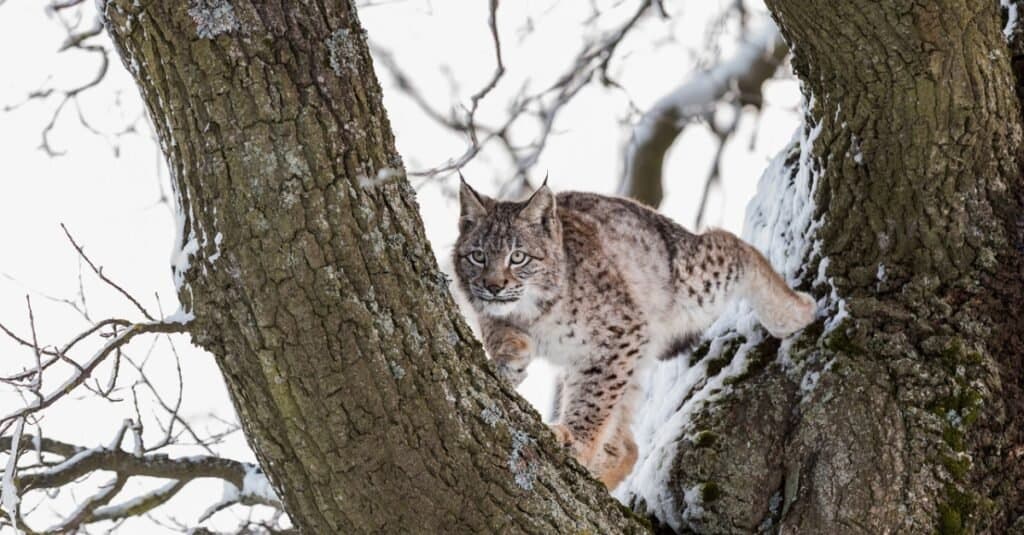 Native Birds
Flying and nesting among the various ecosystems of Georgia are hundreds of unique and exquisite bird species. The country itself is 40 percent covered in forest, 5 percent of which has been unaltered by humans. Almost half of this forest has also retained its original structure. These forests are home to around 330 species of birds. Visiting birdwatchers tend to seek "the big five:."
Caucasian snowcock
Caucasian black grouse
Great rosefinch
Güldenstädt's Redstart
Caucasian Chiffchaff
Other exciting species include:
White-winged Snowfinch
Water Pipit
Long-legged Buzzard
Horned Lark
Some of the hotspots for birding are Batumi, Tergi Valley, Djandara Lake, Zekaris Pass, and Lagodekhi NR. Springtime is the ideal time to visit, as most of the sought-after species are viewable at lower altitudes than during the off-season.
Native Fish
Contributing to the presence of unique and popular wildlife are the various environments of Georgia, including the lakes, rivers, and oceans present within. Despite its border relationship with the Black Sea, freshwater fishing is especially prominent in the country. Mountain rivers teem with trout. However, carp may be a more plentiful species to find in lakes and in rivers. Overall, common fish species in the freshwaters of Georgia include:
Catching trout is best done through fly fishing in rivers. Sea fishing is also available in the Black Sea for popular species like horse mackerel.
Native Snakes
Snakes are an important part of the country's ecosystem, as they keep populations of rodents and other pests from becoming too large. Out of the 26 species present in Georgia, the blunt-nosed Viper (Vipera lebetina) is considered to be one of the most venomous.
Although snake bites are not common occurrences, it is still important to take precautions when exploring nature in Georgia. Some tips for avoiding snakes include wearing long pants and closed-toe shoes while hiking or camping, avoiding tall grassy areas where snakes may hide, and being aware that some species may be active at night. If a bite does occur, seek medical attention immediately — even if you don't think it was poisonous!
©iStock.com/tamers1
The Leopard Snake – This snake is a species of colubrid native to Georgia and other parts of Eastern Europe. It has a brownish-yellow or tan coloring with dark spots that form stripes along its body, resembling the pattern on a leopard's fur.
The Smooth Snake – This species is found in central and eastern parts of Georgia, typically inhabiting meadows and cultivated fields near water sources such as rivers, lakes, and ponds. Its coloration varies from gray to yellowish-brown with darker markings across its back.
The European Rat Snake – This species can be found throughout much of Eastern Europe, including some parts of Georgia like the Abkhazia region, where it lives in rocky areas close to human settlements such as farmyards or even cities' outskirts where it feeds on small rodents like mice and rats among other animals. It usually has an olive green coloration with pale stripes down its sides and head area. However, some varieties display different colors, from light browns to yellows, too, due to their adaptation abilities over time into different habitats within the country.
Grass Snakes – These snakes inhabit wetland areas all around Georgia, being particularly common in marshy regions near lake shores or riverbanks during summertime when they feed mostly on frogs, earthworms, slugs, and sometimes fish larvae. They have slender bodies which range in color between blacks, greens, greys, blues, or mixed tones.
Zoos in Georgia
While the country offers plentiful natural flora and fauna, visitors may also want to check out the native and exotic species on exhibit in the zoos and botanical gardens of the country.
Tbilisi Zoo – Centrally located, this is the oldest and largest zoo in Georgia. An unfortunately devastating flood took out part of the zoo and its inhabitants back in 2015, leaving it to rebuild. Now the zoo hosts hundreds of species of birds, reptiles, mammals, and insects, along with extravagant plant life.
Zootopia – A paradise for animal lovers, this zoo allows visitors to interact with certain species, like rabbits and hedgehogs.
There are also multiple aquariums sporting tropical fish and sea mammals. The zoos in Georgia aim to educate locals and foreign visitors on native and exotic species in order to help better protection efforts made for important animals.
The Flag of Georgia
The flag of Georgia, a country located in Eastern Europe, is made up of a white field with four small red crosses in each corner and one large red cross that touches all four sides. The colors used are very symbolic – the white background represents peace and purity, while the red color stands for courage and sacrifice. The five crosses represent Jesus Christ's wounds from his crucifixion, as well as the five Holy Wounds inflicted on Georgian martyrs during their struggle for independence from foreign rule.
The country of Georgia celebrates both Flag Day and Independence Day. Flag Day is celebrated on January 14th each year, which commemorates the day in 2004 when the Georgian flag was adopted by Parliament. This date also marks the beginning of a new era for Georgia, as it declared its independence from Russia following the dissolution of the Soviet Union. On May 26th, Independence Day is celebrated to mark another significant event in Georgian history: when they officially regained their sovereignty as a nation after centuries of foreign rule and occupation. Both days are important to Georgians who come together to share their appreciation for their beloved country and celebrate all that it stands for!
Endangered Animals in Georgia
The animals in the country of Georgia are becoming endangered and extinct due to a number of factors, including habitat destruction from industrialization, climate change, poaching, and illegal wildlife trade. As industries expand across the country, their need for resources leads to deforestation, which destroys natural habitats for many species.
Climate change has also had an impact on animal populations as extreme weather patterns disrupt their natural food sources or migration paths. Additionally, poaching is still a major issue in some parts of the country, as poachers hunt wild animals illegally for commercial gain or subsistence needs.
Furthermore, there is also an illegal wildlife trade of rare and exotic species that threaten native animal populations by removing them from their habitats or introducing foreign diseases into local ecosystems. All these negative influences have caused animal populations in Georgia to decline dramatically over recent years and put several species at risk of extinction if nothing is done to protect them soon.
Persian Leopard – The Persian leopard once had a historic range that stretched all over the Caucasian region. But extensive trophy hunting and habitat loss have taken their toll on this subspecies. Only a few individuals are known to remain in Georgia.
West Caucasian Tur – This is a unique species of mountain-dwelling goat-antelopes native to the Caucasus. Now endangered from unrestricted hunting, it is estimated that only 5,000 to 6,000 individuals remain in the wild.
Caucasus Viper – One of the most dangerous animals in Georgia is also one of the most endangered. Population numbers are in decline from tourism, agriculture, and urban development.
Bastard Sturgeon – Once abundant throughout the Black and Caspian Seas, it's believed that a small population may still remain in the Rioni River.
Read about the best national parks in Georgia. Also, read about the most beautiful waterfalls in Georgia.
Georgian Animals
Georgian Animals List
Georgia FAQs (Frequently Asked Questions)
What animals live in the country of Georgia?
Georgia contains a rich panoply of mammalian wildlife, including rodents, bats, hares, deer, wild boar, goats (both wild and domesticated), and carnivores (like weasels, raccoons, and foxes). Common birds include eagles, hawks, falcons, ducks, plovers, larks, warblers, sparrows, and finches. Reptiles, amphibians, insects, and other invertebrates are abundant almost everywhere. The freshwater areas also teem with fish.
Are there bears in the country of Georgia?
The remote mountains and forests of Georgia form a perfect habitat for the Eurasian brown bear. Although it was once threatened by hunting and habitat loss, numbers have now increased back to respectable levels of a few hundred.
Are there lions in the country of Georgia?
One thing that many people may not know is that the Asiatic lion (a subspecies of the lion) once lived as far north as the Caucasus. It probably became locally extinct from Georgia a few hundred years ago.
Are there moose in Georgia?
The Caucasian moose subspecies once lived in Georgia as recently as the 18th and 19th centuries. It eventually became extinct from habitat loss and overhunting.
Are there tigers in Georgia?
The Caspian tiger survived in Georgia all the way to the early 20th century. The subspecies went completely extinct in 2003.