Key Points:
Largemouth bass have large lower jaws, hence the nickname "largemouth" bass. They are typically 15-30 inches long and weigh an average of 12 pounds.
The largest largemouth bass on record caught in Florida weighed more than 17 pounds and measured 30 inches; it was caught by Billy O'Berry in Polk County.
Some of the best lakes for largemouth bass fishing in Florida are Lake Okeechobee, Lake George, Lake Ocklawaha, Lake Talquin, and Lake Istokpoga.
How would you like to catch more than one fish per hour (is fph a real measurement?) One lake in Florida boasts just such a statistic. With 7,500 lakes I am sure there are other fishing spots than can boast the same. When it comes to bass, and specifically largemouth bass Florida has some of the best bass fishing around. Curious about what the current largemouth record is? Read on to discover the largest largemouth bass ever caught in Florida!
How Many Kinds of Bass Are There?
The state of Florida keeps records for eight different kinds of bass including:
Suwannee
Shoal
White
Sunshine.
The International Fish and Game Association, which keeps the world records for fish, has 32 different bass categories including some regionally specific bass (like the Alabama Bass and European Bass).
What Is Different About a Largemouth Bass?
Besides the obvious feature of its namesake, a large mouth, it is similar to another bass in many ways. Bass are carnivorous freshwater fish that live in lakes and rivers. Largemouth and smallmouth bass are in the Sunfish family with largemouths being the largest in that family. Largemouth bass is a classic-looking fish with green-speckled scales on the upper half of its body and lighter-colored scales as it gets closer to the belly. It has a large lower jaw that gives it the "large mouth" look. They are typically 15-30 inches long and an average of 12 pounds. They prefer warmer water, which is why Florida is one of their favorite homes but they are located all over the U.S.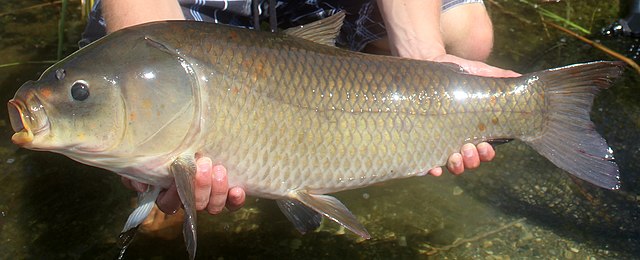 How Long Does a Largemouth Bass Live?
In fishing lore, there are always stories of the big fish that got away — and of fishermen coming back to the same spot year after year to catch them. Have you ever wondered how long a fish can live if you never catch it? In the case of the largemouth bass, it's around 23 years! That may seem like a long life for a fish unless you consider that the bigmouth buffalo fish can live to 112. These fish are native to North America and can grow up to 80 pounds!
What Is the Largest Largemouth Bass Ever Caught in Florida?
The largest largemouth bass ever caught in Florida was 17.27 pounds caught by Billy O'Berry. Billy set the record on July 6, 1986, and although some folks have caught fish almost as large the record still stands. Billy is from Seffner, FL, and was fishing on a small lake in Polk County, which is just southwest of Orlando. If you are looking to replicate the catch you might want to use the same bait Billy did of a Strike King Spinnerbait with a green and yellow skirt. The 17-pound fish was 30 inches long (2.5 feet) and had a girth of 22.5 inches.
The world record for the longest largemouth bass ever caught anywhere was taken from Lake Toho in Florida by Bill Whipple in 2002. It was 33 inches in total length but weighed only 14 lbs., 6 oz.!
What Is the Largest Largemouth Bass Ever Caught in the World?
The All-Tackle World Record for the largest largemouth bass in the world is a tie! Both fish were 22 lb 4 oz but were caught on opposite sides of the world. The first is a longstanding record dating back to 1932 caught by George W. Perry on Montgomery Lake in Georgia (USA). The second one that tied the record was caught by Manabu Kurita from Shiga, Japan. He tied the record on July 2, 2009 fishing on Lake Biwa. In an interview after his big catch, he revealed his secret bait and preferred rod, he likes using the Mother swimbait, Deps silent killer, and Slideswimmer. He said that he likes making his own lures as well. Whatever he's doing seems to be working!
Are There Any Other Largemouth Bass World Records From Florida?
Yes. Looking at the world records recorded by the International Fish and Game Association there are several other categories where Florida anglers have record-breaking catches. These are all for largemouth bass:
All-Tackle Length (tie):

65cm (25.6 inches), Lake Jeffery, FL: April 24, 2018, by Lance Jones
65 cm (25.6 inches), Private Lake in Washington County, Ebro, FL: March 27, 2021, by Lane J. Kinney

All-Tackle Length Fly

52 cm (20.5 inches), Stuart, FL: February 7, 2022, by John R. Kelly Jr.

Line Class (Conventional Tackle)

W-04kg (8 lb line), 10 lb 2 oz bass, Lake Talquin, Tallahassee, FL: December 6, 2015, by Dana Blanco Douglas, M.D.

Tippet Class (Fly Tackle)

Tippet W-06 kg (12 lb), 10 lb 8 oz bass, Port Orange, FL: May 6, 2017, by Capt. Alissa Vinoski.
Is the Female Junior Largemouth Bass Record Held by a Girl From Florida?
Yes! The Junior category includes record catches from anglers that are 11-16 years old with a category for females and males. The female junior record is held by Mackenzie Ruth Hickox, who caught a 7.14 kg (15 lb 12 oz) largemouth on Spruce Creek in Daytona Beach, FL. Her record stands since May 8, 2006.
Is the Female Smallfry Largemouth Bass Record Held by a Girl from Florida?
Yes! The Smallfry category includes female and male anglers ages 10 and under. The female world record holder is from Florida! Julia Grace Ketner caught a 4.00 kg (8 lb 13 oz) largemouth bass on Lake Okeechobee in Florida. Her record was set on February 16, 2015.
What Are Some of the Best Lakes for Largemouth Bass Fishing in Florida?
1. Lake Okeechobee
This is not just on the list because of the Smallfry record being caught here. It is a popular fishing spot for many anglers. This lake is also the spot of three of the biggest bass tours in the U.S. It is the largest lake in Florida running 35 miles long and 135 miles of shoreline. The largest largemouth has to be there somewhere!
2. Lake George
Lake George is the second-largest lake in Florida and is on the edge of the Ocala National Forest. It is also one of the most alligator-infested lakes in Florida! Maybe you want to keep your eye out for an 18-foot alligator to break the alligator record as well. If you are going to stick with bass there are lots of great spots on the lake to catch lots of basses, and big ones.
3. Lake Ocklawaha
This is also the Rodman Reservoir located just southwest of Palatka, FL. Another angler reeled in 17-pound largemouth bass from this lake but it wasn't quite big enough to break the record. But you know the big ones are out there, you just have to figure out what their favorite bait is!
4. Lake Talquin
One of the world record catches was caught on Lake Talquin. The largest largemouth was caught using an 8 lb line in the Line Class (Conventional Tackle) category. The record is 10 lb 2 oz by Dana Blanco Douglas, M.D. Lake Talquin is actually a reservoir as well and is located just outside Tallahassee. This 8,800-acre lake has a variety of bass including striper, white and spotted bass.
5. Lake Istokpoga
Florida's Trophy Catch program mentions Lake Istokpoga year after year as a great place to catch big bass. It is the fifth-largest lake in Florida and covers 26,763 acres of water. It is located in Sebring, just northwest of Lake Okeechobee.
Maybe you want to plan a trip to all five lakes to better your odds of catching the next biggest bass ever caught in Florida!
---
The Featured Image
---