Below you can find a complete list of Japanese animals. We currently track 290 animals in Japan and are adding more every day!
Japan, or Nippon as it's known to its native residents, may call to mind images of futuristic technology and vast cityscapes on first thought, but this region has just as much to offer in the realms of biodiversity and natural beauty.
For more than a millennium, Japan has held the title of "the land of the rising sun." This Asian nation consists of over 7,000 large and small islands along the Pacific Rim, each with its own unique environment and wildlife.
Japan is home to fascinating creatures, some of which inspired the rich mythology and folklore of the land, as well as pop culture icons we know and love today. Keep reading to learn more about Japan's rare and unique animals.
Japanese Wildlife
Japan's islands cover a wide variety of habitats and climate zones. In fact, Japan's southernmost islands, including Okinawa, have a hot, humid, subtropical climate, while the northernmost island of Hokkaido has long, cold winters and cool summers.
This means that the country's unique types of animals also vary greatly. There are large mammals such as bears, unique seagoing mammals like the dugong, and a few rare and amazing animals you may have never heard of – raccoon dogs, giant salamanders, cute snow monkeys, and island wildcats.
Since Japan is an island nation, the ocean and its creatures have been integral to Japanese lifestyle and culture since the very beginning. Many of the country's most popular dishes are traditional seafood recipes like sushi, sashimi, and takoyaki.
The Official National Animal of Japan
Uncommonly, Japan does not have a set national animal. However, the national bird is the Japanese pheasant or green pheasant (Phasianus versicolor). It was given this honor in 1947 officially, but the bird has been a common fixture of Japanese culture for centuries as the companion to the folk hero Momotarō or "Peach Boy." Green Pheasants also used to be featured on the backs of 10,000 yen bills.
The national fish of the country is the koi fish, a multicoloured variety of the Amur carp. These creatures make popular pets, with koi ponds being utilized to bring a tranquil calm to Japanese households and businesses alike.
Where To Find The Top Wild Animals
Japanese Macaque, or Snow monkeys, are one of the most popular native animals of Japan to see during your visit. Their main habitat is at Jigokudani Yaen Kōen snow monkey park in Nagano Prefecture. The best time to see them is during the winter, December through March when snow is on the ground.
Would you like to see bears in Japan? Check out the Kuma Bokujo bear park in Noboribetsu, Hokkaido. They reside there year-round.
Scuba diving and snorkeling are popular activities in the warm southern waters. You may see tropical fish or even some of Japan's aquatic mammals.
In historical Japan, animals held special importance to the practitioners of the country's mostly forgotten ancient religion of Shinto. Though very few still hold on to these beliefs today, many temples from the heyday of Shinto built to honor local wildlife and the divinity believed to dwell within them still stand and make popular destinations for locals and tourists alike.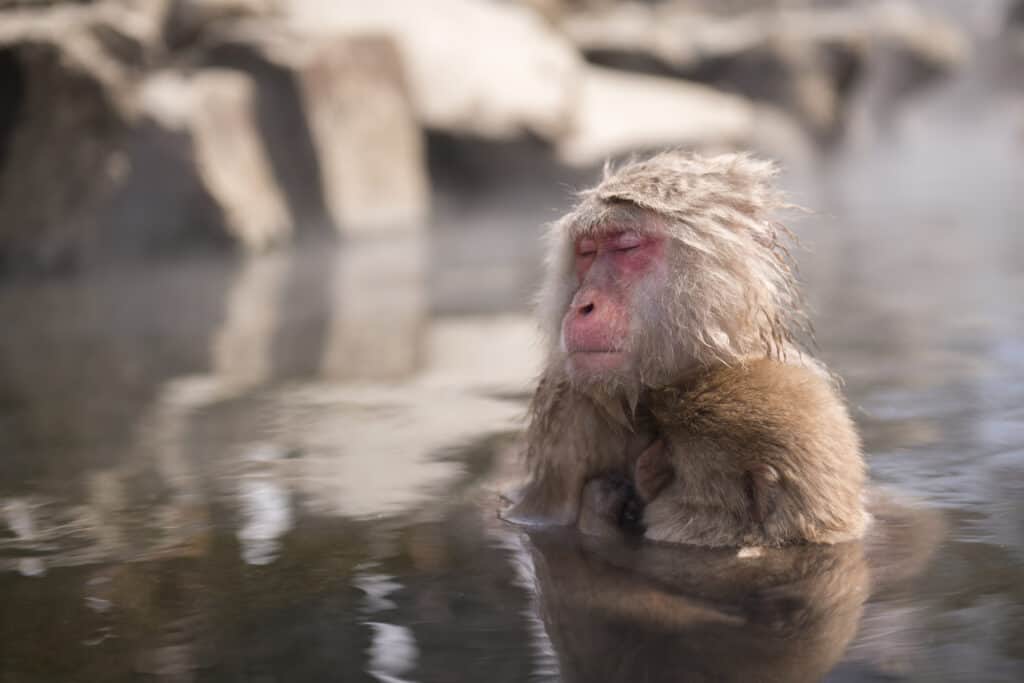 Native Birds
Out of the 723 bird species living in Japan, around 17 are endemic and 30 are introduced. The country has multiple spots that are highly prized for avian species found in the unique habitats. Migratory birds also make their way across the country's diverse landscapes.
One of the most valued birds in Japan, the red-crowned crane, appears in various forms of art and advertising throughout the country. However, the populations of this crane dwindled to the point of almost extinction as a result of overhunting. Over the past couple of decades, after heavy conservation efforts, numbers are climbing again and the majority of these majestic birds remain in Hokkaido, along with around 300 other species of bird.
Once extinct in Japan, the Oriental stork was reintroduced to Toyooka and populations now reach only about 170 birds. Along with these mentioned endangered birds, countless other avian species endemic to Japan are also facing threats of extinction. There are three main Endemic Bird Areas designated to conserve these species.
Izu Islands – Izu thrush, Iijima warblers, Japanese pygmy woodpeckers, Izu robins, Eurasian wrens, white thrush, Pacific swifts, white-throated needletails, Japanese white-eyes
Ogasawara Islands – Bonin honeyeaters, brown boobies, wedge-tailed shearwaters, rare Bryan's shearwaters, red-footed boobies, Arctic Skuas, Lysan albatrosses, Bonin petrels
Nansei Islands – Cinnamon bittern, Amami woodcock, rare Pryer's woodpecker
Additionally, many extraordinary avifaunae can be seen flying over the mainland of Japan and in urban areas. Some common birds to see include:
Warbling white-eye
Mandarin duck
Falcated duck
Black kite
Fairy pitta
Native Fish
For centuries, Japan has maintained a booming fishing industry. Seafood is a large part of the Japanese diet – seen in the nation's favorite dish of sushi and in many other seafood recipes. As important as it is in cuisine, fishing in Japan is also a serious hobby and sport, with multitudes of sites to reel in incredible fish. Some restaurants in Japan even provide "urban fishing," an immersive experience of catching the fish to be cooked without having to go out on the water. Patrons can catch their fish right inside the restaurant! Along with the urban experience, the real deal is not hard to come by. Below are popular species to fish for and where to find them:
Saltwater
Suzuki (sea bass) – Tokyo Bay during fall
Mahi Mahi – Hachijō-jima
Giant Trevally – Hachijō-jima
Freshwater
Along with classic-style angling known worldwide, Japan is known for some unique forms of fishing, such as the fly fishing technique of "tenkara." Additionally, fishermen of Gifu Prefecture's Nagara River actually utilize trained cormorant birds to retrieve fish for them. Whether visitors are looking for an afternoon on the water, ice fishing, or spectacular methods of fishing unknown to other parts of the world, Japan has it all.
Cephalopods such as squid and octopi make up a much larger portion of the Japanese diet than many parts of the rest of the world. Japanese cuisine has developed many techniques for preparing fish that would be inedible otherwise, like the deadly, poisonous fugu fish, which is a traditional delicacy and requires the skills of an extremely experienced chef to prepare.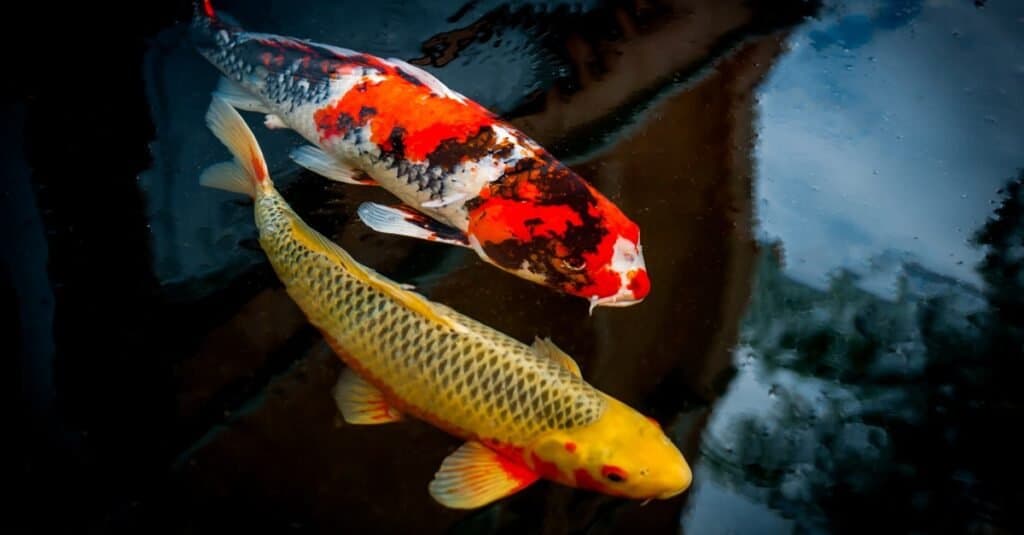 ©tonirichsag1411/Shutterstock.com
Native Snakes
Built on irrigated rice paddies, Japanese civilization relies heavily on water and depends on strong water sources for farming and maintaining livelihoods. These water sources are thought to be protected by Suijin, water deities, that are represented mainly as snakes. Many types of snakes exist in Japanese waterways, forests, and other landscapes. The most commonly found snakes are rat snakes which are namely large and nonvenomous. About 6 of these species are native to Japan. Farmers have historically relied on these snakes to control vermin populations throughout farms and households, preventing the destruction of crops, though more industrialized, mechanical farming techniques have put a strain on this once symbiotic relationship between serpent and farmer. Out of the many species of snakes found in the country, only 3 are venomous: the Japanese keelpack, the "Habu," and the "Mamushi." Below are facts regarding each of these species:
Keelpack – The keelpack is known for its two venoms: one used to subdue its victim, the second used to deter predators.
Habu – The Habu, while a venomous pit viper, is not known for being fatal. Most injuries caused by bites result in swelling and irritated limbs.
Mamushi – The Mamushi pit viper is the most dangerous snake in Japan. Venom from this snake causes tissue to actually liquefy. However, these snakes are shy and generally tend to avoid human contact.
When bitten by a snake, it is always important to seek medical attention, whether the snake is venomous or not, as unknown allergies or irritations may arise.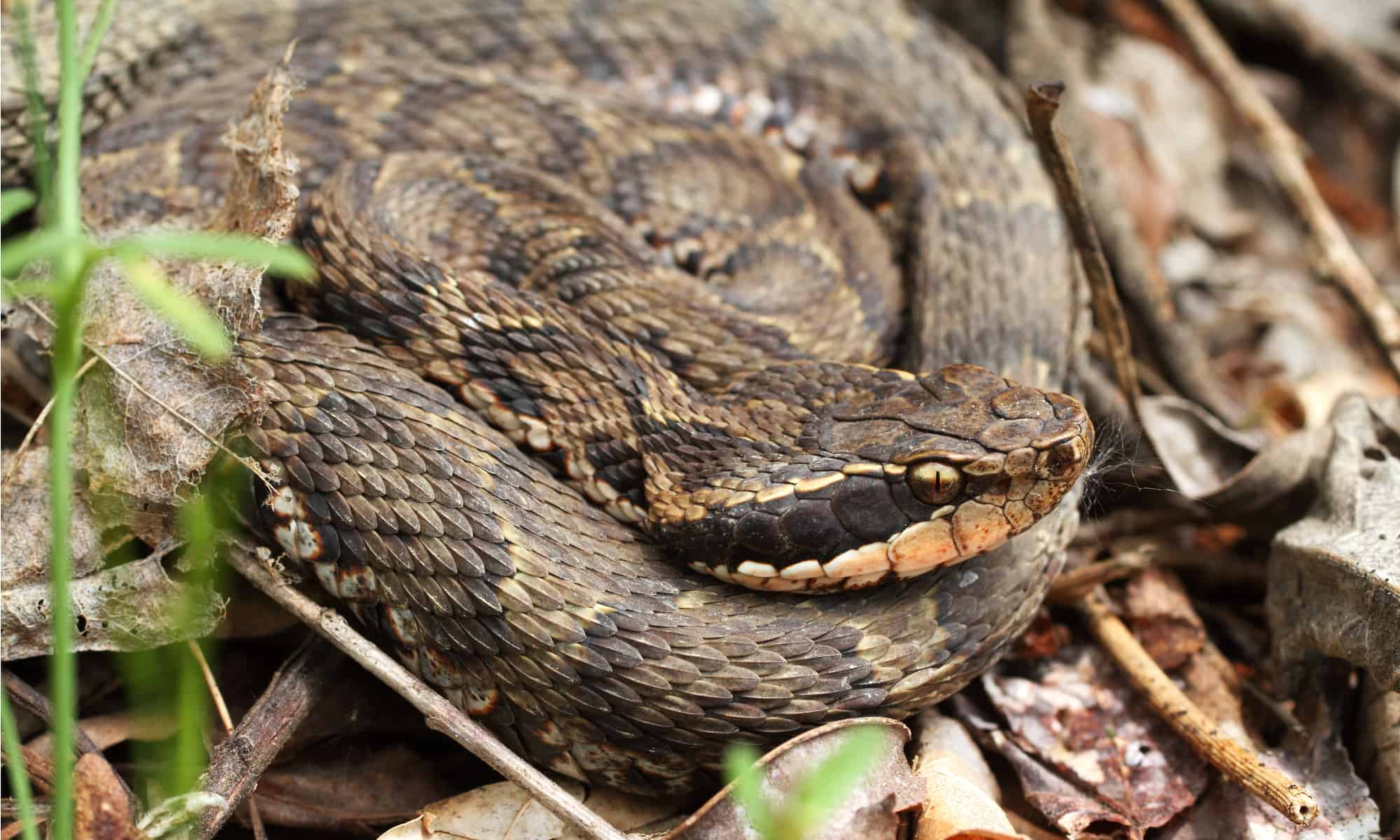 ©23frogger/Shutterstock.com
The Most Dangerous Animals in Japan Today
You should always give wildlife plenty of space. Japan is home to some potentially threatening animals, such as Asian black bears and brown bears. The wild boar will also bite and pursue threats. If you see these animals in the wild, keep a safe distance.
A number of venomous snakes live in this country. These include the Japanese pit viper or Mamushi and the Okinawan habu. Bites from giant centipedes and redback spiders, as well as giant hornet stings, can be dangerous and may require medical attention.
Even though these creatures can be deadly to humans if provoked, it is important to remember that humans are a much greater threat to them than they are to us, as many of Japan's native wildlife has suffered greatly from the country's rapid industrialization and changes in farming practices over the last 100 years.
Largest Animal in Japan
Hailing from Japan's second-largest and northernmost island of Hokkaido, the Ussuri brown bear is the most massive creature in the country. Though these bears can reach the intimidating size of 6 to 9 feet tall and over 1,000 lbs, they are primarily vegetarian and rarely eat other mammals unless provoked by them.
Ussuri brown bears have a long history of peacefully interacting with Hokkaido fishermen, with mother bears taking their cubs to the shores of nearby waterways to rest and relax without disturbing the humans who share their habitat. Adult males of the species are known to be larger and much more aggressive.
Zoos in Japan
Along with its incredible biodiversity and variety of landscapes unique to the country, Japan also accommodates animals from around the world in its 89 zoos. Out of these zoos, there are several favorites, recognized for their immersive experiences and distinctive exhibits. Listed below are a few examples of the top zoos in Japan.
Wakayama Adventure World (Wakayama) – A "mega-park" including a safari park, amusement park, and even an aquarium, this zoo is a must-visit. Species range from giraffes to bottlenose dolphins to giant pandas. The safari allows visitors a realistic view into natural habitats and behavior while kids can also enjoy a ride on a rollercoaster or a horse!
Asahiyama (Hokkaido) – Known for its orangutan trapeze, penguin aquarium, and free-fly bird enclosure, this zoo is the second-most visited in Japan as well as the northernmost. Wildlife native to the area also roams exhibits in the zoo, such as deer, eagles, and cranes.
African Safari (Oita) – Accessible by tour bus or personal vehicle, visitors are able to see animals roaming in exhibits resembling their natural habitats. Visitors may also be able to feed certain animals, following strict guidelines and rules. Lions, giraffes, cheetahs, and elephants reside in this African inspired establishment.
Tama Zoological Park (Tokyo) – In 1958 this zoo was originally established to represent animals in a more natural habitat as part of the Ueno Zoo. The zoo is divided into three gardens – Asia, Australia, and Africa – all displaying animals native to these areas. An insectarium also draws visitors into its exquisite butterfly house.
Tobe Zoological Park (Ehime) – Best known for "Peace," the polar bear born and raised at the zoo, this park is home to about 765 animals of 150 various species. Hippos, tigers, and monkeys are also popular attractions, along with the restaurant overlooking elephants in their habitat.
Endangered Animals
Japan is home to a number of rare species endangered or becoming extinct. These include native animals of Japan, like the Japanese short-tailed bat, Southeast Asian long-fingered bat, Bonin flying fox, Amami rabbit, Tokunoshima and Ryuku spiny rats, Ryukus Islands tree rat, Etigo mole, Orii's shrew, Izu tit, Okinawan woodpecker, Yanbaru long-armed scarab beetle, sword-tailed newt, Anderson's crocodile newt, Ryuku leaf turtle, Sakishima grass lizard, banded ground gecko, Hakuba and Oita salamanders, Holst's frog, greater and Okinawa tip-nosed frogs, and the Amami Oshima frog.
There are many wildlife sanctuaries and National Parks throughout the country which have been established to conserve and protect the most vulnerable of native species. Many of the rarest species are found in the tinier, southern islands in the Okinawa prefecture where the tropical climate gives rise to incredible biodiversity.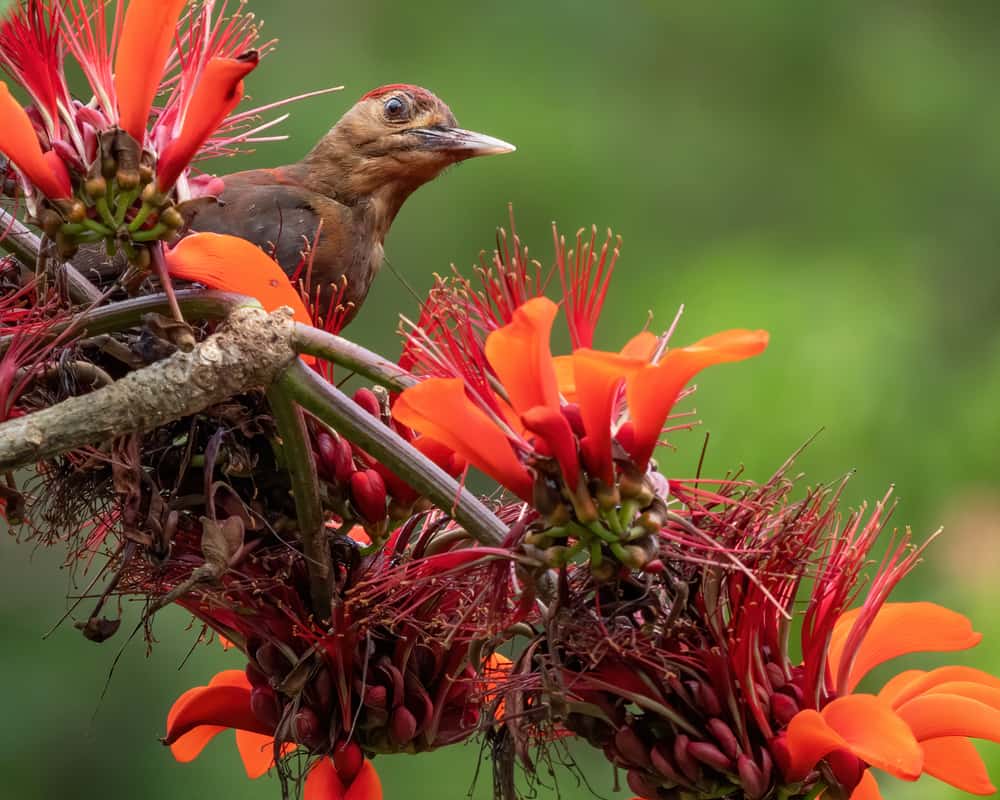 Rarest Animal in Japan
The most endangered animal in all of Japan is found on one of its tiniest, southernmost islands close to Taiwan. Known as the Iriomote Cat, these incredibly rare felines look similar to common housecats and are restricted to one population of 100-250 individuals on their namesake island.
Iriomote cats dwell under the cover of mangrove trees where they stalk local wildlife like crabs, lizards, fruit bats, and snakes for food. The Japanese government has taken extensive measures to preserve this precious population of wild cats by turning their habitat into a National Park and campaigning to remove roadkill from the area so that Iriomote Cats will not fall ill from ingesting it.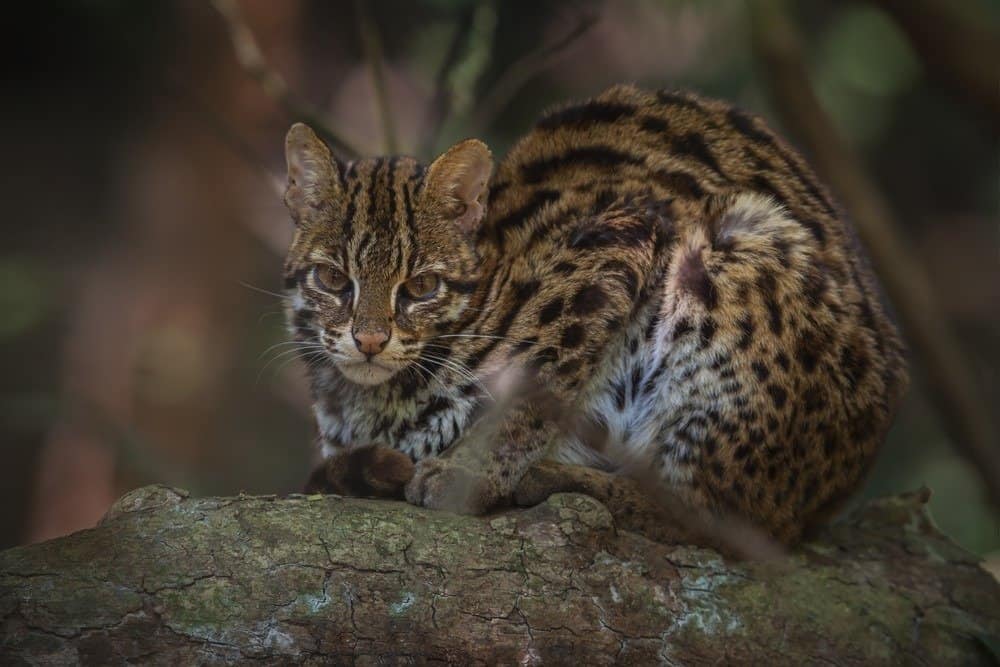 ©Sainam51/Shutterstock.com
Japanese Animals
Japanese Animals List
Japan FAQs (Frequently Asked Questions)
What Is Japan's Most Famous Animal?
It could be argued that Japan's most famous animals are those of mythology. The Japanese dragon has a serpentine shape, likely based on sea snakes. Other myths speak of fox spirits that can transform into humans.
Many of these animal spirits are reflected in anime and other media. For example, the cute characters of the Pokémon franchise, such as Pikachu, could be said to be Japan's most famous animals. Some of these creatures, like Ninetails, are based on animals of myth, which are in turn based on real animals. Others were derived directly from childhood experiences catching bugs in Japan. All embody the cute ideals of kawaii art.
What Kinds of Animals Live in Japan?
Japan is home to about 130 mammal species. The largest are the Ussuri brown bear (Ursus arctos) and the Asian black bear (U. thibetanus).
The Japanese macaque lives farther north than any other monkey in the world. It is often referred to as a snow monkey, famous for bathing in natural hot springs to stay warm during winter snows.
Japan is also home to a few very unique small to medium-sized mammals. One is the raccoon dog (Nyctereutes procyonoides). It is a canine, related to the fox, but its markings resemble those of the North American raccoon. There are also two wildcats, the leopard cat and the Iriomote cat. Each of these housecat-sized wildcats lives only on a single island.
Other familiar mammals include the red fox, the Japanese marten, sika and Japanese serow deer, and wild boar. Unique ocean-dwelling mammals include the Steller's sea lion, dugong, and finless porpoise.
Over 600 species of bird have been seen in Japan. These include red-crowned cranes, Japanese woodpeckers, copper pheasants, green pheasants, the Okinawa rail, the Izu thrush, and the Bonin white-eye. Like the wildcats, some of these birds are endemic to only a single island or a few small islands.
There are about 73 species of reptiles and 40 amphibians in Japan. The Japanese giant salamander is one of the largest amphibians in the world. Sea turtles and sea snakes may be seen in coastal waters. The tropical islands are home to several species of viper, and non-venomous snakes, lizards, and freshwater turtles are found throughout Japan. The Chinese alligator has been spotted in Japan, and fossil evidence has been found of an extinct crocodilian called Toyotamaphimeia machikanensis.
More than 3,000 types of freshwater and saltwater fish have been observed in Japan.
What is Japan's Animal Symbol?
The snow monkey or Japanese macaque is Japan's national animal.
But many people also see the animals of the zodiac as symbols of Japan. The zodiac includes twelve animals: the rat, ox, tiger, rabbit, dragon, snake, horse, goat, monkey, rooster, dog, and boar.