Key Points
The most polluted lake in Wisconsin is Lake Michigan, the second biggest Great Lake in North America.
Even though the Great Lakes are enormous, they are extremely susceptible to pollutants because they do not have a great outflow of water.
Lake Michigan's waters are home to numerous species of wildlife including the North American river otter, muskellunge, mussels, crustaceans, and lampreys.
Two of the Great Lakes border Wisconsin, Lake Michigan to the east and Lake Superior to the north. In addition, Wisconsin has more than 800 miles of Great Lake shoreline. As a result, a massive 1.6 million people receive drinking water from Lake Michigan or Lake Superior. These two lakes are responsible for economic growth and are important for the tourism industry. Additionally, they attract more than 25,000 people to enjoy their vast fishing opportunities each year. Furthermore, they boast diverse aquatic and near-shore habitats, including rocky shorelines, sandy beaches, the world's largest freshwater dune system, and wetlands. The most polluted lake in Wisconsin is Lake Michigan, the second biggest Great Lake in North America. Humans have impacted this enormous lake, and major efforts are needed to help restore this beautiful natural resource.
Efforts to Clean Up the Most Polluted Lake in Wisconsin
Even though the Great Lakes are enormous, they are extremely susceptible to pollutants. They do not have a great outflow of water; therefore, pollutants entering the lakes are retained and concentrated over time. These pollutants include:
Invasive species
Habitat degradation
Toxic and nutrient pollution
This pollution source includes soil runoff and farm chemicals from agricultural lands. Also, waste from cities and discharge from industrial areas. Furthermore, direct atmospheric pollutants that fall as rain, snow, or dust on the lake surface or exchange gases with the lake water. Many government jurisdictions make the Great Lakes environmental protection complex. These include:
US EPA and nine other federal agencies
The United States and Canada
Eight states
Environmental restoration and management for more than 140 different federal programs
Nearly 40 Tribal Nations
Numerous county and local governments
More than 1/2 a dozen major metropolitan areas
There is a Lake Michigan Lakewide Action and Management Plan (LAMP) that is an ecosystem-based strategy for restoring and protecting Lake Michigan. The Lake Michigan Partnership, led by the U.S. Environmental Protection Agency, implemented and developed this plan. This initiative was mainly developed to set priorities, facilitate information sharing, and help coordinate environmental and restoration activities.
Where Is Lake Michigan Located On A Map?
Lake Michigan is the only great lake located entirely in the United States and its borders cover portions of Illinois, Indiana, Michigan, and Wisconsin. It is connected to Lake Huron through the broad Straits of Mackinac and some of the major cities that can be found along its shores are Chicago, Illinois, and Milwaukee, Green Bay, and Sheboygan, Wisconsin.
What Lives in Lake Michigan? 
Tourists can find various amazing wildlife beneath Lake Michigan's waters, including the North American river otter, muskellunge, mussels, crustaceans, and lampreys. Michigan is also home to many varieties of bird species, like bald eagles, cormorants, ospreys, and herons, to name a few.  
North American River Otter
The North American river otter is also known as the Canadian otter. They have muscular, long, streamlined bodies with webbed feet and short little legs. Additionally, they have muscular tails, and their fur is gray-to-brown which is lighter under their bodies and repels water. Also, they have a third eyelid, which allows them to see underwater. These otters' nostrils and ears close when they are underwater.
These otters are carnivores and catch prey with their mouths, but sometimes they use their forepaws and thumbs to grip prey. At the same time, they have very sensitive whiskers that help them when catching prey. In addition, these clever little creatures have very strong tails that help propel them through the water as fast as 8 miles per hour.  
These otters can weigh up to 33 pounds and measure as long as 5 feet. However, females are about a third of the size of males. This animal can be found throughout North America, and they live in seawater or fresh water like lakes, ponds, rivers, and marshes. They prefer unpolluted water with minimal human presence. However, they do inhabit the most polluted lake in Wisconsin. Interestingly, the oldest recorded river otter was 27 years old, but on average, they live to the age of 12. North American river otters eat mainly aquatic organisms, including:
Crayfish
Turtles
Fish
Frogs
Small mammals
Insects
Muskellunge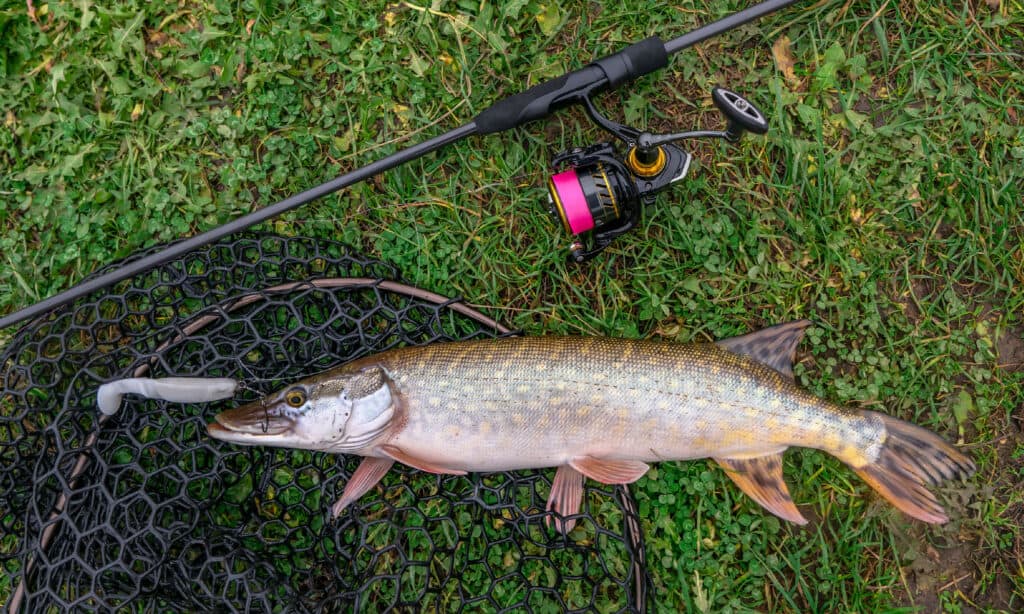 The muskellunge is a freshwater fish that is the biggest member of the Esox (Pike) family. It is sometimes referred to as the maskinonge or muskie. Although they originate in eastern and northern America, they have been introduced into other states. These fish are carnivores that will feed on anything that moves to satisfy their huge appetite. Also, they prey on their own species. There are currently three subspecies of muskellunge, including:
The Great Lakes Muskellunge – indigenous to the Great Lakes Basin
The Chautauqua Muskellunge – indigenous to Chautauqua Lake and south Ohio
The Northern Muskellunge – indigenous to Michigan, Wisconsin, and Minnesota
There is also a hybrid muskie known as the tiger muskellunge. They are infertile because they are a cross between a northern pike and a muskellunge.
The true muskies, as they are called, are light in color and can be golden brown, light green, or silver. Furthermore, they normally have large dark stripes on the side of their bodies. They are very good hunters and lie and wait near the shallow water hiding in weeds for their prey. Additionally, they can withstand water up to 90 degrees F.
Muskies have a diverse diet but feed mostly on other fish, including perch and suckers. Notably, they also eat small mammals like muskrats, ducks, and loons. They are considered one of the biggest freshwater fish in North America. For instance, the largest on record was 69 pounds and 15 ounces. These fish can live up to 30 years and usually stay in the same area their whole lives. 
Cormorants
Cormorants are angular waterbirds that occur in North America. However, only two species occur in Wisconsin—the Double-crested cormorant and the very rare Neotropic cormorant. The adult double-crested cormorant has a dark brown, almost black head, back, neck, and wings. In comparison, baby cormorants are light brown and have a lighter underside and throat. Furthermore, both adults and chicks have orange around the base of their bill and around their turquoise eyes. Double-crested cormorants are named after the two tufts on their head, which can be hard to see. They spend winter in the south-eastern United States as well as north-eastern Mexico. However, they migrate into the Northern United States and Southern Canada in large flocks in spring.
These birds eat mainly fish, which they hunt and catch under the water. Additionally, you can find them in various places but mainly near water. They like to congregate in large groups on islands where there are perches to dry their wings and look for prey.
The Neotropic cormorant is small compared to the rest of the cormorant family. Typically, they are sleek and black, with white feathers on their wings, back, and heads. Additionally, they have a white triangle on the base of their bill, which is called a gular. The babies are lighter in color and are brown, not black. Interestingly, most are not migratory birds and remain in the same place.
These cormorants eat mostly fish but will also eat amphibians, insects, and crustaceans. However, they also hunt for and catch prey underwater. They like to inhabit places like salt marshes, inland lakes, rivers, and coastlines. They are quite a rare and exciting sight in Wisconsin and can be found around the Great Lakes.
Osprey
The Osprey occurs in the most polluted lake in Wisconsin and is considered a bird of prey, sometimes known as the fish hawk, because it eats mainly fish. However, these birds are not true hawks; they are larger than hawks yet smaller than eagles. Furthermore, they occur on every continent except Antarctica. Ospreys that live in cold places will migrate before winter to find warmer weather. They always inhabit areas near water, such as swamps, lakes, rivers, or oceans. Additionally, they weigh about 3 – 4 pounds and measure up to 26 inches. The females are mostly larger than their male counterparts.
Osprey's feathers are a blackish brown color, with white underneath. Their heads are mainly white, with dark patches behind their eyes and a black bill. Furthermore, they have long, sharp, curved talons with small hooks on the bottom to grip slippery fish. They are expert hunters, using their wonderful eyesight to fly over the water and spot a fish. Furthermore, they can stay underwater for a few seconds while they grip their prey, then fly away with it.
Ospreys were threatened in some places by human activities because they were hunted and poisoned by pesticides. Although, after the United States banned a poison named DDT in 1972, their population increased again.   
---
The Featured Image
---