For a state known for its acres and acres of corn fields you might think there is nowhere for duck hunting. While deer and turkey hunting are much more popular, there are plenty of opportunities along the Mississippi River and Wildlife Management Areas for duck hunting in Iowa. Given that, mix up your hunting this fall and in between a couple of deer weekends try your hand at a sunrise duck hunt, camouflaged and hunkered down in your blind. Here is everything you need to know about duck hunting season in Iowa, including season dates, bag limits and more!
What Kinds of Ducks Are in Iowa?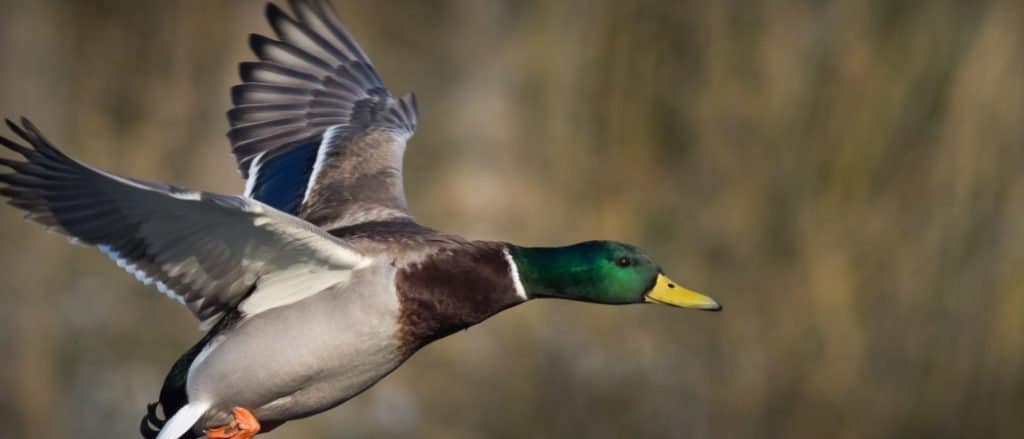 In Iowa, there are a wide range of duck species as well as waterfowl. Ducks migrating south for the winter will stop in Iowa on their way to the warmer southern states. Some of the most common duck species in Iowa include:
Mallards
Wood Duck
Redheads
Pintail
Black duck
Canvasback
Scaup
Blue-winged teals
Green-winged teals
Mergansers
Hooded Mergansers
Gadwall
Where Can You Duck Hunt in Iowa?
The Mississippi River makes up the entire eastern border of Iowa. This is where you will have the best luck finding the most ducks, because this is where they make their way down south. Both divers and dabblers stop here from their flights down from Canada, Minnesota and Wisconsin. You can also find some good duck hunting in the Wildlife Management Areas like Rathbun WMA, Odessa WMA and the Iowa Corridor WMA.
What Are the Hunting Zones in Iowa?
Iowa is divided into three zones the North Zone, Central Zone, and South Zone. The North and Central Zone are divided by Highway 20 and the South and Central Zone are divided by Highway 92. The South zone also includes a strip of land along the border that includes all areas west of I-29 and south of Highway 92.
Duck Hunting Season Dates in Iowa
| | | | |
| --- | --- | --- | --- |
| Species | North Zone | Central Zone | South Zone |
| Ducks | Oct. 1-7 and Oct. 15-Dec. 6 | Oct. 8-14 and Oct. 22- Dec. 13 | Oct. 15-21 and Oct. 29-Dec. 20 |
| Mergansers | Oct. 1-7 and Oct. 15-Dec. 6 | Oct. 8-14 and Oct. 22- Dec. 13 | Oct. 15-21 and Oct. 29-Dec. 20 |
| Coots | Oct. 1-7 and Oct. 15-Dec. 6 | Oct. 8-14 and Oct. 22- Dec. 13 | Oct. 15-21 and Oct. 29-Dec. 20 |
| Blue-winged Teal | Sept. 1-16 | Sept. 1-16 | Sept. 1-16 |
| Green-winged Teal | Sept. 1-16 | Sept. 1-16 | Sept. 1-16 |
| Cinnamon Teal | Sept. 1-16 | Sept. 1-16 | Sept. 1-16 |
Other Season Dates
| | | | |
| --- | --- | --- | --- |
|   | North Zone | Central Zone | South Zone |
| Youth Hunting Days | Sept. 24-25 | Oct. 1-2 | Oct. 8-9 |
Bag Limits and Possession Limits for Duck Hunting in Iowa
The daily bag limit for ducks is six in Iowa.
| | | |
| --- | --- | --- |
| Species | Bag Limits | Possession Limits |
| Ducks* | 6 | 18 |
| Coot | 15 | 45 |
| Mergansers (limit of 2 hooded) | 5 | 15 |
| Green Teal | 6 | 18 |
| Bleu Teal | 6 | 18 |
| Cinnamon Teal | 6 | 18 |
*Note: "Daily limit 6, including no more than 4 mallards (of which no more than 2 may be female), 3 wood ducks, 2 redheads, 1 pintail, 2 black ducks, and 2 canvasback. Scaup bag limit: 1 for first 15 days of the season, 2 for the remaining 45 days."
What are Shooting Hours?
The shooting hours in Iowa are half an hour before sunrise to sunset. The exception is woodcock and the September teal season, which is sunrise to sunset.
Time to Gear Up!
For hunting in a flooded corn field, you may only need a few items: your shotgun, waders, and a good caller. But for a day along the Mississippi or a multiple day hunting trip you will want to have the right gear. Here is a list of some of the recommended gear. The more experienced you get, the more you will be able to tweak your favorite gear.
Gun Equipment
Shotgun: a 12 gauge or 20 gauge
Gun case to keep your gun dry
Shells, 3" shells are common
Camouflage and Attire
Duck blind or boat blind: Be sure to scout the area you plan to hunt so you know what kind of blind you will need. Further, in most areas, you need to remove your blind. Portable blinds need to be removed between an hour after sunset and midnight. Also, decide if you will need a boat blind or not, depending on your location.
Decoys: When choosing decoys it is best to get the most realistic looking ones that are also light. About a dozen should do but if you are hunting with a larger party you could spread up to 36 or more. Some are stationary while others like mojo's provide movement to draw in your targeted ducks.
Camo: You want to blend in! There is a variety of camouflage for different habitats so figure out where you will be hunting first then choose your camo pattern. Don't forget about covering your face as well with a camo facemask or gator.
Duck callers: Not only do you need the right caller but you need to practice so you get it down right. Practice, practice, practice until you feel light you nailed it!
Waders: If you are going early teal hunting you might be fine with a light pair of waders but wait until late season, mid-November on you are going to want to have a nice liner in your waders for warmth. You can one-piece waders with boots or buy separate boots to go with your waders.
Safety
Life vest or PFD: If you plan to hunt from a kayak, canoe, or duckboat, be sure to have a properly fitting life vest or PFD.
First Aid Kit: Although duck hunting is actually a very safe sport, there can be minor accidents in the field or water. Having a first aid kit on hand is just a good idea.
Optional
Dog (technically not "gear" of course): A lot of waterfowlers have a trusty retrieving dog that loves to tag along on hunts. Furthermore, it can be rewarding to watch your pup bring in your catch. Some of the most popular breeds for duck hunting include Labrador retrievers, golden retrievers and American water spaniel.
Factors for Success
You have control over who you decide to hunt with, unless you are unlucky and get a party of newbies that set up shop 100 yards away. But you don't have control over driving rain and unbearable winds. Three things that can affect your hunt are your blind, decoys, and the weather.
Blind: Arrive plenty early so you have time to set up your blind. You may need to boat in to your location or you may have scouted it out ahead of time but you want to be ready for that half-hour before sunrise.
Decoy Spread: Usually about a dozen decoys will do but you can experiment with numbers, styles and level of movement.
Weather: Wind is always a good thing when duck hunting as it seems to get the ducks moving, but a cooler, overcast day is also favorable. Be sure to dress for the weather so that you can focus on hunting and not hand warming.
Where are the Best Places to Duck Hunt in Iowa?
Some of the best places for duck hunting in Iowa are:
Mississippi River
Des Moines River
Cedar River
Odessa Wildlife Management Area
Rathbun WMA
Iowa Corridor WMA
Meet the Species: 3 of the Most Common Ducks in Iowa
Mallard: The mallard is the most recognizable duck. The males having a deep green head and bright yellow beak. A white "necklace" around its neck stands out against the dark background. Mallards have a black chest and tail feathers with a mix of white and gray in between.
Blue-winged teal: Blue-winged teals have wings that are blue-gray at the top and have a green stripe at the bottom. Their heads sport a white crescent shape band just behind the eyes.
Wood Duck: Wood Ducks are also quite colorful with its green head, red eyes, and orange-red beak. They have alternating black white markings all over and rust brown chest.
Up Next…
---
FAQs (Frequently Asked Questions) 
Can you duck hunt in Iowa?
Yes, you can duck hunt in Iowa. Waterfowl hunters must have a hunting license, Federal Duck Stamp and HIP certification.
When does duck hunting season start in Iowa?
Early teal season starts September 1 and the Duck opener is October 1.
What are the most common ducks in Iowa?
The most common ducks harvested in Iowa are Mallard, Blue-winged teal and Wood Duck.
What is the bag limit for mallard ducks in Iowa?
The daily bag limit for mallard ducks is six.
How does Iowa rank in the country for duck harvest numbers?
Iowa is ranked 24th in duck harvest (based on a 10-year average).
Sources

Iowa Department of Natural Resources, Available here: https://www.iowadnr.gov/hunting/migratory-game-birds
Ducks Unlimited, Available here: https://www.ducks.org/hunting/waterfowl-id/blue-winged-teal
State of Iowa, Available here: https://www.wlf.Iowa.gov/page/seasons-and-regulations
State of Iowa, Available here: https://www.wlf.Iowa.gov/assets/Resources/Publications/Regulations/2022-2023-Hunting-Regs-low-res.pdf