Imagine a dog with a face that's impossible not to love, a size that's perfect for both laps and playing fetch, and a tailor-made personality for families. Meet the French bulldog, or "Frenchie" as they're affectionately nicknamed.
This guide will explore six reasons a French bulldog might be the perfect addition to your family. From their famously friendly nature that makes them instant friends with kids to their manageable size and adaptable demeanor that fits into various lifestyles, French bulldogs have much to offer, especially for first-time dog owners. Whether you've always loved this breed or are just discovering them, we'll give you a well-rounded look at what it's like to have French bulldogs as part of the family.
1. The Friendly Temperament of French Bulldogs
Imagine a pet that greets you with a wagging tail and bright eyes every day, ready to play or curl beside you? A French bulldog offers this kind of companionship, warmth, and affection that can brighten even the gloomiest days. For children, this gentle nature turns into an instant playmate. French bulldogs are patient with kids, indulging in games and becoming a part of their imaginative worlds. Adults, too, find solace in the companionship of a French bulldog. Whether you need a jogging partner or someone to relax with at the end of a long day, a French bulldogs nature will continuously adapt to your lifestyle. They're as content exploring the outdoors as snuggling on the couch.
This adaptable and gentle temperament doesn't happen by accident. It's part of what makes French bulldogs so unique. Their willingness to be part of the family, to adjust to your needs, and to offer unconditional love is more than just a trait; it's a defining characteristic.
2. Their Remarkable Adaptability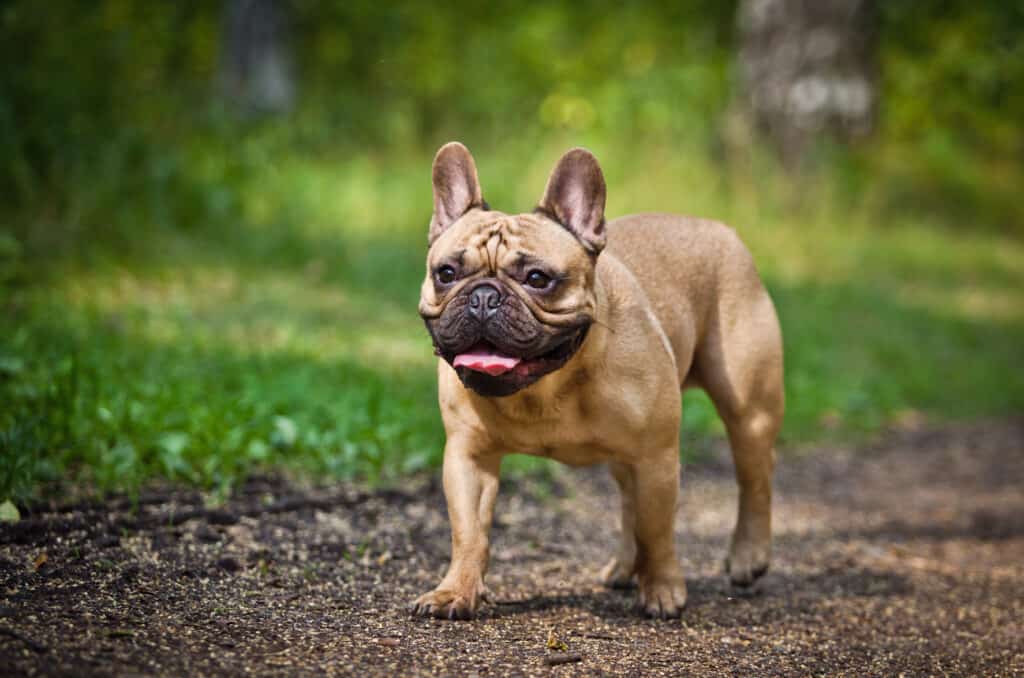 Adaptability is a word that is tailor-made for French bulldogs. Their ability to adapt to various living situations makes them an excellent choice for families living in apartments, houses, or fluctuating schedules.
Their compact size and moderate exercise needs make them manageable companions in apartments. They're content with indoor play and short walks, accommodating the lifestyle of city dwellers. They also tend to be less vocal, making them considerate neighbors. For those in houses with yards, French bulldogs enjoy the extra space but don't demand it. They're as happy exploring the garden as they are playing indoors. This flexibility means that a change in living situation, like moving from an apartment to a house or vice versa, won't break their stride.
Even if your schedule is erratic, a French bulldog's adaptable nature shines through. Whether you work long hours, have unexpected commitments, or lead an unpredictable life, a Frenchie can manage with or without you around. They love attention, but they also have a unique ability to handle periods alone without becoming distressed. Instead of clinging to a rigid routine, they adjust to yours, displaying a level of understanding and flexibility rare in a pet. They eagerly greet you when you're home and calmly await your return when you're away. In a world that doesn't always adhere to a perfect schedule, their loyalty and adaptability without being overly dependent strikes an ideal balance that makes them invaluable members of your household.
3. They Don't Need Long Walks to Stay Active
Unlike some other breeds, French bulldogs don't require hours of exercise daily. Their energy levels are moderate, making them suitable for families with a more sedentary lifestyle or those with limited outdoor space. Roughly thirty minutes to an hour of exercise a day, including walks or playtime, is sufficient for a dog of their size.
Though they enjoy a good romp in the yard or a playful game of fetch, they're equally content with a stroll or indoor play. This flexibility makes them an excellent fit for families with varying activity levels, from active outdoor enthusiasts to those who prefer a more relaxed pace.
4. They Require Minimal Grooming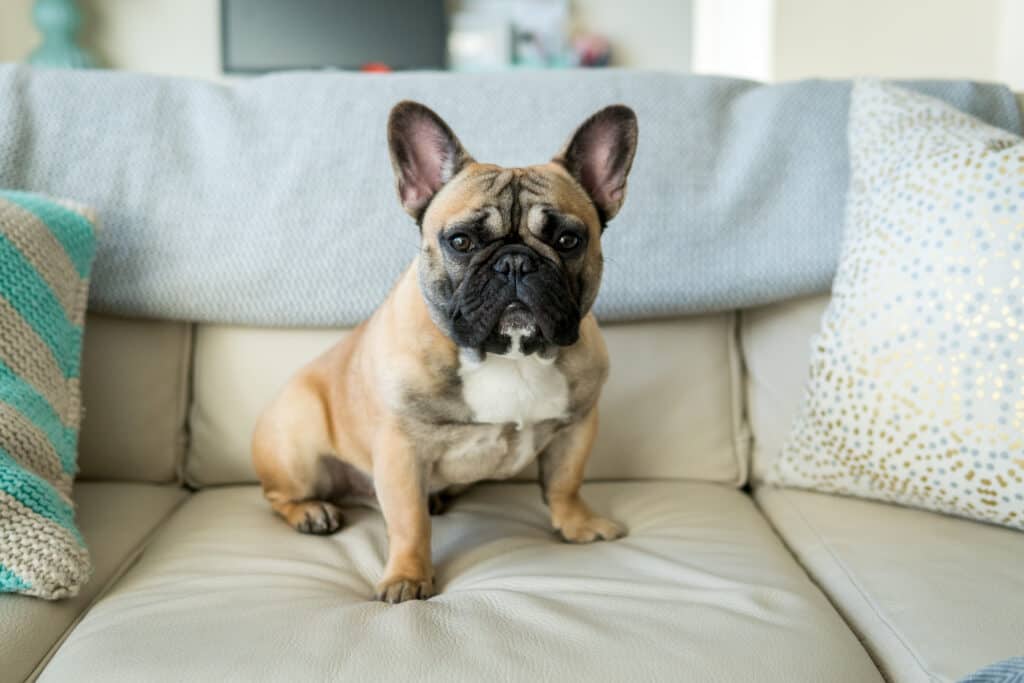 The allure of French bulldogs often lies in their sleek and elegant appearance. However, the minimal effort required to maintain that beauty makes this breed even more appealing. Their short, fine coat is smooth to the touch, needing only occasional brushing to remove loose hair and keep it shiny. Unlike breeds with longer or denser hair, French bulldogs don't need frequent trips to the groomer. Their coat doesn't mat or tangle easily, which simplifies home grooming. Regular cleanliness checks, especially for facial wrinkles, are sufficient to keep them looking their best.
Their nails, ears, and teeth follow the general canine care guidelines, requiring regular checks but nothing out of the ordinary. The convenience of this low-maintenance grooming regimen allows more time for bonding, playing, and enjoying the affectionate and engaging personality of which French bulldogs thrive.
5. Their Compact Sizing
With their compact size, French bulldogs offer a unique blend of convenience and sturdiness that sets them apart. These dogs, on average, weigh 16 to 28 pounds and stand about 11 to 12 inches tall. This feature particularly appeals to those living in apartments, condos, or any space-conscious environment. Their size also becomes an advantage for travel, whether a quick walk to the local park or an extended family vacation. They are small enough to carry if necessary but have the strength to engage in outdoor activities and games.
Don't let the French bulldog's petite appearance fool you. Beneath their compact exterior lies a muscular and robust physique, full of liveliness and vigor. Their small stature does nothing to dampen their playful spirit or eagerness to be integral to family activities. Far from being a limitation, their size only adds to their charm, making them adaptable and engaging companions.
6. Your French Bulldog Will Get Along With Your Other Pets
One of the delightful qualities of French bulldogs is their ability to form a bond with other pets in your household. A French bulldog often stands out as a playful and considerate companion in a household with multiple furry friends.
Their playful and engaging nature often leads to heartwarming friendships with fellow dogs. They love a good game of tug-of-war or a friendly wrestle, and they're equally content to curl up together for a nap afterward. If you have cats, don't be surprised if your Frenchie also forms a unique bond with them. Their gentle approach and innate curiosity can lead to affectionate relationships filled with shared sunbathing spots and synchronized tail-wagging. Even the introduction to smaller pets can be a positive experience, with proper guidance and understanding.
Summary of the Top 6 Reasons French Bulldogs Are the Perfect Family Dog
| | Reason |
| --- | --- |
| 1 | The Friendly Temperament of French Bulldogs |
| 2 | Their Remarkable Adaptability |
| 3 | They Don't Need Long Walks to Stay Active |
| 4 | They Require Minimal Grooming |
| 5 | Their Compact Sizing |
| 6 | Your French Bulldog Will Get Along With Your Other Pets |
The photo featured at the top of this post is © Meriluxa/Shutterstock.com
Ready to discover the top 10 cutest dog breeds in the entire world?
How about the fastest dogs, the largest dogs and those that are -- quite frankly -- just the kindest dogs on the planet? Each day, AZ Animals sends out lists just like this to our thousands of email subscribers. And the best part? It's FREE. Join today by entering your email below.
---