The United States is home to beautiful lakes like Powell Lake, Lake George, Yellowstone Lake, e.t.c. There are so many activities to explore at these gorgeous lakes. But perhaps you've explored all the popular lakes in the U.S. and are craving more exciting options, here's the good news: there are some amazing lakes that are not as popular as these other ones. So, if you are set to exploring new but equally impressive lakes in the U.S., this post is for you. Below are nine hidden lakes off the beaten path in the United States.
1. Big Bear Lake
If you are going for a family vacation, honeymoon, or even a solo trip, you should pay a visit to Big Bear Lake in the heart of Southern California. While this lake may not be one of the first ten lakes to come to mind, it is indeed a beauty to behold. It has a beautiful landscape – surrounded by mountains and trees. It also stretches to the shores for 22 miles, and its cool climate makes it conducive to taking a walk around. 
But the amazing part of this beautiful deep blue lake is that you could easily have a vacation around because it has been developed for lodging options. But first, a warning: if you are swimming in the waters, you do so at your risk. Despite being a developed tourist area, there are no lifeguards employed. Therefore, it's advised to never go beyond 50 feet if you are swimming in it.
2. Lake Jocassee
At one corner in South Carolina is the serene lake Jocassee. The green landscape and beautiful mountains around the lake are sights to see. Tourists who visit the Jocassee Gorge are usually lucky enough to view this beauty. You can gain entry through the Devil's Fork State Park. Unfortunately, those who have never been to the park may not even know it exists. If you're visiting the lake, there are fun activities to explore like kayaking, boat rides, night camping, touring, and even enjoying the waterfall views.
3. Eklutna Lake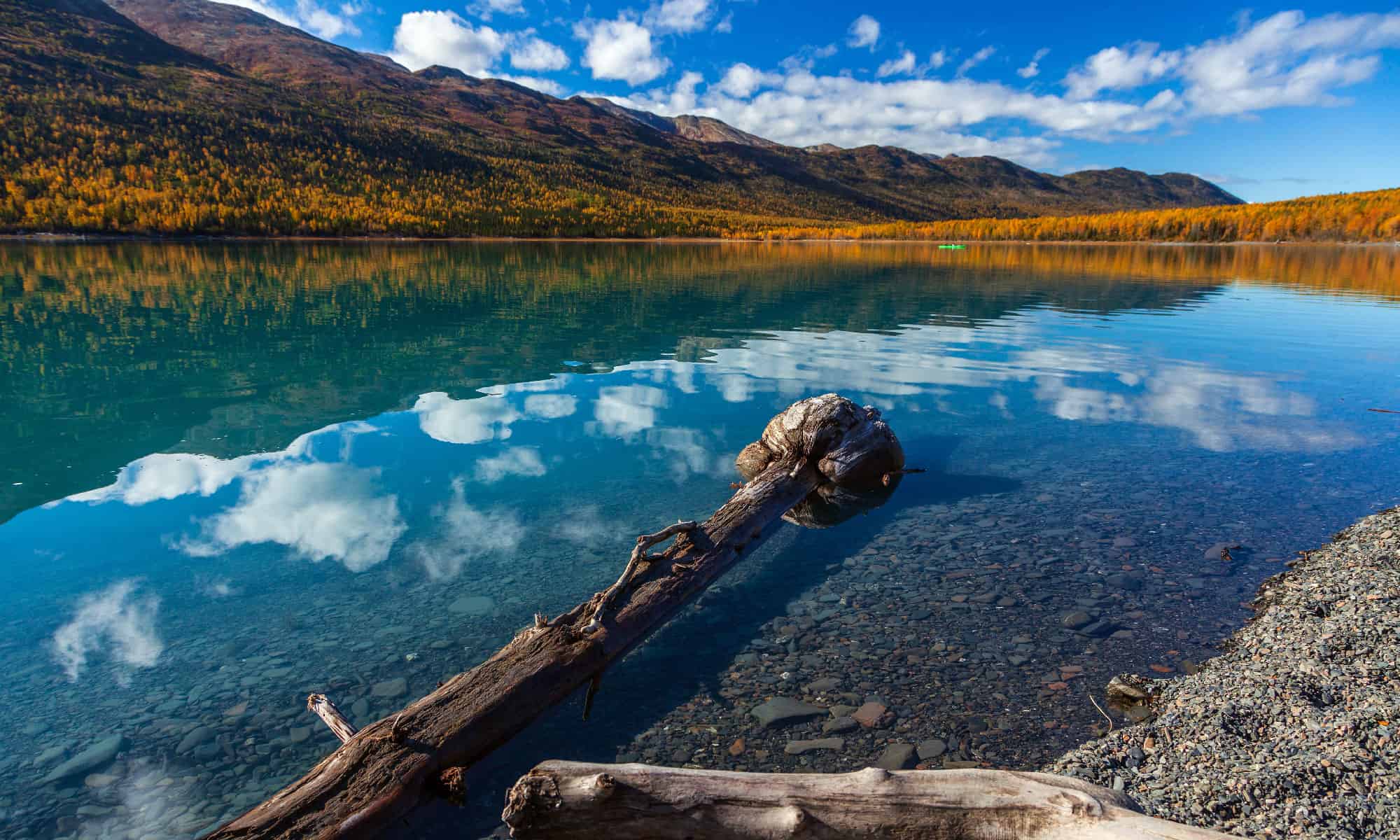 In Alaska, the Eklutna Lake is trapped between the icy Chugach mountains. The clear water runs for up to 15 miles between the mountains. The good thing is tourists and visitors are free to explore the shorelines of the beautiful lake. If you visit Eklutna Lake, feel free to take a walk around or hike the twin peaks. Nearby is the Eklutna Historical Park, rich in religious history and the history of the early settlers of Alaska. You can explore when you visit as well. But if you are planning to swim in the lake, it's not a great idea because of the low water temperature. Children should be supervised around the lake.
4. String Lake
Horseback riding and scenic rafting are not the only activities to explore in the Grand Teton National park. North of Jenny Lake begins the warmest lake in the park, String Lake. By the side of this lake in Wyoming is an alpine view surrounded by green vegetation. The good news is; it's safe to swim in the shallow water. So, lake swimmers can have a swell time enjoying the beauty of nature while exploring the water. Besides, visitors have the option to go on canoe rides, kayaking, or paddleboarding there.
5. Williams Lake
It's easy to miss William Lake in New Mexico, majorly because it's located in a deserted region. So visitors may not expect to find a lake in the middle of the Wheeler Peak Wilderness. This lake sitting below Wheeler Park is one of the most ignored lakes in the United States. You can easily get to the lake through the Taos Valley trailhead in Taos ski valley. If you're planning to stay a while, you will enjoy the elevated Mountain peaks and serene habitat while lodging in Taos ski valley. 
6. Beaver Lake
Most people think all lakes are natural and found by humans. That's not true. Some of them were created by man-made dams to store water. One such is Beaver Lake in Arkansas. Although the lake itself is artificially created, surrounding it are natural caves, limestone bluffs, shrubs, and trees. The lake is well-built and has about 487 miles of shoreline. It's open to visitors to partake in activities like hiking and bass fishing with an option for them to lodge.
7. Green Lake State Park
While you may have visited all the famous lakes in New York, it's easy to miss out on the glacial lakes: the Round Lake and the Green Lake in the green lake state park. While these lakes are not New York's most popular lakes, they are unique because of their meromictic properties. So, both lakes do not intermix even though they may pass through each other. But here is one more interesting fact: each lake is a habitat for different species of animals and organisms.
8. Clear Lake
Not every lake has a clear view of what lies underneath. But lying in Oregon is one of the most translucent lakes in the U.S., Clear Lake. The lake itself emerged after a volcanic eruption around the area about three millennia ago. It has a unique underwater view revealing submerged trees and vegetation. Because of how clear the water is, divers are willing to explore the lake. But if you are not a diver, you can also explore fishing, hiking, kayaking, and canoeing.
9. McGregor Lake
Isolated in Montana is McGregor Lake, unique for its clear water. The water is spread across 1,522 acres of land. It's not a great idea to go swimming in it because of the extremely cold temperature of the water. In fact, it is the low temperature that maintains its transparency. It is an excellent site for camping, and it has lodging options for a visitor.
The photo featured at the top of this post is © Tiffany Sims/Shutterstock.com
---