There are hundreds of species of squirrels worldwide and squirrels are widespread in suburban and urban environments. They are opportunists and have readily adapted to living near humans. This includes using our homes (most often our attics) as nesting sites. Species of squirrels found in the US vary by state but include the eastern grey squirrel, the western grey squirrel, and the red squirrel. Here are the top 13 signs there are squirrels in the attic of your house and a plan on how you can remove them.
13 Signs There Are Squirrels in the Attic of Your House
1. Strange Sounds Coming From Your Attic
As rodents go, squirrels are quite large! Eastern grey squirrels can weigh up to 1.5 pounds and western grey squirrels can weigh over 2 pounds. This is a lot heavier than a mouse! So, when a squirrel moves around in your attic you are going to hear it. Have you heard strange
scratching, rustling, banging, or scampering noises coming from your attic? Squirrels are most active in the early morning and late afternoon so this is when they are noisiest However, you may hear them at any time of the day and occasionally at night. You may also hear noises coming from within your cavity walls.
2. Visible Damage to Attic Insulation
You may notice that large patches of your attic insulation are missing! This is probably because it has been used by the squirrels to construct nests. The same can be true for cardboard boxes, books, etc. which can all be chewed up to make ideal nesting material for squirrels.
3. Pungent Smell of Pee
Squirrel pee has a pungent smell of musk and ammonia. The odor is unlikely to be confined to the attic and can spread to the rest of the house through walls and vents. If there are lots of squirrels in your attic, their pee can soak through to the ceilings below and cause staining.
4. Food Going Missing From Bird Tables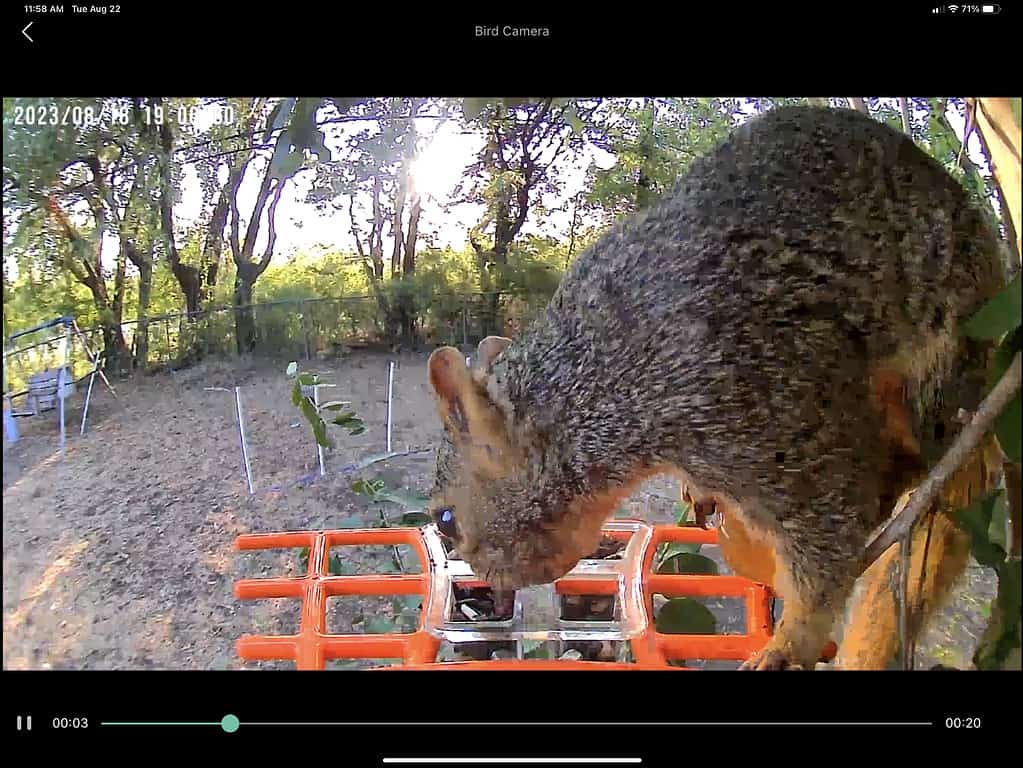 Squirrels regard bird food as squirrel food! Have you noticed that the seeds that you were putting out for the birds are disappearing much quicker than they used to? This can be a sign that you have squirrels in your garden and possibly also in your attic. You may have also noticed that your garbage bags have been torn open and the contents strewn around your yard. This could also be a sign that squirrels are frequenting your property and setting up a home in your attic.
5. Trees and Shrubs Surrounding Your House Stripped of Bark
Squirrels will often cause quite a lot of damage to the environment around their homes. Therefore, you may notice that there are small holes in your lawn or that the trees in your garden have been stripped of bark. You may also notice that your plants have been eaten or destroyed. This indicates that squirrels are living near your garden and likely in your attic.
6. Squirrels Seen Close to Your House
You may notice that there are more squirrels than normal running along your utility wires, climbing up pipes, or scurrying across your fences or roof. If this happens, watch them carefully – you may be able to catch them gaining access to your attic or chimney. If you notice squirrels fighting around your home, it can indicate that the population has become too large for the available resources.
7. Pungent Sulfuric Smell of Dead Bodies
As is the case with all living things, squirrels will eventually die. If they consider your attic to be their home, then they can easily end up dying in your house. Decaying bodies have a particularly distinctive and unpleasant smell. Depending on the stage of decomposition, they can have a pungent and sulfuric odor. If this smell is spreading through your house, you may have a dead squirrel in your attic!
8. Squirrel Nests
You may notice what looks like piles of leaves, twigs, and other debris in the attic. These are likely to be squirrel nests because these critters build their homes from whatever they can get a hold of. You might notice that they have nibbled away at the structure of the attic and used part of that as well. If you do spot a squirrel nest it is important that you do not approach it because nesting squirrels can be very aggressive.
9. Squirrel Droppings
All squirrels have to poop! If there are squirrels living in your attic then you will find scattered droppings. You may also find them on your roof. It's actually quite difficult to distinguish squirrel droppings from those produced by several other animals so you may need an expert to help you with this. Generally, they are oblong pellets that are around
3/8 inches long and about 1/8 inch in diameter. They usually have rounded tips with a wider center. Fresh squirrel droppings are brown but as they dry out, they become a pale-brown or grey.
Squirrel droppings can carry micro-organisms that are harmful to humans. Therefore, you need to be very careful how you handle them.
10. Acorns Scattered Around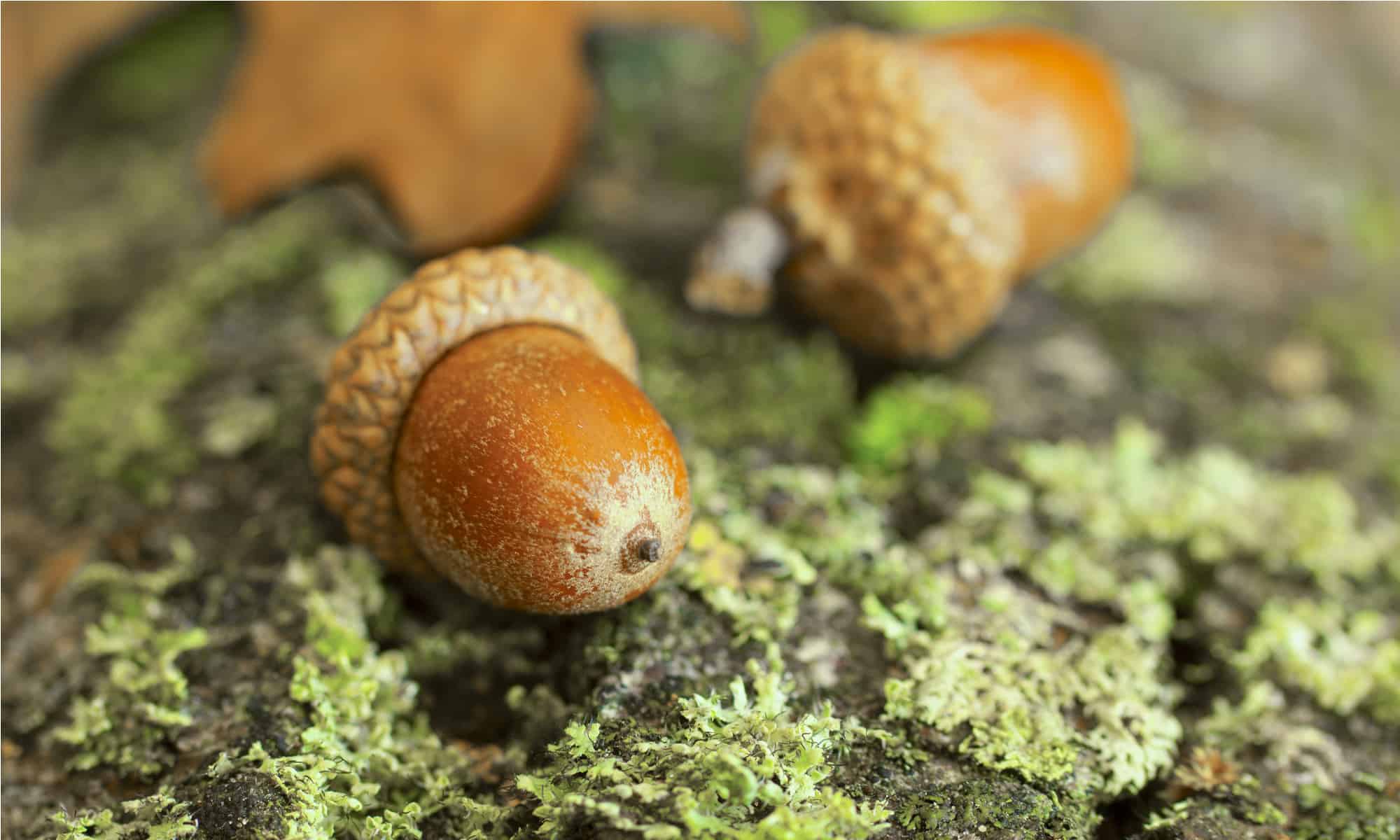 Squirrels really do love acorns! They either eat them straight away or store them to be eaten later on in the winter. If you see a pile of acorns in the corner of your attic is very likely that a squirrel has placed them there.
11. Gnawed Roof Timbers
Squirrels have long incisor teeth that keep growing. Therefore, they need to constantly gnaw at things to keep them in check. To a squirrel, your roof timbers are just like a tree and they are quite happy to gnaw away at them. If you notice patches of damage and what look like teeth marks this could indicate a squirrel infestation.
12. Gnawed Cables and Pipes
Squirrels are constantly gnawing at things whether they are in a tree or in your attic. If you notice that there are gnaw marks on cables or pipes in the attic this could very well have been caused by a squirrel. Be very careful when inspecting damaged electrical cables as they can cause electric shocks.
13. Holes in Sidings, Soffits and Fascia Boards
Squirrels often enter attics through sidings, vents, or soffits. Therefore, it's a good idea to inspect these a few times of year. If you notice any damage or gnawing to these timbers it can be a sign there are squirrels in the attic. Other places to check include around windows and between the roof and the fascia boards.
When Are You Most Likely Find Squirrels in Your Attic?
Squirrels can invade your attic at any time of the year but it is more likely to happen when they are having their young. Attics in human houses are a great place for squirrels to raise their young families. This happens in the spring and fall. Also, squirrels like to set up homes in human houses when the weather starts to get cold. This is why a lot of people discover squirrel infestations at the beginning of winter.
Why Bother to Remove Squirrels From Your Home?
You may think it's pretty cool to be sharing your home with a wild animal but squirrels do not make great house guests! Here are the main reasons why you should remove them.
They create holes that allow other rodents, such as rats, access.
Squirrels can damage guttering which allows water penetration.
When they nibble on insulation, they damage it and make it less effective.
They can chew electrical wires which can cause electrical outages and even fires.
If squirrels chew through water pipes they can cause flooding.
Squirrels gnawing through structural timbers, such as roof joists, weaken them which can make the structure of the house unstable.
Are Squirrels Dangerous to Humans?
Squirrels can become territorial especially when they have young. They can become aggressive which makes it impossible for you to get into your own attic without running the risk of being bitten or scratched.
Squirrels can carry several pathogens that can be transmitted to humans often through contact with droppings or urine. Examples include leptospirosis and salmonellosis.
How Do Squirrels Get Into Your Home?
Squirrels are very good at spotting tiny gaps and squeezing through them. It is common for them to enter attics through unscreened vents or holes in fascia boards or roofs. Even if there is no existing hole, squirrels may be able to create one. Using their sharp teeth, they can gnaw through soffit and facia boards to get into your attic space. Some squirrels can also gnaw through window frames and even through lead rain flashings to get into houses! They also gain access through chimneys by getting under roof tiles.
Sometimes, they enter houses at ground level and make their way up to the attic. However, it's more common for them to climb up the side of your house and then enter at roof level. Squirrels will have no problems climbing up the vertical walls of your house. If you've ever seen a squirrel scaling a tree at speed, you will know how true that is!
How to Remove Squirrels From Your Home
Removing squirrels from your home is not as easy as simply scaring them away because they can be aggressive. You also cannot simply board up the hole that they use for access because you may trap them in. They will either gnaw their way back out causing more damage or die in the attic causing a horrendous smell. If you trap the adults outside and they have young inside the attic they can be particularly aggressive. Squirrels in this situation have even thrown themselves against walls and windows and this is very distressing for both the squirrels and for the human occupants of the houses.
The best option is often to call in professional pest removal services. If you decide to remove them yourself, you first need to drive them out of your attic space. You can do this using household cleaners with strong odors and special squirrel repellents. Bright lights and loud noise (a radio) will also make the squirrels want to move home.
You could also use squirrel traps baited with peanuts or peanut butter. However, in some countries such as the UK, it is illegal to release gray squirrels back into the wild. If you find one in your home, you are required by law to humanely kill it.
How to Prevent Squirrels From Getting Into Your Attic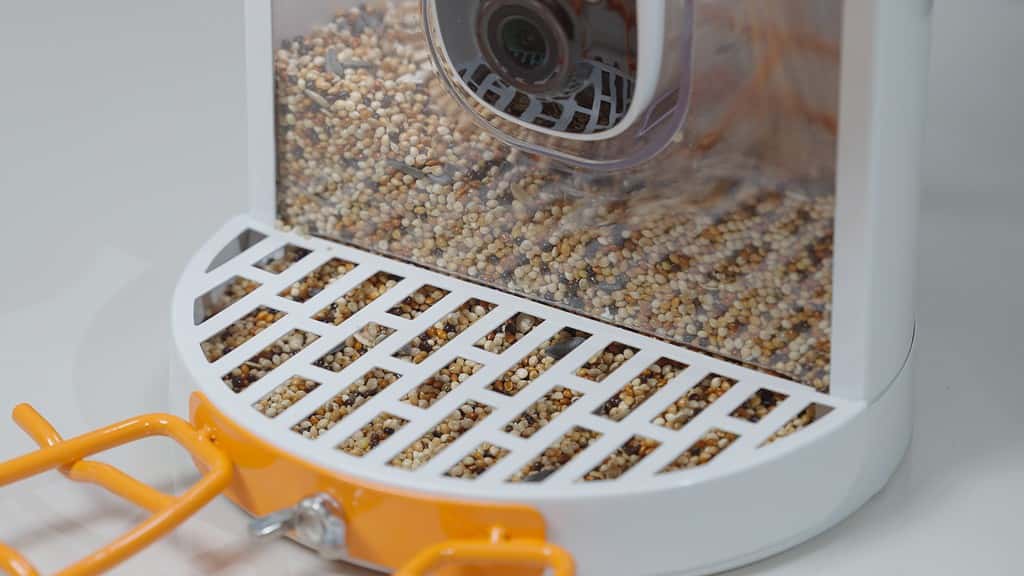 Here are some top tips to stop the squirrels from coming back once they have been removed or to prevent them in the first place.
Trim tree branches overhanging your roof to make it harder for squirrels to gain access.
Regularly check for the holes at roof level, around the chimney, or windows. Seal up any holes that you find with 1/4-inch hardware cloth or with sheet metal.
Cover vent holes and the top of your chimney with mesh screens. First, check that you are complying with safety laws relating to chimneys.
Seal gaps around wiring and plumbing fixtures using mesh or metal flashings and finish with caulk or spray foam.
Use a pole guard on your power pole to block squirrels from reaching your overhead lines.
Use a line guard on overhead cables that run into your house for TV, power, etc.
Don't attract squirrels to your property in the first place by sealing garbage in metal or plastic containers.
Use a bird feeder with a gravity-operated treadle and don't let spilled food accumulate.
Summary of the 13 Signs There Are Squirrels in the Attic of Your House
| Number | Sign |
| --- | --- |
| 1 | Strange sounds coming from your attic |
| 2 | Visible damage to attic insulation |
| 3 | Pungent smell of pee |
| 4 | Food going missing from bird tables |
| 5 | Trees and shrubs surrounding your house stripped of bark |
| 6 | Squirrels seen close to your house |
| 7 | Pungent sulfuric smell of dead bodies |
| 8 | Squirrel nests |
| 9 | Squirrel droppings |
| 10 | Acorns scattered around |
| 11 | Gnawed roof timbers |
| 12 | Gnawed cables and pipes |
| 13 | Holes in sidings, soffits and fascia boards |
Summing Up Signs There Are Squirrels in the Attic
If there are squirrels living in your attic you will be able to hear them, smell them, and probably see them around your house. You may also see signs of them feeding, their droppings, or damage that they have done to the structure of the house or its contents by gnawing. The squirrels need to be removed because they can damage your property and can carry diseases. You can remove squirrels yourself by driving them out with repellents, noise, and light but do not grab them because they can be aggressive. You can squirrel-proof your home by removing food that will attract them, cutting tree branches that overhang your roof, and regularly checking for and sealing up access holes.
The photo featured at the top of this post is © Jan Stria/Shutterstock.com
---