Nature-lovers adore Vermont. This state has beautiful forests famous hiking trails, mountains, and lakes. This state is one of the top places for people to vacation when they're seeking to leave the world behind. That's why so many people enjoy fishing throughout Vermont. Today, we're going to explore some of the best fish to catch in Vermont during the summer months. Hopefully, you'll come away from this experience knowing exactly what kind of fish you should seek the next time you vacation in this state.
What Are the Best Fish to Catch in Vermont?
The best fish to catch in Vermont vary. Some of them are found in small lakes throughout the state. Others, you'll need to hunt down at the right place using the right bait at the right time. Either way, we've tried to include something for everyone to look forward to on this list. So, without further ado, let's look at the best fish to catch in Vermont this summer.
1. Brown Trout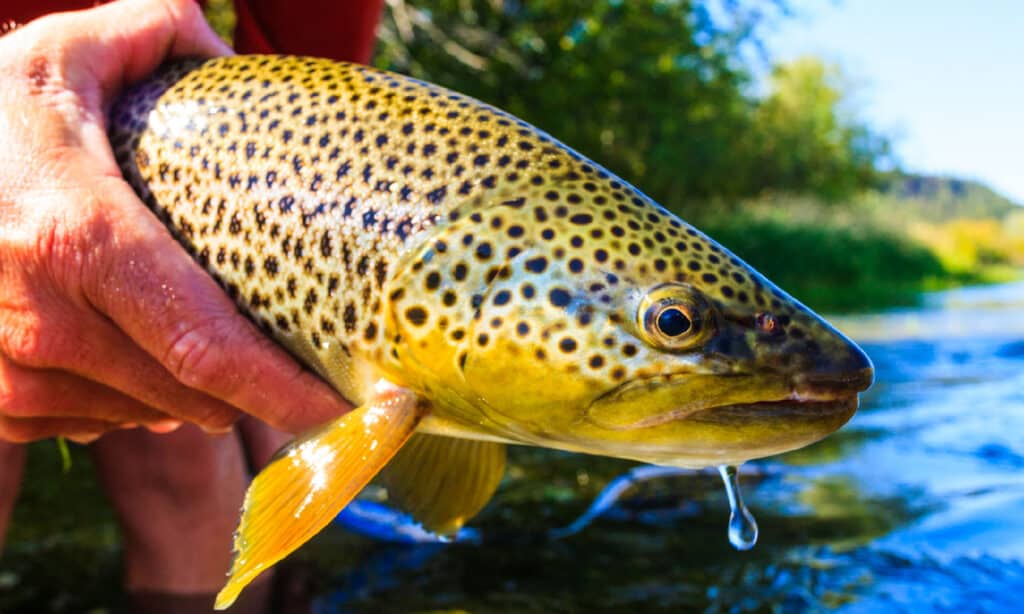 Brown trout may not be native to Vermont, but it's quite a popular fish. Following its introduction to Vermont in the 19th century, this fish has spread to freshwaters throughout the state. You'll find trout throughout lakes, streams, and rivers in the state.  
In particular, you can find these fish in the Batten Kill River, White River, Bomoseen Lake, and Otter Creek. You'll want to catch brown trout because they're somewhat easy to catch, meaning they are accessible for anglers of all skill levels.
They don't get that large, though. On average, they grow between 12 and 14 inches, and they weigh up to 5 pounds at that length. However, they can get fairly large.
The biggest one caught in Vermont weighed 22 pounds! Catching these fish doesn't require a lot of specialty equipment unless you're fly fishing. Use some night crawlers and stay about 10 feet or less in the water, looking for pools of cool water.  
2. Largemouth Bass
The largemouth bass is another very popular fish to catch in Vermont. Like brown trout, people of all skill levels can catch this fish. However, the expert anglers are usually the ones that pull in the large ones. The largemouth bass is known for being somewhat aggressive when it comes to getting their food.
They like to eat, and they like to consume a variety of different foods. That is an advantage to people fishing for them. Largemouth bass will go for many types of bait. You can use live bait like minnows or even various fishing lures. Some common lures include plastic worms, jigs, and crankbaits.
When catching them, you'll have to look in lakes with somewhat deep water, especially in places with cover. They will hide in vegetation, logs, docks, and other structures on the water.
Vermont operates on a seasonal catching basis that typically starts in June, making summer a great time to catch them. The state also allows a catch-and-release bass season in the spring, too. These fish are very rewarding to catch, and they always make for a great fishing picture.
If you're looking for a great place to catch them, check out Lake Champlain.
3. Northern Pike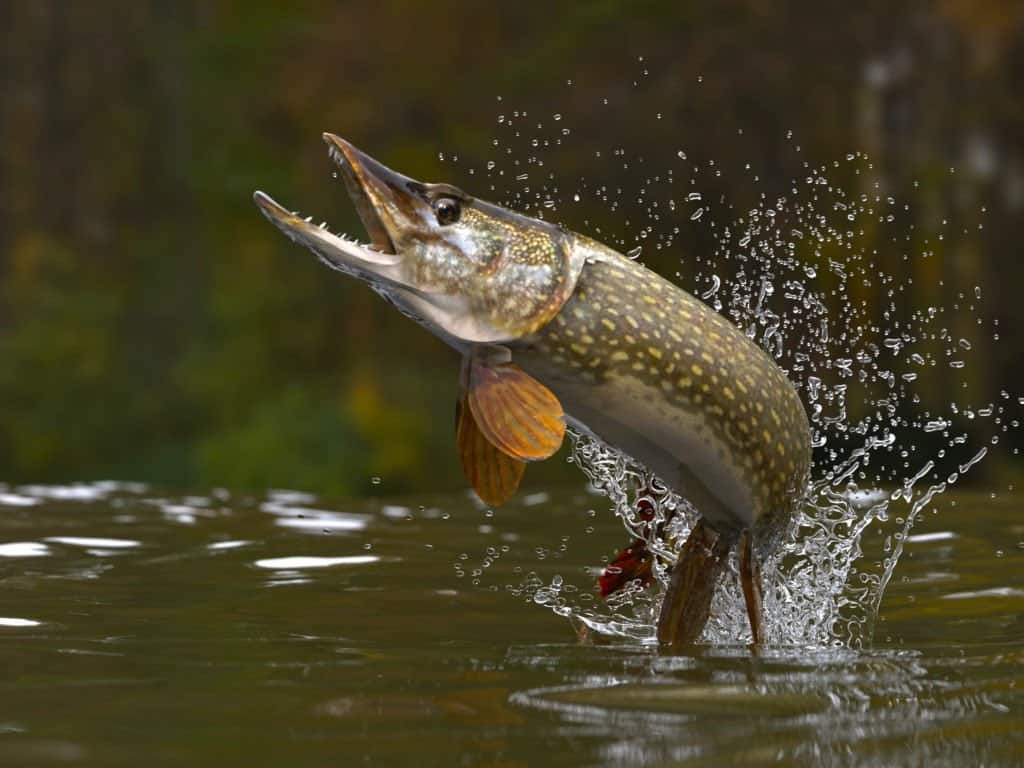 Northern pike are a long and slender species that people enjoy catching because of their size and weight. They can be a challenge to catch and reel in. That's one of the many reasons that experienced anglers enjoy catching the northern pike in Vermont.
The summer is a great time to catch these fish. Northern pike hunt for food after their spring spawning time, and they aggressively pursue their meals. You'll want to use live bait when you can, including alewives and shad. Depending on laws governing live bait use, you can opt for lures, too.
These fish prefer bait that makes a lot of noise and has high visibility. Northern pike also likes rather cool water, between 60 and 65 degrees. That means you'll need to find a somewhat deep body of water where the fish will often live below 20 feet.
You'll often find these fish in Lake Champlain along with the Connecticut River, Otter Creek, and Lake Carmi. Try to be careful when you are taking them off the hook. They have some sharp teeth!
4. Pumpkinseed
Small sunfish are a great catch for people that are new to fishing and for individuals that just want to get something on the hook. Pumpkinseeds are small and brightly colored fish that are usually called panfish. They're found in many bodies of water throughout the state, but they are usually found in lakes and ponds.
These creatures are usually found near places with light vegetation or piles of rocks in shallow water. If the water is clear, you'll often see these fish below, so you know right where to cast.
They aren't the largest fish, often less than 1 foot in length. They're also not that hard to catch. You may use bait that is as simple as bread. Yet, it's also a good idea to get new anglers into good habits with lures like grubs, flies, and even spinners.
5. Landlocked Atlantic Salmon
The landlocked Atlantic Salmon is the same species as the salmon you find in the Atlantic Ocean. So, they'll share the same looks with their marine counterpart. Interestingly, they also resemble brown trout at a glance.
They're often found in larger lakes in Vermont. That includes Lake Champlain and Lake Dunmore along with a few others. They're also found in rivers such as the Winooski River and Clyde River.
Keep in mind that these fish prefer cooler water in the summertime, so be prepared to go out on the lakes to find them. They like water that is between 55 and 60 degrees, and that can make them go deeper in the summer, upwards of 30 to 60 feet.
Still, it's worth getting into a boat for these fish. They measure between 15 and 25 inches and weigh up to 5 pounds. However, the biggest one caught in Vermont weighed 12 pounds and was caught in Lake Champlain! Try using spoons, streamer flies, or even smelt to catch these fish.
We've covered the best fish to catch in Vermont this summer and shown provided you with a few locations and tips on bait. Remember that this state, like every other one, regulates fishing within its borders. Always make sure you stay abreast of local laws so that you don't run afoul of the game wardens!
Up Next:
---
The Featured Image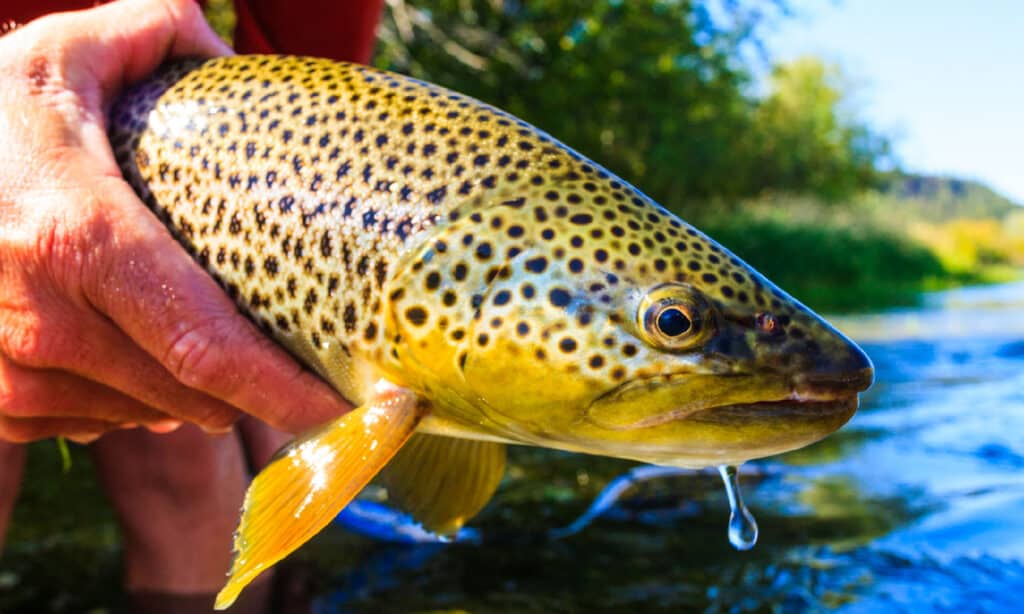 ---
Sources

Vermont Fish & Wildlife Department, Available here: https://vtfishandwildlife.com/fish/fishing-opportunities/sportfish-of-vermont/brown-trout
State of Vermont Agency of Natural Resources, Available here: https://anr.vermont.gov/node/1175
Agency of Natural Resources Department of Forests - Parks and Recreation, Available here: https://fpr.vermont.gov/recreation/activities/fishing
Vermont Fish & Wildlife Department (1970) vtfishandwildlife.com/fish/fishing-opportunities/sportfish-of-vermont/northern-pike#:~:text=Northern pike have thrived in,and Lake Memphramagog%2C among others
Vermont Fish & Wildlife Department (1970) vtfishandwildlife.com/fish/fishing-opportunities/sportfish-of-vermont/landlocked-atlantic-salmon