North Carolina is a popular tourist destination. People who love swimming, surfing, fishing, and relaxing in the mountains all have something in this state. Since North Carolina has abundant lakes, rivers, and access to the Atlantic Ocean, it's a fantastic area to go fishing. So, what fish can you catch in this state? We will cover five of the best fish to catch in North Carolina.
We've chosen fish that are good for people who want a trophy, new to fishing, and even those looking for a tasty meal.               
What Are the Best Fish to Catch in North Carolina?
Our list of the best fish to catch in North Carolina was curated to appeal to as many people as possible. That's why you'll see freshwater fish and saltwater fish. You'll also see some fish that have the potential to be large and others that are good to catch as a beginner.
No matter what type of fishing experience you want to have, you should find a fish here that meets your needs. We'll tell you where they are found, what kind of bait to use, and other helpful tips!
1. Red Drum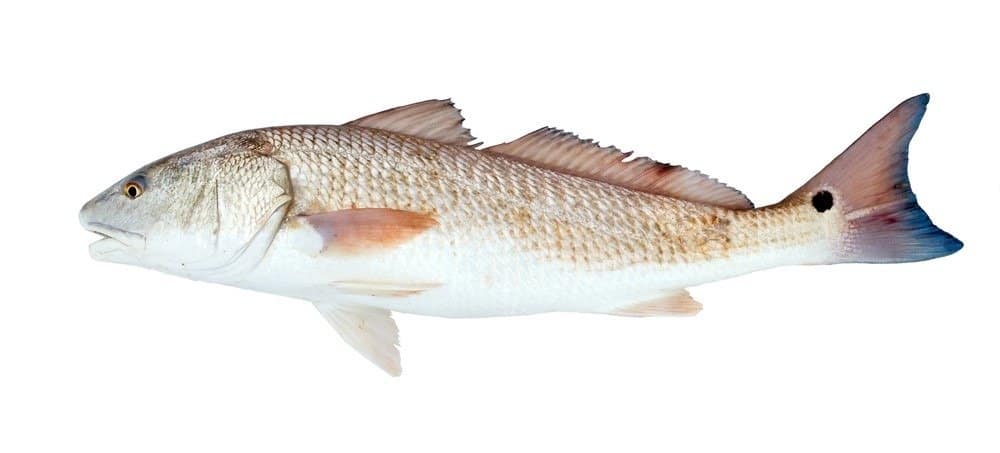 The red drum is North Carolina's state saltwater fish, and they are sometimes known by the name channel bass or simply "redfish." Although these fish are common on the Atlantic Coast, some of the largest ones have been found in North Carolina. These fish can weigh over 40 pounds with ease, but the biggest one ever discovered weighed 94 pounds.
You can find these fish in the Outer Banks, Cape Fear River, and some of the backwaters nearby. Early to late summer is a great time to catch these fish.
These fish tend to live near the shore, so you can catch them off the shoreline from a pier or in a boat that's close to shore. Like many other type of fish, it's good to try catching these in the early morning and early evening. People use a variety of baits including soft plastic jigs, live shrimp, and other lures between 3 and 5 inches in length.  
2. Walleye
The walleye fish is stocked in many different lakes throughout North Carolina, including Fontana Lake and Santeetlah Lake. However, walleyes can also be found in rivers like the Little Tennessee River and the Catawba River.
These fish are not the most common in the state, but they're fun to catch for novices and intermediate fishers. They only measure about 1.5 feet and weigh shy of 2 pounds on average throughout the state. You can usually find walleye in water 20 feet deep or more, and your best bet for finding them is usually at night.
Depending on who you ask, they either thrive in turbid water where they can see better than their prey or they prefer cool, calm, deep water. It's best to use jigs to catch the fish. However, some people have had luck with live bait like minnows and nightcrawlers.  
3. Flounder
Flounder are another fun fish to catch in North Carolina, and you can only catch them in the late summer months by law. Since flounder are so heavily restricted and among the tastiest fish you'll catch, they're one of the best fish to catch in North Carolina.
The restrictions say that you can only get one of these fish per day throughout September 2022, and they must be over 15 inches in length. These rules may change for the 2023 season and beyond. These fish grow to about 32 inches in length, so they can be quite the prize.
Another great thing about this fish is that they can be spotted close to shore in the warmer months. You can find them by fishing on the Outer Banks, especially near structures like jetties, docks, sand bars, and other natural or manmade structures. They are also in Cape Fear as well as the end of the Cape Fear River where it meets the ocean.
You can use standard bottom rigs or specialized ones to catch flounder or bait like minnows or live shrimp. Just make sure you pay attention to the local laws fishing for this creature.
4. Largemouth Bass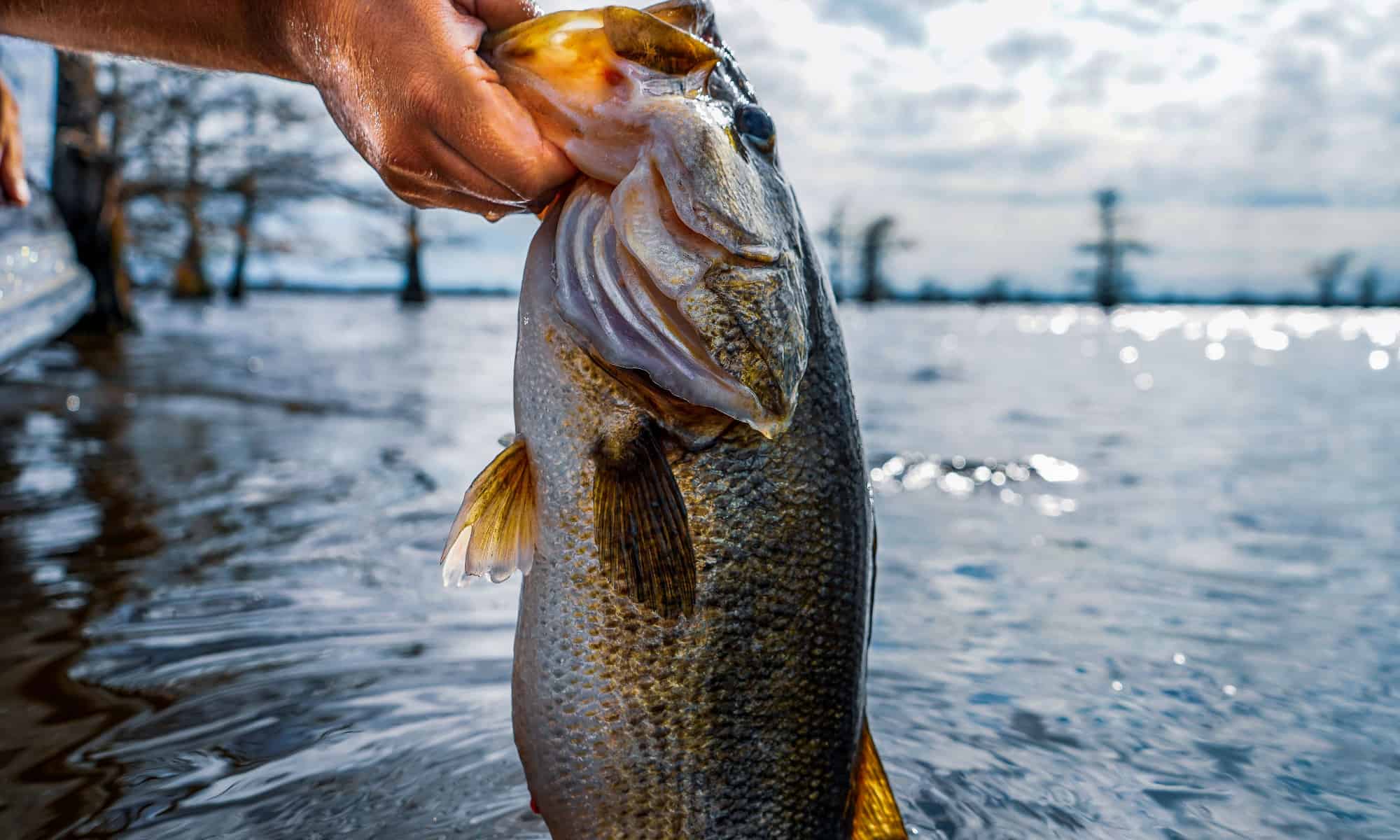 Everyone loves catching the largemouth bass. It's a fish that anglers of all experience levels enjoy finding because it can be somewhat sizeable and looks great in pictures. You can find largemouth bass throughout North Carolina. They most often live in lakes, rivers, streams, and ponds.
Common largemouth bass fishing areas are Lake Waccamaw, High Rock Lake, Fontana Lake, and Shearon Harris Reservoir.
When they are in these locations, they prefer to stick to places where they can have some cover. That means you need to fish in places that may be hard to get your bait into including logs, weeds, below floating vegetation, and more.
Like the flounder, keeping largemouth bass comes with rules. You can usually harvest a total of five fish per day that are 14 inches or longer. Just double-check the rules before you head out fishing, or just catch and release them all.
5. Blue Catfish
The blue catfish is a bit too hard for a novice angler to catch. They can easily weigh over 20 pounds and measure over 3 feet long. That means you will have quite a bit of weight on the line and a fair fight on your hands. These fish are supposed to prefer low-light conditions, and they're often caught in late spring. However, early summer is a good time to catch them as well.
Blue catfish are often found in rivers like the Cape Fear River, Neuse River, Cape Fear, and others. They're found in the tributaries of these rivers along with several lakes like High Rock Lake and Lake Norman.
Some people bring them in with a rod and net, but others insist on breaking out a trot line to catch blue catfish. They consume a wide variety of baits like gizzard shad, chicken livers, shrimp, and skipjack.
Now that we have covered some of the best fish to catch in North Carolina this summer, you should be ready to have a good time fishing. You have plenty of options on land or out at sea when you fish in North Carolina. You can go to some of the amazing lakes and rivers or strike out to the Outer Banks for some fishing, swimming, and relaxation on the beach. Always pay attention to your surroundings while fishing. Keep an eye out for other boats, obstructions, and the odd gator in the southern part of the state.
Up Next:
---
The Featured Image
---
Sources

North Carolina Department of Environmental Quality (1970) deq.nc.gov/about/divisions/marine-fisheries/public-information-and-education/species-profiles/red-drum
North Carolina Department of Environmental Quality (1970) deq.nc.gov/about/divisions/marine-fisheries/public-information-and-education/species-profiles/flounder#:~:text=There are usually other spots,from 10 to 16 inches