Texas state parks show off the diverse landscapes of the state. There is something for every preference, from the prairies and piney woods in the east to the high mountains in the west. These parks usually offer mountain biking, hiking, and horse riding, a spectacular way to explore various environments within Texas state parks. Furthermore, many visit these parks to enjoy stargazing, something everyone should do at least once in their lifetime. Some of these parks are massive, so it's best to camp when visiting to experience everything within its borders without having to rush. Here are the top 6 largest state parks in Texas and what they offer.
1. Big Bend Ranch State Park
Big Bend Ranch State Park is the largest state park in Texas, covering 311,000 acres of desert terrain. This massive park sits on the U.S./Mexico border in west Texas. Popular activities at Big Bend Ranch State Park include horse riding, hiking, mountain biking, and enjoying nature. This state park is located west of Big Bend National Park in the Chihuahuan Desert. The nearest towns are Lajitas, Terlingua, and Presidio.
2. Falcon State Park
This 83,654-acre state park sits on the Mexican border between Hidalgo and Nuevo Laredo on the Rio Grande. Falcon State Park offers activities like bird watching, swimming, camping, boating, water skiing, hiking, and geocaching. There are 2.8 miles of gorgeous trails and a hall, which can be used for recreational activities or gatherings. Furthermore, Falcon State Park provides campsites or cabins. There are various campsites, some offering full hookups, while others are pull-through campsites with water and electricity. But, if you don't want to camp, the park also has screened shelters or cabins.
Fishing is also popular at Falcon State Park. Visitors can cast a line on the Rio Grande in the Falcon International Reservoir. The most common catches include channel catfish and largemouth bass. Anglers can access the lake via a boat ramp, and when they return, they can clean their catch at the fish cleaning station. Bird watching is also a popular activity at this park. The best places to spot a variety of birds are in brushy areas far from the shore.
3. Devils River State Natural Area
The Devils River State Natural Area covers 37,000 acres of land. The closest cities are Del Rio and Ciudad Acuña. Furthermore, the Amistand National Recreation Area is located downstream. This park offers visitors activities on land and on the river. For example, you can paddle, fish, and swim on the river. However, there's a short hike to get to the river from the parking lot. Paddling on this wild and scenic river can be challenging. Therefore, only experienced paddlers should try. Furthermore, they should have at least three days of supplies with them, just in case.
But, if you aren't much of a water person, explore Devils River State Natural Area on a bike or foot and discover the site where native people once lived. There are various plant and animal species in this area thanks to the river and surrounding wilderness, so if you love nature, this is definitely the place for you. This park also offers a number of campsites and group barracks. Campsites are completely primitive, with no electricity, water, or bathrooms. However, the Visitor Center has a bathhouse with showers. The barracks has five rooms with two beds in each room. It also has running water and electricity. In addition, the barracks have an ADA bathroom with a shower.
4. Ray Roberts Lake State Park
Ray Roberts Lake State Park lies an hour north of Dallas-Fort Worth, providing city residents with a tranquil weekend escape. The park is divided into nine units and spans over 29,350 acres, making it the fourth-largest state park in Texas. The closest towns to this state park are:
Tioga
Valley View
Pilot Point
Sanger
The Ray Roberts Lake State Park boasts a 20-mile Greenbelt Corridor for hiking and other activities and a breathtaking lake with white sandy beaches where visitors can sunbathe and swim. Furthermore, the lake is a popular fishing spot for crappie, largemouth bass, white bass, and catfish. To avoid the crowds at the three main units, Isle du Bois, Johnson Branch, and Greenbelt, venture to the other units that aren't as well-known.
Horseriding is popular at this state park, but only half of the Greenbelt Corridor is open to horse riders. The other half only permits biking and hiking. If you don't feel like getting dirty, there are some paved trails at the Isle du Bois and Johnson Branch units.
Explore the Trinity River at the Greenbelt Unit by paddleboard. You won't be disappointed as the river is surrounded by lush greenery. Additionally, the Trinity River never stops flowing because the lake is dammed.
The Ray Roberts Lake State Park also has overnight facilities at three of its units, Jordon, Isle de Bois, and Johnson Branch. Guests have the option of camping, RV sites, and a gorgeous lodge with a marina. If you prefer a secluded campsite, then request one at the Jordan Unit.
5. Palo Duro Canyon State Park
Palo Duro Canyon State Park covers 28,000 acres and is the country's second-largest canyon. This state park has plenty to do, with 15,000 acres of trails to bike or hike. The canyon is 800 feet deep, so ziplining across it is a thrill! Additionally, guests can attend an outdoor musical drama called Texas each summer. Guests can stay over at the park's campgrounds or cabins. If you really want to treat yourself, request the cabins on the canyon rim; the views are out of this world! While Amarillo is only a 30-minute drive from Palo Duro Canyon State Park, the small town of Canyon is closer.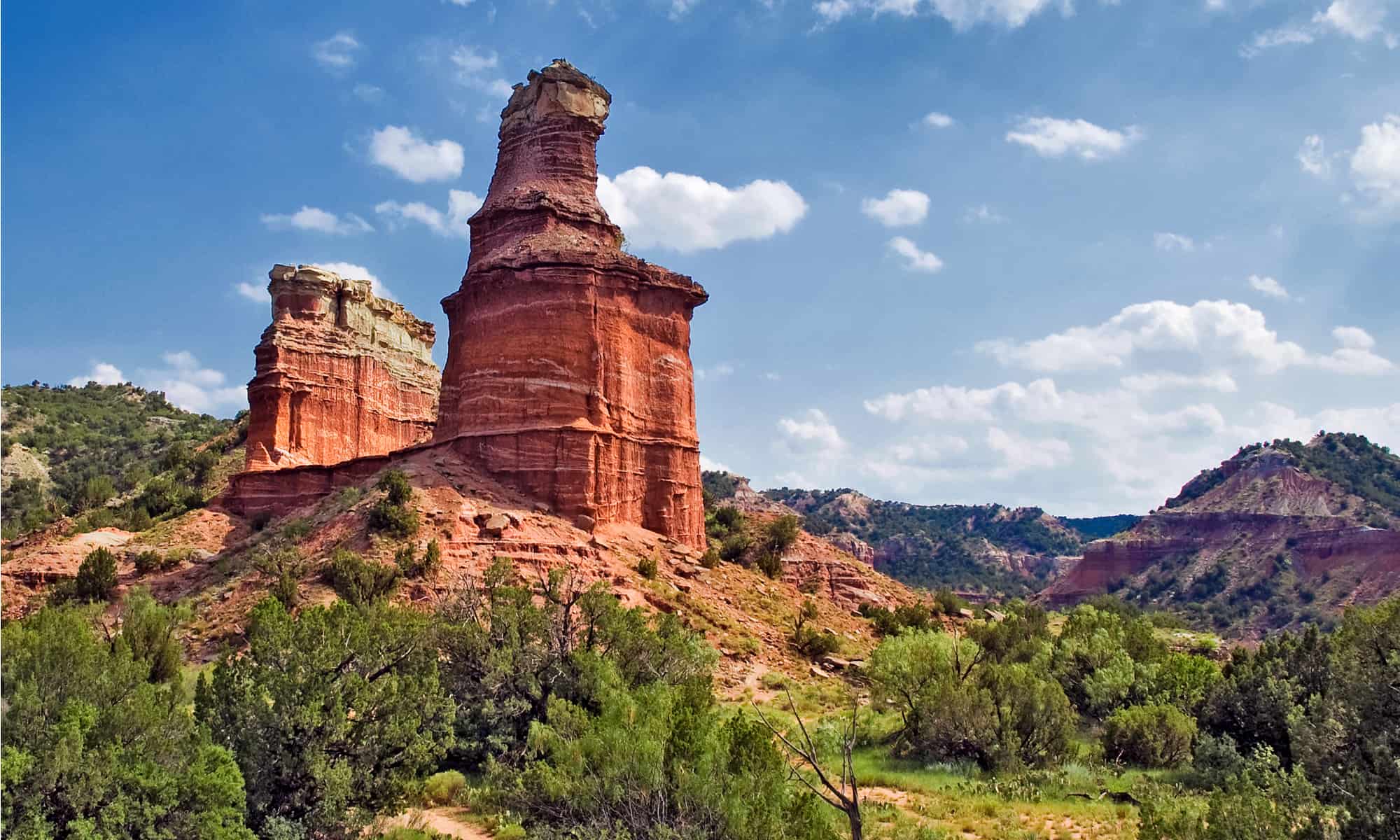 6. Choke Canyon State Park
Choke Canyon State Park spans over 25,670 acres and is split into South Shore and Caliham units. The park surrounds the Choke Canyon Reservoir, where guests can boat, fish, picnic, and view birds and other wildlife. However, the South Shore Unit is only open to day visitors from 6 am to 10 pm, while the Caliham Unit offers:
Campsites
Picnic sites
Hiking trails
Boating
Bird watching
Fishing
Softball and volleyball on the beach
Choke Canyon State Park lies between the towns of Tilden and Three Rivers, halfway between San Antonia and Corpus Christi. Many people who visit the park say timing is key. If you don't like the heat, avoid this area during the summer. However, fall is a great time to visit Choke Canyon State Park, and the cooler weather means the wildlife is more active.
---