Continue reading for our analysis...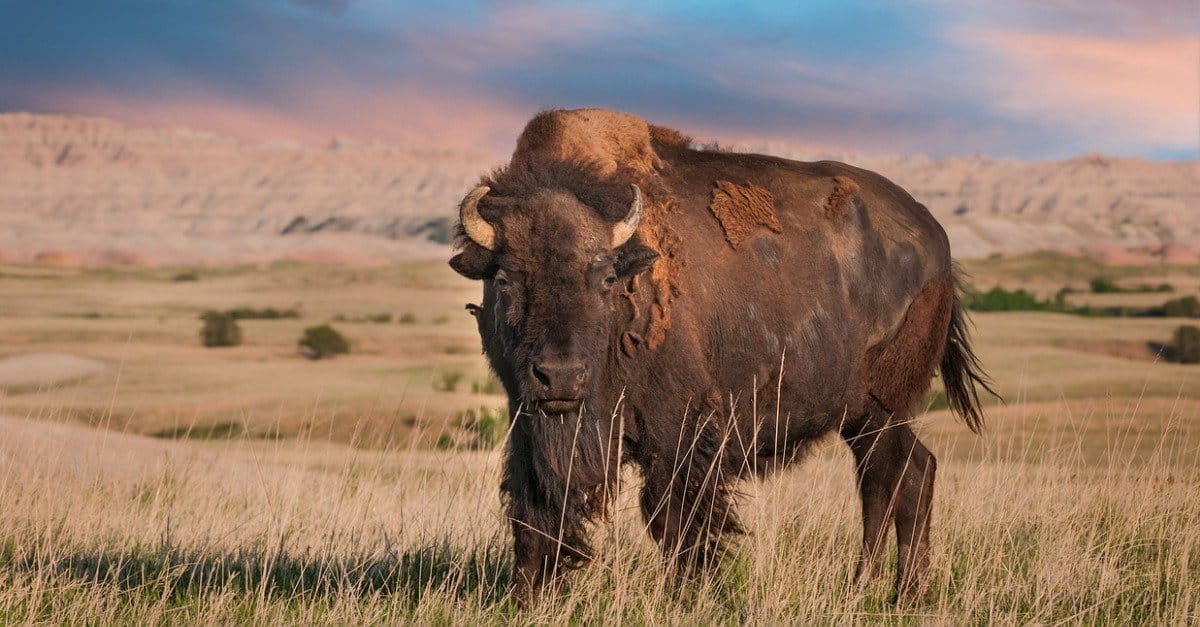 Key Points
There are 6,000 bison in Yellowstone National Park.
There are 1,000 grizzly bears in the park as well.
Grizzly bears in Yellowstone eat primarily nuts, roots, insects, rodents, and fish. They supplement their diet with mammals occasionally.
Have you ever seen a bison and grizzly bear go head to head? While there's no physical encounter between the two animals in the video at the bottom of this article, you'll be able to watch as a bison stands its ground before chasing a grizzly bear away in Lamar Valley in Yellowstone National Park.
The video begins with a large bison trotting across the grass at the bottom of a lush hill. The camera veers to the right, next to where a young bear can be seen. It is seemingly unaware that the large bison is headed in its direction. As the bear notices the bison charging, it turns and begins to run up the hill behind them. The bison is relentless, however, pursuing the bear up the hill. By the time the video ends, the bear is still fleeing.
Do Bears Eat Bison?
Although the video at the end of this article may make it seem otherwise, grizzly bears actually prey on bison. They will both hunt living bison as well as eat the winter carcasses that freeze during the colder temperatures and are preserved until spring. However, bison are definitely one of the most skill-dependent hunts. This is due not only to their size but also their large herds. As a result, for a young grizzly bear such as that in the video, a bison is more foe than food.
Other prey of adult grizzly bears can include:
Fish
Rodents
Elk
Moose
Fruits
Roots
Grasses.
Are Grizzly Bears the Only Bears in Yellowstone National Park?
Although this video shows one bear species, there are actually two species of bears in Yellowstone. In this park, you can find grizzly bears like in the video, but you can also find North American black bears. Black bears are smaller than grizzly bears, with smaller prey as well. Because of this, while an adult grizzly might take on a bison, an adult black bear may have a reaction more like this young grizzly.
What Are the Normal Defense Mechanisms of a Bison?
Bison are powerful and impressive animals and possess a variety of defense mechanisms to protect themselves and their young. One of the most recognizable is their impressive horns, which they use to fight off predators and even other bison in the herd. Bison also possess a thick hide that is difficult for predators to penetrate. They also have a powerful sense of smell and hearing, which can detect potential danger from far away.
In addition to these physical defenses, bison also use flight as a defense mechanism. They are incredibly fast and can outrun many predators. When a bison feels threatened, they will raise their tail and head, and run away.
Finally, it is important to note that while charging is a defensive mechanism bison use, it is not normal for them to charge at another animal. This behavior is usually only seen when bison are particularly agitated or aggressive. When a bison charges, it is usually as a last resort to protect a young calf.
---