Key Points:
In this video, a diver nearly loses his hand to a large Humboldt squid, a species that can grow to be more than 8 feet long and weigh up to 100 pounds.
This species of squid is known for being aggressive and is referred to as diablo rojo in Mexico, which is Spanish for "red devil."
Each arm of the squid has about 100 to more than 200 thorn-like snared suckers that can grab, hold, and break up their prey.
The Humbolt squid, also known as the jumbo squid, the jumbo flying squid, the pota, and the red devil squid, is a large predatory squid that lives in the waters of the Humboldt Current in the eastern Pacific Ocean. It's easy to understand why these large squids are known for being aggressive toward humans!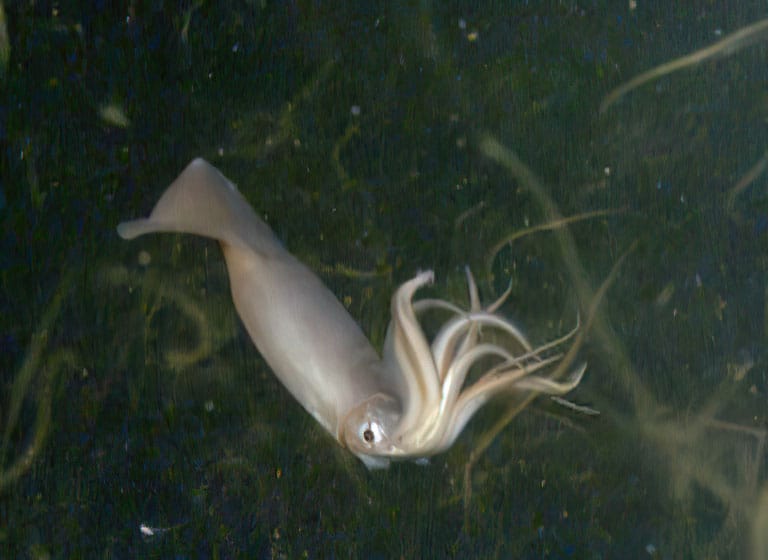 The Humboldt squid is regarded as the largest member of the Ommastrephid squid family. It can reach lengths of up to just over eight feet long and weighs up to 100 pounds. Ordinarily, the mature squids arrive at a body length of just under five feet!
A diver nearly lost his hand to a large, aggressive Humboldt squid in an incredible video. Steve Backshall, a diver for the BBC, initially maintains his composure but quickly loses it when the squid "pinches" his arm and punctures his wet suit with a powerful bite.
This isn't the first time Backshall has had an interaction like this with one of these squid. The captive cephalopod was initially quite composed, but it eventually became enraged with the host's persistent behavior and bit him, signaling to Backshall that he had overstayed his welcome.
Thankfully, Backshall wasn't too hurt and the squid was giving a natural response when being bothered by humans. Let's talk a bit more about these beautiful creatures and how they're unique in their own right. 
Red Devil Squid Facts
Among its 10 tentacles, two are longer and for taking care of. The tentacles of the Humboldt squid are also tough on the outside and have two walls. Each arm contains around 100 to north of 200 thorn-like snared suckers. They are able to grab, hold, and break up their prey thanks to these powerful suckers.
Additionally, like other cephalopods, the Humboldt squid can rapidly change color. They have exceptional shade cells called chromatophores that assist them with changing their skin tone and surface, and the speed of the variety progress happens so rapidly that the natural eye can't see it.
In other impressive feats, researchers have discovered that the Humboldt squid can communicate in approximately 28 different colors. Different skin tones and lighting are thought to convey different meanings, so they are used in different combinations as though they speak their own language.
This species of squid is known for being aggressive. They are referred to as diablo rojo in Mexico, which is Spanish for "red devil." According to tales told by local fishermen, individuals who jumped into the water were quickly devoured by squid groups. One reason this squid is so dangerous is the teeth all along their tentacles.
Watch the Close Call in the Video Below! 
---