↓
Continue Reading To See This Amazing Video
 Key Points
German shepherds' intelligence, courage, and loyalty mean they are highly sought after by military and rescue services.
Their large size and agility also make them an excellent choice for providing assistance to these services.
Wild boars are omnivorous and enjoy tucking into both plant and animal matter.
It's not easy to work out who is winding up who in this situation! In the below clip, we get to see what looks like a German Shepherd having lots of fun with a family of feral hogs. The encounter looks more like play than aggression and none of the animals want to back down. Perhaps the dog walks in these woods and is accustomed to being near the hogs? Perhaps the hogs are semi-tame, and the young ones have grown up near dogs? Scroll down and take a look for yourself.
German Shepherds as a Dog Breed
The dog in this clip looks as if it is at least partly a German Shepherd. They are consistently amongst the top ten most popular dogs in the US and are valued family members for millions of people worldwide.
Once called Alsatian wolf dogs, there is no denying their physical similarity to wolves. Domestic dogs are essentially descendants of wolves but some look more like their ancestors than others. Take a pug, for example, which has very little resemblance to their wolf relatives!
The American Kennel Club describe this breed as 'an all-purpose worker' based on the fact that these guys can do a lot more than shepherd livestock. They are large, agile and muscular dogs who are also highly intelligent. These dogs are also extremely loyal and courageous so they are highly valued by the military and many of the emergency and rescue services. With right care and training, they also make wonderful family pets and human companion dogs.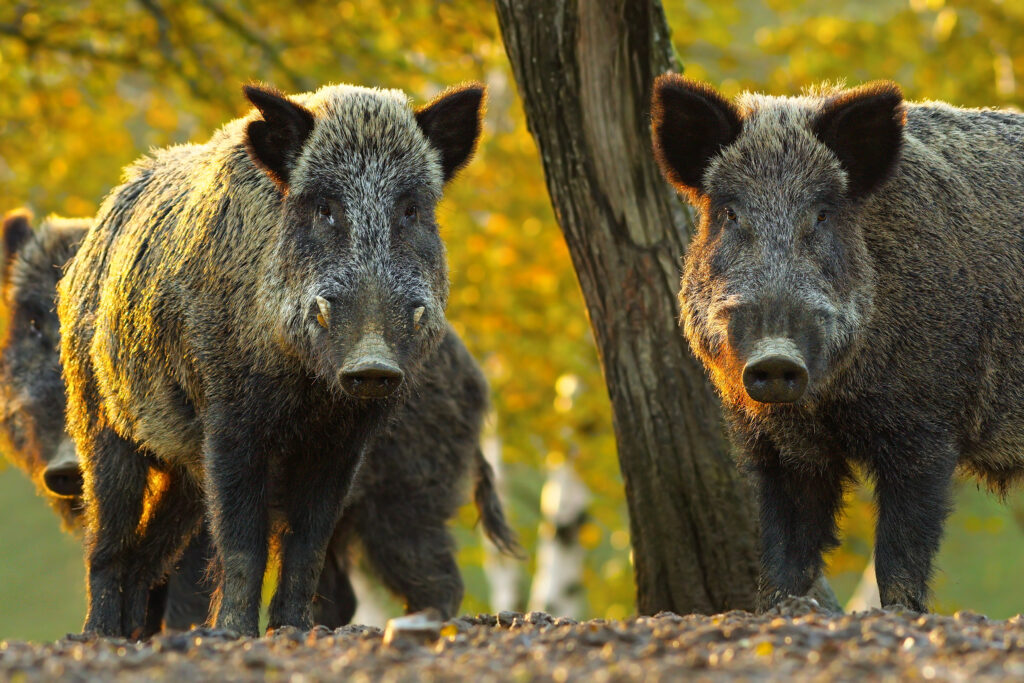 Wild Boars in the Woods
This dog has met up with what looks like a family of wild boar. They are a native species of Asia, Eurasia and Europe. Wolves are one of their natural predators so you could expect them to be wary of a dog that looks like this. It's hard to tell if they are warning the dog off or trying to play!
Wild boars have very poor eyesight but a great sense of smell. They are usually nocturnal and come out at night to hunt for food. As omnivores, they eat primarily plants but will also eat eggs, mice and lizards if they come across them. They will also polish off carcasses of animals left behind by predators.
Most of the time, wild boars keep themselves to themselves and do not attack unless provoked. However, they are generally regarded to be more aggressive than domestic pigs so it is best to keep dogs away from them unless they are familiar with you.
Ready to discover the top 10 cutest dog breeds in the entire world?
How about the fastest dogs, the largest dogs and those that are -- quite frankly -- just the kindest dogs on the planet? Each day, AZ Animals sends out lists just like this to our thousands of email subscribers. And the best part? It's FREE. Join today by entering your email below.
Up Next:
More from A-Z Animals
---
The Featured Image
---