Snakes, squirrels, and other pests can be bothersome in your yard. While you can look for a trap or call a professional, there is a much simpler solution that often works. Setting up a bird decoy can help deter these other animals from making a permanent home in your yard. This is a great option for those who often face critters like snakes, which can be dangerous, or gardeners looking to protect their harvest.
Bird decoys can be used for a variety of purposes, mostly to scare away other animals. To get rid of snakes, squirrels, and other pests, look for a predatory bird decoy. They can be easy to set up, although you will need a place for your decoy to "perch." Bird decoys come in different types of birds, most often owls and hawks.
We've compiled a list of top-reviewed bird decoys. These reliable picks make both scary and harmless snakes think twice before entering your yard.
A-Z-Animals Top Picks for Best Bird Decoys
#1 Overall Best Bird Decoy: Bird Blinder Fake Owl Decoy
In our review, the best bird decoy for scaring away other animals is the Bird Blinder Fake Owl Decoy. It works similar to a scarecrow to keep snakes, smaller birds, squirrels, and other critters from getting too comfortable in your yard. The smaller animals see this owl perched nearby, its eyes are wide open and alert. The small animals assume it is looking for food when it really is just a plastic decoy.
The decoy from Bird Blinder sits 10.5 inches tall. It is painted to be as lifelike as possible. The owl comes in two varieties so you can set one up that is a natural predator for critters in your area. This decoy is weather-resistant as well, an important feature for a decoy that is meant to be used outside.
Setting up the decoy is easy. It has a plug on the bottom that can be removed. You can put it onto a perch, such as a post. Many reviewers filled the hollow bottom with rocks and sand to weight it down before closing it up again. One reviewer used the owl decoy to trick birds who had made a habit of getting loud in the middle of the night. "I built a moveable perch that sits on top of the fence, I take the owl down in the morning, put him up in the evening, and randomly move the perch around. Guess what I hear at 2 am? Nothing. Sweet silence. The mockingbirds, crows, and all the little finches have abandoned the trees."
Overall Best
Best Hawk Decoy: Yofit Bird Scarecrow Fake Horned Hawk Decoy
Hawks are another predator that scares away pests like snakes, squirrels, and other birds. The Yofit Bird Scarecrow Fake Horned Hawk decoy works like another scarecrow to make snakes, squirrels, birds, and other animals think that it is a real threat. This keeps them from coming into your yard or area. It is a bit larger than some other bird decoys at 15.7 inches high.
You will need to move the decoy periodically to keep its effectiveness. If you leave it in one place, small animals may get used to it. You should put it in a visible place, such as a tree. Some reviewers said that they needed to zip-tie or tie it down to keep it from blowing away. It also has an opening on the bottom to fill with sand and rocks. The lifelike paint on the hawk decoy does a great job of convincing small animals that the hawk is real.
Best Hawk Decoy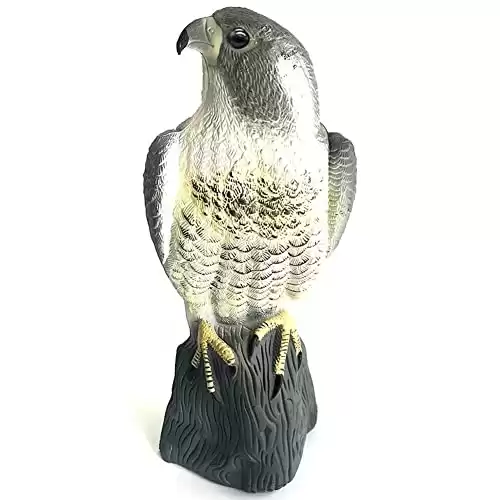 Best 2-Pack: Hausse 2-Pack Fake Horned Owl Scarecrow Decoy
Using two decoys is a great way to boost the effectiveness of a bird decoy. This set of two horned owl decoys is budget-friendly and easy to set up. Each has a hollow base for sand and rocks. This helps weigh the decoy down so that it can withstand winds and the elements. It's still best to move the decoys periodically. You can set one up at a time or use both to increase the range of the predators' "zone."
The design is lifelike and may vary a bit from decoy to decoy. The feathers, eyes, and beak are all very realistic. "YES, they do keep critters away," said one reviewer. "Worth the money and inexpensive method of preserving harvest until picking day. They even look cool, marble type eyes seem realistic."
Best 2-Pack
Best with Moving Head: Besmon Store Plastic Owl Scarecrow Sculpture with Rotating Head
The hand-painted owl decoys from the Besmon Store have a fantastic feature that makes them even more lifelike. The head of the owl actually rotates! They are 14.6 inches tall, one of the taller options for an owl decoy. The paint on the decoy is waterproof and won't fade in the sun and elements. Since it is designed for outdoor use, this is an important detail.
These are a little bit more expensive than some other options on our list. They are well made, however, and many reviewers are willing to pay a bit more for the lifelike rotating head. It also has a base that can be weighed, as well as spots to screw it to a post or tree for additional securing.
"Got this because there were two hawks circling my backyard when I would take my puppy out to play," wrote one reviewer. "First day I put this owl out on the deck, a hawk swooped low and saw it, never came back. Head swerves in the wind, and you should rotate the owl daily, put it in different places to fool birds."
Best with Moving Head
Choosing the Best: What to Look For
When selecting a bird decoy to scare away snakes, other birds, squirrels, and pests, find something that can withstand the elements, is affordable, and replicates a natural predator.
Weather-proof
Bird decoys are made to be used outside. After all, that's where the pests are located and where you want to protect. Your decoy should be made with waterproof and fade-proof paint. The last thing that you want is to have to replace a decoy right away because it faded or was damaged. Most are made of heavy-duty plastic as well. Finally, make sure that you can secure your decoy. This can be done by weighing the base with sand and rocks or tying it down to a post or branch.
Affordable
Bird decoys will eventually need to be replaced. If you live in an area with extreme weather, this will happen even more quickly. Look for a bird decoy that is easy on your budget. You may even want to buy a multi-pack for additional savings. Some bird decoys that are more expensive do have special features, like a rotating head or solar-powered eyes. Some reviewers are happy to pay a little bit more for these extra layers of deterrence.
Natural Predator
Bird decoys work because they look like and mimic natural predators of smaller animals that you want to get rid of. While a pink lawn flamingo makes a style statement, they don't work very well as a decoy because other animals are not afraid of them. Owls and hawks are the two most popular bird decoys because they do hunt animals such as snakes, mice, smaller birds, and squirrels. These prey animals take one look at the decoy and find another area to go explore.
The Different Types of Bird Decoys: Pros and Cons Compared
Most bird decoys operate very similarly. You can choose between a stationary decor or one with a rotating head or body. Each option has its own pros and cons.
Stationary Bird Decoy
| Pros | Cons |
| --- | --- |
| Budget-friendly | Needs to be moved periodically |
| Easy to set up | |
| Very effective | |
| | |
Rotating Bird Decoy
| Pros | Cons |
| --- | --- |
| More lifelike | Slightly more expensive |
| Most effective | |
| Doesn't need to be moved as much | |
| | |
Verified Review: User Experience
Our number one pick, the Bird Blinder Fake Owl Decoy, is a popular choice to use to keep other bothersome birds away. "I placed one of these owls on my balcony to prevent Sparrows from pooping on my balcony rails. It seems to alone," wrote one reviewer. "I make sure to place 'Woodsy' in clear sight perched on my trash can, back of a bench, back of chairs, and move him every couple of days."
It does require a bit of setup, either to put it on a perch or weight it down. "After doing a little research, you need to put the bird on some sort of perch to actually scare away other birds," said one reviewer. "Once I drilled a few holes in the plastic bottom and zip-tied it to the railing on my tiny porch we haven't had a bird return. Definitely a big improvement."
The rotating bird decoy uses wind power to move the head. It was so realistic that it even surprised some reviewers. "Bought this owl to put on deck to scare birds who kept flying into our windows. Have had it up a week and so far so good. Even startled us when looking through window till we remember it is fake," they wrote. "It is always windy where we live, so having the head move is no problem. We did screw it down to a board and clamped it onto the rail so we can easily change locations."
The moving head can cut down on the need to move the owl but you should still plan to relocate it periodically to keep it from becoming too familiar. "Looks real and nicely painted. With the wind, its head moves, and it looks alive," said one reviewer. "Birds were pooping on my patio until this was put up. Just remember to change its position once a week and it does work."