Key Points
The best overall chicken and farm product on Chewy is Scratch & Peck Feeds Naturally Free Organic Layer 16% Poultry Feed.
Explore products like poultry feed, chicken dust baths, and coop warmers.
Consider the purpose, cost, and long-term value of the chicken and farm products you select.
You may be a chicken farmer who knows all the ins and outs of the process or you may be getting started with your very first chicken coop. Either way, there are some must-have products you require to keep your chickens safe, healthy, and productive. You know to set up your coop and you also know your chickens are a daily responsibility. Along with ensuring they have water daily, they also need some great feed to keep them consistently laying eggs. Along with a great food source, treats are not just a fun addition to their diets, but they can also be incredibly nutritious. This process may require some experimentation depending on the types of chickens you have but there's an option in the list below that is almost always a hit.
Chickens love having a warm, cozy bed to nestle into. These comfortable environments aren't just appealing to them, but they also help them feel safe. When they feel safe, they're more likely to lay eggs and keep them secured in that single location. It also makes for cleaner eggs for you when you show up to pick them up! You decide on their coop and their roaming environment, and we share some awesome products to use within the space you designate. Aside from feed, treats, and nesting pads, we also highlight some ultra-important heating elements for both your chickens and your chicks to ensure their well-being and, most importantly, their survival when temperatures dip. To raise happy and healthy chickens, there are lots of variables, and we're happy to share some grade-A products to help you accomplish your goals!
Top Picks: The Best Chicken and Farm Products Today
#1 Best Overall: Scratch & Peck Feeds Naturally Free Organic Layer 16% Poultry Feed
The best overall chicken and farm product on Chewy is Scratch & Peck Feeds Naturally Free Organic Layer 16% Poultry Feed. This organic feed is available in either a 25-pound or 40-pound bag. If you have laying hens, this is a great blend that delivers the balanced nutrition they need. Further, with the right ratio of protein and calcium, your hens have the nutrients they need to develop strong eggshells. Whether your hens are already laying, or they will soon be laying, you can feed them with this mix.
The ingredients include organic wheat, organic barley, organic peas, oyster shell, flaxseed oil, and dehydrated kelp salt, among others. The blend is also free of corn and soy. The guaranteed analysis is as follows: 16% crude protein, 3% crude fat, 5% max crude fiber, 0.7% minimum lysine, 0.3% maximum methionine, 15% max ash, 3.75% minimum and 4.75% maximum calcium, 0.5% phosphorous, 0.25% minimum and .075% maximum salt, and 1% minimum omega 3. You can begin feeding your laying hens starting at 20 weeks. This is a complete diet that you can feed either dry or moistened. Be sure to make plenty of fresh water available when offering this feed.
Customers rate this organic feed 3.8 out of five stars. They love that they have the option to feed it dry or moistened. One customer offers a tip that mixing with water and letting it ferment doubles the feed volume, and makes it easier for them to absorb all the different nutrients. Another customer shared that she has seven large, traditional breed birds and they produce one egg a day throughout the year. She tried switching to more economical feed, but her hens were not having it. They stopped producing nearly as much and had tummy troubles. She switched back to this feed because the results speak for themselves.
Pros and Cons of Scratch & Peck Feeds Naturally Free Organic Layer 16% Poultry Feed
| PROS | CONS |
| --- | --- |
| This feed is high in protein, non-GMO, and organic. | The product may be powdery but with a little bit of water, you can ensure all ingredients mix well. |
| Offers a complete diet by being balanced and nutritious. | |
| The feed is free of soy and corn. | |
Best Overall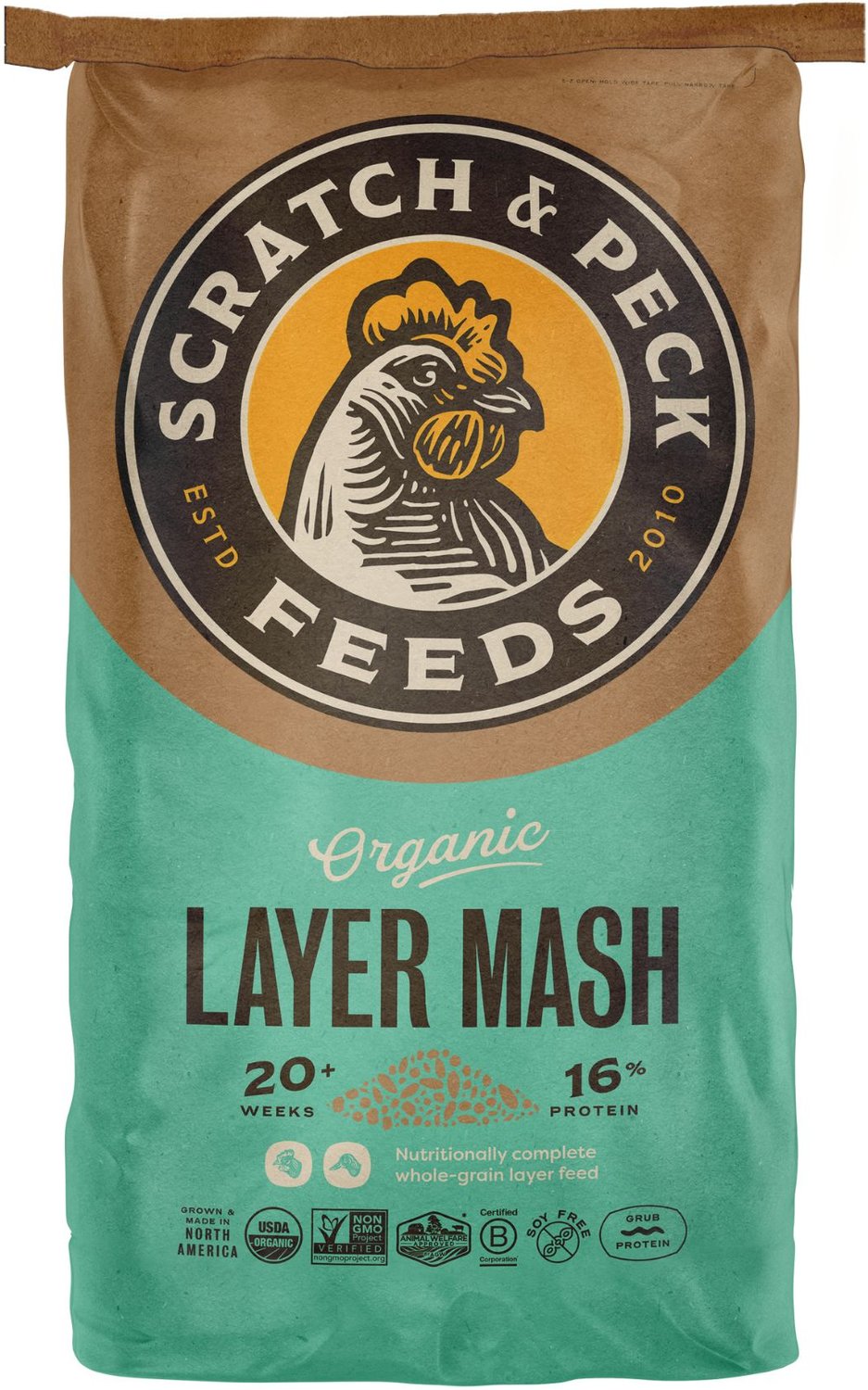 2. Best Treats: Little Farmer Products Add a Worm Chicken Treats
These treats are perfect for your hard-working chickens! They deliver natural protein in the form of dried mealworms. These are packed with powerful protein so your hens can lay eggs with nutrient-dense, orange yolks. Add these to your chickens' regular diet as a special treat for added nutrition. They help your hens lay eggs consistently while they help to promote the growth of healthy feathers. Although chickens can certainly seek out their own mealworms, being able to toss them a few of these treats makes their life a little easier and more enjoyable. If you've never fed these, get ready because they will all flock to these yummy snacks!
Customers rate these mealworm chicken treats 4.9 out of five stars. They're a huge hit with their chickens. It's easily a top-rated treat and it's evident by how they go wild when it's treat time. Further, even the most skittish chickens approach their humans for a hand-fed delight. They also love the detail of the resealable bag because it keeps them fresh. There are hardly any crumbled mealworm bits at the bottom of the bag which surprised some customers, as they've received near-dust mealworms in the past from other sellers. In this bag, most of the mealworms are full and unbroken, which makes tossing handfuls over to their chickens a lot easier.
Pros and Cons of Little Farmer Products Add a Worm Chicken Treats
| PROS | CONS |
| --- | --- |
| These mealworms are dried and natural. | Some customers prefer products sourced in the USA and these are sourced from China. |
| They are a great source of protein. | |
| Good for chickens by promoting healthy feather growth. | |
Best Treats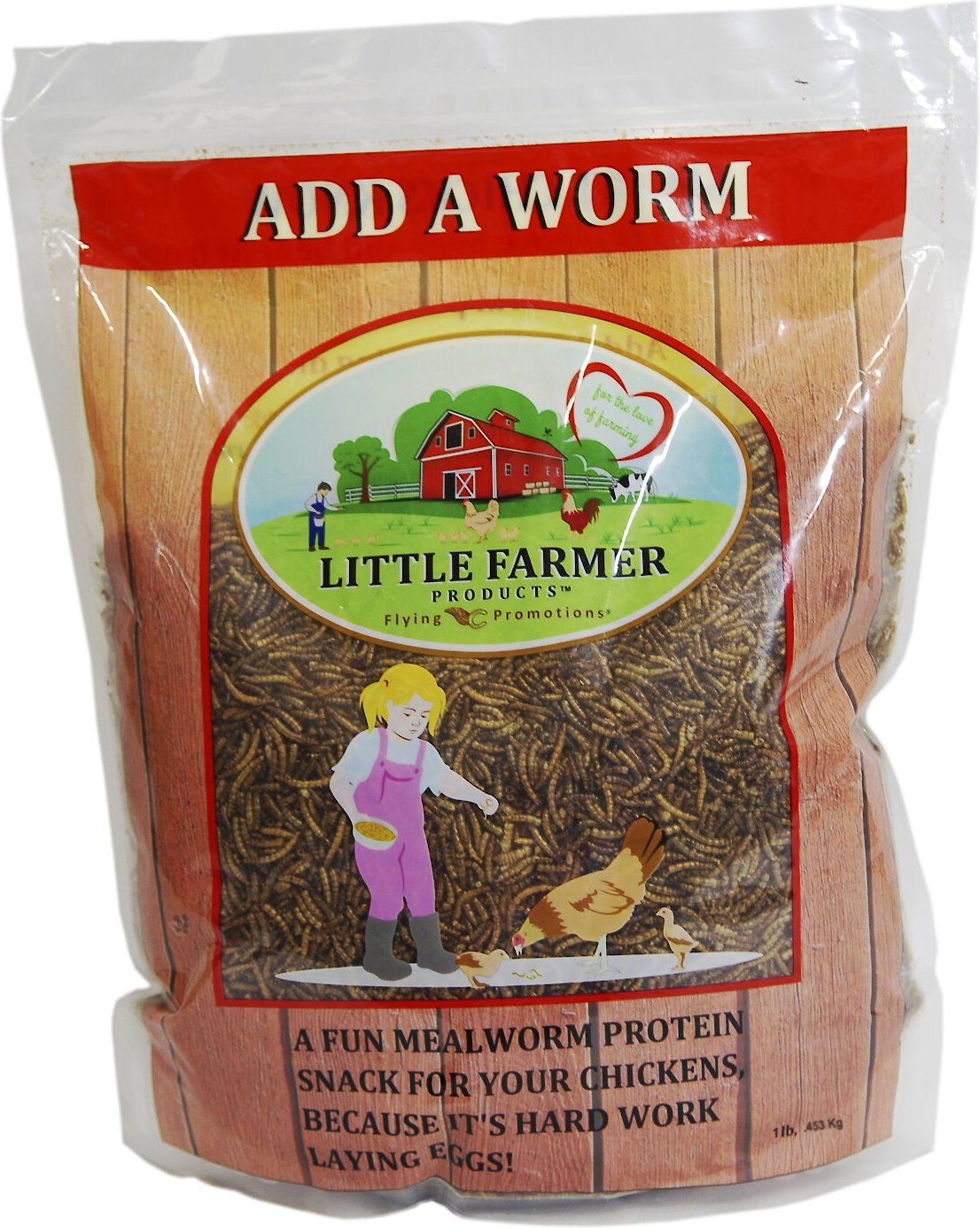 3. Best for Nesting: Precision Pet Products Chicken Nesting Pads
Your hens need a comfy, dry space to lay their eggs and this nesting pad has a paper backing, to which all moisture is drawn. These are both soft and super cozy, helping your hens feel safe enough to keep laying their eggs in a single location. This makes your job easier because it's not like an egg hunt — you can collect them all from one secure spot! These nesting pads hold their shape, even as your hens settle into the wood shavings on top. They can nuzzle and nestle in to enjoy the cushioned environment. As they settle in further, they can lay their eggs and keep them safe within the soft, form-fitting environment.
It weighs 5.6 pounds total and measures 14 x 13.5 x 5 inches. It's made specifically for chickens and the material includes both paper and cardboard. It's designed with special absorbing technology that provides your hens with a dry environment. It works toward pulling moisture away, meaning your hens don't have to stew in their own droppings. Their eggs have their very own nesting space to remain cozy as they develop. Overall, these nesting pads offer your hens a comfortable space to lay their eggs and keep them comfortable so you can gather eggs more efficiently. Customers rate these nesting pads 4.2 out of five stars. They love how easy they are to clean and remove once it's time to replace them. They're easy to work with and last for several months at a time.
Pros and Cons of Precision Pet Products Chicken Nesting Pads
| PROS | CONS |
| --- | --- |
| By absorbing moisture, these pads are a safe place for hens to lay eggs. | These nesting pads keep their shape best when paired with additional products like nesting boxes. |
| These pads don't lose their shape over time. | |
| The cushioned seat provides ultimate comfort. | |
Best for Nesting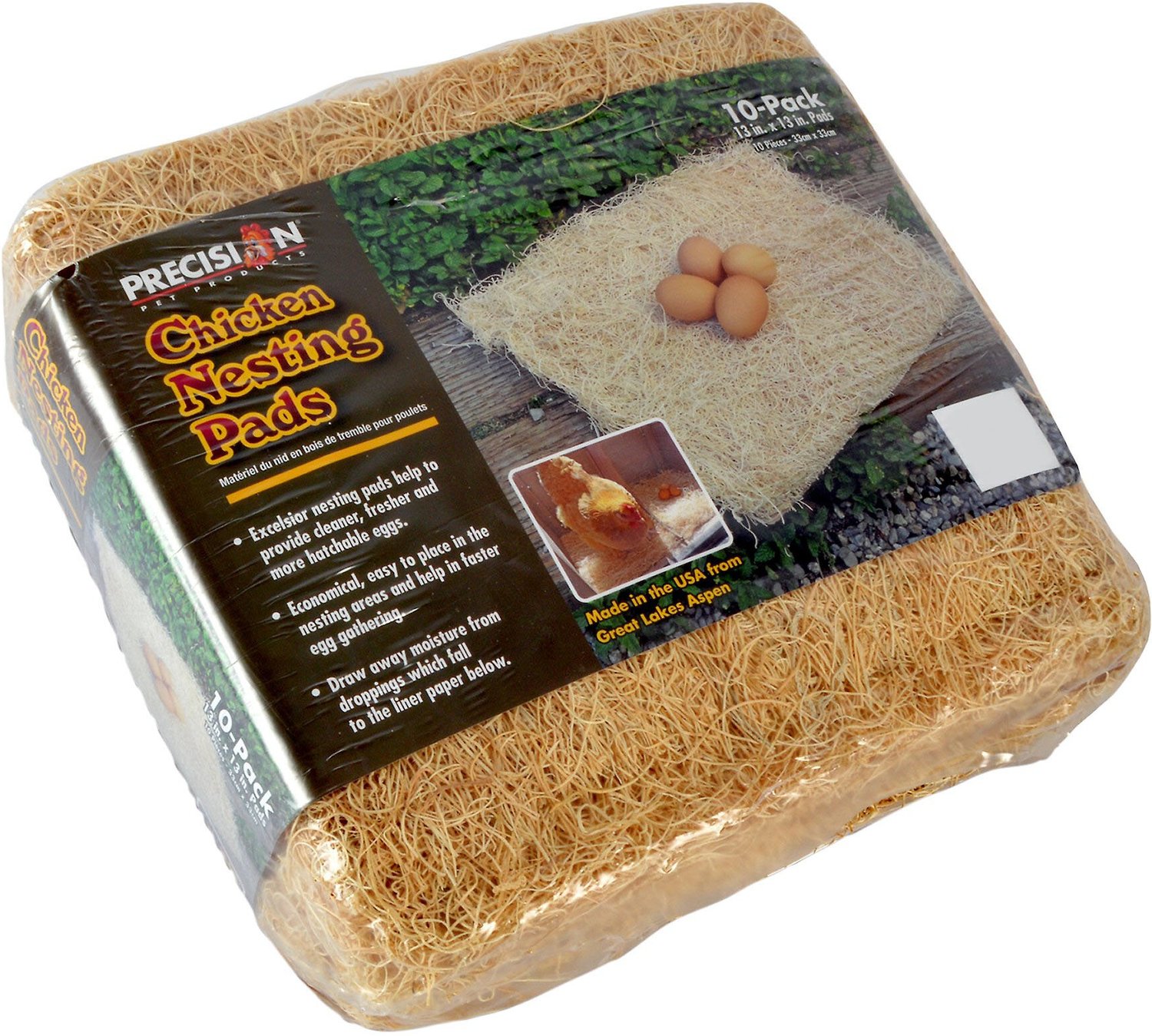 4. Best Heater: Cozy Products Flat Panel Chicken Coop Heater
This flat-panel chicken coop heater helps to keep your feathered friends warm through winter months, preventing frostbite. It's low wattage, which means it's an economical solution that keeps electric bills low, using 90% less energy. With this low-wattage design, there's a significantly lesser risk of overheating. It uses convection heat that radiates, allowing for more complete heating. There are a total of two heat settings that you can set for ultimate customization. Additionally, it has a built-in thermostat. It's equipped with an on/off display that adds another layer of security along with an in-cord switch that makes it easier to use. It's a great alternative to other heating lamps with high wattage. Plus, it's easy to install, no matter the size or style of the chicken coop you have.
Customers rate this chicken coop heater 3.7 out of five stars. Customers that endure harsh winters know how important it is to find a reliable heater for their chickens. One customer purchased this model after the one she had failed to heat up. She says this model warms up quickly and she appreciates being able to change the temperature setting to adjust for warmer winter days. Her hens have been cozy and toasty but not too hot. It's a great product she highly recommends with a five-star rating.
Pros and Cons of the Cozy Products Flat Panel Chicken Coop Heater
| PROS | CONS |
| --- | --- |
| A heater with a low-wattage design. | You may require more than one depending on the number of chickens you have. |
| Two temperature settings keep you in control of the heat. | |
| Radiant and convection heat are both used. | |
Best Heater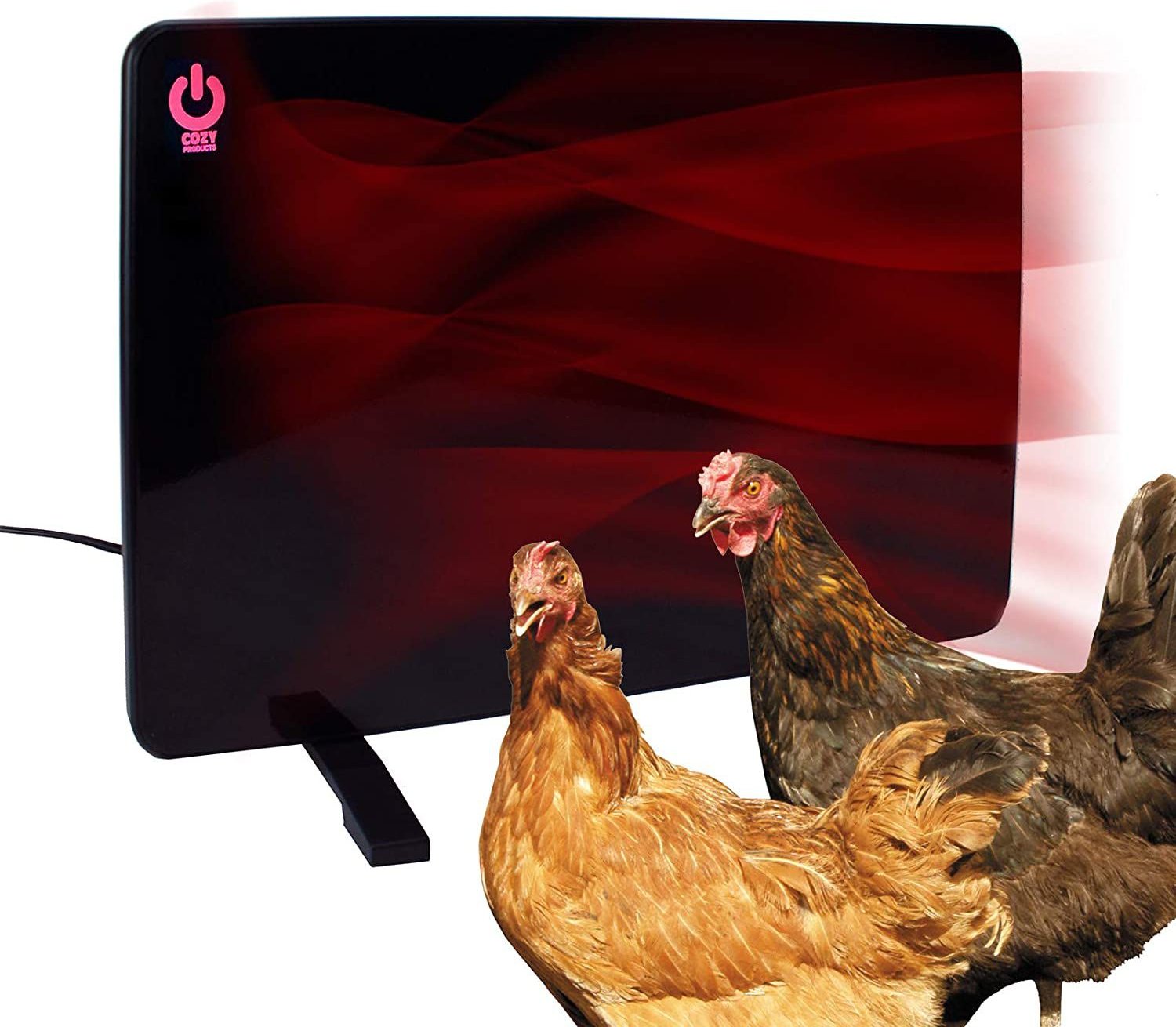 Cozy Products Flat Panel Chicken Coop Heater
A flat-panel chick coop heater.
Keeps chickens warm, safely preventing frostbite through winter.
With low wattage, this heater will help keep electricity usage low, while also reducing the risk of overheating.
Uses both radiant and convection heat.
Easy to install in chicken coops of any style and size.
Check Chewy
5. Best for Chicks: K&H Pet Products Thermo-Poultry Heated Chicken Brooder
When you need a bit of warmth to keep your chicks nice and cozy, this heated chicken brooder is fantastic. It's a simple design that you can safely use to keep your chicks comfortable with a stable temperature. It's equipped with adjustable pegs so you can change the height as the little ones grow. The exterior may get messy with use, but it's easy to clean. Upon arrival, you can set it up without any tools.
The heated chicken brooder is made from plastic and measures 8" x 14.5" x 8." It weighs only 2.2 pounds. It safely accommodates about 15 chicks. Customers rate it 4.4 out of five stars. They love the peace of mind they get knowing that this model eliminates the fire hazard of traditional heat lamps. Some customers have even set this new one up with other models but the chicks gravitate to this one. They also appreciate that it's adjustable — the chicks love going under it for shelter and being able to raise it as they grow has increased the usefulness of the product.
Pros and Cons of the K&H Pet Products Thermo-Poultry Heated Chicken Brooder
| PROS | CONS |
| --- | --- |
| The temperature is regulated. | There is no cover preventing chicks from jumping on top and leaving droppings. |
| This brooder is energy efficient. | |
| The height of the brooder is adjustable. | |
Best for Chicks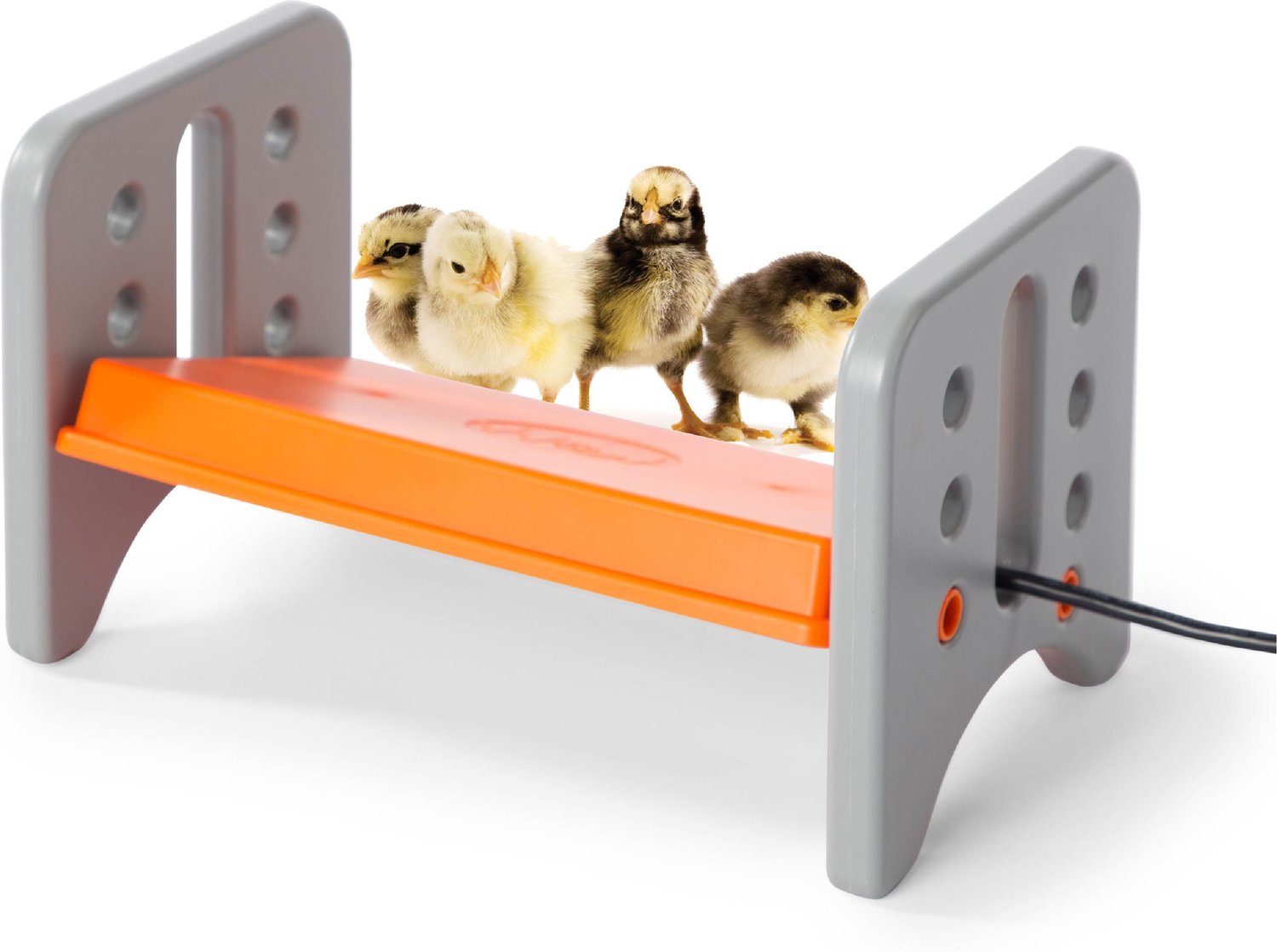 6. Best for Dust Baths: Little Farmer Products Coop Right Chicken Dust Bath
Your chickens need to be able to take dust baths to care for their feathers. With this product, your chickens get food-grade diatomaceous earth and clay to give them the materials they need to get a nice bath. The clay works to absorb moisture from around the coop and the mixture works as a form of natural pest control as well. Additionally, it neutralizes ammonia. If your chickens happen to ingest any of the mix, it's perfectly safe. Even nutritious as it's crafted with valuable trace minerals. That's how high-quality this chicken dust bath is.
Customers rate this product 3.8 out of five stars. They love the product is good for their chickens and also works to keep parasites and bugs away. After trying it the first time, they purchased it again. Moreover, customers share photos of their happy chickens enjoying their dust bath and they notice they look better after they introduced it. Some sprinkle it in the nesting box while others place it in a pan to create a dust bath. They also suggest sprinkling it on the floor after you've cleaned the coop, including the roosting area.
Pros and Cons of the Little Farmer Products Coop Right Chicken Dust Bath
| PROS | CONS |
| --- | --- |
| This dust bath provides food-grade, diatomaceous earth. | Some customers had to return an incorrect product delivery, but Chewy customer service is quick to correct any mistakes. |
| The clay absorbs moisture. | |
| Valuable trace minerals are delivered when ingested. | |
Best for Dust Baths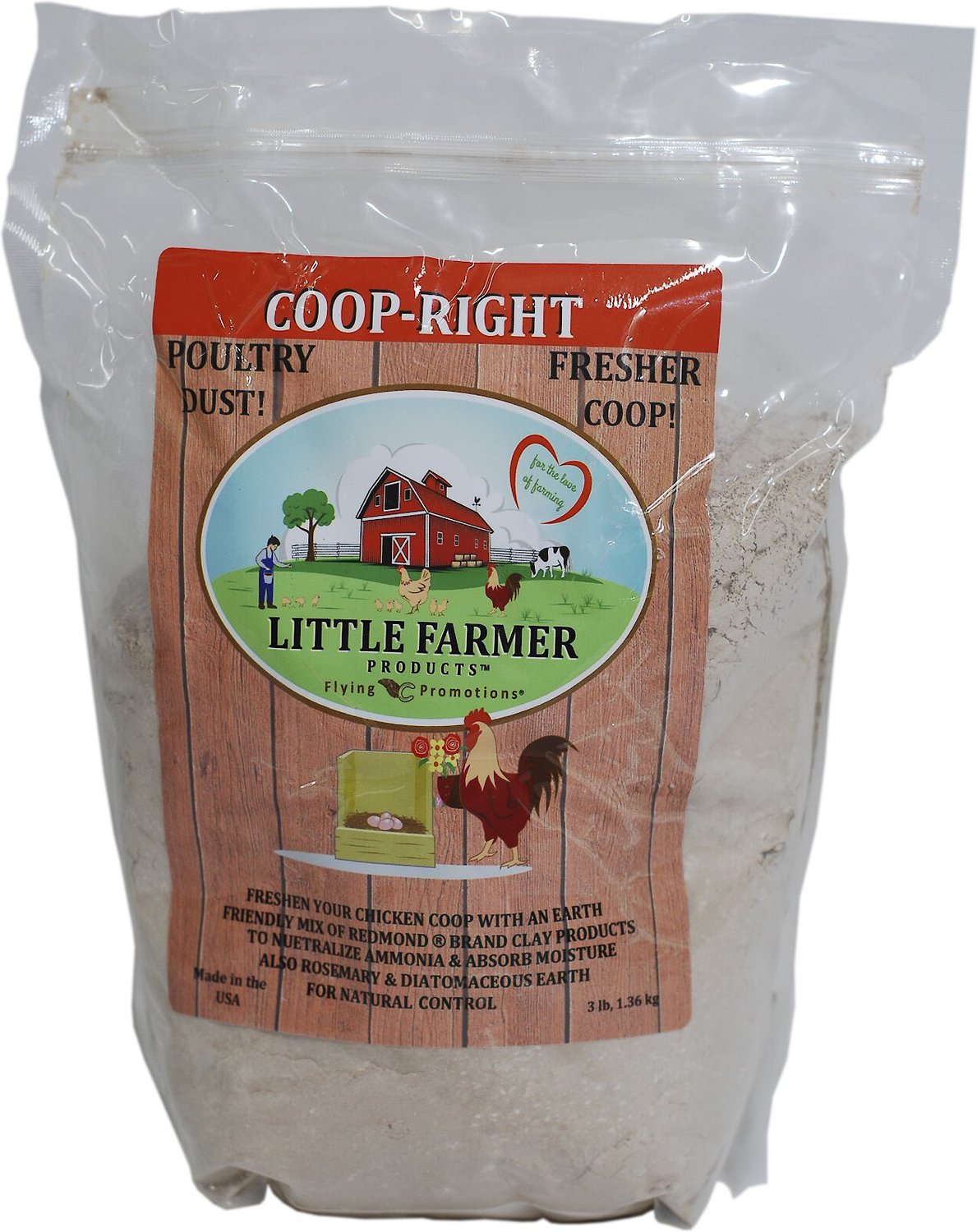 Criteria: What to Look for in Chicken and Farm Products
Purpose
Consider what type of product you need. If it's feed for laying hens, be sure it's delivering adequate nutrition. If you're looking for some nutritious mealworms to treat your chickens with, though, make sure you're buying from a seller who cares about the shipping process. When you're expecting mealworms and what you get is mostly a bag of mealworm dust, it defeats the purpose. On the other hand, if you're looking for products that you can use to keep your chickens comfortable like nesting pads and heaters, make sure they live up to their claims. A heater, for example, is a life-or-death purchase for chicks and chickens, especially when winter months roll around. Consider what you're trying to accomplish to ensure you pick the right product every time.
Cost
While some products like nesting pads are awesome, providing comfort, helping laying hens feel safe, and keeping their shape over time, they may be out of budget. Prioritize your must-have items like feed and heaters and when you have more to spare, you may go for extras like those ultra-cozy nesting pads and some mealworm treats.
Long-term Value
Another consideration, especially when purchasing a non-food product, is the long-term value. Even if a product has a price tag that gives you pause, consider how long you'll be using the product. Nesting pads may be a splurge for some, but they lost for months at a time. Heaters for your chicken coops don't just save lives, but they're also reusable for every winter season. When you consider the long-term value of the chicken and farm products in which you're interested, it's easier to make buying decisions that make sense.
The 6 Best Chicken and Farm Products on Chewy Today FAQs (Frequently Asked Questions)
What are chicken farmers called?
Chicken farmers are called poulterers. They may also be called poultrymen. Chicken farmers rear chickens for specific purposes, whether they be to collect eggs or meat.
What are the four types of chicken farm systems?
The four types of chicken farm systems include intensive, semi-intensive, extensive, and small extensive. These different methods vary based on several factors, including poultry health and welfare, inputs and outputs, ecological effects, and gender dimensions.