Key Points:
Find the best dog food for your adorable, little Shih Tzu based on its age (puppy, adult, or senior).
Cheap dog food contains poultry by-products and other questionable ingredients. Most likely, you will need to pay more for better quality.
High quality food for Shih Tzus contains vitamins, omega-3 and omega-6 fatty acids, high levels of protein, and antioxidants. These nutrients will make your pup healthy on the inside with a thick, shiny coat on the outside.
Our selections for the best food for Shih Tzus include dry and wet food.
Shih Tzus are charming toy dogs with long, luxurious, non-shedding hair. These little lap dogs are also surprisingly athletic. They have muscular little bodies and many have won agility competitions! When you're selecting the best dog food, it's important that you choose the best one available for this breed. It should nourish their dazzling good looks and their athletic bodies while maintaining a healthy weight.
The right food for other toy dogs may not be right for Shih Tzus. This breed, which the Tibetans called Little Lion dogs, has specific needs and potential health conditions that we'll address below. It's important to purchase the best food based on their current stage of life because puppies, adults, and seniors have different caloric and nutritional needs. And don't forget to reevaluate your Shih Tzus' food as she grows.
We've compiled a list of the best overall options for Shih Tzus based on their stage of life and whether they prefer wet or dry foods so you can select the best food for your furry friend.  
A-Z-Animals Top Picks for Food for Shih Tzus
Special Food Considerations for Shih Tzus
Most Shih Tzus are healthy, but the breed is prone to the following health conditions: hip dysplasia, patellar luxation (a slipped kneecap), eye anomalies including cataracts, progressive retinal atrophy, retinal detachment, other eye issues.
Maintaining a healthy weight can reduce the risk of hip and knee problems. Studies indicate that vitamins A, C, and D can keep a dog's eyes healthy, so your pet's food should include these nutrients.
Finally, omega-6 fatty acids can keep your Shih Tzu's skin and hair healthy.
Choosing the Best Dog Food for Shih Tzus: What to Look for
There are three factors you need to consider when choosing the best dog food for your Shih Tzus: price, quality, and type (dry or wet). Here is how to consider the best dog food across each of these factors:
Price
Inexpensive dog food generally includes ingredients that you don't want to feed to your Shih Tzu such as poultry by-product meals, corn, wheat, soy, artificial flavors, and preservatives. These ingredients have negligible nutritional value and may even be detrimental to your dog's health.
Quality
High-quality dog foods include meat as their first ingredient. They also list vegetables, fruits, vitamins, and minerals that will enhance your pet's health. It should also includ include omega-3 fatty acids, omega-6 fatty acids, and biotin to encourage the growth of your Shih Tzu's long, silky, hair.
Type (dry or wet)
The dog food discussed in this review is available in dry (kibble) and wet (canned) recipes.
The Different Types of Dog Foods for Shih Tzus: Pros and Cons Compared
In order to select the best type of dog food for your Shih Tzus, you need to understand the different types that are available. In this review, we discuss dry dog food (kibble) and wet (or canned) dog food. Here are the pros and cons of each type:
Dry dog food comes in bags. It can be stored for long periods in sealed containers. Dry dog food will spoil if it comes in contact with moisture. It provides a concentration of nutrients. And dry food's texture will help to remove tartar from your pup's teeth.
Wet (canned) dog food must be refrigerated after opening. Dogs with dental problems and those with finicky appetites often benefit from canned food.
Our Criteria: How We Chose the Best
When assessing our overall best choice Royal Canin Breed Health Nutrition Shih Tzu Adult Dry Dog Food, we couldn't help but notice the health benefits and dog preference. Royal Canin for Shih Tzu contains specific nutritional needs of this breed, such as vitamin A, EPA, DHA, biotin, and omega-3 fatty acids. The high fiber content keeps things moving in your pup's stomach. On top of that, Shih Tzu's love the flavor and size; the kibble shape is easy to eat for their short muzzle and underbite.
Our #2 choice by Hill's Science Diet has everything your puppy needs to grow big, strong, smart, and healthy. Your Shih Tzu puppy will consume lots of protein to build muscle and antioxidants for immune support. We love that their brains and eyes will develop thanks to the DHA contained in every bite. Plus, it doesn't hurt that it claims it is the #1 U.S. veterinarian's recommendation.
If considering #3 on our list, you have a senior dog needing nutrition. We love that this Hill's Science Diet pick is formulated with an aged dog's needs in mind. It promotes kidney and heart health, energy support, and immunity. Plus, the small kibble will be easy for your dog to eat.
IAM's Small Breed Adult Dry Dog Food is #4 on our list! We love that the 1st ingredient listed is farm-raised chicken, which provides ample protein. Like the brands listed above, it supports immunity with antioxidants and is specially formulated for adult small breeds. It contains omega-6 fatty acids to help your dog's coat be thick and shiny.
We included our #5 choice in case your pup prefers wet food. This food is choked full of complex nutrients and promotes heart health and overall cardiac function. We love that this food can be enough for your dog by itself, or it can be used to supplement dry food.
#1 Overall Best Dog Food for Shih Tzus: Royal CaninBreed Health Nutrition Shih Tzu Adult Dry Dog Food
Our choice for the best overall dog food for adult Shih Tzus is Royal Canin Breed Health Nutrition Shih Tzu Adult Dry Dog Food. This dry dog food is formulated to meet the nutritional needs of purebred Shih Tzus 10 months and older.
This recipe features an exclusive kibble shape designed specifically for a Shih Tzu's short muzzle and adorable underbite. It will support your pup's skin health with an exclusive complex of nutrients including EPA, DHA, and vitamin A and maintain your Shih Tzu's soft, long coat with a combination of omega-3 fatty acids, omega-6 fatty acids, and biotin. It will even reduce the number of stools and stool odor with highly digestible proteins, precise fiber content, and high-quality carbohydrate sources
Royal Canin partners with pet experts to develop formulas perfect for each particular breed. They study each breed's lifestyle, life stage needs, and their tendency for health issues. From facial and jaw structure to skin and coat type, they consider every detail so your dog can be his best.
Overall Best
#2 Best Dog Food for Shih Tzu Puppies: Hill's Science Diet Dry Dog Food, Puppy
This food is made with natural ingredients is formulated to meet the developmental needs of small breed puppies one-year-old and under. It features a small kibble size that's specially designed for little mouths. DHA from fish oil will support your puppy's brain and eye development. And high-quality protein will help your Shih Tzu pup build lean muscles.
This puppy food includes a balance of minerals to build strong teeth and healthy bones. Finally, Science Diet Small Paws contains a proprietary antioxidant blend to support your puppy's immune system.
Hill's pet foods are developed by a team of veterinarians, food scientists, and Ph.D. nutritionists, to ensure that they include the essential nutrients that your pet needs. And they never contain artificial colors, flavors, preservatives, or chicken by-product meal.
Best for Puppies
#3 Best Dog Food for Senior Shih Tzus: Hill's Science Diet Adult 7+ Small Bites Chicken Meal
As Shih Tzus and other toy breeds get older, their nutritional needs change. Hill's Science Diet Adult 7+ small Bites Dry Dog food is formulated for the specific aging needs of small dogs seven years old and older. The delicious chicken flavor is packed into a tiny kibble for little dogs that prefer variety, and the easily digestible ingredients help support the energy levels of mature dogs.
This premium dog food formula contains balanced minerals for heart and kidney health and high-quality protein for lean muscle. It will maintain your dog's healthy skin and shiny coat with Omega-6 fatty acids and vitamin E.
Hill's Science Diet Adult 7+ Small Bites Chicken Meal is made in the U.S.A. from globally sourced natural ingredients.
Best for Senior Dogs
#4 Best Dry Dog Food for Shih Tzus: IAMS Small Breed Adult Dry Dog Food, Chicken
IAMS Adult Small Breed Dry Dog Food with Real Chicken was created to meet the specific wellness and nutritional needs of your lovable small dog. With real, farm-raised chicken as the first ingredient, this adult dog food will maintain your Shih Tzu's skin and coat health with omega-6 fatty acids.
Plus, the tasty dog kibble helps build strong muscles, and antioxidants support their tiny immune systems. It's a big bowl of healthy benefits for your teeny pal!
IAMS high-quality, premium recipes are made in the U.S.A. with the world's finest ingredients to give dogs the nutrition they need. They're made with no artificial preservatives or flavors and 0% fillers, for complete and balanced nutrition.
Best Dry Dog Food
#5 Best Canned Dog Food for Shih Tzus: Royal Canin Breed Health Nutrition Shih Tzu Wet Dog Food
Royal Canin Shih Tzu Loaf in Sauce Wet Dog Food is tailor-made nutrition created just for your Shih Tzu pure breed. This complete and balanced soft dog food features a smooth pâté texture that's easy for toy breeds to eat. You can also combine this canned food with Royal Canin Shih Tzu Adult Dry Dog Food for a tasty meal that's sure to please picky eaters.
EPA and DHA from fish oil promote healthy skin and coat. And this Shih Tzu dog food contains nutrients like sodium, taurine, and L-carnitine to help keep your dog's heart healthy and strong.
Royal Canin partners with veterinarians, breeders, and other pet experts to recognize the effect of each nutrient as they develop formulas for a particular breed. The breed's lifestyle, life stage needs, and the tendency to develop certain health issues are all studied, taking every detail into consideration so your dog can be his most magnificent self.
Best Canned Dog Food
Summary of the Best Dog Food for Shih Tzus
| Rank | Best For | Product |
| --- | --- | --- |
| 1 | Overall | Royal Canin Breed Health Nutrition Shih Tzu Adult Dry Dog Food |
| 2 | Puppies | Hill's Science Diet Dry Dog Food, Puppy |
| 3 | Seniors | Hill's Science Diet Adult 7+ Small Bites Chicken Meal |
| 4 | Dry | IAMS Small Breed Adult Dry Dog Food, Chicken |
| 5 | Canned | Royal Canin Breed Health Nutrition Shih Tzu Wet Dog Food |
Products for This Review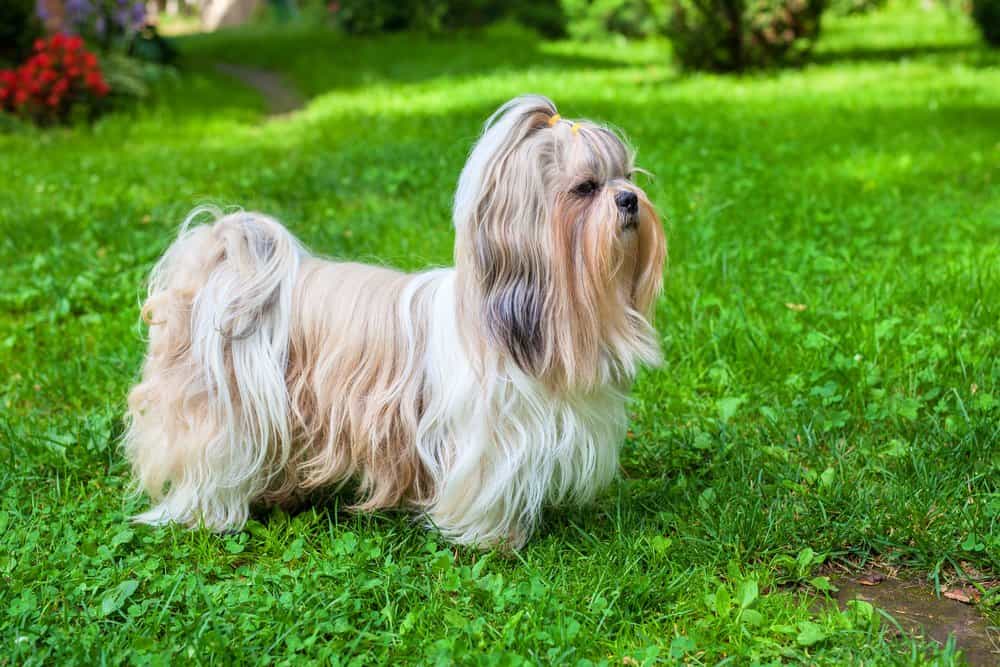 The Premiere Dog Purses for 2022 – Reviewed and Ranked
Up Next