Key Points
The #1 Best Overall durable dog toy is the Gesuche Indestructible Dog Toys for Aggressive Chewers.
A wide variety of tough dog toys are available on the market, from bones to plush toys to chew toys. They offer hours of fun for your dog while reducing the risk of them getting destroyed. While all dogs have the potential to destroy toys repeatedly, there are some toys that are as close to indestructible as possible.
For the purpose of providing our readers with only the best quality durable dog toys available on the market, we researched top-rated picks and reviews to provide you with the best options. Our top picks in the dog toy category were based on a variety of factors, including functionality, scent, texture, and safety.
No matter what breed of dog you have, behaviors like chasing, fetching, and intense chewing are ingrained in their DNA.
In order to keep your dog happy, durable dog toys are essential. Dog owners have long preferred plush and squeaky toys for their pets, but there are a wide variety of options available.
It should be noted, however, that many of the most popular toys are far from indestructible. Aggressive chewers can destroy any toy quickly, leaving a mess for you to clean up, which is exactly what you wanted to avoid! It is important to be careful not to allow your dog to swallow pieces of the toy, such as squeakers, which can cause choking.
Dog toys are available in many durable varieties, including some that have a lifetime guarantee. Below you will find a variety of toys in different styles, including bones, balls, and ropes. Furthermore, we examined special considerations when buying toys for puppies and big dogs, as well as how to prevent problems with your dog's toys.
Top Picks: The Best Durable Dog Toys Today
#1. Best Overall: Gesuche Indestructible Dog Toys for Aggressive Chewers
A great durable dog toy for aggressive chewers is the Gesuche Indestructible Dog Toy for Aggressive Chewers. According to an avalanche of positive reviews, the dog toy keeps dogs busy for a prolonged period of time. Having the ability to insert treats was one of the key features we liked.
Due to its durability, it is a superior alternative to plush toys and bones. As a result of the design, dogs are also able to keep their teeth clean. Its refund policy is also fantastic, allowing you to claim a refund within 60 days of purchase for any reason.
One minor flaw we found was that the toy may be too big for small dogs. Apart from this minor issue, it is a highly recommended product for dogs.
Pros and Cons of the Gesuche Indestructible Dog Toys for Aggressive Chewers
| Pros | Cons |
| --- | --- |
| With this innovative shape chew toy, you can insert treats within it to keep your pet's attention and prevent destructive chewing behavior. | Small dogs may not be able to play with the toy. |
| The nubs help to clean teeth through constant massage. | |
| You are guaranteed a refund within 60 days of purchasing the product. | |
Best Overall
Gesuche Indestructible Dog Toys for Aggressive Chewers
Interactive - designed to entertain dogs and encourage pet/owner interaction
Durable - built to be tough and long-lasting
Promotes oral health - layered textures to promote strong jaws
High-quality material - industrial-strength natural rubber
Professional service - guaranteed satisfaction
Check Amazon
2. Best Plushies: Nocciola Dog Squeaky Toys with Double Layer Reinforced Fabric
Nocciola Dog Squeaky Toys with Double Layer Reinforced Fabric are the best toy plushies for keeping your dog entertained. With three long and two short toys in this set, your dog will have plenty of variety to choose from when playing. Each toy has a squeaker in the head and tail and a crunchy paper filling.
The strong material lets your dog play for hours while protecting your household goods from destructive chewing. Fun squeakers with crunchy paper inside will encourage their natural hunting instinct and make them want to keep playing. There is a handy bag to store everything when your dog has finished playing.
On the downside, these toys could still be ripped apart quickly by dogs who were more vigorous chewers. It may be necessary to supervise dogs with strong chewing habits when they play with these plushies.
Pros and Cons of the Nocciola Dog Squeaky Toys with Double Layer Reinforced Fabric
| Pros | Cons |
| --- | --- |
| This set includes a combination of three squeaky toys — two long and three short. | A more vigorous chewer might still tear these toys apart easily, which makes them unsuitable for some dogs. |
| It features squeakers in both the head and tail to attract a dog's attention to prevent them from chewing things around the house. | |
| When your dog is finished playing, the plushies can be conveniently stored in the storage bag. | |
Best Plushies
3. Most Indestructible: EASTBLUE Squeaky Dog Toys for Aggressive Chewers
Designed for even the most destructive chewers, the EASTBLUE Squeaky Dog Toys are the perfect addition to any dog's toy collection. This toy is made of sturdy non-toxic rubber that is environmentally friendly and comes with a lifetime guarantee. With its unique shape, your dog will always be occupied, stimulating its natural chewing instincts.
A feature of this toy that makes it appealing is its ability to stimulate playtime. Bouncing and rolling are two moves that are sure to keep your dog's interest. This ball allows your dog to bounce and roll it around. Furthermore, squeaking attracts their attention for a longer period of time than toys without squeakers. A guarantee of after-sales service is also included with the toy. The company will replace or refund you if the product has any quality problems.
Based on customer reviews, some dogs seemed to become bored with the squeaker after a while. Moreover, some customers found that the material could not stand up to more aggressive chewers.
Pros and Cons of the EASTBLUE Squeaky Dog Toys for Aggressive Chewers
| Pros | Cons |
| --- | --- |
| The toy is made from non-toxic, environmentally friendly rubber. | Some dog owners have found that aggressive chewers can still destroy this toy. |
| A dog's attention is attracted by squeaks, and he releases excess energy by bouncing and rolling the toy around. | |
| Any issues with the toy after purchase will be addressed by the after-sales service guarantee. | |
Most Indestructible
4. Best Bone: Apasiri Dog Chew Toys
The Apasiri Dog Chew Toys are a great dog toy that will clean your dog's teeth while they play. With a lifetime guarantee, this bone-shaped dog toy is perfect for dogs who enjoy toys shaped like bones. It is constructed from nylon and rubber, which helps to clean teeth effectively as well.
A really impressive feature of this product was its ability to pass more than 1,000 bite resistance tests. This nylon is food-grade, which means it uses non-toxic materials. It is chew proof, but soft and elastic at the same time. Consequently, it will not break into halves or pieces due to brittleness.
It is an interactive dog toy that can be used for fetching and retrieving games. The beef flavor on the rubber is sure to excite your pet and lengthen the time they spend playing with the toy. A downside of this toy is that it's more suitable for larger dogs. Unless the dog is of a large breed, it may be too heavy for them to handle and can scare them away.
Pros and Cons of the Apasiri Dog Chew Toys
| Pros | Cons |
| --- | --- |
| In comparison to ordinary nylon toys, the rubber tooth cleaner design is great for cleaning your dog's teeth. | The weight may be too much for smaller breeds of dogs and put them off. |
| It has passed more than 1,000 bite resistance tests, making it a long-lasting toy. | |
| The natural beef flavor smell keeps your dog entertained for a longer period of time. | |
Best Bone
5. Best Ball: Chew King Supreme Rubber Fetch Balls
Playing fetch with an aggressive chewer is easier with the Chew King Supreme Rubber Fetch Balls. These balls will provide hours of entertainment for your dog if he enjoys playing fetch. Dogs will engage in play more readily if they experience a hard, high bounce and that's exactly what this toy offers them. The safety air vent in the balls prevents tongues from getting stuck, making it an impressive feature. Additionally, the material is dishwasher-safe, making it convenient to maintain and clean.
In spite of strong chewing, these balls maintain their shape easily. There is also no problem fitting these into a large ball launcher. Additionally, the balls come in different sizes to meet the needs of a variety of dogs.
Keep in mind, however, that these balls cannot float in water. If your dog enjoys playing fetch in the water, you should keep this in mind.
Pros and Cons of the Chew King Supreme Rubber Fetch Balls
| Pros | Cons |
| --- | --- |
| Keeping the toy clean is a breeze because it can be cleaned in the dishwasher. | In water, the balls cannot float, so they can't be used for fetch in water. |
| The air vent prevents tongues from getting stuck. | |
| The toy is available in two different sizes. | |
Best Ball
Chew King Supreme Rubber Fetch Balls
Great for short periods of playing fetch. High, hard bounce
Stands up to aggressive chewing
Safety air vent keeps happy tongues from getting stuck
Fits regular Medium ball launcher. Top-rack dishwasher safe
Available in two sizes – Medium 2. 5", large 3" Diameter balls
Check Amazon
6. Best Ropes: Zeaxuie Luxury Tough Dog Toys for Aggressive Chewers
Dogs of all sizes, small and medium breeds, and puppies of large breeds will love Zeaxuie Luxury Tough Dog Toys for Aggressive Chewers. As part of this set, you'll find eight rope toys and two squeaky toys. All types of activities are possible with the rope toys, which feature a tight weave that makes them durable.
Designed specifically for tough chewers, these toys are durable and long-lasting. No matter what size dog you have, or whether your puppy chews a lot, you'll find plenty to keep it entertained.
According to customer reviews, some found that their tougher chewers were able to reach the squeakers quite quickly after getting them. There is also a possibility that strong chewers may swallow some of the string pieces that are on the chew ropes.
Pros and Cons of the Zeaxuie Luxury Tough Dog Toys for Aggressive Chewers
| Pros | Cons |
| --- | --- |
| The set includes eight different knots of rope toys for aggressive chewers and two squeaky dog toys. | Customers reported that their tougher chewers quickly reached the squeakers after receiving the toys. |
| Designed with tighter weaves, these large knots dog toys are good for chewing. | |
| Made for small and medium breed dogs, as well as some large breed puppies. | |
Best Rope
7. Best Scented Toy: Playology Scented Dual Layer Bone Dog Toy
This Playology Scented Dual Layer Bone Dog Toy is perfect for dogs of all ages who chew a lot. Dogs are sometimes incorrigible. There are times when it seems like they only get enjoyment from a toy when they can feel like they have destroyed it.
That's why the Playology bone toy is an excellent option. Your dog will love how it feels between their teeth, and it will be difficult to destroy for most dogs. Moreover, the all-natural, tasty scents last for a long time and drive dogs crazy. You can choose from cheddar cheese, beef, chicken, turkey, sweet potato, and peanut butter scents. It's certain to become an instant favorite for many dogs, especially those who chew a lot.
As well as three sizes, the toys come in a variety of shapes, such as bones, rings, and sticks. They are constructed with a double-layer construction, which has a sturdy core coated with a chewy but tough rubber coating.
The Playology toys are good for puppies who are teething, and they may even help dogs who have weight problems, since they do not require treats to keep them busy. You can easily hand-wash them or put them in the dishwasher if they get dirty.
Playology's toys are tested to meet CPSIA lead, phthalate, and toxin standards, which is a great thing. The downside for some customers was that some of the scents were very unappealing both to them and to their dogs.
Pros and Cons of the Playology Scented Dual Layer Bone Dog Toy
| Pros | Cons |
| --- | --- |
| There are soft and chewy sides to the toy, but it is tough and durable on the inside as well. | There are some customers who find that the scents of the food are unpleasant to both them and their dogs. |
| Your dog will enjoy smelling the variety of scents available. | |
| The toy complies with ASTM standards and CPSIA guidelines. | |
Best Scented Toy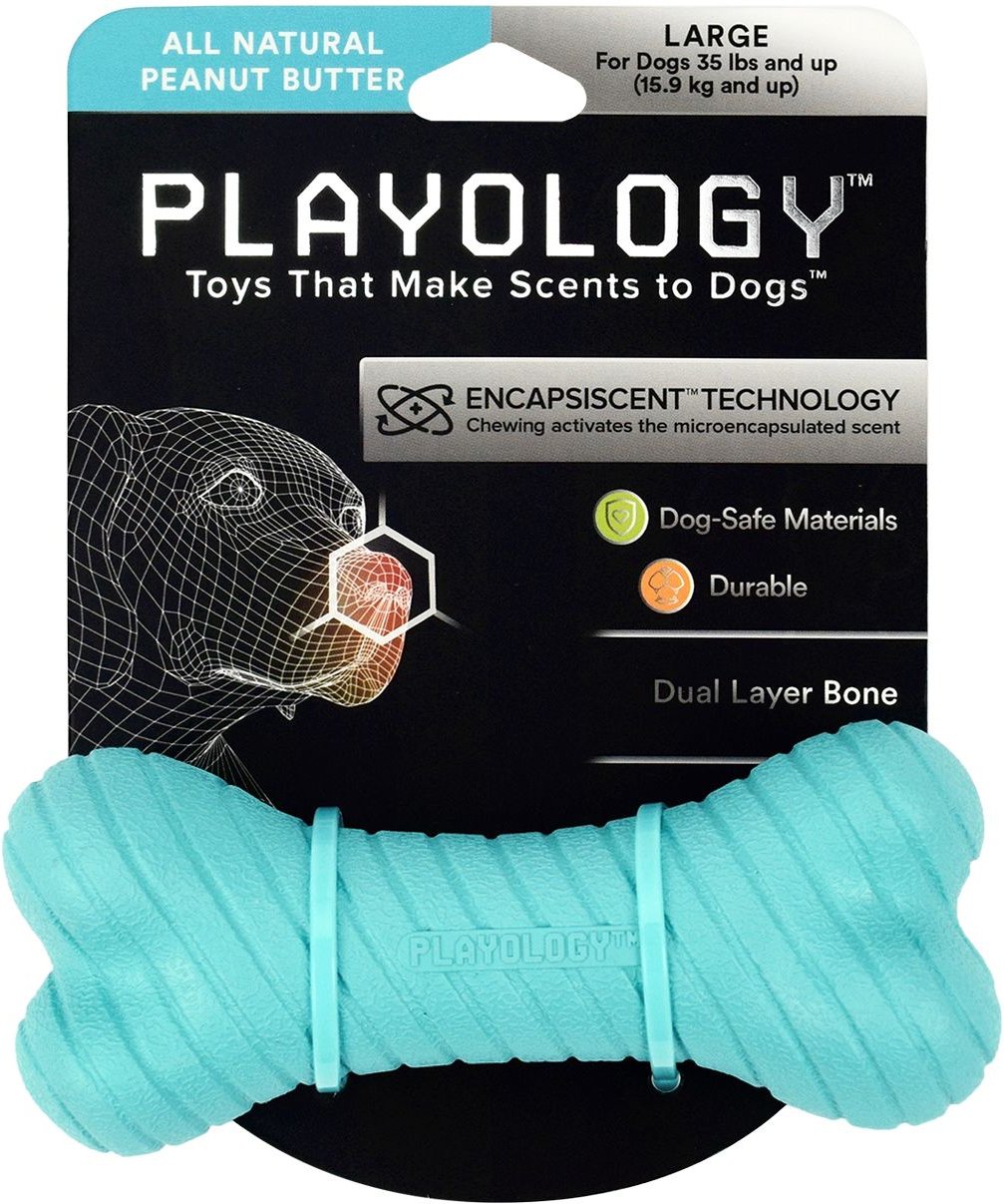 How to Choose the Best Durable Dog Toys
Despite your dog's apparent satisfaction with a pair of shoes to chew on or a stick they found on your morning walk, durable dog toys offer much better durability and health benefits. From plush to rope, we found a lot of excellent options for durable dog toys. The best thing about having many options is that you can please any dog, regardless of their preferences. In order to satisfy different interests, different choices are necessary, such as stuffed toys for some and balls for others.
Choosing durable dog toys for your pup requires consideration of five main factors:
Longevity
Materials
Design
Dental health
Fun factor
In the following section, we will explore each of these factors in greater detail:
Longevity
It is common for toys to claim that they are indestructible. However, few actually stand up to relentless chewers. Has the product been chew-tested or stress-tested? Are there any warranties or guarantees attached to it? Have pet parents tried the toy and are they satisfied with its durability? These are all important things to take into consideration.
Materials
There are some materials, such as nylon and rubber, that are more durable than others, and the production methods/quality can make a big difference. There are some super-strong materials that are not ideal. Dogs shouldn't be exposed to toxic materials when playing with or chewing on toys. Additionally, eco-friendly materials are a plus.
Design
The importance of smart design cannot be overstated. In the event of a design flaw, such as thin parts or small holes, even the strongest industrial-grade rubber may break into small, dangerous pieces.
In contrast, does the toy feature cool design features, like treat compartments? Are you able to use a ball launcher for fetch or does it float if thrown into the water?
Dental Health
Are you looking for a toy that will both be fun and help with your dog's health? The added benefit of rope toys is that they help control odor and remove food residue from your dog's teeth.
Fun Factor
Having to retire a toy, throw it away, and replace it when your dog destroys it is definitely a bummer. When it comes down to it, you want a toy that makes your dog's eyes light up with excitement — one they can play with all day long.
Look for specific features your dog will appreciate if you know what he or she likes. You might have to try a few things out if your dog is new to your family and you aren't sure what kind of toys they like.
Some pups are obsessed with bouncy, squeaky, fluttery, floppy, crinkly, smelly, or floaty things, or with toys that can be pulled violently.
The 6 Different Types of Durable Dog Toys
There are a variety of different types of durable dog toys that you can purchase for your pup. Each type of toy also comes with its own specific pros and cons as well.
We've outlined the pros and cons of each type of durable dog toy below to help you decide which is right for your dog:
Plush/Stuffed Toys — These toys are great because they stimulate a dog's prey drive. They are also easy to toss and feature multiple squeakers. Despite this, dogs may rip out the squeakers and chew on stuffed animals that aren't designed for dogs.
Squeaky Toys — These work great with a dog's natural hunting instincts and are available in a variety of styles. The squeaker can be a choking hazard, however.
Bones — Keeps dogs busy for hours while promoting good dental health. Dogs may swallow small pieces as it breaks.
Balls — Provides plenty of fun without the owner present. Is great for playing fetch with. Sometimes easier to break than other toys.
Ropes — Ideal for tug-of-war and fetch. More durable than many other toy options. Strings can cause damage if swallowed.
Up Next:
Best Dog Toy Boxes — Have a neat, secure place to store your dog's toys with the best dog toy boxes.
The Best Interactive Dog Toys — Make sure your dog is mentally stimulated for a balanced life with the best interactive dog toys available on the market!
Best Tug Toys for Dogs– Get into a fun game of tug-of-war with your pooch with the best tug toys for dogs!
Try Out the Most Durable Dog Toys FAQs (Frequently Asked Questions)
What toys are best for big dogs?
The best toys for big dogs are as close to indestructible as possible. Strong rubber and nylon-based toys, like Gesuche Indestructible Dog Toys for Aggressive Chewers, work well.
Which toys should puppies use?
Puppies will do best using toys that help promote dental health. Apasiri Dog Chew Toys are examples of toys that promote healthy teeth and jaws.
What is the most durable dog toy?
The Gesuche Indestructible Dog Toys for Aggressive Chewers is considered the most durable dog toy among many dog owners, along with the Apasiri Dog Chew Toys.
What is the most durable lining for dog toys?
Toys with double or better layers of material are the most durable. With a nylon inner lining, rubber toys are usually more durable.
Why do dogs rip the stuffing out of toys?
Dogs behave as if they were hunting prey animals when playing with toys made of stuffing. It is also common for dogs to pull stuffing from their toys when they are bored.
How safe are stuffed animals for dogs?
It is often unsafe for dogs to play with stuffed animals that are not designed as dog toys. Often, plush toys have small pieces that can easily be swallowed and ripped off.