Key Points
As the only member of the rodent family that cannot produce their own vitamin C, guinea pigs need a high-quality pet food to keep them healthy and active.
Our choice for the best food for guinea pigs is Oxbow Essentials Adult Guinea Pig Food.
When buying guinea pig food, choose brands that prioritize freshness and use quality and natural ingredients for the best results.
While the majority of your guinea pig's diet should be hay, they also need guinea pig food in order to thrive. That's because guinea pig food contains precise amounts of nutrients, including vitamins and minerals, that piggies can't get in sufficient quantities from hay. All of these nutrients are important, but one is absolutely critical for your pet: vitamin C.
Guinea pigs are the only rodents that don't produce vitamin C in their bodies. Therefore, they must get their full daily value from their food. They thrive on a balanced diet, so it is always best to consult a vet specializing in small animals and exotic pets to help you determine the proper ratio of hay, pellets, fruits and vegetables for your pet's specific needs.
One of the most important things to look for in guinea pig food is freshness. Vitamin C degrades within 90 days of the manufacture date. So, you should buy the freshest food. And you should only purchase the amount that your piggy can eat within three months from the manufacture date.
Our experts have ranked and rated the best foods for guinea pigs in a number of different categories to help you choose the right one for your precious piggy.  
A-Z-Animals Top Picks for Food For Guinea Pigs
Our choice for the best overall guinea pig food is Oxbow Essentials Adult Guinea Pig. Oxbow, which has been caring for the needs of companion animals for 30 years, partnered with veterinarians and animal nutritionists to create this pellet food recipe. It's made from Oxbow Timothy Hay, which is grown and processed in the U.S.A., so it's high in the fiber your pet needs for optimal digestion. Plus, it includes stabilized Vitamin C and antioxidants to promote immune system health.
This food features pellets that feature uniform nutrition in every bite. This prevents the "selective feeding" that can occur when guinea pigs only eat their favorite bits from muesli-type foods.   
Oxbow Essentials Adult Guinea Pig is one of the most highly recommended pellet foods on guinea pig forums. Our experience is that it is always fresh; the manufacture date is clearly stamped on the bag. Our test piggies "wheek" with anticipation when we open the bag to feed them and they eat it with gusto. One of our pigs, Ginger, thrived for eight years on this food. (The average life span of pet guinea pigs is five to seven years.)
This recipe, which is available in 5-lb, 10-lb, and 25-lb bags, is intended for adult guinea pigs. It is not formulated to meet the nutritional needs of pups (guinea pigs under the age of six months) or pregnant or lactating females.
Overall Best
Small Pet Select Guinea Pig Food Pellets are made by a small, family-owned company in small batches. The company, Small Pet Select, prides itself on only shipping freshly processed food crafted from fresh ingredients. Small Pet Select makes their premium food from locally sourced, hand-selected Timothy hay and fortified with stabilized vitamin C, essential vitamins, and minerals.
Small Pet Select knows guinea pigs. In fact, they started the company in 2012 when they decided that one of their picky piggies needed better hay. Since they lived in Ellensburg, WA, the world's hay capital, they bought some from a local farm. Lizzie, the piggie, ate it happily and the business was born. Today, they offer their customers a variety of fresh hay and other foods for small pets.   
The manufacturer is so convinced that you – and your guinea pig – will love this food that they offer a 100% money-back guarantee. It's available in 5-lb,10-lb, 25-lb, and 50-lb bags.
Freshest Food
Oxbow Animal Health Garden Select is our top choice for the safest guinea pig food. This formula features complete, high-fiber nutrition including 100% of the vitamins and minerals essential to your pet's health. And our experts are just as impressed by what it doesn't include: artificial ingredients or refined sugars.
This recipe was created for guinea pigs of all ages and life stages, including pups, pregnant and lactating females, and adults. It's specially formulated to provide the type of variety that foraging piggies would find in the wild. While most guinea pig pellets include only one type of hay, these feature a medley of three hand-selected grass hays for fiber: Western Timothy, orchard, and oat. And because each bite includes a combination of all the ingredients, your piggy is sure to get the nutrition they need.
Garden vegetables such as yellow peas and tomatoes and herbs like rosemary and thyme combine to create a delicious flavor that can't be found in any other guinea pig food. To further enhance its safety profile, each ingredient is grown in the U.S. and certified to be non-GMO.
This formula is available in 2-lb, 4-lb, and 8-lb bags.
Safest Food
Witte Molen Pure Seed Guinea Pig Food is a muesli-type food that blends pellets, seeds, and fruits with botanicals like dried nettles and marigold flowers. It does not include artificial preservatives, colors, or flavors. It is enriched with stabilized vitamin C and other vitamins and nutrients, such as calcium-rich oyster shells that promote healthy digestion.
The recipe uses with unground fiber and probiotics. This crude fiber helps to wear down your pet's teeth, which never stop growing. And the probiotics are good for their digestion. Plus, this high-fiber formula is appropriate for guinea pigs at every stage of life: pups, adults, and pregnant and lactating females. It's available in 5.5-lb bags.
The theory behind muesli guinea pig foods is that piggies forage in the wild. They may eat a bite of grass followed by an herb or flower. It's natural for them to have access to a wide variety of nourishing foods.
The issue with muesli is that piggies, like most other animals, including humans, engage in selective feeding. This means that they only eat the ingredients that they like. This is a problem if they skip the pieces that have the most concentrated nutrition, such as the pellets.  
Witte Molen (White Mill) started as a grain trader 270 years ago in The Netherlands, where the company is still located. In 2013, they became part of Laroy Group. Today, they produce foods and accessories for pets.
Best Muesli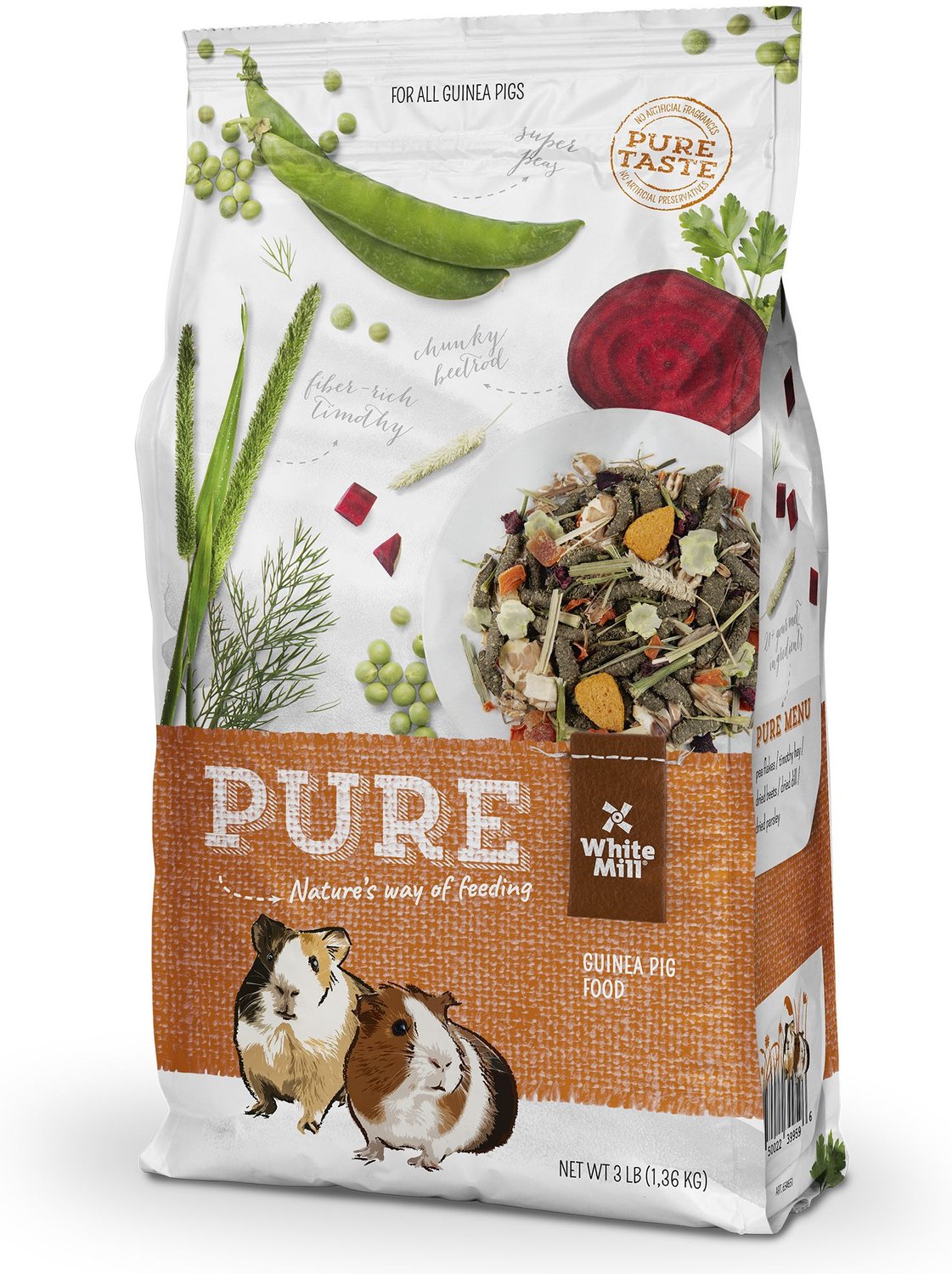 Choosing the Best Guinea Pig Food: What to Look for
When you're shopping for the best guinea pig food, you need to take three factors into consideration: quality, type, and price.  
Quality
The first characteristic of premium-quality guinea pig food is freshness. Guinea pig food must be eaten within 90 days of its manufacture date. This is because the vitamin C in the food degrades within that time.
The other attribute of high-quality guinea pig food is safety. Safety includes the origin and quality of raw ingredients, whether they are certified non-GMO, and the exclusion of refined sugars and artificial ingredients.
Type
Guinea food comes in two main types: pellets and muesli. Both varieties include all of the nutrients your pet needs. Pellets are made from compressed blends of hays and grasses fortified with additional vitamins and minerals. Pellets made from an alfalfa base are a good option for young, pregnant, or lactating guinea pigs. However, Timothy-based pellets are better suited for long-term use since alfalfa is higher in both fat and calcium.
Muesli is a mix that features pellets, seeds, fruits, and other natural ingredients combined to satisfy guinea pigs' natural foraging instincts. While it technically contains the right dietary requirements, this type of food can still lead to nutritional deficiencies if your piggy is a "selective feeder" that picks what they want to eat and refuses to eat the rest.
Price
The guinea pig foods featured in this article range from $2.21 to $4.17 a pound. Each product is premium-quality. The determining factor is which features, such as freshness, safety, and whether it resembles a wild guinea pig's diet, are most important to you.
The Different Types of Guinea Pig Food: Pros and Cons Compared
Guinea pig food comes in two main types: pellet and muesli. Both types should be fresh when purchased and used within 90 days of the manufacture date. Both types have clear pros and cons.
| Type of Guinea Pig Food | Pros | Cons |
| --- | --- | --- |
| Pellets – The primary ingredient is hay, usually Timothy. They're fortified with vitamin C, which is crucial for guinea pig health, and other vitamins, minerals, and nutrients | Nutritionally complete | Each pellet tastes the same, so there's no variety flavor-wise |
| Muesli – Contains a blend of pellets, seeds, fruit, and herbs. Fortified with vitamin C and other vitamins, minerals, and nutrients | Nutritionally complete if your guinea pig doesn't just eat the pieces that they like.   Maybe more appetizing to guinea pigs, which tend to forage in the wild | Your pet won't benefit from the product's complete nutrition if they are a "selective feeder" that only eats what they like from the blend |
Our Criteria and Experience: How We Chose the Best
As someone who raised several guinea pigs myself, I know how frustrating it can be to find a food that meets their nutritional needs. The products chosen here were given the same considerations I use to choose foods for my own pets. I looked for Timothy grass pellets with minimal fillers to maintain a healthy weight, high protein and vitamin C content to support immunity and bone health, and low in calcium to prevent bladder stones.
All of our recommendations list some form of hay or grass as their first ingredients. While they all have high levels of vitamin C for optimal nutrition, Oxbow foods add antioxidants to stabilize it. We also ensured that they follow veterinarian recommendations and omit dyes, artificial sweeteners, and other harmful ingredients.
Our biggest worry when researching different guinea pig foods was nutrition, but we also paid close attention to taste. I know from personal experience that some guinea pigs are picky eaters, so finding a pellet food that keeps their interest is tricky. Though some customers complained that their guinea pig refused to eat a few of our chosen brands, most buyers were impressed by how much their pet enjoyed their taste.
Best Guinea Pig Food Summary
Check out our top picks for guinea pig foods, which we ranked below. We chose products in several different categories, so you can find one that suits your cavy's unique needs best.
Up Next…
Guinea Pig Pet Guide: Everything a Pet Owner Needs to Know – Not sure how to care for your new pet guinea pig? Our guide will tell you everything there is to know about keeping a guinea pig as a pet.
Guinea Pig Diet: What Do Guinea Pigs Eat? – Learn everything there is to know about providing your pet guinea pig with a healthy, balanced diet.
10 Incredible Guinea Pig Facts – Discover ten fascinating things that you might not know about guinea pigs.
Best Vegetables to Feed Guinea Pigs – Find out which veggies are safe and healthy to feed to your guinea pig.
How Much Does a Guinea Pig Cost Per Year? – Discover how much it costs per year to keep a guinea pig as a pet.
Last update on 2022-09-27 / Affiliate links / Images from Amazon Product Advertising API
The Best Food For Guinea Pigs for 2022 FAQs (Frequently Asked Questions) 
What is the best food for guinea pigs?
The best food for guinea pigs is Oxbow Essentials Adult Guinea Pig Food. These pellets are made from the company's Western Timothy hay and fortified with all the nutrients your piggy needs, including vitamin C.
What foods do guinea pigs eat?
The majority (up to 80%) of a guinea pig's diet should be high-quality hay (alfalfa for pups and pregnant and lactating females, and Timothy for adults). You should also feed them a limited quantity of fresh, vitamin-C-rich vegetables like bell peppers every day. Finally, feed them 1/8 of a cup of vitamin-C enriched, premium-quality guinea pig food daily to keep your piggy healthy.
Why does guinea pig food include vitamin C?
Like humans, guinea pigs' bodies don't make vitamin C. They need to consume vitamin C every day in order to remain healthy and prevent diseases like scurvy.