Do you need to spray some fertilizers on your plants this weekend? Are pests and weeds messing up your beautiful lawn? Do you need to do some home cleaning and you've been wondering and confused about what kind of sprayer you need?
A Garden sprayer is a useful piece of equipment you need to have in your toolshed. You can use it for a wide range of functions from cleaning your home, bathing your pet, and even cleaning your car.
With over thousands of garden sprayers available online, it's easy to buy the wrong product without proper knowledge. It is pertinent you get the right garden sprayer for your needs.
We've researched the various types of garden sprayers and grouped them into respective categories of what you might need. 
Then we compiled a list of the best garden sprayer products for each category. We'll also equip you with the knowledge of what you need to know before purchasing a garden sprayer. Keep reading.
A-Z-Animals Top Picks for Garden Sprayers
Multi-purpose capacity
Features a high-quality adjustable brass nozzle
Comes with a convenient handle
Features an adjustable shoulder strap

Check Amazon

Can be used indoors and outdoors
Refilling is very easy
Features a translucent bottle
Comes with a quick shut-off valve

Check Amazon

Can be used for multiple functions
Features an adjustable brass nozzle
Easy-to-read calibration scale
Very durable

Check Amazon

Comes with a rechargeable lithium-ion battery
Comes with four nozzles
Ideal for pest control and weed prevention
Features a pressure relief valve

Check Amazon

A pressure sprayer
Suitable for spraying plants as well as high-pressure cleaning
Comes with a heavy-duty shoulder strap

Features an ergonomic handle

Check Amazon

Pocket-friendly option
Tank is made from translucent plastic
Tank comes with a filter
Switch lock function reduce finger fatigue

Check Amazon
Best Overall: Itsill Portable Garden Pump Sprayer
Do you need an all-in-one efficient garden sprayer? The ITSILL Portable Garden Pump Sprayer made our top pick and best overall in this article because of its multi-purpose capacity.
The Itsill sprayer is built with a high-quality adjustable brass nozzle that is used to adjust the spray pressure from a fine mist to direct injection. This feature makes it a great pick for a wide range of activities from gardening, to cleaning your car and pet bathing. 
With its adjustable 50-inch hose and 19-inch extended spray stick, this sprayer makes spraying hard-to-reach places an easy task. It also comes with a convenient handle that allows you to lock the spray trigger during usage. This facilitates continuous hands-free spray and reduces fatigue.
It comes with a convenient adjustable shoulder strap that gives you the leisure of hanging the sprayer on your body during usage.
The sprayer built with high-quality transparent polyethylene material allows you to know the gauge and quantity of spray left in the bottle.
Extra features of the sprayer are its anti-clogging filters, durable rings, and seals contributing to easy maintenance and longer usage duration.
Best Overall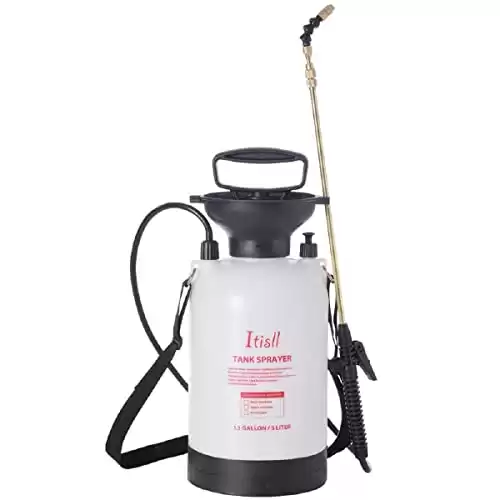 Best for Garden and Lawn: Flo-Master by Hudson 24101 1-Gallon Garden Sprayer
Flo-Master Garden sprayer is a handheld pump sprayer that can serve both indoor and outdoor functions. It ranks as our best for garden and lawn because of its wide mouth and funnel design which makes filling large quantities of spray chemicals and refilling very easy and leaves no mess.
Also, the Flo-Master Garden sprayer is built with a translucent bottle with a simple fill meter on the side for easy readability. Its 12inches long polypropylene wand makes spraying inaccessible nooks of your garden possible. The Flo-Master sprayer operates with a continuous flow of spray making gardening easier and faster. It also has a quick shut-off valve to control spraying when needed.
It has a comfortable grip handle that makes carrying around convenient even while using. The sprayer is made with a thickened bottom which increases its durability and ability to contain large quantities of spray chemicals at once without damage.
Best for Garden and Lawn
Best Budget-Friendly: ITISLL Manual Garden Sprayer 
Do you need something pocket-friendly that still gets the job done? ITISLL Manual garden Sprayer is the best to give you satisfying results. It doesn't matter if you are a professional gardener or a home novice. This sprayer is designed to satisfy you. 
The ITISLL Manual Sprayer has a small tank volume of 0.5 Gallons. However, the tank is made from a translucent plastic bottle that allows you to know the quantity of liquid within the bottle while using and when to refill it. The tank is equipped with a filter. This filter helps to prevent clogging while spraying.
It has additional features like the switch lock function. You can lock the switch trigger for continuous spraying. This reduces finger fatigue during usage. With the safety valve feature, you can use the spray without fear of excess pressure build-up. The safety valve automatically releases when the pressure within the tank exceeds 2.5- 3 Bar.
It comes with an adjustable brass nozzle. For its price, it has standard qualities that will give you value for your buck. The brass nozzle can be adjusted to control spray pressure. In order to increase service and usage life, the ITISLL Manual Sprayer is equipped with an additional set of sealing rings. These rings can be used as a replacement whenever it's needed.
Best Budget-Friendly
Best Handheld: Vivosun 0.4 Gallon Handheld Garden Sprayer
Vivosun's characteristic lightweight features make it rank as our best Handheld garden sprayer. It is designed for your car cleaning, spraying plants, pet bathing, and outdoor cleanings. Highly recommended for home use.
It has an adjustable nozzle made of brass and you can easily regulate spray pressure from direct injection to fine mist as well. 
If you need to blend liquids in moderate proportions, the translucent material and easy-to-read calibration scale on the bottle make this easy.
 It is made using a polypropylene thickened material that is also responsible for its durability, and stability without being too bulky. It is built to last for a long while.
Best Handheld
Best Battery-Operated: Field King 190571 Lithium-Ion Battery-Powered Sprayer
This battery-powered pump sprayer makes gardening a walk in the park. With a rechargeable lithium-ion battery that powers an electric air compressor, there is no more need for pumping. The air compressor keeps spray pressure constant at 20psi for uniform application. It can spray up to 12 full tanks per full charge. This feature alone helps you to save more time while gardening. 
The sprayer contains a 21-inch non-corrosive poly-wand made with Viton. Also, it comes with four nozzles— one adjustable Brass, a foaming nozzle, and two flat fan spray nozzles to comfortably suit any purpose. 
Field King is ideal for pest control, weed prevention, fertilizing, and plant watering. It is made with a superior nickel-plated shut-off valve which is more durable than the regular plastic components. It also has a pressure relief valve which helps you safely release pressure before removing the pump. This is to prevent chemicals from spraying on you during removal. 
As expected, it is more expensive than the regular manual garden sprayer.
Best Battery-Operated
Best Compression Sprayer: Vivosun 1.35 Gallon Pump Pressure Sprayer
A pressure sprayer makes use of compressed air to push the spray through a nozzle tip on a spraying wand. The Vivosun pump sprayer is the best in the pressure sprayer category because its simple design makes usage convenient. 
Its adjustable rod and high-quality nozzle can adjust water spray intensity. Also, Its 22.28-inches long spraying wand with a 50-inch hose allows you to easily reach higher heights. This also helps you keep your distance while spraying plants.
The Vivosun pump sprayer is suitable for spraying plants, pet bathing, and other cleaning solutions. It comes with a heavy-duty shoulder strap that allows you to easily carry it during usage. You can easily pull its safety valve which helps to release any built-up pressure before refilling.
Best Compression Sprayer
Choosing the Best Garden Sprayer: What To Look For
There are, of course, thousands of gardens of sprayers available for sale, the good ones and the bad ones as well. So the real question is how do you get the best garden sprayer? We've answered that question and put up a few things you need to consider before purchasing a garden sprayer.
Materials
Yes, it is important to consider the material a garden sprayer is made of. We'd recommend a sprayer made with a polyethylene material like our best overall product. This material makes the sprayer super durable and lightweight at the same time. Sprayers made with polypropylene would also get you value for your money.
Usage
There are different garden sprayers to suit your various needs. You wouldn't want to go for a handheld sprayer when you want to spray your whole lawn. A battery-operated sprayer would be your best option as this would save you time and stress. 
Nozzle-Plating
A lot of people complain about having issues with their sprayer's nozzles. We found out that 70% of them had sprayers with plastic or iron-plated nozzles. We'd recommend you opt for brass/nickel-plated nozzles because they don't rust quickly. You can be sure they'll work well even after two or more years of usage with the proper maintenance.
Different Types of Garden Sprayers: Pros and Cons Compared
There are three main types of garden sprayers namely; Battery-Powered Garden Sprayers, Handheld garden sprayers, and Shoulder garden sprayers. 
Battery-powered Garden sprayer: They come with lithium-ion batteries responsible for supplying the energy needed for the sprayer.
Handheld Garden sprayer: Usually smaller, they have smaller capacities and are suitable for indoor usage.
Shoulder Garden sprayer:  They tend to have larger tank capacities and this feature is compensated with two shoulder straps to ease your movement with the weight.
Battery-powered Garden sprayer
Pros
Saves time and stress
Easy to charge and durable.
Cons
Batteries may become faulty
Handheld Garden Sprayer
Pros
Suitable for indoor use
Ideal for small spraying.
Cons
Shoulder Garden sprayer
Pros
Usually comes with larger tank capacities
Ideal for a large lawn
Cons
Using shoulder straps can be stressful
They can be very heavy.
Verified Reviews: User Experience
Users often complain about leakage. One user said "leaks all over my hand". This problem often comes from the wrong assembly of product parts. If the nozzle is not properly fitted to the tank, leakage is expected to occur during usage. A solution for this is to carefully read the manual while assembling the products and ensure the tight-fitting of components.
Conclusion
After reading through our review, you should be able to make an informed decision about choosing a garden sprayer that suits your needs. But if you are still indecisive, why not choose from one of our top picks? We've done detailed research to make a list of the best in each category for you.
The 6 Best Garden Sprayers For Your Home, Garden, and Lawn FAQs (Frequently Asked Questions) 
How do I maintain my garden sprayer?
Make sure you clean your sprayer with clean water after every use and store it properly.
Do I need safety equipment while using my garden sprayers?
Yes. Please, ensure you wear safety equipment like goggles and gloves while using your garden sprayer.