Legumes, such as peas, lentils, and chickpeas, are found in many dog foods. They add vitamins A, C, and K to foods and help manufacturers boost the protein content without adding more expensive meats. Legumes became more common in dog foods as grain-free foods became more popular; they offer an alternative to helping provide fiber and energy to dogs.
However, some dogs may be allergic or intolerant to peas or other legumes. You may also be looking for a legume-free dog food after finding out that there appears to be a possible link between legumes and Canine Dilated Cardiomyopathy, a heart disease that weakens the heart and may lead to heart failure.
Regardless of the reason behind your search for legume-free dog food, we know you only want the overall best food for your pup. We conducted some careful reviews to put together this list of the best legume-free dog foods for puppies, adults, and older dogs.
Whether you're looking to splurge on your pup or looking for more of a value pick, we think you'll find some great options below! We've also expanded this super-important legume-free dog food list for 2022 with two bonus recommendations that provide all the nutrition your dog needs without any potentially harmful peas, lentils, etc.
What to Look for in Legume-Free Dog Food
Find legume-free food that suits your dog's size, breed, age, activity level, and respective daily caloric needs.
Prioritize foods based on ingredients lists overflowing with real and recognizable foods like chicken, turkey, duck, beef, lamb, and other meats, non-legume vegetables, and possibly whole grains. The fewer fillers the better, because excess fillers essentially mean a food is just 'junk food' for dogs.
If you can also find words like taurine, DHA, EPA, beta-carotene, amino acids, fatty acids, glucosamine, chondroitin, calcium phosphate, and antioxidants in the dog food ingredients, that's a big plus!
The Top Picks for the Best Legume-Free Dog Food: Ranked
#1 Best Overall: Natural Balance Limited Ingredient Diets Grain-Free Dry Adult Dog Food
Best Overall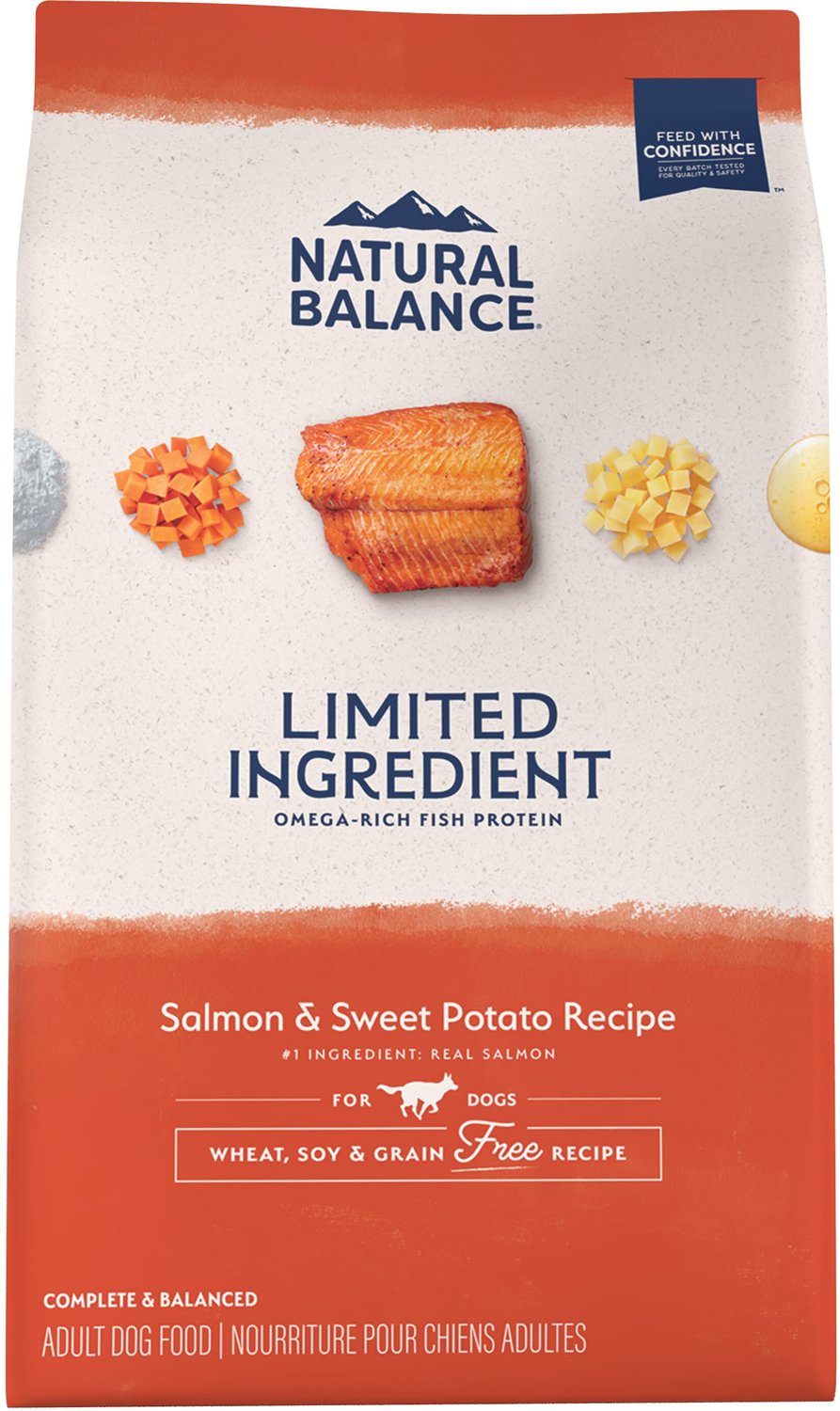 This grain-free salmon & sweet potato dog food from Natural Balance is our number one favorite dog food formulated without any legumes. The first ingredient on the list is salmon, which delivers amino acids to help dogs develop and maintain strong muscles.
Another key ingredient in this dry food is sweet potato, a healthy replacement for legumes. Sweet potato provides healthy fiber and works to support a dog's digestive system. Natural Balance also added omega-6 fatty acid-rich sunflower oil to this recipe to improve a dog's skin and coat.
There are no poultry by-product meals, fillers, artificial preservatives, artificial colors, or artificial flavors found in this dog food. The ingredient list is quite limited compared to many other brands, making this a good option for dogs who may be dealing with other allergies as well.
If you're looking for the best value for the money, choose the 24-pound bag, but you can also purchase a 4-pound or 12-pound bag.
#2 Best for Puppies: Stella & Chewy's Freeze-Dried Raw Dinner Patties
Best for Puppies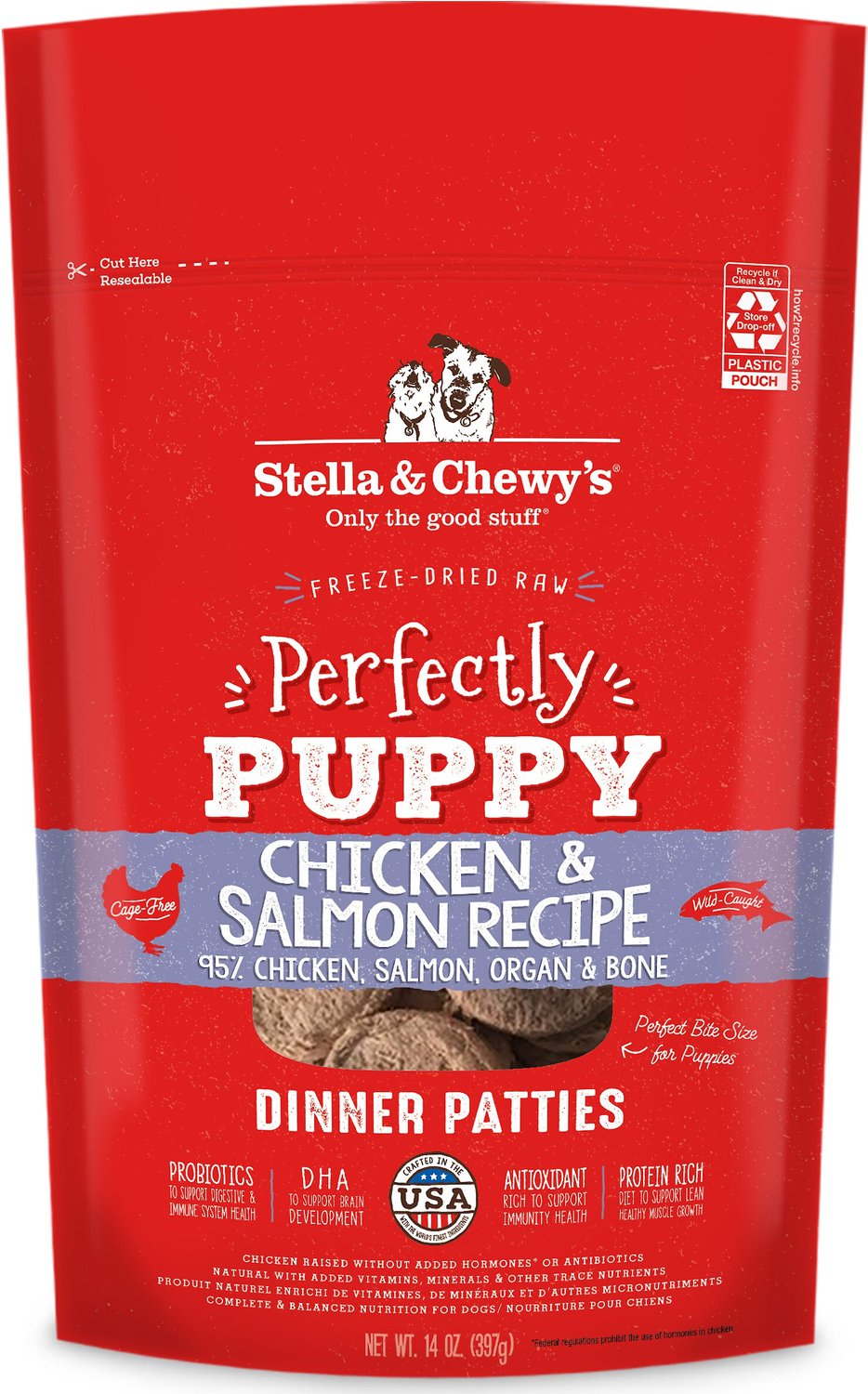 All of Stella & Chewy's foods for puppies and adults are legume-free. Puppies will almost certainly love these tasty freeze-dried raw dinner patties that the company produces in small batches. The patties are formulated with 95% meat, organ, and bone to help ensure dogs get the essential and healthy protein they need.
This bag is formulated to meet the needs of puppies. It includes guaranteed levels of DHA, L-carnitine, and vitamin E to ensure a puppy grows and develops properly. Additionally, chia seeds promote healthy skin, and a healthy coat. Alongside these omega-providing chia seeds, you'll find other superfoods in the ingredients list.
Some of the other benefits associated with feeding your puppy this freeze-dried raw food diet include improved digestion, allergy relief, healthy gums and teeth, a healthy immune system, and improved stamina.
The puppy-formulated patties are available with a chicken & salmon flavor or beef & salmon flavor. 5.5-ounce and 14-ounce bags are both available, but the 14-ounce bag is the best value option.
#3 Best Wet: Inception Wet Dog Food
Best Wet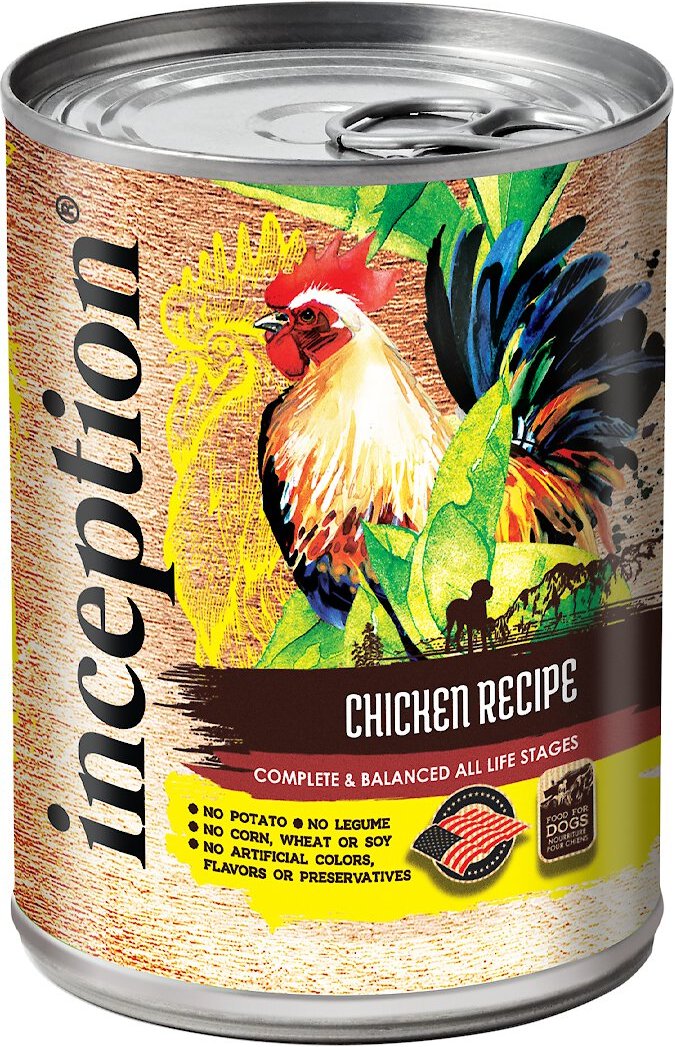 Finally, if you'd prefer to feed your dog wet food, this legume-free option from Inception is a great choice. The food is excellent for all life stages, making it a great choice for puppies, adults, and older dogs. Four tasty flavors are also available to allow you to choose your pup's favorite or feed them a variety. The flavors include chicken, chicken & pork, fish, and pork.
The first two ingredients on each can of wet food are animal protein to ensure your dog is getting its nutritional needs met. All Inception foods are legume-free. They also do not contain any potatoes, corn, soy, wheat, artificial colors, artificial flavors, or artificial preservatives.
Additional healthy ingredients that are fortifying this food include essential vitamins and minerals, antioxidants, and omega-3 fatty acid-rich flaxseed, oats, and millet.
#4 Best Grain-Free: Stella & Chewy's Wild Red Stew – Grain Free, Protein Rich Wet Dog Food
Best for Seniors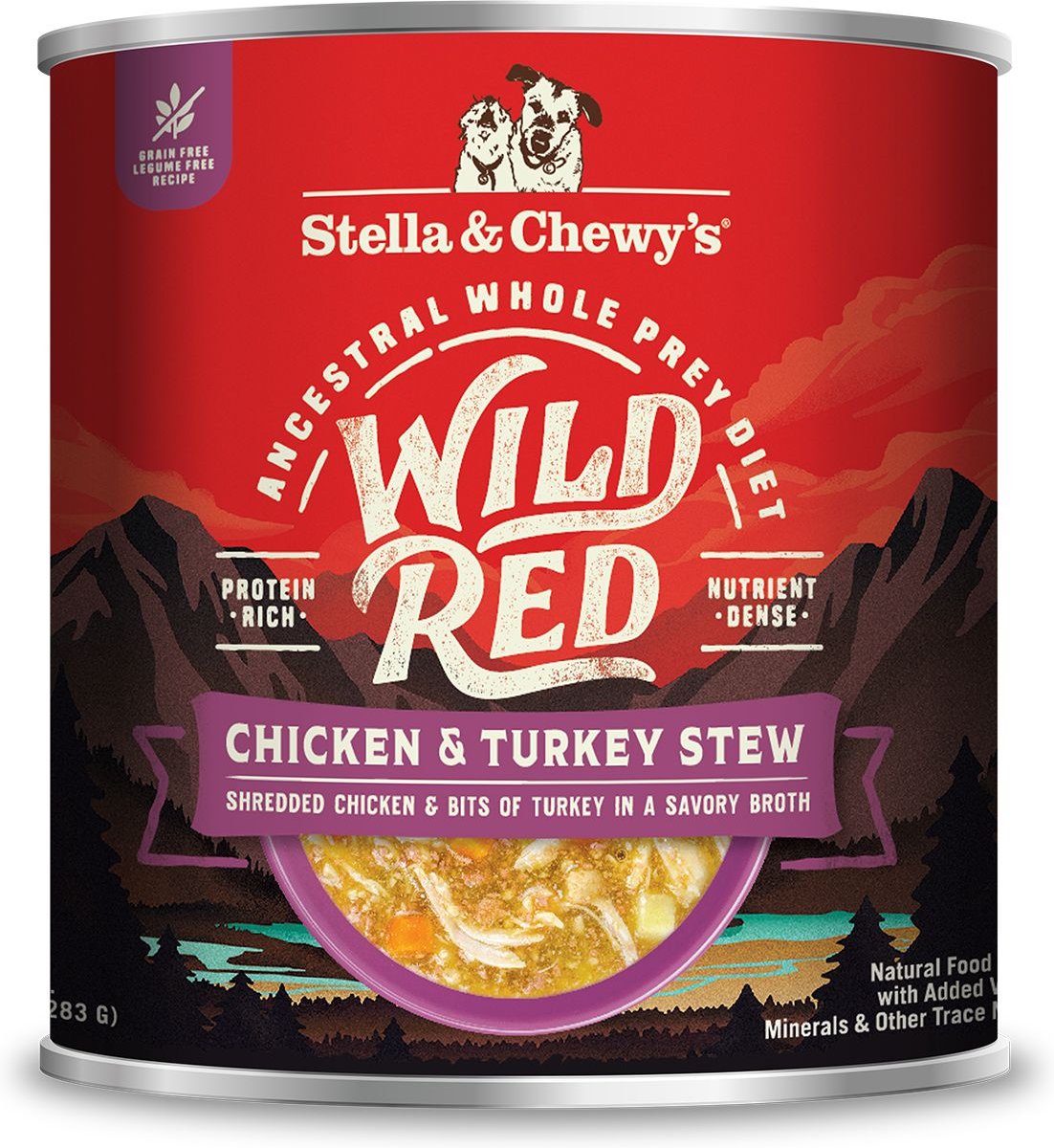 We've got another high-quality, grain-free wet food suggestion from Stella & Chewy. You can rest easy knowing that 96% of the protein comes from real, trusted animal sources.
Not only will you feel good about serving this stew to your canine family member, but it'll be an easy switch when your dog tastes the bold flavor from real, quality chicken and turkey.
He or she won't even notice the abundance of health-supporting nutrients. The ingredients list also names pumpkin carrots, biotin, beta-carotene, and vitamins A & E for eyes, skin, and coat, B12 for the immune system, and plenty of other sources of antioxidants and digestion support.
#5 Best High-Protein: Stella & Chewy's Wild Red Dry Dog Food Classic High Protein Wholesome Grains Recipe
Best Overall
That's right, Stella & Chewy made the list yet another time. This dog food may not be grain-free, but unless your dog has a specific grain allergy or intolerance, it's still a perfectly wholesome low-carb recipe.
That's because you won't find any unnecessary or nutrient-lacking fillers in this dog food. These ingredients do not have any legumes or artificial colors, flavors, or preservatives. Just real, high-protein meat ingredients with calcium phosphate and glucosamine for bone and joint health.
Plus this food has omegas, vitamins E, A, B12, and D3, zinc, iron, taurine for heart health, and more.
This formula is ideal for dogs of any size, breed, and age, including puppies. The careful balance of nutrients provides plenty of nourishment for optimum digestion, joints, heart, skin, and coat.
Check out Stella & Chewy's Wild Red Dry Dog Food Classic High Protein Wholesome Grains Recipe here.
Why Choose a Legume-Free Dog Food?
Legumes commonly used in dog foods include peas, chickpeas, lentils, fava beans, soybeans, and kidney beans. When used in the right ratios, legumes can be a good addition to dog food. They provide healthy nutrients, protein, fiber, and carbs.
However, many manufacturers overrepresent legumes, which means a larger percentage of the food's protein comes from legumes than animal protein. High-quality animal protein is essential for dogs, so when a dog food contains too many legumes as filler to 'water down' a food, dogs are missing out on the hands-down most important macro-nutrient for dogs' health.
This is known as ingredient splitting. You may not always be able to tell that the majority of the protein in dog food doesn't come from animal protein, since the first ingredient may still be meat. But, when manufacturers add multiple different legumes of split the pea ingredients into categories such as pea protein, pea fiber, pea starch, and pea flour, it pushes the ingredients further down the list. However, the cumulative amount of legumes is still too high.
Another potential reason to avoid legumes in dog food is due to a possible link between peas and other legumes and heart disease. Some reports from the FDA have suggested that legumes in dog food may lead to Canine Dilated Cardiomyopathy. This form of heart disease causes a dog's heart to weaken and become enlarged. Eventually, it can result in heart failure. Desperately-needed research is still on this topic is still ongoing, as there is no conclusive evidence tying legumes to this heart disease, just a potential link.
Alternative Ingredients to Consider
If you'd like to avoid legumes, there are other ingredients you can consider whether you're looking for food for puppies, adults, or older dogs. You may find these ingredients in both wet and dry foods as well.
Squash, Especially Pumpkin
Squash is very nutritious. They can help a dog's digestive system and contain many vitamins and nutrients that contribute to healthy eyes and skin. Pumpkin is the most common squash igredient in dog food, but there are a few foods that feature other squash vegetables such as acorn squash or butternut squash. However, since pumpkin often pairs with peas in dog food, finding legume-free food with pumpkin isn't always easy.
Starches
Starches are another alternative to consider. Sweet potatoes, which are particularly nutritious, are a popular choice for many dog owners looking to avoid legumes. Sweet potatoes are high in vitamin A, iron, and calcium.
Potatoes and tapioca are other starches you may find in dog foods, but they are not as nutritious as sweet potatoes.
Whole Grains
If you're not concerned with keeping your dog on a grain-free diet, choosing food with whole grains may be a good option. Whole grains are healthier than selecting food with highly processed grains. Some good whole grain options include whole oats, brown rice, and millet.
Best Legume-Free Dog Food Summary
| Rank | Best For | Product |
| --- | --- | --- |
| #1 | Overall | Natural Balance Limited Ingredient Diets Grain-Free Dry Adult Dog Food |
| #2 | Puppies | Stella & Chewy's Freeze-Dried Raw Dinner Patties |
| #3 | Wet Food | Inception Wet Dog Food |
| #4 | Grain-Free | Stella & Chewy's Wild Red Stew – Grain Free, Protein Rich Wet Dog Food |
| #5 | High Protein | Stella & Chewy's Wild Red Dry Dog Food Classic High Protein Wholesome Grains Recipe |
Up Next…
The Best Dog Food for Shedding– Not sure why your dog is shedding too much? Read about possible reasons why and potential solutions in the form of dietary changes!
Best Dog Bowl Stand– Find out why elevating your dog's food during meals can be a helpful trick!
The Best Freeze-Dried Dog Foods– Discover how a raw, freeze-dried diet can be an easy way to max out your dog's nutrition and mealtime enjoyment!
Last update on 2022-09-27 / Affiliate links / Images from Amazon Product Advertising API
Important Review: Consider the Best Legume-Free Dog Foods in 2022 FAQs (Frequently Asked Questions) 
What dog food does not have legumes?
There are a variety of different dog foods that are made without legumes. If you are not sure whether a food has legumes, check the ingredient label. Some of the most common legumes found in dog foods include peas, lentils, kidney beans, soy beans, fava beans, and chickpeas. Our overall top pick for the best dog food without legumes was Natural Balance Limited Ingredient Grain-Free Salmon and Sweet Potato. We also liked Stella & Chewy's Freeze-Dried Dinner Patties for Puppies and Inception Wet Dog Food.
Are legumes bad in dog food?
Legumes are actually quite nutritious. They include carbohydrates, fiber, and protein and can help a dog get many of the vitamins and minerals they need. This is true when legumes are properly balanced with other ingredients that dogs need, especially high-quality meat proteins.
However, some dog food companies don't properly balance legumes with other food. Legumes are often over-represented in a dog food, preventing dogs from getting sufficient animal protein.
Some have also suggested a link between legumes in a dog's diet and developing Canine Dilated Cardiomyopathy, a heart disease.
Why are legumes bad for dogs?
Overall, when added in proper ratios, legumes can be beneficial for dogs. They add fiber, carbohydrates, and protein. However, when manufacturers use legumes to take the place of more valuable animal protein, they can prevent dogs from getting what is most important to them.
Some dogs may be allergic or intolerant to legumes. As with any other allergens, if this is the case for your pup, you'll want to avoid feeding them foods with chickpeas, peas, lentils, or other legumes.
While more research is still needed, the link between legumes in dog food and the heart disease Canine Dilated Cardiomyopathy is also concerning. This disease can cause a dog's heart to become weakened and enlarged, which can eventually lead to heart failure.