Key Points:
The size of the nail trimmers you choose should fit the size of your pet for optimum results.
You don't want to perform a dull cut on your pet's claws. Find a set of nail clippers that can be easily sharpened, such as ones made of stainless steel. With a grinding tool, this won't even be a concern.
Safety is important with any sharp objects. Find a pair of clippers with a safety guard, especially if children live in your home.
There are two major types of class trimmers: the plier style and the drill style. Both have their pros and cons, so research which you'd like to invest in. If your dog is easily spooked by loud noises, for example, the plier style may be best for you.
While many pet owners believe that keeping your furry friend's nails clipped is to prevent them from scratching people and furniture in your home, there's actually much more to it than that. Some people prefer to keep their pet's nails short to prevent accidents, but did you know it impacts their overall health? 
Ever had an ingrown toenail? It can be painful and a hassle to get taken care of. Your pet can have something similar occur if their claws get very lengthy. When cats, dogs, guinea pigs, and other animals have nails that are too long, they begin to curl into their paw pad and will eventually need to be handled by your vet. There are even more downfalls of having long nails: damage to your floor and the potential to hurt your child or other pets in the home. There are numerous reasons why your pet should keep its nails trim.
Thankfully, there is a myriad of options on the market when it comes to nail trimmers for pets. We've tested a variety of products and found the top four that beat out the competition. Here, you will find drill options, plier clippers, and even some with an LED chargeable light. Let's take a look at the best pet nail trimmers available today! 
A-Z-Animals Top Picks For Pet Nail Trimmer
Choosing the Best: What to Look For
There are a handful of things we want you to be aware of when comparing one product to another. It doesn't matter if you choose the ones we reviewed or if you pick something completely different. Take a look at these essential features of the best pet nail trimmers. 
Size 
Ask yourself what type of pet are you using the trimmers for. Do you have a Shih Tzu that needs a little trip to the salon to get her nails done or are you working with a fussy cat that can't seem to stay still? 
It's best to get a size that works with the pet you have. For example, small clippers won't be able to handle the tough nails of a large dog. If you have a variety of pets of different sizes, you may opt for a grinding option that will curtail to all.
Sharpness 
The last thing you want is to buy a pair of trimmers that doesn't have a blade sharp enough to cut through your pet's nails. If they're too dull, they can end up splitting the nail or leave a rough edge. Aim for a stainless steel blade that can be easily sharpened when needed. 
Safety guard 
Lastly, for pet owners that don't have a lot of experience trimming animals' nails, consider buying a trimmer with a safety guard. This is also a great option for families that have kids in the house. When not in use, the safety guard can be applied to prevent an accident.  
The Different Types of Pet Nail Trimmer: Pros and Cons Compared
Now that you know about the different types of pet trimmers, let's take a look at the pros and cons to give you an even better idea of what you'll need for your furry friend. 
Drills: Drills are a great option for people who don't have a ton of experience cutting nails or your pet has a bit of anxiety when it comes to having their nails cut. The main downside of nail drills is that they can be bulky and a little loud for some users. 
Pliers: Pliers are the traditional way to cut your pet's nails. They have several safety features and are easy to use. Be sure you get the right size or you run the risk of not properly cutting the nails. 
Our Criteria: How We Chose the Best
When it comes to choosing the best nail trimmers for your pet, we put a lot of thought into choosing safe products that get the job done in the simplest manner. One of our favorite styles was the popular plier-style trimmers. What we found great about these is that they don't require too much pressure, unlike some drills and grinding options, and they don't make much noise while trimming. Both pressure and a loud noise may startle your pet and cause him to be uncooperative. They are also very sharp, which means you should be able to get the job done in just a few clips. Always keep in mind, though, that if you don't know what you're doing, seek a professional to help.
As for the Dremel and grinding options, we were amazed at how easy, quick, and efficient these tools were. The main issue with these is getting your pet accustomed to it. But with lots of rewards and patience, your pet can get comfortable and let you buzz away. We love how even on the high setting, it wasn't as loud as we expected. It only takes about 5-10 seconds per nail on this setting, which is super fast. One of our choices even comes with an LED light to help you see your pet's claws while you trim them. The light comes with a charger so that you can always be prepared with the appropriate lighting to give your pet a manicure.
#1 Overall Best Pet Nail Trimmer: Safari Professional Stainless Steel Nail Trimmer
Out of all of the choices you have for a pet nail trimmer, consider our winner, ranking overall best: the Safari Professional Stainless Steel Nail Trimmer. If you're looking for a single trimmer that has everything you need to get the job done, this is it! 
It has durable, sharp blades that will help shorten even the toughest nails. There's a safety stop that provides guidance and can help new pet owners feel more comfortable trimming their own animals' nails. 
The Safari trimmer comes in two sizes, and it won't break the bank to buy a pair or two. One of the features we love is the non-slip grip on the handles. There is a tension spring to make the process go smoothly with each cut. 
Overall Best
#2 Best Pet Nail Trimmer Drill: Dremel Pet Nail Grinding Kit
Whether you're a new pet parent or you're just new to cutting your feline or pup's nails, a grinding kit can make it a lot easier. You'll have more control than a traditional set of plier trimmers.
The Dremel PawControl Dog Nail Grinder is a great choice for numerous reasons, including the fact that it's cordless and incredibly lightweight. If you have a variety of pets in your home, you'll appreciate that this nail grinder comes with several useful accessories. 
You can quickly charge the PawControl grinder by using the USB cord included. The battery lasts around three hours per charge. 
Best Drill
#3 Best Pet Nail Trimmer With Light: Casfuy Dog Nail Grinder
Dark nails can be hard to work with, even if you have great eyesight. It's crucial to be able to see the quick on each nail to know where you can safely cut. We chose the Casfuy Dog Nail Grinder because it has a handy built-in LED light.
This light helps to illuminate your pet's nails, making it much easier and safer for you to cut their nails. At the top, you'll find a diamond grinding wheel that does most of the work for you. There are two different speeds available and the cap is removable to trim the nails of larger animals, such as a Mastiff. 
Like the option above, this lit nail grinder charges via USB cord and lasts about three hours per charge. 
Best With a Light
Casfuy Dog Nail Grinder
Has a handy built-in LED light
Light helps to illuminate your pet's nails for easier cutting
Has a diamond grinding wheel
Has a USB cord included for easy charging
Check Amazon
#4 Best Budget Pet Nail Trimmer: Millers Forge Nail Clipper 
Last but certainly not least, let's talk about a budget-friendly option that will cost you just over $6. The Millers Forge Nail Clippers are perfect for touching up your furry friend's nails. You'll find convenient plastic grippers on the handle to give you more control.
The blades are made with durable stainless steel and there's a spring-loaded mechanism for safety. Speaking of safety, pet owners love the safety lock that keeps the blades closed when not in use. 
This nail clipper comes in two different sizes and is best for medium to large-sized dogs. If you're looking for clippers for your cat, small dog, or rabbit, consider another option from the reviews above. 
Best Budget
Summary of the Best Pet Nail Trimmers
| Rank | Best For | Product |
| --- | --- | --- |
| 1 | Overall | Safari Professional Stainless Steel Nail Trimmer |
| 2 | Trimmer Drill | Dremel Pet Nail Grinding Kit |
| 3 | With Light | Casfuy Dog Nail Grinder |
| 4 | Budget | Pet Nail Trimmer: Millers Forge Nail Clipper  |
Related Images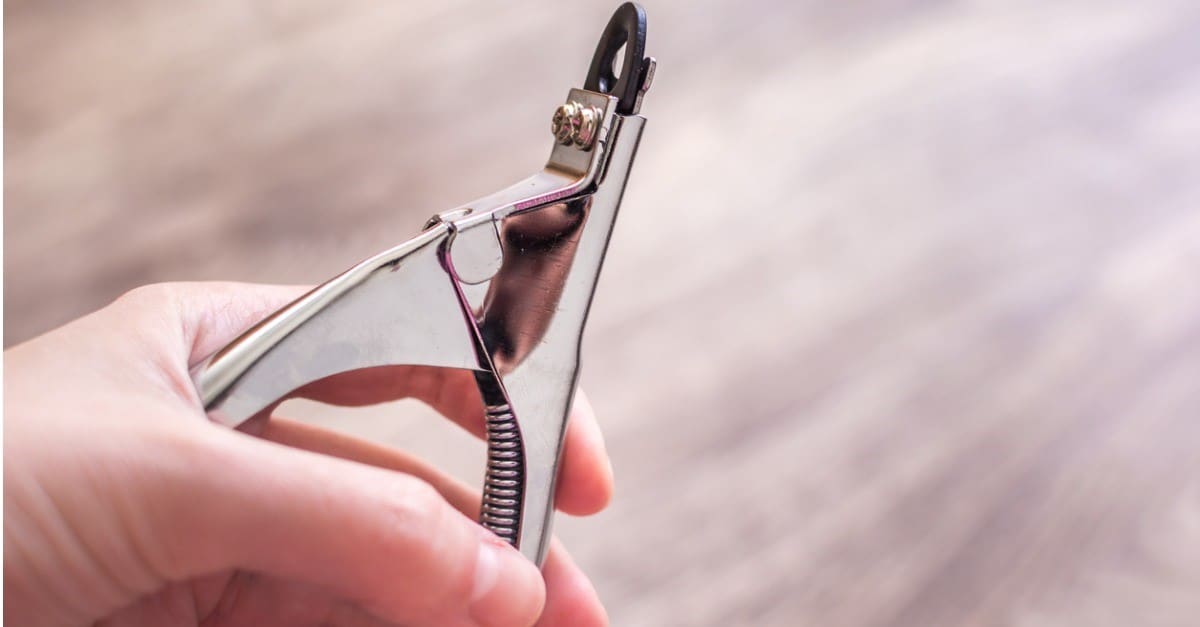 Up Next
The Best Pet Nail Trimmer for 2022 – Reviewed and Ranked FAQs (Frequently Asked Questions) 
Can you cut your dog's nails with human nail clippers? 
You might question if you can use your nail clippers on your dog if you don't have any canine nail clippers available. It's possible, especially with puppies and cats, but we advise against making it a habit.  "Human nail clippers are more likely to split the nail than scissors or plier trimmers kinds due to the pressure distribution.
Are nail clippers for cats and dogs the same? 
If your animals are of comparable size, you may use the same nail clippers on both cats and dogs. Small nail cutters are required for cats, and tiny clippers are frequently suitable for pups and small breed dogs. If you have a larger dog, though, you'll need larger clippers, as cat nail clippers can fail to cut down thick nails.