Boo! Halloween would be incomplete without a cute, friendly ghost. If you're looking for the perfect costume for your pup this Halloween, why not dress them up as a ghost? Whether you're looking for an adorable and lovable ghost costume, a pop culture reference, or a frightening ghost costume for your pup, you've come to the right place.
We have reviewed some of the best ghost costumes on the internet to help you find exactly what you're after for trick-or-treating with your pal. Check out these best dog ghost costumes! Because we've even added some new recommendations to this list to include more of the best ghost outfits for dogs so you can be ready for Halloween 2022!
Our Criteria
At A-Z Animals, we think being experienced pet parents is a big deal. We know what it's like to raise puppies into dogs, so we know what features go into a product that works versus a product that doesn't work.
So we researched some top-rated dog ghost costumes to narrow down our list of favorites, delving deep into product descriptions and customer reviews in search for the most important characteristics. Here are a few of our observations/likes and dislikes for when you're shopping for your dog's Halloween costume this year:
Fabric
First of all, the costume should consist of the right fabric. It should be soft, lightweight, and breathable so you're dog doesn't feel uncomfortable.
If your dog is feeling suffocated or overheated while walking around in an outfit, he or she is almost definitely going to become preoccupied with doing everything possible to get that outfit off. Can't be mad at that, right?
Another point is that the fabric should be stretchy. That way, it can maintain a snug fit without being annoying to get on and off, and it won't be too loose or need constant adjustment.
Size
Ideally, the best dog costume should come in as many sizes as possible so that no pooch feels left out due to being too big or small to dress up as a ghost for Halloween.
The availability of different sizes is one thing, but another important factor is the accuracy of the sizing scheme. There should be an accurate chart to show the customer how precise measurements of their dog's body will translate to the various sizing options.
You don't want to go through the trouble of taking your dog's measurements and ordering the perfect ghost outfit only to be stuck right before Halloween sending the product back for a better fit. No fun!
Design
The design of a dog costume plays a big part in its level of safety for your dog as well as whether it's a breeze to use and wear or causes a fuss.
Obviously, the costume's design shouldn't interfere with your dog wearing their collar and leash safely. It also shouldn't have any sections that could unsafely tangle around your dog's neck or legs or any small parts that could come off and become a choking hazard.
Cute Factor
Ultimately, the whole point of dressing your pup up for Halloween is fun! You want to have a good laugh about how sweet and funny (or spooky) your buddy looks in their trick-or-treating threads.
More importantly, you want your dog to have a fun time, too! The right costume will stay comfortable and unobtrusive all night so your dog is having the time of their life at your party or a journey around the neighborhood enjoying pets and treats!
The Top Picks for the Best Dog Ghost Costumes: Ranked
#1 Best Overall: Petitebella Ghost Dog Dress
Best Ghost Costume
This ghost costume from Petitebella is our favorite dog ghost costume, because it will make your dog the cutest ghost anyone has ever seen. The black and white costume is designed like a dog dress with black and white colors. The ghost's face, which goes over a dog's back, features a wide-opened, surprised mouth with large black eyeballs. The cute skirt has black and white stripes and is adorned with a small black bow.
The cotton material of this dress-style costume means that it should feel soft and comfortable against a dog's skin. It is also lightweight and a much better option for warmer climates than many other heavier costumes.
With seven different sizes available, you should be able to find the perfect fit for your pooch. The seven sizes (X-small, small, medium, large, X-large, XX-large, and XXX-large) fit dogs with a chest girth between 11.4 and 27.5 inches, a neck girth between 7.1 and 16.5 inches, and a back length between 7.5 and 21.3 inches.
#2 Spookiest: Coomour Dog Ghost Hoodie
Spookiest
Looking to dress your pup up as a creepy ghost? If so, this ghost costume from Coomour is perfect. The costume is designed like a large shirt with a hoodie to go over a dog's head. The white shirt features a spooky ghost face print on the section that will be over a dog's back.
There are seven size options available: X-small, small, medium, large, X-large, 2X-large, and 3X-large. These sizes will accommodate most dogs weighing between 2 and 23 pounds. You can consult the manufacturer's sizing table to find the exact size based on your dog's chest, neck, and back measurements.
We think your dog will find this costume comfortable to wear. It is crafted using natural cotton which is quite soft. When needed, it can also be easily washed in the washing machine or by hand.
#3 Funniest: Rubie's Ghostbusters Movie Pet Costume Jumpsuit
Funniest
If there are ghosts around, somebody better put a call into Ghostbusters. Your dog can come to the rescue in this jumpsuit costume from Rubie's, which is inspired by the movies.
The costume includes a light orange-colored jumpsuit with the Ghostbusters' log on the sleeve. An inflatable backpack is also included to make sure your dog can go bust those ghosts!
Choose from small, medium, large, and X-large sizes for dogs who weigh between about 6 pounds and 45 pounds.
#4 Best for DIY and Versatility: Ellie Dog Wear Adventure Zip Up White Dog Hoodie
Best DIY
Okay, we know this one isn't exactly a ghost costume per see. But honestly, some of the ghost costumes for dogs we found seemed to be annoying, strange-looking, or kind of a rip-off, so they didn't make the list.
If that classic ghost costume we all think of is just a sheet with some holes cut out, we thought it was a cool idea to just throw on a white hoodie! Think about it, you could have lots of fun putting your very own ghost face design on the back with non-toxic fabric paint or markers, or sewing on pieces of fabric.
Better yet, if you want your dog to be able to wear their new, white hoodie year-round instead of just one night, you could velcro on some black fabric pieces to make a ghost face, and just take them off when Halloween is over! (Just make sure your dog doesn't get ahold of them).
This is a quality hoodie your dog will feel great in, and it even has a pocket for stashing Halloween treats!
#5 Best for Small Dogs: Pet Dog Ghost Halloween Shirt
Best for Small Dogs
A lot of dogs simply hate wearing clothes, especially if it's something more detailed with a skirt, hood, long sleeves, etc.
But even some fussy, clothing-averse dogs may be able to tolerate the simpler design of this ghost face dog t-shirt for Halloween.
There's an easy-to-follow sizing chart to help you select the right size from XS to L. We like the uniquely-textured interlock fabric that looks almost iridescent for a cool, ghostly effect.
Our favorite part of this outfit is that the fabric and construction are comfortable for dogs to wear, and that the shirt is easy to take on and off. You can also machine wash this item as long as you use the gentle cycle.
Unfortunately, our least favorite thing about the ghost shirt is that it really only comes in sizes that would fit small/toy breeds, so a Great Pyrenees or even a Frenchie will have to miss out on this one.
Choosing the Best Dog Ghost Costume
We know it can be challenging to decide which ghost costume to purchase for your dog. We put the brief buying guide together to help identify important features that may help make your decision a little easier.
Fit and Adjustability
Ensuring a good fit is essential. Two things can help you accomplish this goal. The first is to pay attention to the sizing chart provided by each manufacturer. These charts should include a range of check and neck sizes, lengths, and weights that should fit in each costume size. Compare the information from the chart against the measurements you take of your dog to select the right size.
Another feature that can help with ensuring a proper fit is choosing costumes that are adjustable. Some costumes may include Velcro straps or other features that will help you provide a more tailored fit to your dog's body.
Ease of Use
You don't want to purchase a costume that is going to be overly challenging to put on your dog. Look for styles that go on easily and will come off easily when your dog has had enough.
You should also pay attention to how the costume is designed to see if you'll be able to easily use your dog's leash or harness under the costume. This will make sure you're able to keep your dog leashed and safe while they're dressed up.
Hazards
Small parts on a costume can be a choking hazard for a dog. As you're deciding which ghost costume to purchase for your pup, you may want to avoid any that have any small attached pieces that a dog could chew off and choke on. This can be even more important if your dog is known for chewing up things.
Style/Design
Finally, you'll need to decide what type of ghost design you'd prefer for your dog. Do you want your pup to look cute, scary, or somewhere in the middle of the two? Pay attention to how each ghost costume looks as you're shopping.
Related Images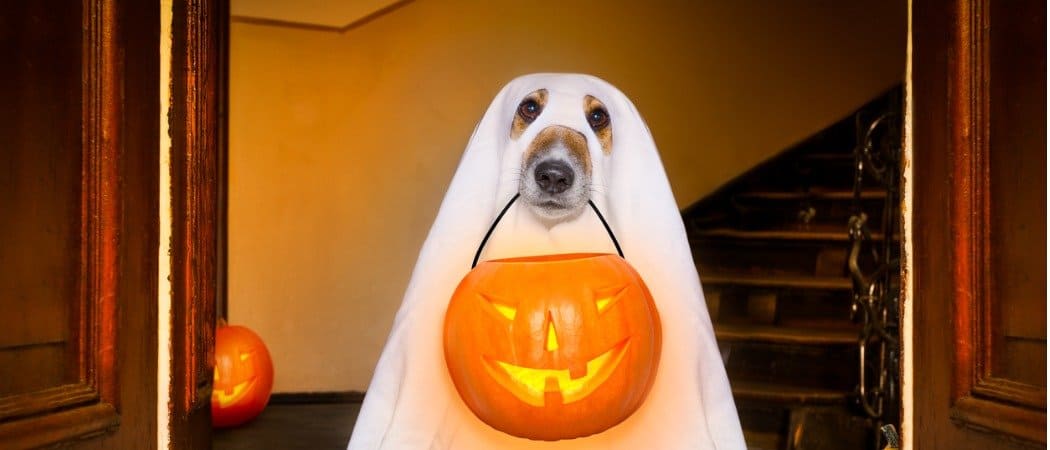 Best Dog Ghost Costumes Summary
| Rank | Best For | Product |
| --- | --- | --- |
| #1 | Overall | Petitebella Ghost Dog Dress |
| #2 | Spookiness | Coomour Dog Ghost Hoodie |
| #3 | Laughs | Rubie's Ghostbusters Movie Pet Costume Jumpsuit |
| #4 | DIY and Versatility | Ellie Dog Wear Adventure Zip Up White Dog Hoodie |
| #5 | Small Dogs | Pet Dog Ghost Halloween Shirt |
Up Next…
Shop the Best Dog Ghost Costumes for 2022 FAQs (Frequently Asked Questions) 
Is a cute ghost or a scary ghost a better costume for a dog?
This is up to you. Would you prefer your dog to look scary or cute? Also, think about the event you're dressing your dog up for. Are you bringing him or her trick-or-treating with small children or to a costume party where only adults will be in attendance?
Are costumes dangerous for dogs?
Costumes aren't inherently dangerous for dogs, but anything can pose a potential threat. Some costumes may include smaller pieces that dogs could tear off and choke on. Bulkier costumes could get stuck on furniture, bushes, or other items, making it difficult for a dog to move.
With these potential dangers, it is always a good idea to watch your pup when he is wearing his costume. This will allow you to step in quickly if you see anything that may be threatening his health or safety.
How can I tell if my dog likes wearing a costume?
If your dog seems to be acting normally in his costume, it is likely a sign that he is enjoying it or at least not distressed by it. If your dog runs away from the costume, barks or growls at it, tries to get out as your putting it on, or paws at it once he is wearing it, it would be a pretty safe bet that he does not enjoy being dressed up.
If you notice any of these signs, don't make your dog wear the costume. Forcing him to do so may only increase his anxiety, which could lead to behavioral problems as well as potential health concerns.
Will a costume irritate my dog's sensitive skin?
Some costumes could irritate the skin, particularly in dogs who already have skin issues. If your dog has more sensitive skin, look for costumes made from cotton or other soft materials that won't rub against the skin and cause further irritation.