Have you ever seen a dog running around with a faux lion's mane framing his face? There's hardly a better, more practical costume for a dog than this, because it allows your dog freedom from constraint of any clothing save that one headpiece, and if matched correctly, your dog can truly look like the king of the jungle! Are you planning on dressing your dog up as a lion this year? If so, then we'd like to assist you in looking for the best dog costume to make your canine look as close to a real lion as possible.
We've reviewed four top lion costumes for small to large dogs. Continue reading to discover our top picks and decide which one is right for your dog.
What To Look For in a Lion Costume
We've put together a short buying guide to help you choose the best dog lion costume for your dog. Every dog is different, and each lion costume is a bit different as well. Using the features outline below to guide your search can help ensure you choose the best option for your pup.
Safety
Safety is paramount when shopping for anything for a dog. When choosing a costume, avoid anything with smaller pieces that your dog could choke on if he or she managed to pull them off of the costume.
Also, while overly bulky costumes are funny and cute, they may not be the safest option for your dog. Dogs could get stuck on furniture and other items in a house or yard if their costume is too bulky. This, obviously, could pose a safety risk for your dog. To keep this from happening to your pup, you should always watch them closely when they're dressed up, regardless of how bulky their costume is.
Materials
Choose costumes made using durable materials that aren't likely to break or tear after just a few uses. You should also look for options that look like they will be comfortable for your dog to wear.
You may enjoy wearing a thick, heavy-duty costume on a cool fall night, but dogs have fur to keep their bodies insulated and a costume that is too thick could cause them to overheat, especially if they wear it out on a warmer day. Try to choose costumes that are made from more breathable materials or ones that feature mesh lining to keep dogs cooler.
Fit
Costume manufacturers include a sizing chart to help dog owners choose the best-fitting costume for their pup. You will need measurements of your dog's neck circumference and chest circumference to compare to the ranges on the sizing chart. You may also need your dog's length and weight. Most manufacturers recommend sizing up if your dog appears to be between two costume sizes.
Design
Finally, consider the design of each lion costume. Many lion costumes are simply a mane to put over a dog's head. This may work well if you have a larger dog whose fur is similar in color to the mane color. However, it may not look very realistic on a dog whose color doesn't match the mane color, like a white dog. The advantage of the mane headpiece is that your dog's body can breathe, and he can run or get frisky without risk of damaging a full-bodied costume.
Small-breed dogs also may not fit well in mane-style costumes, since they have smaller heads, and the lion headdresses are often designed for larger dogs. Choosing a full-body lion costume may be the best option in these cases.
Our Criteria and Experience–How We Chose the Best
When we recommend dog costumes to our readers, we have to take into account the fact that there is no "perfect" costume. Even the best dog costumes can have fit issues depending on your dog's size, breed, and unique features. What we do look for are costumes with fabrics that are safe for dogs, hold up well on the feistiest of dogs, and fit the majority of dogs as intended. And we of course looked for lion dog costumes that are pleasing in the eyes of their beholders.
Our overall best pick is a fine lion headdress made from 90% cotton and 10% artificial wool. It's orangey-brown tone matches wonderfully with the coats of golden dog breeds, but would also do well with brown breeds. One of the things we like about this costume is how easy it is to fit the piece on a dog's head with the elastic adjustable tightener. This mane is a great choice for medium to large breed dogs. We did find the tailpiece the manufacturer includes to be a throw-away item.
We liked the quality of mane #2, made of 100% polyester, which goes well with dogs whose coats vary from white to gray to black. This mane is very easy to slip on dogs and has an elastic string buckle that holds it in place, but some customers complained that the band broke. It's also recommended to gently brush the mane out, as it will look more like a real mane, and take care if washing it–don't use bleach, but something more gentle like Dreft.
The full-bodied #3 costume is about the cutest dog costume we've ever seen! The polyester/cotton costume is one piece that stays in place once you maneuver it onto your pup. We did find the fabric to be thick and a bit stiff. Depending on where you live, a night out in this costume could make your dog hot, so do take that into consideration. We'd also advise checking the sizing chart, but some customers found that sizing up was necessary.
The Top Picks for the Best Dog Lion Costume: Ranked
#1 Overall Best: RWM Dog Lion Mane Costume
Best Lion Costume
This simple lion mane costume can quickly transform your dog from Fido to ferocious. The mane simply slips over a dog's head and has an adjustable elastic strap to ensure a secure fit. It is designed to fit medium- to large-breed dogs with a neck circumference between 15.75 and 30 inches, including Mastiffs, Beagles, Cattle Dogs, Great Pyrenees, and other similarly-sized dogs.
This golden-colored wig looks very realistic. Two ears are also integrated into the design for an even more realistic look. RWM also includes a free tail puff with each mane to make a dog's tail look more like a lion's tail.
RWM used top-quality materials and kept safety in mind when making this wig. It is crafted using non-toxic materials.
#2 Best Black Mane: Onmygogo Lion Mane Wig for Dogs
Best Black Mane
If you have a black dog, choosing a black lion mane can offer a more realistic look. We like this black lion mane from Onmygogo. This mane is available in medium and large sizes and should deliver a good fit for Labradors, German Shepherds, Rottweilers, Hounds, and other medium- to large-breed dogs with a neck circumference between 24 and 31 inches. Lion ears are also added to the mane to complete the look for your pup.
The polyester wig is lightweight to keep a dog from overheating or being uncomfortable. It features a breathable and soft lining for added comfort.
You can easily adjust the fit of this mane by tightening or loosening the drawstring. When needed, the mane can be hand-washed or cleaned in a washing machine.
#3 Best Full-Body Lion Costume: Rypet Dog Lion Costume
Best Full-Body Costume
Manes that go over a dog's head won't work for smaller dogs. If you want your smaller pup to take part in the fun of dressing up as a lion, consider this full-body costume from Rypet. The costume is available in six sizes (extra-small, small, medium, large, extra-large, and extra-extra-large) to fit dogs weighing between 2 and 16 pounds.
This costume is crafted with plush fabric for the body with a polyester fiber mane. It is designed to feel soft and comfortable for a dog to wear.
The design features a hood that pulls up around a dog's head. The hood keeps the mane and lion ears up around the head for a more realistic look. The back of the costume features a tail with a 'lion puff' at the end.
#4 Best Simba Costume: Rubie's Disney Lion King Simba Pet Costume
Best Simba Costume
Who is everybody's favorite Disney Lion? Simba! We found the best Simba Lion Dog Costume for those who want to get specific about the character their dog is going to play. This super-cute costume fits on the two front legs of your dog, features a hood decked in reddish-brown fur with two little ears sticking out, and a lion tail to finish off the end, which straps to the dog's tail.
The costume is available in four sizes including small, medium, large, and extra-large, and fits dogs weighing between 6 and 45 pounds. There's a helpful sizing chart with other measurements to ensure you can gauge the fit properly. This costume is made of soft 100% polyester.
Summary of the Best Dog Lion Costumes
| Rank | Best For | Product |
| --- | --- | --- |
| 1 | Overall | RWM Dog Lion Mane Costume |
| 2 | Black Mane | Lion Mane Wig for Dogs |
| 3 | Full-body | Rypet Dog Lion Costume |
| 4 | Simba | Rubie's Disney Lion King Simba Pet Costume |
Related Images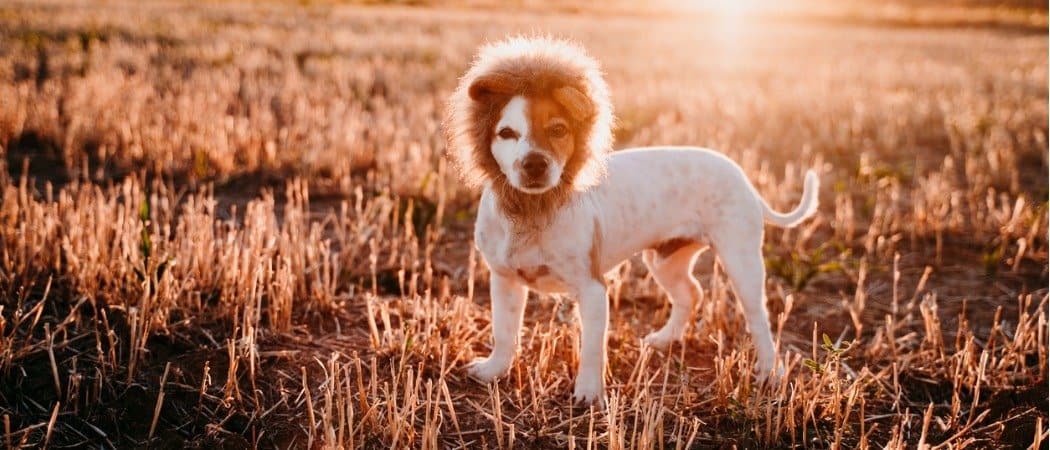 Up Next…
Here Are the Best Dog Lion Costumes: Updated for 2022 FAQs (Frequently Asked Questions) 
How do I know what size lion dog costume to get?
Before you begin shopping for a lion costume for your pup, you will need to take measurements of their neck girth, chest girth, and length. Costume manufacturers should include a sizing guide with each costume to help you select the right fit using those measurements. Some sizing guides may also include a weight range to ensure a proper fit, so be sure to also have your dog's weight recorded with his or her other measurements.
Some lion dog costumes are simply a mane that slips around a dog's head. For these costumes, you may not need measurements at all, since many are designed to be one-size-fits-all, or are only available in a few different sizes for small- or large-breed dogs.
Should I get my dog a full lion costume or just a lion mane?
The answer to this question is a matter of preference. Do you think your dog would be more comfortable wearing a full-body costume or just having the mane around your head? Which look do you prefer?
The answer can also vary depending on your dog's size and color. Most manes will fit a larger dog better than they would a smaller dog. Manes will also only really make your dog look like a lion if they blend in with their fur color. There are manes of different colors available, but not in every dog fur color.
Are costumes safe for dogs?
You should always take care selecting a costume for your dog and avoid purchasing any that include choking hazards or look they may be potentially dangerous. This can be even more true if your dog is known for chewing at things; you don't want them to chew off a piece of the costume and end up choking on it.
Costumes are also bulkier than what does are used to, since they're used to walking around with just their fur coat on. The added bulk may cause a costume, and thus a dog, to get stuck on a bush or something else outdoors or in the house. If this happens, you'll want to be close by to help release your dog. For this reason, you should always closely watch your dog when they're wearing a costume.
Do dogs like wearing costumes?
Some dogs do seem to enjoy wearing costumes, or at least don't seem too fazed by it. Other pups do not share this same opinion. They may run and hide if you try to put a costume on, shake while wearing it, or show other signs of distress or anxiety. If, after trying to put a lion costume on your dog, they appear to be stressed or anxious, you shouldn't force them to wear it. Stress and anxiety aren't good for dogs, and they may lead to other health or behavioral issues.