Fleas may be small, but they're downright terrible. At the very least, they can cause irritation on your dog's skin. But if left unchecked, these parasites can transmit diseases to your dogs such as plague, tapeworms, and typhus. Fleas can even infest your home. While they can't live on human skin, they can still bite you, which can cause itching. 
It's safe to say that neither you nor your dog wants these blood-sucking bugs anywhere around. One of the most convenient ways to prevent as well as treat fleas are to use a flea collar. 
Of course, not all flea collars and tags are created equal. There are different types available. Some flea collars are for prevention (by repelling fleas) while others are for treating an existing problem (kills fleas). With the latter, there are also different types. Some kill only adult fleas while there are flea collars that target eggs and larvae. You'll find collars and tags that contain natural ingredients (hypoallergenic) and ones that use chemical insecticides for fast-acting relief. There are even some that are waterproof. 
Obviously, there are all sorts of flea collars and tags for you to choose from. And the best one for your pet will depend on several different factors including function, size (small or large dog), ingredients, and longevity. To help you make sure that you make the right choice for your canine, we decided to round up the best ones we could find and let you know. 
Plus, for 2022, we added a fourth super gentle and natural flea and tick collar for those who worry about harsh ingredients and their potential reactions in humans and dogs.
When it comes to the prevention and treatment of fleas and ticks, the flea collar that is recommended by A-Z Animals (and most vets) is Seresto. Its two main ingredients are imidacloprid and flumethrin which, as this study shows, is incredibly effective in taking out fleas and ticks. Of course, we couldn't just take their word for it. We had to do some testing on our own.
Based on our experience, this flea collar had no odor at all which makes it ideal for sensitive noses (and we're not just talking about dogs here). Plus, it comes with a non-greasy formula. More importantly, our happy volunteer (one of the doggos of our staff) didn't catch any fleas or ticks after we left him romping around outdoors. 
Of course, flea prevention is not the only thing this collar is good for. According to Bayer, it should be able to kill fleas – both adults and eggs – within 24-48 hours after application. Using a different dog, we did find that it does reduce the number of fleas we could find on his fur within their promised time frame. And none of our volunteers had allergic reactions to the collar while wearing it for several days. So, fast-acting and effective? Check!
Some other things that you need to know about the Seresto collar. It features reflector chips for visibility at night. It comes with a quick safety release mechanism in case the collar is caught on something. Plus, the collar can also treat sarcoptic mange.
As much as we loved this product, we do have to be honest about some of the drawbacks of using the Seresto collar. First is the cost. Compared to other collars in the market, this one costs over $50. It definitely does not come cheap (though well worth the price). The second disadvantage is that this flea collar is only water-resistant, not waterproof. Unless you only let your dog bathe or get wet once a month, the effectiveness of this collar against fleas goes down from 8 months to 5. 
Overall, the Seresto collar receives a huge thumbs up from us. Just keep in mind that Bayer offers two types of Seresto collars. One is for large dogs weighing 18 lbs and over. The other is for small dogs weighing less than 18 lbs. Make sure to read the label before buying.
Click here to check out Seresto Flea and Tick Collar for Dogs
Not everyone is comfortable having their beloved dogs wear a collar containing insecticides. So, for those who want something more natural, we recommend the Sobaken Flea and Tick Collar. Unlike the Seresto collar, this one contains a non-toxic, hypoallergenic formula – specifically spearmint, citronella, and clove. You can't get any more natural than essential oils. 
Now, we must admit that we did find the odor of the collar to be a bit on the strong side. And one of our canine volunteers definitely wasn't a fan of the smell. But if you air it out a bit, as recommended by some users, it can become tolerable. 
As we've mentioned, this flea collar features hypoallergenic ingredients which means they're ideal for pets that have sensitive skin and experience allergic reactions to the usual flea collars in the market. In our testing, we didn't find any rashes or redness on our dog's skin. 
Like the Seresto collar, this Sobaken flea collar is great at repelling fleas and ticks. But it can also repel chewing lice, mosquitoes, and flea larvae. In addition, it provides your dog with protection for 8 whole months. And, unlike the Seresto collar, this one is waterproof. 
The collar comes in only one size, but it adjusts to fit both large dogs and small ones as well as any size in between. You can start using this collar as soon as your pup is 3 months of age.
Take note that this flea collar is great at prevention. But in our testing, it doesn't seem to be as fast-acting as our pick for best overall flea collar. Of course, if you want something 100% natural and a little more affordable, then the Sobaken flea collar is the right one for your pet.
Click here to check out SOBAKEN Flea and Tick Prevention for Dogs
If your pup is actually part fish, then you'll need a flea collar that can handle plenty of immersion in the water. And while we do love Seresto's flea collar, it isn't famous for remaining effective with frequent exposure to water. In fact, exposure to water shortens the effectiveness of the collar from 8 months down to 5 months. Naturally, you'll want something that's waterproof and not water-resistant. And based on our tests, the most effective flea collar that your dog can take with him swimming is the Rolf Club 3D Flea Collar. 
First off, we have to admit that the duration of protection provided by this collar is much shorter than our two other picks. The Rolf Club 3D Flea Collar is only good for 6 months. That being said, it is a solid choice if you want an effective treatment and prevention for fleas, ticks, mosquitoes, and larvae. During our testing, we did find evidence that it can kill fleas and ticks within 48 hours of wearing the collar. There was no smell and residue. 
So, what about the ingredients? Unlike the Seresto collar, this one uses Fipronil,  D-cifenotrin, and Pyriproxifen. According to the EPA, all of these chemicals may be potent insecticides but are generally not going to harm your pets or your loved ones. However, because of the strength of these chemicals, the flea collar is not recommended for use on puppies younger than 12 weeks. Also, make sure that your dog does not have an allergic reaction to the insecticides by checking his skin from time to time. Our lovely lab didn't seem to mind wearing the collar and her skin was a-ok upon checking. We did appreciate that the collar comes in three sizes and all of the sizes are adjustable. Plus, we found the collar easy to put on. 
You'll note that this flea collar is more than half the price of the Seresto collar, making it a lot more affordable than any of our picks. But while it was effective for our labrador, there have been reports that it didn't completely eliminate ticks from some pets. Overall, this flea collar gets our vote as the best option for dogs who love to get wet and pet parents who have a limited budget. 
Click here to check out Rolf Club 3D Flea Collar for Dogs
Some pets and their parents are understandably hesitant about some of the harsh chemicals in most flea and tick collars. Even some natural collars with essential oils can cause adverse reactions in people and dogs.
Luckily, the Arava collar has an ultra-gentle formula of natural oils and herbs that provides months of protection using a special slow-release technology. The company backs this product with a 30-day money-back flea and tick prevention guarantee.
Your family's noses will appreciate the relatively inoffensive scent. Plus it's waterproof, adjustable, eco-friendly, and safe for owners, kids, and dogs with sensitivities. Arava even donates a portion of profits to charity.
Just note that this collar isn't intended to treat preexisting infestations, and you'll see the best flea and tick repellant results if you use this collar alongside Arava's mineral-infused shampoo. And although this collar is one of the gentlest out there, it's always important to pay attention to your dog and regularly check the skin around their neck for any signs of irritation.
Here's where you can find the Arava Flea & Tick Prevention Collar for Dogs & Puppies.
Related Images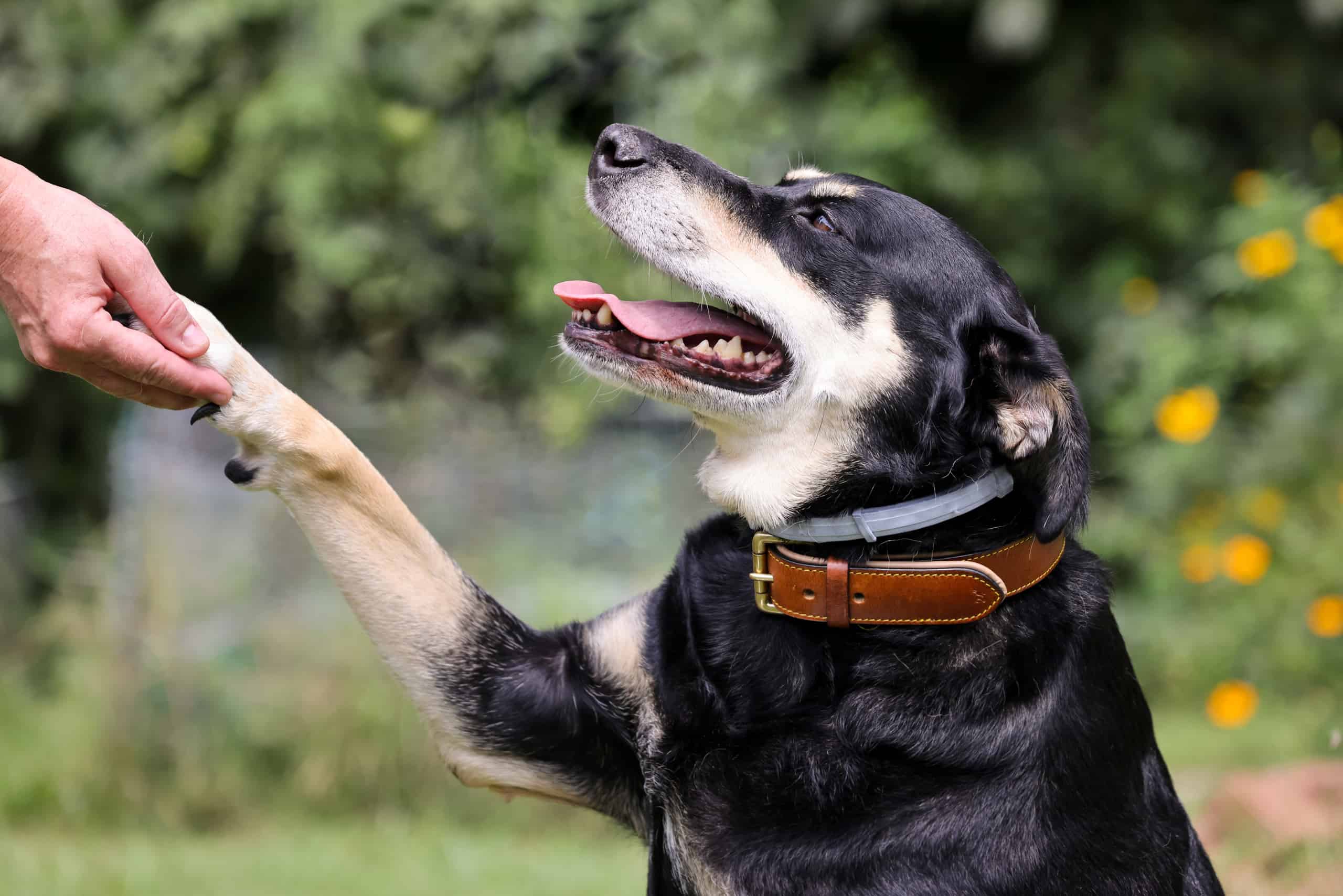 Best Flea Collars for Dogs Summary
Up Next…
The Best Heartworm Prevention for Dogs– Help your four-legged friend steer clear of another kind of nasty intruder!
Best Flea and Tick Treatment for Dogs– From collars to pills to tasty chewables, there are many ways to keep the creepy crawlers away.
Best Dog Training Books– He's already your best friend. But with a little work, you can strengthen the bond and make life easier for you both!
Last update on 2022-05-11 / Affiliate links / Images from Amazon Product Advertising API
Finding the Best Flea Collar: Updated For 2022 FAQs (Frequently Asked Questions) 
What is the most effective flea collar for dogs?
The most effective flea collar is one that not only treats fleas but also prevents an infestation. Moreover, it should also be able to target fleas in various life stages – adult, larvae, and eggs. Another requirement for a flea collar to be effective is how it provides protection to all areas of your dog's body. The collar should be able to distribute the active ingredients throughout your dog's body, not just around the neck and shoulders.
Of course, having the right ingredients is also important. The chemicals used must be fast-acting. In addition, they should also be of zero to low toxicity to your pet as well as humans. Based on one scientific study, the combination of imidacloprid and flumethrin are not only effective insecticides for fleas but also good for killing ticks. Not only that, these insecticides are able to kill fleas and ticks within 24 to 48 hours. Moreover, these ingredients are very low in toxicity to humans, especially when exposed via skin transfer. This is an important consideration since you and your loved ones will most likely be petting your dog throughout flea season and beyond.
Aside from containing effective ingredients, the best flea collar should last a good long while – longer than flea season. In fact, the longer the protection the better. In addition, the most effective flea collar should be easy to apply and not greasy. You don't want to see traces of the insecticide greasing up the various surfaces in your home. As you can see, all the requirements we set for the best flea collar in the market can be met by the Seresto Flea and Tick Collar for Dogs.
What flea collar do vets recommend? 
Before you purchase a flea collar for your dog, it's important that you first talk to your vet. The vet will know what treatment and prevention methods are best for your dog based on the risk of your pet getting fleas and his/her health.
That being said, a majority of veterinarians do recommend using the Seresto collar. This is because it's an effective alternative to topical treatments. Instead of needing to reapply the treatment monthly, pet parents can rest easy for that their doggos are protected for at least 8 months. It's a set-it-and-forget-it solution.
Important note: the EPA is currently investigating a report of a possible link between the Seresto flea collar to almost 1,700 pet deaths that occurred between 2012 and June 2020. However, it has been noted that the EPA has yet to ban or recall the use of the product. Moreover, veterinarians still recommend the Seresto collar because it's both safe and effective.
Do flea collars for dogs really work?
Flea collars are effective in both the prevention and treatment of fleas and ticks. There are two ways that these products work. Older style flea collars emit a gas that is toxic to fleas, killing them when they get into contact. However, this limited the effectiveness of the product because it could only offer protection to areas of the body in close proximity to the collar (i.e. the neck). Modern flea collars, on the other hand, typically contain ingredients that are continuously released from the collar. These ingredients are then spread throughout the dog's body via the natural oils in your dog's fur and skin. Depending on the active ingredient used, the flea collar will either repel fleas or kill them on contact.
It is important to note, however, that in cases of severe infestation, it might be best to use a flea collar along with another type of treatment. Please consult with your vet first before using a collar or combining it with a different type of flea treatment.
More from A-Z Animals