Our pets are family. We love them, but spending a ton on supplies isn't always an option. Luckily, Walmart has a huge pet supply section online. You're bound to find a few great pet products that won't break the bank, available online from Walmart this April.
#1 Best Overall: Greater Goods Digital Pet Scale for Small Animals
For most pet owners, knowing how much their fur (or scale) baby weighs isn't essential. But, if you have one that's been sick or injured, knowing their weight can give you peace of mind. 
Reptile owners often don't have much to go on, and illnesses progress to life-threatening status rapidly. So, many of them keep a scale handy, so they can monitor their weight. It's a tool to help keep their pets healthy.
The Greater Goods Digital Pet Scale isn't just for reptiles. It's for any pet parent who wants to keep track of their small pet's weight. Featuring a "wiggle-proof" algorithm, you'll get accurate weights even with an unruly puppy. It's ideal for animals up to 44 pounds and is accurate within 5 grams.
Customers love the scale and say it's sturdy with an easily read display, and their pets were stable while on the scale. The Greater Goods Digital Pet Scale is our pick for the best pet product this month for its outstanding design and overall usefulness.
Best Overall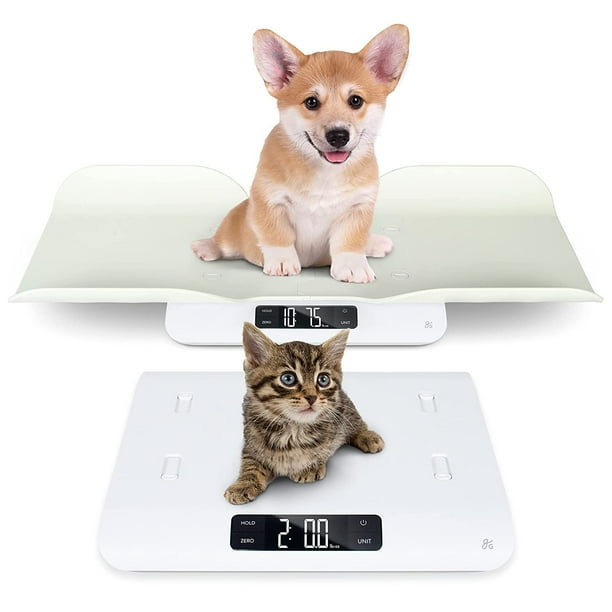 2. Best Dog Product: Nerf Dog Crinkle Wing Duck Launching Fetch Toy 
Fetch-hounds everywhere love toys that let them chase and retrieve like a pro. Pet parents love fetch toys that allow their dogs to run off excess energy. Many, though, want something easy to use that will fly far enough to be fun.
The Nerf Dog Crinkle Wing Duck Launching Fetch Toy is a natural fit. Satisfying dogs' natural prey drive with a crinkling, colorful flying duck that'll stand up to some chewing. 
You can send it flying up to 75 feet without a launcher — it works like a slingshot. A couple of customers mentioned that it was hard on their thumbs, but they're otherwise happy with it. The simple but effective design makes the Nerf Dog Crinkle Wing Duck Launching Fetch Toy our pick for the best dog product at Walmart this month.
Best Dog Product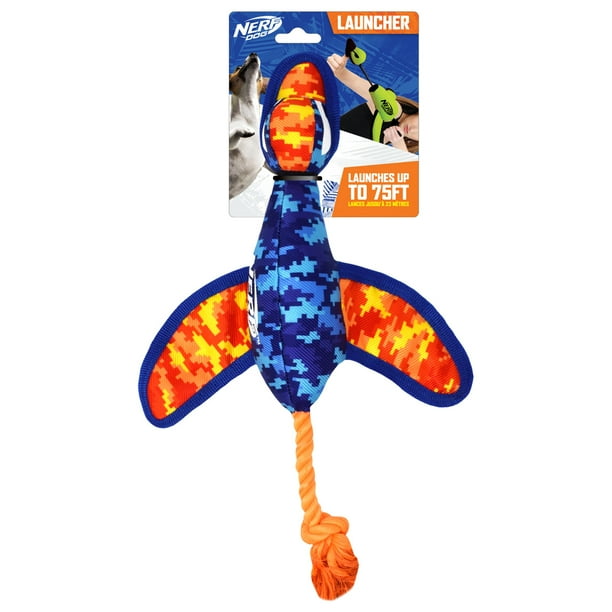 3. Best Cat Product: Pretty Kitty Catnip Cats
Most cats love catnip. They play with it, eat it, and even roll around in it! Lots of cat toy makers put dried catnip in their toys to entice kitties into playing with the toy. Of course, not all cats respond the same way to catnip — some don't care for catnip at all!
Regardless of whether your cat loves catnip, this set is so cute, we had to share it with you. The Pretty Kitty Catnip Cats toy set is a six-pack of four- to five-inch-tall plush cats for your kitty to toss around. Each one is adorable and lightweight enough for cats to play with for hours.
The cute factor combined with catnip fun makes the Pretty Kitty Catnip Cats set our pick for the best cat deal at Walmart this month.
Best Cat Product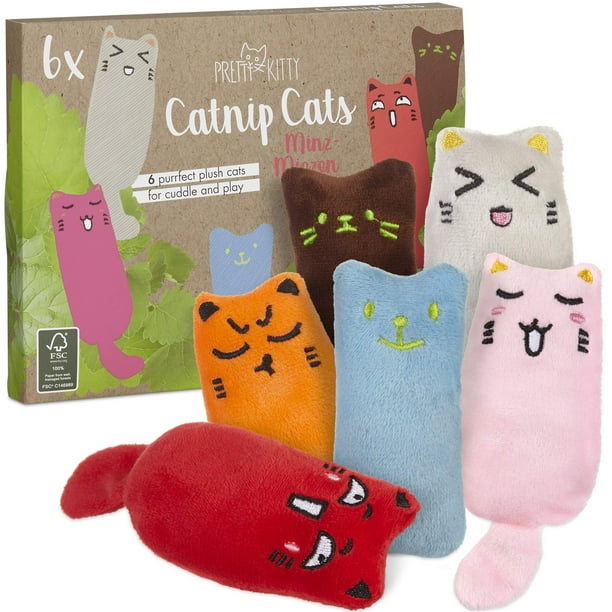 4. Best Product for Reptiles: SunGrow Cholla Wood Decoration
Cholla wood is a versatile material for both reptiles and aquatic animals. It's from the cholla plant, native to the American Southwest.
Cholla's porous nature makes it an ideal addition to an aquarium with turtle residents, because it helps stabilize the water's pH. The various holes naturally present in the wood also make it a perfect hiding place for tiny critters and beneficial bacteria. 
In addition, it's a perfect addition to a desert terrarium! Since the plant grows in desert conditions, your kingsnake will feel right at home. 
SunGrow Cholla Wood Decoration is our pick for the best reptile product this month at Walmart. Its supreme versatility makes it a clear winner.
Best Product for Reptiles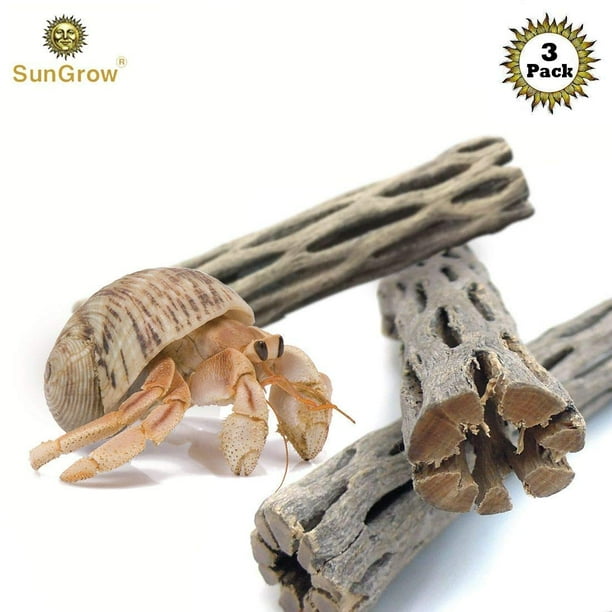 5. Best Product for Small Animals: Visland Hanging Tunnel Hammock
Why do ferrets love tunnels so much? We may never know for sure, but some ferrets are obsessed with them! Ferrets and other little guys that like exploring and digging burrows will love this tunnel hammock. 
The plush fabric is cuddly and soft, making a great hangout for your furbaby. This tunnel comes with ties and clips to hang it from the roof of their enclosure, but you could always it at floor level. 
As you'd expect with a tunnel, there are openings on both ends, but this one has an extra opening in the middle. The thoughtful design makes the Visland Hanging Tunnel our pick for the best small animal product at Walmart this month. 
6. Best Bird Product: Hequsigns Bird Toys 5-Pack
Birds are such smart little creatures! Puzzles and games help keep their minds engaged, so it's important to find a few they like. The best part about this set is they're designed for you to interact with your bird. 
This five-piece set of toys includes a swing, puzzle toy, stacking toy, and basketball. Toys in the set are made from natural wood and non-toxic plastics. 
We love the variety of toys included in the Hequsigns Bird Toys 5-Pack, which makes it the best bird product at Walmart this month. 
Best Bird Product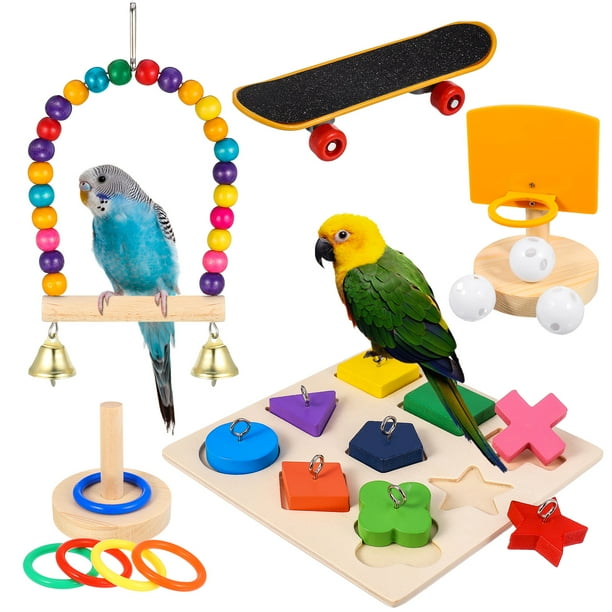 7. Best Horse Product: 10" Jolly Ball Horse Toy
Like other animals, bored horses can be destructive. Horse owners find ways for daily enrichment — from stuffing traffic cones with hay and treats to giving them toys. 
Here's a toy that can help give your horses something fun to do when you can't train or ride. The 10" Horse Jolly Ball is made from tough rubber and comes ready to use. It doesn't need to be inflated and has a handle for your horse to grab. 
The ball comes in several different colors and scents — the choices include peppermint and bubble gum, or just choose your favorite unscented color. The simple design and durable construction make the 10" Jolly Ball Horse Toy our pick for the best horse product this month at Walmart.
Best Horse Product
10″ Jolly Ball Horse Toy, Red
A toy designed to keep bored horses entertained.
Advertised as not needing air for inflation.
The manufacturer promises that the ball will not pop, as it's designed to be durable.
Available in six colors: red, purple, blue, green apple, bubble gum, and peppermint.
Check Walmart
8. Best Product for Fish Tanks: GreenJoy 12-Pack Aquarium Decorations
Fish get stressed easily when they feel too exposed. Small aquatic animals need plenty of hiding places, but adding a lot to aquariums can get expensive.
The GreenJoy 12-Pack gives fish tank owners a great selection. You can either spruce up a current tank or help get a new one established with great decorations. It comes with several plastic plants, a plastic starfish, a resin tree trunk, and a broken barrel. 
They are easy to clean too — just remove each item from the tank during your regular cleaning and spray them off thoroughly.
The company offers several themed decoration packs for fish tanks, so you could purchase several and have them on rotation. They're an attractive and inexpensive option. 
For their affordability and variety, the GreenJoy 12-Pack Aquarium Decorations set is our pick for the best fish tank deal at Walmart this April.
Best Product for Fish Tanks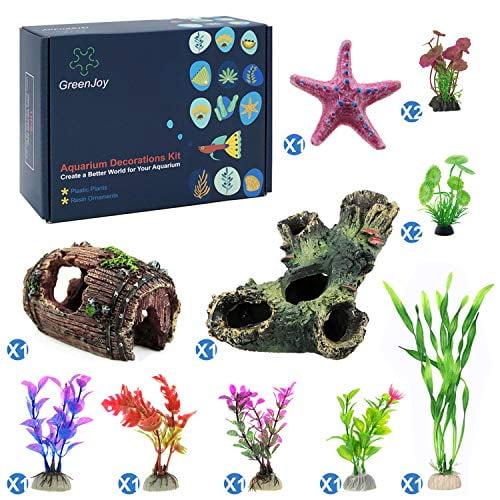 How to Save Money at Walmart
Most prices at Walmart are competitive, so it pays to check them out. If you're shopping online (who doesn't these days?), find their department list and scroll to the pet department. After that, you can select "Deals" to find the best deals
The 8 Best Pet Products at Walmart This April FAQs (Frequently Asked Questions) 
Does Walmart match prices?
Yes, but only if you purchased it in the store, and find a lower Walmart.com price. If you're interested, check with them directly. They have particular requirements for price matching.
What Walmart's return policy?
Walmart has a generous return and refund policy. According to their online policy, they offer returns for nearly everything they sell.
However, marketplace vendors may have different policies.
How much does shipping cost?
Shipping depends on the item and vary. But, orders over$35 are usually free to ship.
If a marketplace vendor charges shipping, it's listed next to the price on the website.
More from A-Z Animals