While the pet department at Costco is smaller than other stores, it never disappoints. You'll find that pet costumes are beginning to appear, so you know we found something super cute for your pooch. Plus, smart home tech has added some fun to the best overall product this September.
Let's take a trip through Costco's pet department! We found four great items that may be perfect for your pets.
The Best Pet Products at Costco in September 2023
#1 Best Overall Pet Product: Dogness Smart Cam Pet Feeder & 2-Liter Fountain Bundle
Smart technology is everywhere now, even in pet products. The Dogness Smart Cam Pet Feeder and Two-Liter Fountain Bundle offer two great products to make life easier. Both items in the bundle have long five-foot power cables. Making it possible to place the items in a more convenient place than right next to the outlet.
The feeder's hopper holds up to six and a half pounds of dry kibble, and the built-in HD 1080P camera records video and stores it online via a cloud subscription. It allows you to listen and watch your pets' antics while you're away from home. The Dogness Smart Cam Pet Feeder's app settings also let you set up a feeding schedule or remotely dispense a meal.
A two-liter water fountain completes the set and keeps fresh water continuously flowing. The fountain has one filter that should last about six weeks before replacing it.
Although the title says Dogness, we think the bundle works great for cats and dogs. One customer said they had trouble with their cat's kibble jamming the feed mechanism, but we suspect that may have been related to the kibble's shape. The fun shapes that some brands incorporate may cause problems.
We love the added smart tech and app connection, making the Dogness Smart Cam Pet Feeder and Fountain Bundle our pick for Costco's best overall pet product this month.
Best Overall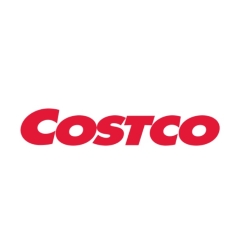 Dogness Smart Cam Pet Feeder & 2L Fountain Bundle
Feed and provide water to your dog with this feeder.
The feeder allows scheduling and monitoring of your pet's meals, even if you're away.
With multiple dispensing wheels, the feeder accommodates large and small kibble.
The water container holds up to 2 liters of water.
Check Costco
2. Best Dog Treats: Zoe Super Bars Salmon Recipe
Your fish-loving dog will love these. Zoe Super Bars Salmon Recipe is available at Costco in a two-pack with two pounds of delicious treats in each bag.
These treats contain salmon, chickpeas, fish oil, and flaxseed and are a great source of omega-3 for your pups. Zoe Super Bars are soft enough to break into smaller pieces or crumble over their dinner.
Convenience and quality make Zoe Super Bars Salmon Recipe our pick for the best dog treat this September at Costco.
Best Dog Treats
3. Best Dog Costume: Teetot Unicorn Dog Costume
Halloween is coming, so of course, the costumes are starting to hit the stores. You know your dog is one of a kind, and now the world will know it, too!
The Teetot Unicorn Dog Costume is perfect for every festive event and features a bright pink sparkly vest with a wide velcro belt and a blue horn with matching wings.
This flashy design is sure to make an impression. The costume has reflective trim and pink velvet with silver star print organza over the top. With a cute factor of 10+, the Teetot Unicorn Dog Costume is our pick for September's best dog costume at Costco.
Best Dog Costume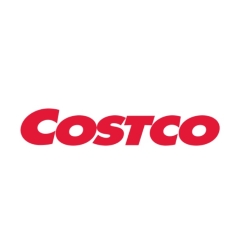 Teetot Unicorn Dog Costume | Costco
A unicorn costume for dogs.
The costume is available in four sizes, from small to extra large.
The reflective stripe trim keeps your dog visible, even at night.
The interior of the costume is fully lined for comfort.
Check Costco
4. Best for Cats: Kirkland Signature Nature's Domain Cat Food
Salmon and sweet potato kitty kibble is calling! Kirkland Signature Nature's Domain Cat Food comes in an 18-pound back, enough to keep your cat fed for at least a minute.
This grain-free formula is perfect for cats with grain sensitivities or who love salmon and sweet potatoes. Kirkland Signature Nature's Domain Cat Food contains probiotics to help keep your kitty's gut happy and healthy. Customers say their cats' coats are shiny, skin allergies seem reduced when eating this food, and they love eating it. Of course, if you're changing from another brand, take your time to switch it slowly to reduce stomach upset.
Quality ingredients make Kirkland Signature Nature's Domain Cat Food our pick for the best cat product at Costco this month.
Best for Cats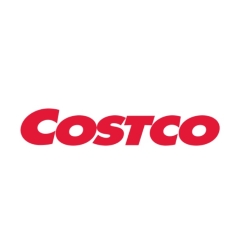 How to Save Money with Costco
Primarily, you'll save money by buying in bulk at Costco — if you have the storage space for bulk items. If you're interested in shopping at Costco, purchasing a membership is absolutely the best way to save money. Although you can purchase some items online without a membership, we don't recommend it. They charge an extra fee to nonmembers, which is their way of encouraging you to buy a membership.
Costco Memberships start at $60 per year, and each member has a second card at no extra charge for a friend or family member to use. So, if Costco's your deal, the membership is worth the money.
The monthly email newsletters offer another way to save money. They'll highlight specials and limited-time offers that members can use.
Costco doesn't accept manufacturers' coupons, but they work with some companies to offer special discounts to members. They advertise the specials in their monthly newsletter, so be sure to keep an eye out for it.
The 4 Best Pet Products to Buy at Costco This September FAQs (Frequently Asked Questions) 
Is pet food cheaper at Costco?
Costco often has discounted pet food, especially since you can purchase it in bulk. However, remember that pet food doesn't last forever. Even kibble will become stale and lose nutritional quality.
Therefore, while it is cheaper to buy in bulk, you should beware of buying more than your pet can eat before it goes stale.
Can you buy pets at Costco?
Costco does not currently sell pets and likely won't in the future, either.
Does Costco carry FreshPet Dog Food?
FreshPet dog food is only available at select Costco stores. Therefore, if you want to purchase the majority of their flavors, you'll have to get lucky and visit a Costco store that has them.
Is Costco a good place to buy dog food?
Costco dog food is a great option for most dogs. Their generic store brand is actually very high-quality and inexpensive. Costco even works with major manufacturers who provide private-labeled foods for Costco. These products are every bit as reliable as the brand name at a much lower price, making it a great way to save money and provide your dog with complete nutrition.