Trying to find the best dog food for your pet can feel like a chore. With so many options available, how do you know which one is right for your pooch? Wholehearted is a brand found in Petco stores and we think they have some great options when it comes to healthy dog food. 
Petco created this private label dog food to help pet owners find a better dog food option on shelves. The brand was launched in 2016 and provides pups with a nutritious meal without breaking the bank.
If you need help deciding which dog food is best for your furry friend, keep on reading! We've included our top four options and an in-depth buyer's guide to help you choose the tastiest and healthiest option for man's best friend. 
A-Z-Animals Top Picks for WholeHearted Dog Food
Overall Best Wholehearted Dog Food: WholeHearted Adult Large-Breed Chicken & Brown Rice
Choosing the best of the best wasn't easy, but we have to give the crown to Wholehearted Dog Food: WholeHearted Adult Large-Breed Chicken & Brown Rice Recipe With Whole Grains Dry Dog Food.
Something that sets this mouth-watering kibble apart from others in this line is the well-balanced selection of ingredients. The first ingredient found in this food is real chicken which is packed full of heart-healthy protein. 
Protein helps your pooch burn fat, have plenty of energy, and stay full for longer. You'll find brown rice as another main ingredient. The grains keep your dog's digestive system healthy and the complex carbs help build muscle. 
This WholeHearted dog food is fantastic for larger dog breeds such as Huskies and Rottweilers. For your convenience, the brand also has a similar selection that has bite-size kibble pieces and added minerals, designed especially for small breeds 
Important ingredients found in our overall best choice are glucosamine and chondroitin. These can help with digestive health and joint function. There's also a healthy dose of omega-3 fatty acids to keep your furry friend's vision, coat, skin, and joints as healthy as possible.  
Overall Best
Petco Brand - WholeHearted Adult Large-Breed
The first ingredient is real chicken
Contains brown rice to keep your dog's digestive system healthy
Contains glucosamine and chondroitin to help with digestive health and joint function
Omega-3 fatty acids keep your dog's vision and coat healthy
Check Amazon
Best Grain-Free Wholehearted Dog Food: WholeHearted Grain Free All Life Stages
There are a few dog breeds out there, such as Pitbulls, that may benefit from a grain-free diet. Grains can cause irritation in a dog's gut and can lead to diarrhea. If you're looking for a grain-free option, the WholeHearted Dog Food Grain Free All Life Stages Beef & Pea Formula Dry Dog Food is our choice. 
Even without grains, this food is packed with plenty of beneficial ingredients. There are omega-3 and omega-6 fatty acids to keep your pup's skin healthy, coat shining, and vision clear. The probiotic strains are designed to improve overall digestive health.
There are also plenty of added minerals and vitamins. This grain-free choice can be fed to dogs of all sizes, no matter their stage of life. There is no wheat, corn, or soy, that could irritate your dog's tummy. It is important to note that the FDA has a warning that grain-free dog food may be linked to dilated cardiomyopathy (DCM) so you should check with your vet to make to make sure that a grain-free diet is right for your best friend.
Best Grain-Free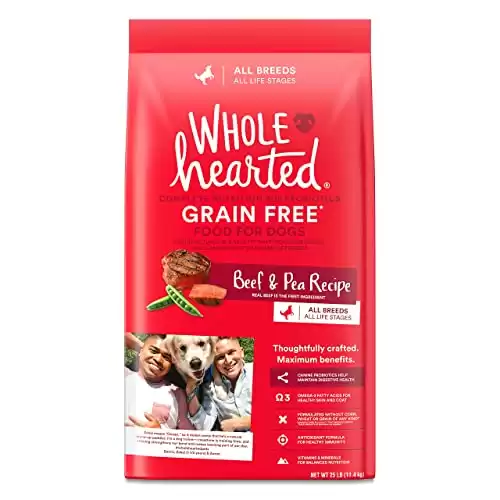 Best Wholehearted Dog Food for Puppies: WholeHearted All Breed Chicken and Brown Rice
If you've brought home a new puppy, congratulations! You're about to start building a beautiful life with man's best friend and feeding them the proper diet is a must! The WholeHearted Dog Food All Breed Chicken and Brown Rice Recipe Dry Puppy Food have everything your growing pup needs. 
Packed with nutrients and well-balanced ingredients, your puppy will easily gobble this down during mealtime. You won't have to worry about harmful additives or unnecessary ingredients. The top two tasty flavors in this food are real chicken and brown rice.
Something unique about this WholeHearted food is that the kibble is specially designed by size and texture to fit a puppy's teeth and jaw. There's DHA to improve cognitive function, probiotics for digestive health, and omega-3s for healthy skin, vision, joints, and coat health. 
Best for Puppies
Best Wet Wholehearted Dog Food: WholeHearted Grain-Free Puppy Chicken and Vegetable
Our fourth pick for WholeHearted dog food is a great choice for senior dogs. The WholeHearted Grain-Free Puppy Chicken and Vegetable Recipe Wet Dog Food has tasty chunks of gravy that your dog won't be able to get enough of. 
It's created for all breed sizes at any age. Many pet owners use wet food to hide medication or to help pups with dental issues. You'll be happy to hear that there aren't any wheat, corn, soy, or grains in this soft dog food. 
One of our favorite things is the antioxidant formula that's beneficial to dogs of all ages. To ensure your pooch has balanced nutrition, there are a variety of minerals and vitamins as well. This WholeHearted food features a tasty and irresistible flavor and smooth texture that your dog will adore. 
Choosing the Best: What to Look For
If you're in the market for new dog food, you might be surprised at what you should be looking for. While things like price play a major role, we've found some of the other features you'll want to keep in mind. 
Real Ingredients
What goes into the dog food is by far the most important factor. Ingredients are listed in order, by weight on the nutrition label. It's common to find the source of protein, such as beef or chicken, at the top of the list. Other key ingredients, such as vegetables may be listed more towards the middle, as they weigh less. 
Glutens and Grains
Many pet owners choose one dog food from another based on the gluten and grain levels. Unlike humans, dogs are professionals at metabolizing carbohydrates and can use them as their main energy source. 
If your pup has GI issues, you will want to consult with your vet about doing an elimination diet to determine what your pup is sensitive to. While most food allergies in dogs are caused by specific proteins in beef, chicken or other meats, it is also possible for dogs to be allergic to grains which would make the grain-free options a great choice. It's rare for a dog to have a gluten intolerance, but if your vet has deemed your pooch allergic to gluten, there are gluten-free options as well. These gluten free options are also a good choice for owners who have celiac disease and want to ensure there is no cross-contamination in the home.
Look for Claims
If you've ever seen dog food with a shocking statement on the side of the bag, you wouldn't be the first. Any statement that has to do with what the food can do or what the ingredients are good for should be backed up by evidence. 
Some statements are as simple as "This food is all your dog needs for a complete and balanced diet." These statements should be backed by certification by AAFCO. Depending on your dog's needs, that quote may or may not be true. It's also important to keep in mind that your dog's age plays a huge role in what type of food will work best for them. Look for the AAFCO designation on your pet's food bag to ensure they are getting everything they need.
The Different Types of Wholehearted Dog Food: Pros and Cons Compared
At this point, you've likely found a couple of options of wholehearted dog food that will work for your pup's diet. To make it even easier, we've included a few pros and cons of each type of dog food that WholeHearted dog food has to offer. 
Standard Dry Food: Their traditional dry food, such as our overall top choice, is a great option for dogs of all ages and contains plenty of nutrients. The main downfall is that it can be too expensive for some pet parents. 
Grain-Free: WholeHearted remains inclusive with their grain-free choice that is a tasty meal for pups with sensitive stomachs or grain allergies. We don't like that grain-free food, in general, has proven to cause heart issues. 
Wet Food: Soft, dog food with tasty cuts of gravy and chunks of meat is highly beneficial for puppies and senior dogs. It's great for hiding treats but can cause digestive issues if given to an adult dog daily. 
User Experience
It's not uncommon for our dogs to tell us whether or not they like food. For example, an Amazon user had this to say about giving her new pooch the Wholehearted dog food (wet) food in our top four: "My puppy has decided this is his favorite. Clean ingredients and puppy love so I'd consider that a win!" 
Grain-Free may have its drawbacks but it can be a lifesaver for many dog owners. Laura couldn't help but sing the praises of the Wholehearted grain-free dog food: "My french bulldog had so many allergies due to food. I have tried endless brands to try and give her some relief. This COMPLETELY CURED HER!!! She no longer itches, has runny eyes, and no more reverse sneezing. Incredible brand and product, I couldn't be happier."
While it's always best to consult your veterinarian if you're concerned about your dog's diet, we suggest asking them their professional opinion on one of the four options we've reviewed above. 
Best Wholehearted Dog Food: These are our top picks for Petco's Wholehearted Dog Food lineup.
| Rank | Best For | Product |
| --- | --- | --- |
| 1. Wholehearted Dog Food for Adults | | |
| | | |
| | | |
| | | |