At this moment, 25% of all life on earth is threatened by extinction. 2021 played host to the most extinctions seen since the establishment of the Endangered Species Act in 1973. What are 22 animals that went extinct in 2021?
Animals have been going extinct at alarming rates because of habitat destruction, climate change, and other human-created calamities. More specialized or localized species are especially vulnerable since it doesn't take as much to wipe away all of their viable living space. Almost half of the species that went extinct in 2021 are from isolated tropical islands in Hawaii and Guam.
Most animals that are declared extinct haven't been seen in a very long time. Some of these species haven't been spotted in one hundred years or more. This is mostly to ensure that a species is truly gone and hasn't merely gone undetected.
What are 22 animals that went extinct in 2021? Let's look at some specifics about the creatures that have recently lived out their last days on our planet.
These are 22 animals that went extinct in 2021:
Bachman's Warbler
Bridled White Eye
Flat Pig-Toe Mussel
Green Blossom Pearly Mussel
Kauai Akialoa
Kauai Nukupuu
Kauaʻi ʻōʻō
Large Kauai Thrush
Little Mariana Fruit Bat
Maui Akepa
Maui Nukupu'u
Molokai Creeper
Po'ouli
San Marcos Gambusia
Scioto Madtom
Southern Acornshell Mussel
Stirrup Shell Mussel
Tubercled Blossom Pearly Mussel
Turgid Blossom Pearly Mussel
Upland Combshell Mussel
Yellow Blossom Pearly Mussel
1. Bachman's Warbler
Warblers are songbirds, and this one lived in swampy woodlands. It spent its winters in Cuba. The rest of the year was spent in Tennessee, Alabama, Florida, Georgia, North Carolina, and South Carolina. It was a small yellow and black bird.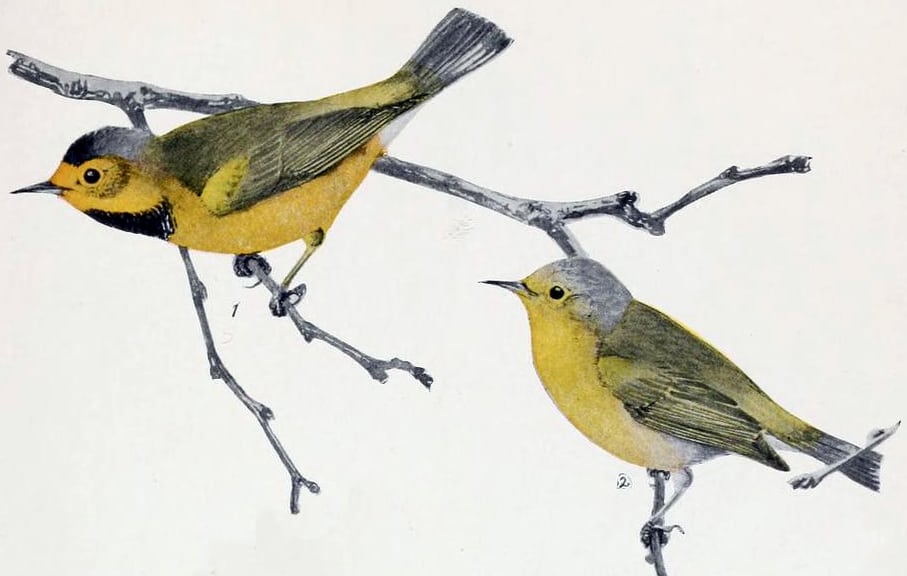 2. Bridled White Eye
Guam is located in the Mariana Islands and its relative isolation over time allowed special animals to evolve there that are endemic to the region. The bridled white eye was one such species. The brown tree snake is an invasive predator and it likely drove this bird to extinction.
3. Flat Pig-Toe Mussel
Freshwater mussels are the most endangered animals in the United States. The flat pig-toe mussel is one of 8 mussels that went extinct in 2021.
As water-filtering animals, they're sensitive to changes in their environment. They were one of around 40 mussels found within their ecosystem before it was artificially altered by the construction of the Tennessee-Tombigbee waterway. This took place in 1984 and destroyed this mussel's habitat.
A reduction in water flow and a dramatic increase in sedimentation caused by the construction of the waterway is what killed this mussel off. The last recorded individual was found in 1984 in Mississippi right before the waterway was finished.
4. Green Blossom Pearly Mussel
Found in very specific parts of Tennessee and Virginia, the green blossom pearly mussel is another of several freshwater mussels that were officially declared extinct in 2021. It was listed as endangered in 1976. It only lived in the Tennessee River above Knoxville near the headwaters.
Scientists have known for decades that human endeavors along specific watersheds were driving mussels like these to extinction. No substantial conservation efforts took place in time to save mussels like these. The last alive individual was seen in 1982 and that had been the first spotting since 1965.
It liked sandy substrates in fast and clear water which was greatly reduced when the river was developed. The insides of their shells were salmon to white. Their outsides were lighter and shiny.
Their last holdout had been the reservoir created by the Norris Dam, one of many dams built on the Tennessee River and its tributaries. They were also in the Clinch River.
5. Ivory Billed Woodpecker
These woodpeckers used to reside in the southern United States and Cuba. They lived in swampy woodlands and they've probably been extinct for some time. There was a lingering hope that an alive individual still existed, but it hasn't been spotted since 1944 in Louisiana.
It is the third largest woodpecker to have existed and it's the biggest woodpecker to have lived in North America. Extinction most likely occurred as a result of logging and bird collectors.
They were easily identified by their large white bill. These woodpeckers used their bill to strip bark from dead but erect trees in their habitat. It loved old-growth forests and used to have a range that spanned 13 states.
Ivory billed woodpeckers are also known as the Lord God bird. That's because the phrasing of this title mimics the excited words of people who saw the bird fly overhead.
6. Kauai Akialoa
Also spelled kaua'i'akialoa, this bird loved high-elevation forests. It was endemic to the Hawaiian Island of Kauai and it was always considered rare. It was a type of bird known as a honeycreeper.
It was last seen in 1967 when it was also listed as endangered. Diseases like malaria transmitted by mosquitos likely aided in the Kauai Akialoa's destruction.
7. Kaua'i'ōʻō
The Kaua'i'ōʻō is another member of the group of honeycreepers that went extinct in Hawaii in 2021. This specific species was endemic to Kauai and lived in the island's lowland forests.
It was mistakenly declared extinct twice in the mid-1900s. One hasn't been spotted since 1987 so it's probably extinct for good this time. That year, the last individual's song was recorded before it disappeared.
9. Large Kauai Thrush
This Hawaiian thrush was endemic to Kauai and known for its irregular song. It could also fly vertically which is a rare feat among birds.
It was a common sight in the latter half of the 1800s, but the usual suspects like disease, predation, and habitat degradation led to their demise. The Alaka'i Wilderness Preserve played host to the last sighting in 1989.
10. Little Mariana Fruit Bat
Brown tree snakes are invasive to the little Mariana fruit bat's habitat which likely drove them toward extinction. Habitat loss and poaching are also major culprits. Its wingspan of 2 feet made it an easy human target. The last sighting was in 1968 in Guam.
11. Maui Akepa
The Maui Akepa was a honeycreeper that lived on the slopes of Haleakala in forests. The last sighting was in 1988 though its song was heard in 1995. It had an asymmetrical bill called a crossbill though no one is sure why.
12. Maui Nukupu'u
This is a Hawaiian honeycreeper that was endemic to Maui. It only lived in the high and wet forests on the eastern part of the island though its historical range probably included a much larger portion of the island.
In 1963, it was "extinct" until it was rediscovered in the 1980s. Some believe it's been spotted since then, but the United States Fish and Wildlife Service believes the spotted birds were Amakihi. Amakihi is common within the same range as the Maui Nukupu'u. 
13. Molokai Creeper
This bird was last spotted in 1963 and it's another example of a newly extinct Hawaiian honeycreeper. It was endemic to the island of Molokai and was last seen in the Kamakou region.
They used to live in low-elevation forests before diseases like bird pox and malaria ravaged their populations. This combined with habitat destruction and invasive predation killed them off.
14. Po'ouli
These birds are endemic to Maui in the Hawaiian Islands and are also called black-faced honeycreepers. They stuck to Maui's east and were first spotted in 1973 but had dwindled to 3 individuals by 1997.
In the early 2000s, 2 attempts were made to capture these last 3 birds. The hope was they would breed in captivity to preserve the species. Efforts failed, and they're now extinct.
The death of a specific tree snail that they loved to eat was a serious blow to their diet from which they may never have recovered. Diseases transmitted by mosquitos and small invasive predators also overwhelmed the Po'ouli.
15. San Marcos Gambusia
The San Marcos River in Texas was the only home of these small fish. They grew up to an inch long. Habitat degradation demolished their numbers and the last individual was seen in 1983.
They gave birth to live young which is a rare trait among fish. They lived in fresh springs at the start of the San Marcos River but these were exploited by humans.
In the 1970s, attempts to create captive stocks of this fish were attempted. However, they hybridized with other fish so no true bred individuals exist.
16. Scioto Madtom
This Ohioan catfish was endemic to the Big Darby Creek. Dams and runoff created an accumulation of silt that irreversibly damaged their habitat. They were last spotted in the 1950s and they became endangered in 1975.
17. Southern Acornshell Mussel
This mussel was endemic to Alabama, Tennessee, and Georgia. It lived in the upper Coosa River and some parts of the Cahaba River. Historically, it may have been in a few more places. This freshwater mussel was also called the southern acorn riffle shell.
Dam construction and dredging are the main factors in the extinction of this specific mussel. No individuals have been found since 1974.
18. Stirrup Shell Mussel
This mussel was endemic to western Alabama and eastern Mississippi. The last intact specimen was found in 1984. Like other mussels on this list, the development of the Tennessee-Tombigbee Waterway killed off the last of these mussels.
19. Tubercled Blossom Pearly Mussel
This mussel only grows in very specific conditions in medium-sized rivers in a small range. When its environment was altered by human activity, its delicate ecosystem vanished and it went extinct.
This mussel lived downstream from the green-blossomed pearly mussel. The mussels on this list are what are known as Cumberlandian mussels. Cumberlandian mussels are freshwater mussels that are endemic to the Appalachian Mountains and the specific river conditions therewithin.
20. Turgid Blossom Pearly Mussel
In the 1980s, the turgid blossom mussel was recognized as a rare freshwater bivalve. It's also known as a turgid riffle shell. It was found in the Cumberland River in Tennessee and rivers found in the Ozark Mountains.
Dam construction has eliminated almost all of the shallow shoals that these mussels lived in. They were last spotted in 1965 before major industrialization took over.
21. Upland Combshell Mussel
The southeastern United States plays host to the Mobile River Basin where the upland combshell mussel historically lived. The story of this mussel mirrors the others on this list as it went extinct when its shallow habitats were destroyed by dams and dredging.
The Conasauga River contained the last live specimen seen in 1988. Many of its previous haunts have been explored, but no sign of them exists. However, many areas of the Upper Coosa River Basin haven't been surveyed and may still play host to these mussels.
22. Yellow Blossom Pearly Mussel
The Cumberland River and the Tennessee River Basin in Tennessee and Kentucky played host to this mussel. It had probably existed in a few other southern states before people started paying attention to it.
It was also called the tan riffleshell or the Curtis pearly mussel. It was sensitive to the pollution and silt caused by industrialization, and like its other relatives on this list, it disappeared after the industrialization of its home range.
Up Next
More from A-Z Animals
---
The Featured Image
---