Adding a new member to your fur family is a big decision. While all dogs deserve loving families, you must consider the needs of the dog and your household. For instance, will your new dog get along with your children and other pets? Is the breed high maintenance or high energy? If you live in an apartment, you may need a smaller, quieter dog. And if you have a large property, you may be thinking about getting a large energetic breed. Let's discuss the key differences between the American bulldog vs. pug, including their appearances, personalities, and health factors.
American Bulldog vs. Pug: A Comparison
| Comparison | American Bulldog | Pug |
| --- | --- | --- |
| Height | 20 to 25 inches | 10 to 13 inches |
| Weight | 60 to 100 pounds | 14 to 18 pounds |
| Coat Type | Short, smooth, no undercoat | Short, smooth, some have undercoats |
| Shedding | Low to moderate | Heavy |
| Drooling | High | Low |
| Colors | White with black, brown, red, or brindle markings | Black or fawn with black masks |
| Temperament | Loyal, confident, eager to please | Sweet, loving, mischievous |
| Barking | Low | Low |
| Energy and Social Needs | High | Moderate |
| Training | Easy | Easy |
| Life Expectancy | 10 to 12 years | 13 to 15 years |
The Key Differences Between an American Bulldog and a Pug
There are four key differences between American bulldogs and pugs: appearance, personality, size, and maintenance. The American bulldog is quite a bit bigger than a pug and differs in appearance. These two dogs also have different personalities. While both are affectionate and loving toward their families, pugs are better with young children. They also have different grooming requirements. Let's dive further into this topic.
Appearance
American Bulldog vs. Pug: Height and Weight
American bulldogs are stocky and athletic, with well-balanced and muscular bodies. They also feature large, broad heads and wide muzzles. Males measure 22 to 25 inches long, while females measure 20 to 23 inches. And they weigh 60 to 100 pounds, with females weighing 10 to 20 pounds less than males. The American bulldog is a descendant of the English bulldog and was traditionally used as a working dog on farms.
Pugs are small and muscular, belonging to the toy group. They are sturdy and barrel-shaped, with wide chests, short legs, and a thickset body. These dogs average 10 to 13 inches tall and weigh between 14 and 18 pounds, making them considerably smaller than the American bulldog. Despite their small stature, pugs were once the lapdogs of Chinese emperors.
American Bulldog vs. Pug: Coat Type and Colors
American bulldogs have short, smooth coats with no undercoats. They are relatively low-maintenance dogs that require very little grooming, only occasional brushing and baths. And they are low to moderate shedders, with an increase during seasonal changes. American bulldogs are white with black, brindle, tan, brown, or red markings. Due to their massive jowls, these dogs produce a lot of slobber.
Pugs also have short, smooth coats. However, non-black pugs have double coats, featuring a soft inner layer and a short outer coat. Black pugs typically have single coats. Pugs come in black or fawn and have black face masks. This breed is a heavy shedder but only requires minimal maintenance. To keep the shedding down, use a rubber grooming mitt at least once a week. These dogs are light droolers.
Characteristics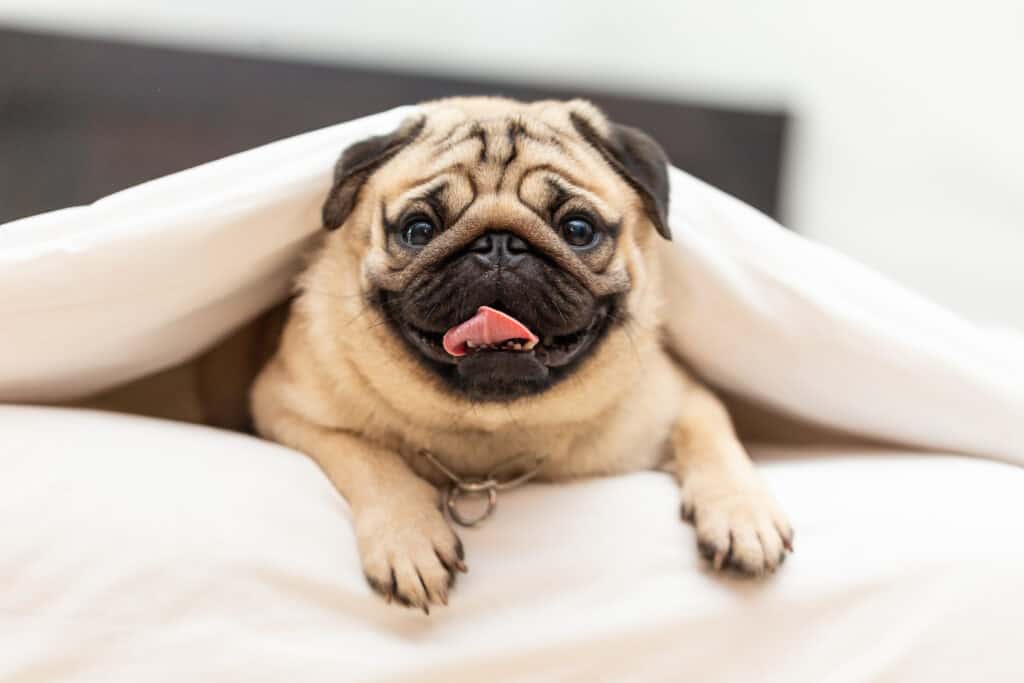 American Bulldog vs. Pug: Temperament and Social Needs
Loyal, confident, and eager to please, the American bulldog is an excellent family pet and working dog. This breed is very affectionate and does better in households with older children and fewer pets. They should be socialized at a young age as they are less likely to be open to strangers. American bulldogs are intelligent and protective of their owners. And they love to play, often featuring a silly disposition. They are a very active breed that requires lots of physical and mental stimulation, such as multiple walks a day. These bulldogs are also easy to train and don't bark very often.
Pugs are sweet, loving, and a little mischievous. They are the ultimate family pet that gets along well with children of all ages and adapts well to other pets in the house. This lovey-dovey breed is best friends with everyone it meets and loves to play. While they are friendly with strangers, they have a protective nature for their favorite humans. Unlike the American bulldog, which has high energy needs, pugs are well-balanced. They have no problem being active but will also lounge around on the couch with you. Pugs are easy to train and only bark to alert.
Health Factors
While American bulldogs and pugs have comparable lifespans, pugs live slightly longer than bulldogs on average.
American bulldog lifespan: 10 to 12 years
Pug lifespan: 13 to 15 years
Let's compare some common health problems these dogs are prone to:
American bulldog common health problems: Hip and joint problems and genetic diseases
Pug common health problems: Corneal ulcers, dry eye, breathing problems, hip problems, and encephalitis
The photo featured at the top of this post is ©
Secure a Lifetime of Wagging Tails: Get Pet Insurance!
Did you know some emergency surgeries for dogs can run upwards of $5,000? Don't put your dog or your wallet at risk! Click the button below to get a free and instant quote on a comprehensive plan for your pup.
A-Z Animals may earn a small commission from using this service.
Ready to discover the top 10 cutest dog breeds in the entire world?
How about the fastest dogs, the largest dogs and those that are -- quite frankly -- just the kindest dogs on the planet? Each day, AZ Animals sends out lists just like this to our thousands of email subscribers. And the best part? It's FREE. Join today by entering your email below.
---