The world of flowers seems to have a flower for every letter of the library, from A to Z. If you want to add some variety to your garden or yard, check out these 25 different wild and cultivated flowers that all start with the last and best letter of the alphabet, Z!
#1 Zabelia (Zabelia sp.)
Zabelia are any of over a dozen species of honeysuckle in the Zabelia genus. They are native to Asia and are also cultivated for garden use.
#2 Zagreb Coreopsis (Coreopsis verticillata 'Zagreb')
Zagreb coreopsis is a cultivar of thread leaf coreopsis, a native North American wildflower. It is a hardy perennial with bright golden yellow flowers that love full sun. It blooms in mounds from late spring into early autumn. This flower is also a good choice for a pollinator garden as it attracts both bees and butterflies.
#3 Zaluzianskya (Zaluzianskya sp.)
Zaluzianskya is a genus of flowering figworts. Zaluzianskyas are all native to South Africa. Their blooms resemble phlox and are known to be most fragrant in the evening, suggesting that nocturnal moths are important pollinators.
#4 Zantedeschia (Zantedeschia sp.)
Zantedeschia is a genus of flowering perennials native to southern Africa. Some species are commonly known as either arum lilies or calla lilies, although they are not true lilies. They are popular in horticulture, with many colorful varieties available.
#5 Zamin Allium (Allium caesium 'Zamin')
Zamin is a cultivar of light blue garlic flower, a herbaceous perennial native to Central Asia. Zamin flowers are prized for their beautiful sky-blue blooms that attract both bees and butterflies.
#6 Zauschneria (Zauschneria/Epilobium sp.)
Zauschneria gets its name from a now obsolete scientific genus which has since been subsumed into Epilobium. However, the name is still in common use, usually for Epilobium canum, also known as California fuchsia. As this name suggests, this species is native to California and surrounding Western states. It is sometimes also called hummingbird flower or hummingbird trumpet, as the bright reddish flowers are especially attractive to hummingbirds. This has made the plant popular in horticulture as well.
#7 Zeba Lily (Lilium 'Zeba')
Zeba lily is a lily cultivar marketed in gardening catalogs as a hardy summer bloomer. The huge flowers are greenish-white with deep red centers and are highly fragrant, making them popular as both ornamental garden plants and bouquet flowers. They also attract butterflies.
#8 Zebra Iris (Iris pallida 'Variegata')
Zebra iris is a cultivar of sweet iris, also known as Dalmation iris (named for the Dalmatian coast of Croatia it is native to, not the dog!). This beared iris variety has showy deep blue and purple flowers with flashes of yellow.
#9 Zebra Mallow aka Zebrina Mallow (Malva sylvestris 'Zebrina')
Zebra mallow is a cultivar of the common mallow, a native wildflower of Eurasia and North Africa which has long been popular as a garden flower. It blooms pretty pinwheel-shaped flowers streaked with raspberry color throughout the summer into autumn.
#10 Zenobia (Zenobia sp.)
Zenobia are native North American flowering shrubs in the genus Zenobia, also known as honeycup. They produce clusters of drooping bell-shaped white blooms.
#11 Zephirine Drouhin Climbing Rose (Rosa 'Zephirine Drouhin')
Zephirine Drouhin is a cultivar of thornless rose first developed in Europe in the 19th century. The blooms are a cheerful cherry pink.
#12 Zephyranthes (Zephyranthes sp.)
Zephyranthes is a large genus of the amaryllis family which is native to the Americas. In addition to at least 200 species, they are popular in horticulture with numerous varieties on the market. Other common names for these garden zephyranthes include fairy lily, magic lily, rain lily, and another Z name, zephyr lily.
#13 Zigadenus (Zigadenus syn. sp.)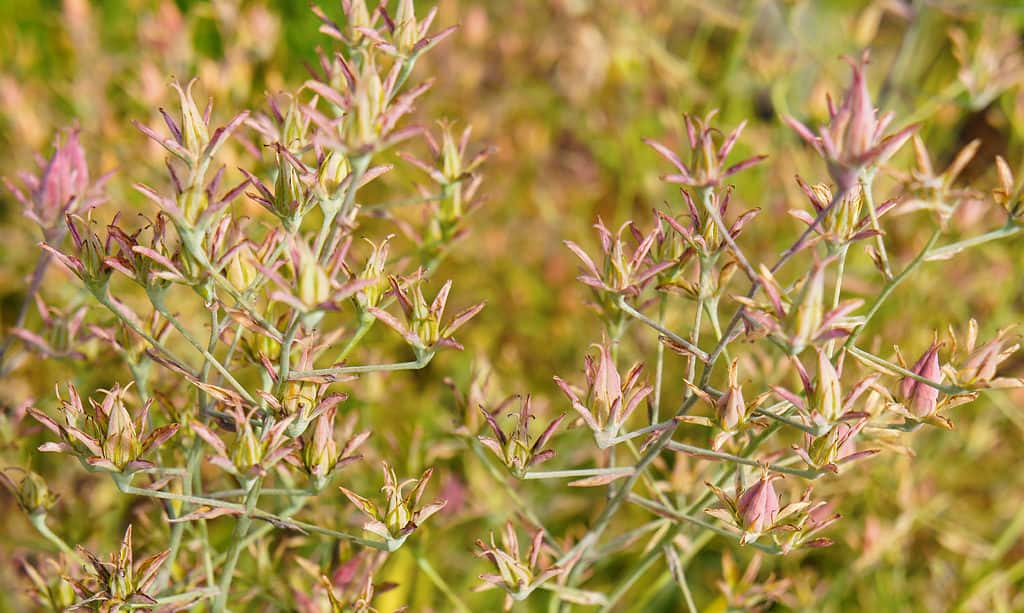 Zigadenus gets its name from a scientific genus that once included about twenty native North American species of flowering plants; however, all but one have since been moved into other genera. The name persists in common use, however, along with a second common name, deathcamas. The latter name refers to their toxicity; the plants can be fatal to both livestock and humans if ingested.
#14 Ziggy Iris (Iris x germanica "Ziggy")
Ziggy iris, aka Ziggy reblooming bearded iris, is a cultivar of german bearded iris. Its flowers feature straw yellow standards, with lavender tinged midribs and streaked plum falls.
#15 Zinfin Doll Hydrangea (Hydrangea paniculata 'Zinfin Doll')
Zinfin doll is a cultivar of panicled hydrangea, a species native to parts of East Asia. This variety boasts blooms that open white then change first to bright pink over the summer, then finally age to a deep reddish pink in early autumn.
#16 Zingaro Dahlia (Dahlia 'Zingaro')
Zingaro dahlia is a decorative dahlia cultivar. Their multicolored flowers are a stunning show of pink, yellow, and plum, providing brilliant blooms from midsummer into autumn.
#17 Zingiber (Zingiber zp.)
Zingiber is the genus that contains the true gingers, native to Southeast Asia, the Indian Subcontinent, and New Guinea. Most famous for their culinary and medicinal value, it's also worth admiring their often unusual flowers. For example, beehive ginger (Zingiber sceptabile) is named for its shape, which resembles a beehive, making it popular as an ornamental plant.
#18 Zinnia (Zinnia sp.)
Zinnias are a tribe of colorful flowering plants in the sunflower family native to the Southwestern U.S., Mexico, and Central and South America. They are also one of the most popular and recognizable cultivated garden flowers, with many varieties on the market in a wide range of colors and flower forms. Both butterflies and hummingbirds also love them!
#19 Zion Osteospermum (Osteospermum ecklonis 'Zion' cultivars)
Zion™ osteospermum is a patented name for a series of stunning African daisy cultivars that include color varieties such as "Zion Copper Amethyst," "Zion Pink Sun," and "Zion Purple Sun." The parent plant is the Cape Marguerite, a wildflower native to South Africa.
#20 Ziva Dahlia (Dahlia 'Ziva')
Ziva dahlia is a specialty cultivar of dahlia with deep cardinal red double blooms.
#21 Ziva Paperwhite Narcissus (Narcissus papyraceus 'Ziva')
Ziva is a cultivar of the paperwhite narcissus, a perennial bulbous flowering plant. The wild species is native to the Mediterranean region; cultivars are sold as popular seasonal "mini daffodils."
#22 Zizia (Zizia sp.)
Zizia are any of three species native North American parsley plants in the Zizia genus. They are also known as alexanders. They produce umbels of bright yellow flowers.
#23 Zoegea (Zoegea sp.)
Zoegea is a genus of flowering herbs native to the Near and Middle East, Central Asia, and the Indian Subcontinent.
#24 Zygocactus (Zygocactus/Schlumbergera sp.)
Zygocactus is a name that comes from the now-obsolete scientific genus Zygocactus, which has since been subsumed into the genus Schlumbergera. However, the name is still in popular use, usually for the species Schlumbergera truncata, also known as Thanksgiving cactus or false Christmas cactus. The wild species is native to Brazil, but it is also sold as a house plant, especially around the holiday season they are named for as this is when they are in full bloom. You can find cultivars with red, orange, yellow, and white blooms.
#25 Zygopetalum Orchid (Zygopetalum sp.)
Orchids in the Zygopetalum genus are native to South America, with most species native to Brazil. Zygopetalum orchids are also popular in gardening, prized for their long-lasting showy blooms of green, purple, and maroon.
Summary of 25 Beautiful Flowers That Start With Z
Name
1. Zabelia (Zabelia sp.)
2. Zagreb Coreopsis (Coreopsis verticillata 'Zagreb')
3. Zaluzianskya (Zaluzianskya sp.)
4. Zantedeschia (Zantedeschia sp.)
5. Zamin Allium (Allium caesium 'Zamin')
6. Zauschneria (Zauschneria/Epilobium sp.)
7. Zeba Lily (Lilium 'Zeba')
8. Zebra Iris (Iris pallida 'Variegata')
9. Zebra Mallow (Malva sylvestris 'Zebrina')
10. Zenobia (Zenobia sp.)
11. Zephirine Drouhin Climbing Rose (Rosa 'Zephirine Drouhin')
12. Zephyranthes (Zephyranthes sp.)
13. Zigadenus (Zigadenus sp.)
14. Ziggy Iris (Iris x germanica "Ziggy")
15. Zinfin Doll Hydrangea (Hydrangea paniculata 'Zinfin Doll')
16. Zingaro Dahlia (Dahlia 'Zingaro')
17. Zingiber (Zingiber zp.)
18. Zinnia (Zinnia sp.)
19. Zion Osteospermum (Osteospermum ecklonis 'Zion' cultivars)
20. Ziva Dahlia (Dahlia 'Ziva')
21. Ziva Paperwhite Narcissus (Narcissus papyraceus 'Ziva')
22. Zizia (Zizia sp.)
23. Zoegea (Zoegea sp.)
24. Zygocactus (Zygocactus/Schlumbergera sp.)
25. Zygopetalum Orchid (Zygopetalum sp.)
---