Though Oklahoma isn't terribly large in terms of landmass, it has a wide range of climates, from the more arid in the western half of the state to humid, almost subtropical areas in its eastern reaches. As a result, it's home to a similarly wide range of plant life, most of which are harmless and decorative. Some are edible and useful, and some, as we'll cover below, are downright toxic or poisonous. Let's take a look at seven of Oklahoma's most dangerous plants, what they look like, and where they grow.
1. Poison Hemlock, Conium maculatum
Perhaps Oklahoma's most common dangerous plant is the poison hemlock, a biennial, herbaceous flowering plant that is entirely poisonous. That's right–every single part of the poison hemlock is dangerous, with its roots and seeds being particularly high in coniine. Coniine is a highly poisonous chemical compound present in the hemlock, and it is a common killer of farm animals like cattle and sheep due to the hemlock's hardiness and wide-reaching range.
Even consuming just six to eight leaves of this plant can kill an adult human. Furthermore, ingestion isn't the only way this plant can harm, as simply inhaling or touching this toxic member of the carrot family can result in poisoning. 
At around 5 to 8 feet tall, the poison hemlock has dark green, finely-divided triangular leaves. Its stems are often flecked with purple and reddish spots. It also produces small, white flowers in small, round clusters, though these flowers are not present until their second year of growth.
2. Castor Bean/Oil Plant, Ricinus communis
It's illegal to intentionally grow the castor bean in Oklahoma due to this dangerous plant's high levels of the deadly toxin ricin. However, it is highly adaptable and hardy and grows and spreads very quickly, meaning you may still stumble upon it in the state if you're unlucky enough. Its exact appearance can vary, but this shrub-like plant can grow to over 30 feet tall. Its long, glossy, toothed dark green leaves range from 6 to 18 inches long, and they often have a reddish-purple tinge. 
According to the Ogren Plant Allergy Scale, the castor bean plant has a rating of 10 out of 10. It isn't only toxic to the touch but also a prominent trigger for allergies and asthma. Its leaves produce lots of very light pollen that can travel long distances. But the most toxic part of the plant is the castor bean itself, with the lethal dose in humans being just four to eight tiny seeds. Its symptoms can linger and worsen for up to a week, resulting in a seriously painful death if left untreated.
3. Lily of the Valley, Convallaria majalis
To be sure, the lily of the valley's elegant little bell-shaped flowers is beautiful, but the entire plant is poisonous if consumed. It's especially dangerous to animals and children, which can sometimes be drawn to its fragrant scent and bright red berries. Though deaths in adults are rare, the plant can be fatal if enough of it is ingested. Symptoms like abdominal pain, nausea, and vomiting are common in most poisonings.
While dangerous if eaten, the lily of the valley is a common ornamental plant in Oklahoma, where it tends to fare best in partial shade conditions. It's also sometimes used in bridal bouquets. Most notably, it was featured in Catherine, Princess of Wales's wedding bouquet in 2011.
4. Foxglove, Digitalis (~20 species)
There are around 20 unique species of foxgloves, and the majority of them are highly toxic. The common foxglove is the most widespread and well-known variety in Oklahoma as well as the majority of the United States. This popular ornamental plant has a tall, flowering stem lined with tiny purple, bell-shaped flowers. It can thrive in a wide range of conditions, from partial to heavy shade and various habitats, though it fares best in more acidic soil.
The main toxin present in the common foxglove is digitoxin. This organic compound can quickly cause cardiac arrest in those who consume it. It also produces a range of other unpleasant symptoms in the meantime, like vomiting, nausea, and a decreased pulse rate caused by irregular heart contractions. Interestingly, though, digitoxin has also been used in medications for treating heart failure.
5. Jimson Weed, Datura stramonium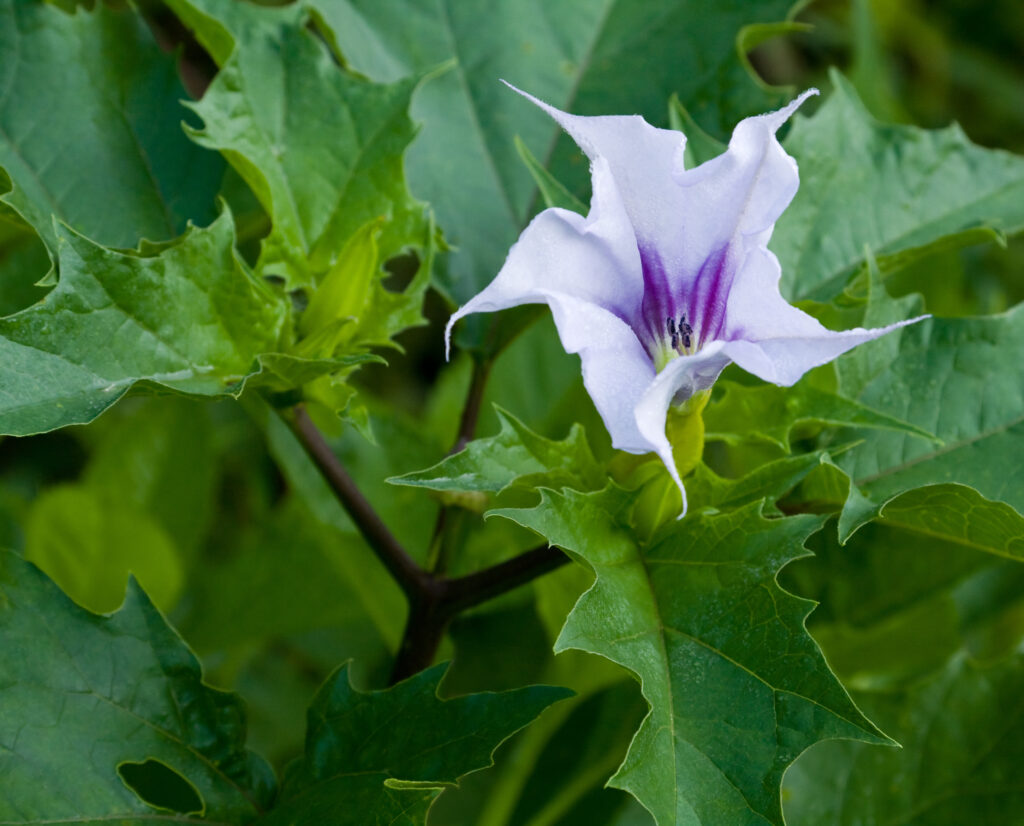 The Jimson weed goes by many unpleasant-sounding names, including the devil's trumpet, the devil's snare, and the thorn apple. It's easily recognizable by its large, horn-shaped white (or sometimes light purplish) flowers and long, toothed green leaves. It usually reaches around 2 to 5 feet tall and grows in the form of a bush. Though its flowers have a very light and pleasant scent, its leaves are extremely bitter and toxic.
Bizarrely, the nature of the Jimson weed's toxicity is a bit different from many of the other dangerous plants in Oklahoma. Every part of the plant, even its lovely flowers, contains high levels of deliriants like scopolamine and hyoscyamine. True to their name, these substances cause hallucinations, delirium, nausea, and unusual behavior in those who consume them. 
While deaths are incredibly rare, those who are unlucky enough to ingest this plant can experience hallucinations and other unpleasant symptoms for up to two weeks. Jimson weed is also highly invasive and hardy, particularly throughout North America's more temperate regions.
6. Jequirity Bean/Rosary Pea, Abrus precatorius
The Jequirity bean is another plant on this list that has acquired many names over the years, including the rosary pea for its common use in jewelry and as rosary beads, and the crab's eye for its seeds' red and black coloration and small, round shape. This climbing plant has small, oblong bluish-green leaves and a slim stem that tends to grow around trees, fences, and hedges. 
Though the rosary pea is native to more tropical regions, this dangerous plant has become highly invasive in more temperate areas like Oklahoma in recent years. Its seeds are commonly used in jewelry and musical instruments. However, under the seeds' thin, hard shells lies a potent toxin, abrin. The toxin produces symptoms similar to the aforementioned castor bean's ricin. These typically start with nausea and vomiting. Over the course of several days, the symptoms can progress to convulsions and liver failure.
7. Atlantic Poison Oak, Toxicodendron pubescens
Another one of Oklahoma's more common (yet fortunately less deadly) dangerous plants is the Atlantic variety of the poison oak. The plant is distributed across much of the state, though it is less common in Oklahoma's southwestern reaches. It's native to much of the eastern half of the United States, as well as parts of the Midwest. Averaging around 3 feet tall, poison oak grows as a shrub and has leaves with three alternating leaflets.
The main toxin present in the poison oak is urushiol. This oily organic compound causes severe skin inflammation, itching, and redness when touched or handled. Symptoms can last for days or even weeks and eventually cause the skin to develop blisters. Clothing that comes in contact with poison oak should be carefully washed, as the toxin can be carried and transferred to others.
Summary of 7 Dangerous Plants That Grow in Oklahoma
| | Plant | Danger |
| --- | --- | --- |
| 1 | Poison Hemlock | Every part is poisonous – roots, seeds, and leaves. Ingesting just eight leaves can kill a person |
| 2 | Castor Bean/Oil Plant | Eight beans can kill if eaten – plant is also toxic to touch |
| 3 | Lily of the Valley | Beautiful to behold yet fatal if ingested |
| 4 | Foxglove | Ingestion can cause cardiac arrest |
| 5 | Jimson Weed | Seldom causes death but hallucinations, delirium, and nausea are side effects |
| 6 | Jequirity Bean/Rosary Pea | Causes nausea, vomiting, convulsions, and eventually liver failure |
| 7 | Atlantic Poison Oak | Causes severe skin inflammation and blisters |
---
The Featured Image
---