Key Points:
Black mambas tend to be significantly loner than green mambas.
Green mambas live by the eastern and western coasts of the African continent, while black mambas reside around the eastern coast and in Central Africa.
Black mambas get up high and use their hoods like cobras in an attempt to appear larger.
Green mambas are usually in the trees and can escape from threats with impressive speed.
While the black mamba vs green mamba is both extremely venomous snakes, there are many key differences between them. But how can you tell these two snakes apart, especially if you aren't sure what their differences are?
Not only do these two snakes belong to the same family or species, but they also live in similar areas as well.
In this article, we will address all of the differences between a black mamba vs green mamba, including their appearances and preferred diets. You may be surprised by how different black mambas and green mambas actually are! Let's get started and learn more about these misunderstood snakes now.
Comparing Black Mamba vs Green Mamba
| | | |
| --- | --- | --- |
| | Black Mamba | Green Mamba |
| Size | 6-12 feet long | 4-7 feet long |
| Appearance | Found in brown, gray, and olive shades with cream or gray underbelly. The insides of the mouth are black and they have a small hood | Vibrant green, yellow, and turquoise in color; slender body and coffin-shaped head. Round pupils |
| Location and Habitat | Africa; woodlands and arid regions, but tends to avoid people | Africa; coastal rainforests and suburban areas in underbrush and thickets |
| Behavior | Extremely venomous but shy around people; uses venom to kill prey. Capable of rising high into the air when threatened  | Climbs trees to eat birds and eggs; content living around humans. Capable of escaping predators quickly, though extremely venomous regardless |
| Diet | Bush babies, hyraxes, birds and their young, mammals, other snakes | Birds, their eggs, small bats, and lizards |
Key Differences Between Black Mamba vs Green Mamba
There are many key differences between a black mamba and a green mamba. The appearance of a black mamba differs in both size and color from a green mamba.
You will also find green mambas in wet forests, while black mambas prefer grasslands and more arid climates. Finally, black mambas take down far larger prey when compared to the dietary preferences of green mambas.
Let's talk about these differences in more detail now.
Black Mamba vs Green Mamba: Size and Weight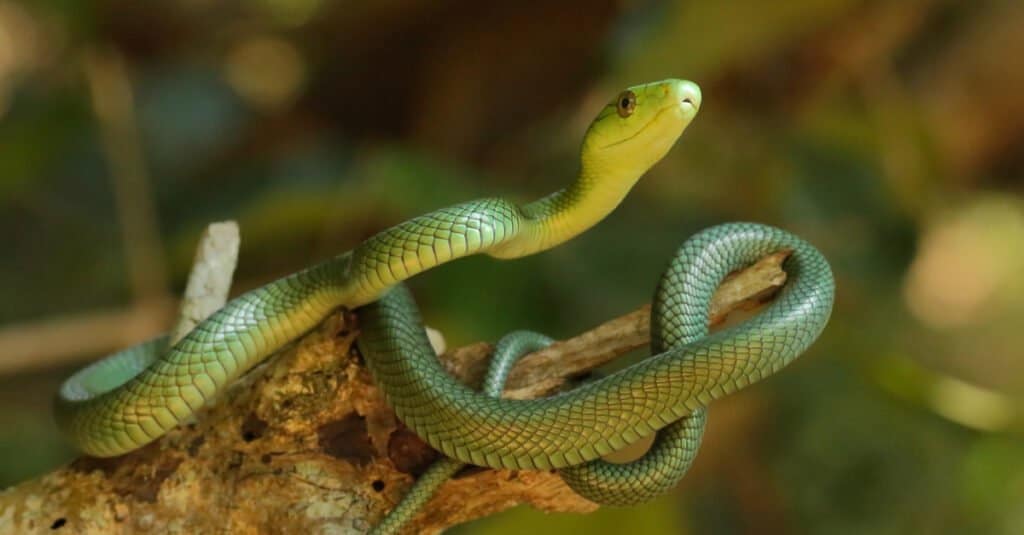 There are some vast size and weight differences between the black mamba and the green mamba. For example, the black mamba reaches anywhere from 6-12 feet long if not longer, and green mambas average anywhere from 4-7 feet in length. There have even been some black mambas recorded up to 14 feet long, while green mambas never grow so large.
The body styles of these snakes also differ slightly, though you may not be able to tell unless you are looking at them side by side. However, as a rule, green mambas have a more slender body compared to the body of black mambas.
Black Mamba vs Green Mamba: Location and Habitat Preferences
You may find black mambas and green mambas in similar locations, but this does not mean they enjoy the same habitats as one another.
While both of these snakes are found in Africa, black mambas are found in Central Africa and along the eastern coastlines, while green mambas live along the western and eastern coastlines almost exclusively.
Black mambas enjoy arid grasslands and hotter climates just as well as wet rainforests, while green mambas live exclusively in damp and coastal forests.
Given the exclusivity of the green mamba's preferred habitat, they often encroach upon populated areas, while black mambas prefer to avoid humans at all costs.
Black Mamba vs Green Mamba: Appearance
Not only are there size and weight differences between a black mamba and a green mamba- their physical differences continue. Green mambas live up to their namesake and come in shades of green, yellow, and turquoise, while black mambas come in shades of gray, brown, and cream. 
While it may surprise you, black mambas are rarely black- they are called black mambas because the insides of their mouths are black, while green mambas have pink mouths. The head shape of these snakes is similar, except a black mamba has a hood like that of a cobra, while green mambas do not share this.
Both of these extremely venomous snakes have round pupils, which is interesting to note. Many venomous snake species have vertical slits for their pupils, and many nonvenomous snakes have round pupils. However, this is not the case for the exceedingly venomous black and green mambas.
Black Mamba vs Green Mamba: Behavior
While both black mambas and green mambas prefer to be left alone rather than engage in aggression, there are some behavioral differences between them.
For example, green mambas often live in populated areas, while black mambas do their best to avoid people at all costs. Black mambas have a particularly bad reputation, even more so than green mambas.
Another behavioral difference between these two snakes is that black mambas are capable of rising to tall heights when threatened, while green mambas are not. Black mambas also use their small hoods to appear larger, behaving in a similar fashion to cobras.
Green mambas run away from any threats, often escaping at speeds exceeding 7 miles per hour!
Black Mamba vs Green Mamba: Diet and Hunting Style
Black mambas and green mambas have different diets, especially when you consider their geographical locations. Black mambas eat bush babies, hyraxes, birds and their young, mammals, and other snakes, while green mambas eat birds, their eggs, small bats, and lizards.
Green mambas spend the majority of their time in trees and branches, which is why birds and bird eggs are their primary source of food. Black mambas spend comparatively more time on the ground and can take down larger prey than green mambas can.
The black mamba comes out on top of the venom competition against the green mamba. In fact, the black mamba is one of the top ten most venomous snakes in the world. Not only does the black mamba, the largest venomous snake in Africa, have powerful venom, but it often deals more than one bite during an encounter with prey or threats.
Black Mamba vs Green Mamba: Five Cool Facts
Black mambas and green mambas are both species of venomous snakes found in Africa.
Here are five cool facts about these two deadly serpents:
Speed and agility: The black mamba is known to be the fastest land snake in the world, capable of moving at speeds of up to 12 miles per hour. It's also highly agile and can move quickly and smoothly through trees and other obstacles. The green mamba is also fast and agile, although not as much as the black mamba.
Venom potency: Both black and green mambas are highly venomous, with bites from either species capable of causing death in a relatively short amount of time. However, the black mamba's venom is considered to be more potent and lethal, with some sources reporting that it's capable of killing a human within 20 minutes.
Coloration: As their names suggest, the black mamba is predominantly black in color, while the green mamba is green. However, the green mamba can also be yellow, brown, or even gray, depending on the subspecies and where it's found.
Habitat: Black mambas are found in a variety of habitats, including savannas, forests, and rocky hillsides, while green mambas are typically found in rainforests and other heavily wooded areas.
Behavior: Both species are known to be aggressive when threatened, and will not hesitate to strike if they feel threatened. However, black mambas are considered to be more aggressive and unpredictable than green mambas, and will often stand their ground and hiss loudly as a warning before attacking. Green mambas, on the other hand, are generally more docile and will often try to flee when confronted by humans.
Discover the "Monster" Snake 5X Bigger than an Anaconda
Every day A-Z Animals sends out some of the most incredible facts in the world from our free newsletter. Want to discover the 10 most beautiful snakes in the world, a "snake island" where you're never more than 3 feet from danger, or a "monster" snake 5X larger than an anaconda? Then sign up right now and you'll start receiving our daily newsletter absolutely free.
Up Next:
More from A-Z Animals
---
The Featured Image
---